We use affiliate links. If you buy something through the links on this page, we may earn a commission at no cost to you. Learn more.

REVIEW – Last month I reviewed several of Anker's recently released PowerPort Atom compact wall/travel fast-chargers. Both of these relatively small, very transportable 60 watt plugs are capable of quickly charging several of your power hungry tech devices at once…from your earbuds to your USB-C laptop. Well you see, Anker has been busy, they have also introduced several new desktop charging solutions as well with the PowerPort Atom III Slim and Atom PD 4. They sent me those too…so, let's see how they integrate into my tech-centric world.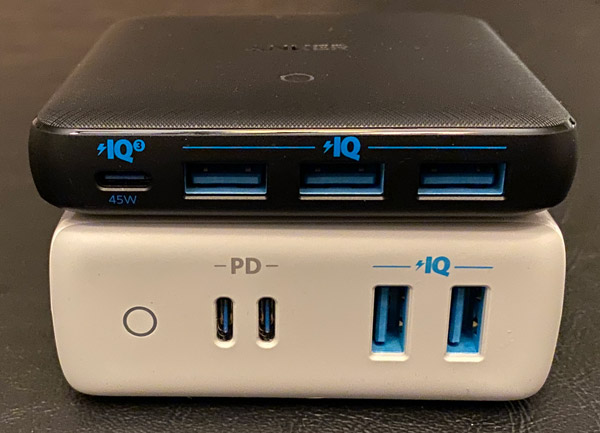 What is it?
The PowerPort Atom III Slim and Atom PD4 desktop chargers integrate Anker's Intelligent Power Allocation technology into small, compact power bricks that provide impressive quick-charging for up to 4 devices at once.
What's in the box?
PowerPort Atom III Slim / Atom PD4
5 ft detachable power cable
Adhesive strip
Hardware specs
Whereas in my earlier review, the PowerPort Atom III and PD2 wall/travel chargers were nearly identical physically. The two desktop chargers in this review are very different in many ways including their size, max power output, and potentially use.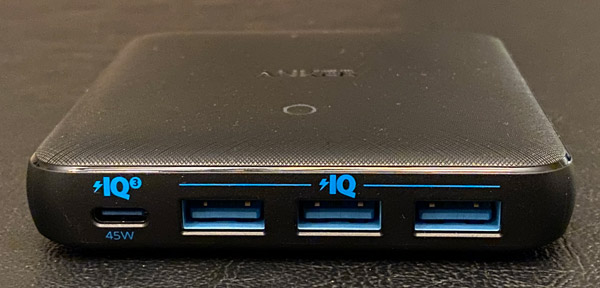 PowerPort Atom III Slim (Four Ports)
The "Ultra-Slim" 65 watt 4-Port desktop charger: charges a USB-C notebook or tablet via its 45 watt IQ3 port and up to 3 mobile devices using the USB-A ports.
Total Wattage: 65W

Input: 100 – 240V ~ 2A 50 – 60Hz

PIQ 3.0 (USB-C Port): 5V ⎓ 2.4A / 9V ⎓ 3A / 15V ⎓ 3A / 20V ⎓ 2.25A

USB-A Port: 5V ⎓ 4A(2.4A Max Per Port)

Size: 3.5 x 3.4 x 0.8 in (main body)

Weight: 5 ounces (main body)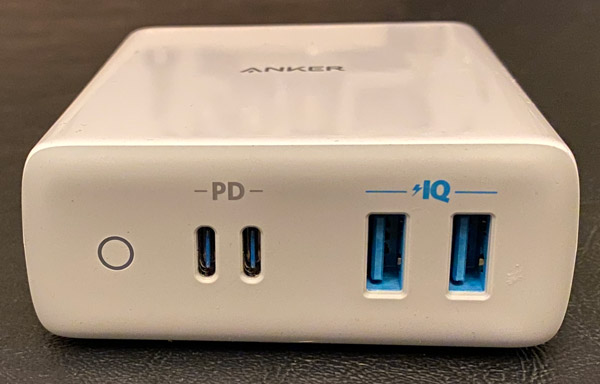 PowerPort Atom PD 4
The "Super-Powerful" 100 watt 4-port desktop charger: charges up to 2 USB-C laptops or tablets and 2 smartphones or other tech-gear at the same time.
Total Wattage: 100W

Input: 100-240V~ 2A 50-60Hz

USB-C Output: 5V ⎓ 3A / 9V ⎓ 3A / 15V ⎓ 3A / 20V ⎓ 5A

USB-A Output: 5V ⎓ 2.4A Max

Size: 4.1×3.3×1.3 in (main body)

Weight: 383 g (main body)
Design and features
As I stated above, the PowerPort Atom III Slim and PD4 are very different animals from their size, power output, use scenarios, etc.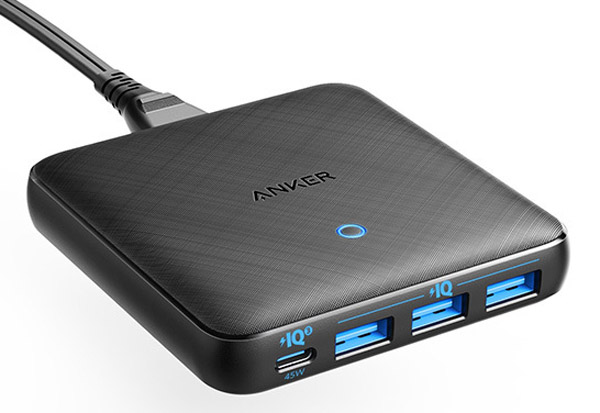 PowerPort Atom III Slim (Four Ports)
The PowerPort Atom III Slim is comparatively small and lightweight, approximately the size of 4-5 coasters stacked on top of each other. Even though Anker classifies the Atom III Slim as a desktop charger, I could easily see traveling with it if I needed to power more than a few devices as once.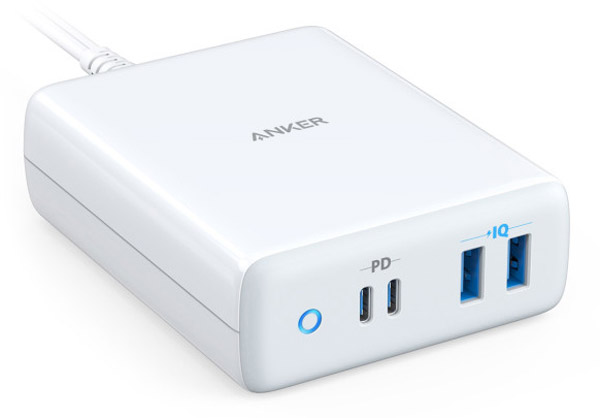 PowerPort Atom PD 4
The PowerPort Atom PD4 is several times the volume as the Atom III Slim. Even though you could travel with the PD4, it really is designed for desktop use, powering multiple laptops and smart-devices at once.
Performance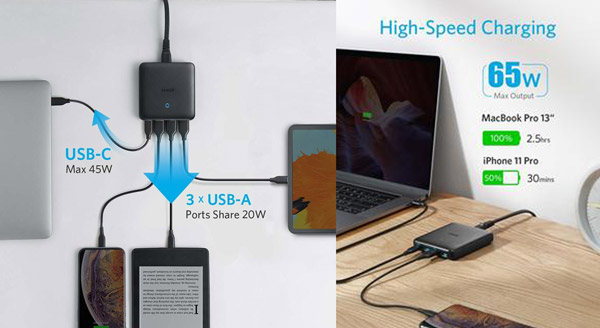 PowerPort Atom III Slim
The Atom III Slim can charge four devices simultaneously. The PowerIQ 3.0 enabled USB-C port provides a max 45 watt output to charge virtually any USB-C device quickly and efficiently. While three USB-A ports share a total of 20 watts to provide smart/optimized charging for mobile devices.

PowerPort Atom PD 4
Like the Atom III Slim, the PD4 can charge 4 devices at once. But Anker ups the PD4's potential power output to an impressive 100 watts enabling it to charge 2 laptops and 2 other devices simultaneously. To accomplish this, the PD4 has two Power Delivery USB-C ports and two intelligent USB-A ports distributing the 100 watts of fast-charging power.
What I like
Well built from quality materials
Smart power allocation
Impressive 65 watt (Atom III Slim) & 100 watt (Atom PD4) power output
Ultra fast-charging
Can charge four devices @once
Has both USB-C and USB-A ports
What needs to be improved
Use Case…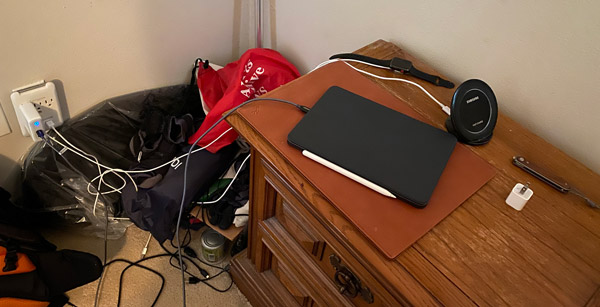 OK, I'm not proud of this picture. For being the AR guy I am, this pile of happiness next to my nightstand is a dumpster fire of clutter and wire madness 😉 . Regularly my Apple Watch falls off my nightstand and my iPhone tumbles off its wireless charger with a thud. My hope was to use the PowerPort Atom III Slim to 1) motivate me to clean and organize my bedside mess and 2) design a better wire-management system for my tech-gear.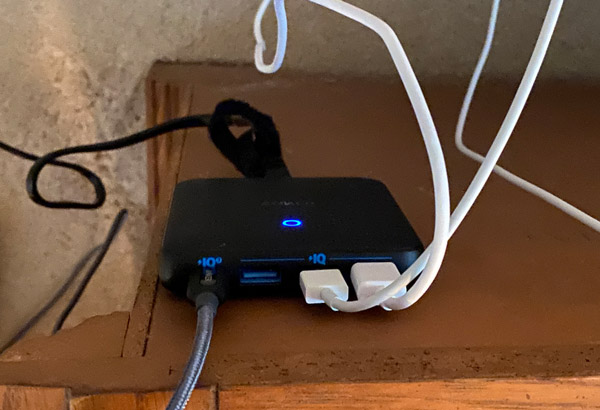 After cleaning out my corner of [email protected], I used the included double sided tape to vertically attach the Atom III Slim to the back of my nightstand tucked out of sight and completely out of the way.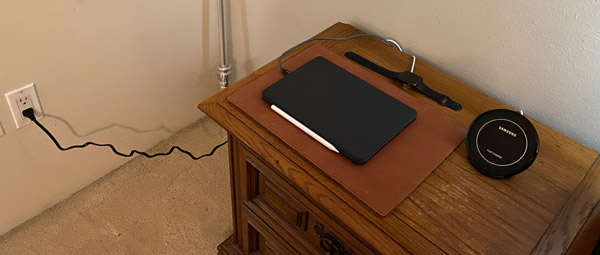 This is a wonderful wire-management solution with the perk of 4-port fast-charging. The Atom III Slim is only 3/4 of an inch thick and allows my nightstand to sit up against the wall nicely.
I'm still pondering how to integrate the PowerPort Atom PD4 into my tech-world. As I have stated, the PD4 packs 2 USB-C, 2 USB-A ports, and an impressive 100 watts of power into a reasonably sized brick. But at the moment my desk both at home and work are pretty dialed-in when it comes to charging and accessible power. But I'm sure I'll come up with something…
Final thoughts
The bottom line is that I really like all of the PowerPort Atom fast chargers I have recently had the opportunity to try out. Anker has done an excellent job engineering charging solutions for the office, home, and while on the road. The PowerPort Atom III Slim and PD4 intelligent desktop chargers provide safe, powerful fast-charging where and when you need it. Like their travel chargers, the Atom III Slim and PD4 would make excellent stocking stuffers or just because gifts this holiday season.
Price: Atom III Slim $53.99 / Atom PD4 $99.99
Where to buy: The PowerPort Atom line of chargers is available from Amazon or directly from Anker.
Source: The sample of this product was provided by Anker.