We use affiliate links. If you buy something through the links on this page, we may earn a commission at no cost to you. Learn more.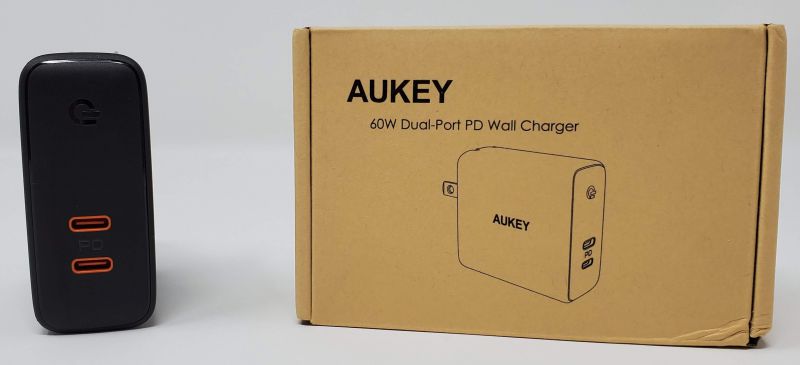 REVIEW – Do you have more than 1 device you need to charge simultaneously?  Yeah, dumb question, scratch that.  You want to fast-charge at least two devices at the same time.  Enter the Aukey Focus Duo.  It has 2 ports, sure, but can it get the job done?  Say it along with me: read on to find out…
What is it?
Building on the strengths in the Aukey Minima 30 Watt Wall Charger, the Focus Duo is a 2 port, 60 watt Power Delivery adapter.  Unlike its smaller, portable sibling, the Focus Duo supports the newer version 3 of the PD standard.
What's in the box?
The Focus Duo adapter
A slightly less small manual (again, if you need a manual…)
Design and Features
The Focus Duo is not as small as the Minima, but even at 2.5 inches square, an inch wide and weighing 5 oz., it is still something you can carry it in your travel bag without pulling a muscle.  Like the Minima, the power prongs also fold up.  There are 2 USB-C ports – the bottom is the high-power port and the top the low-power (more on that in a second).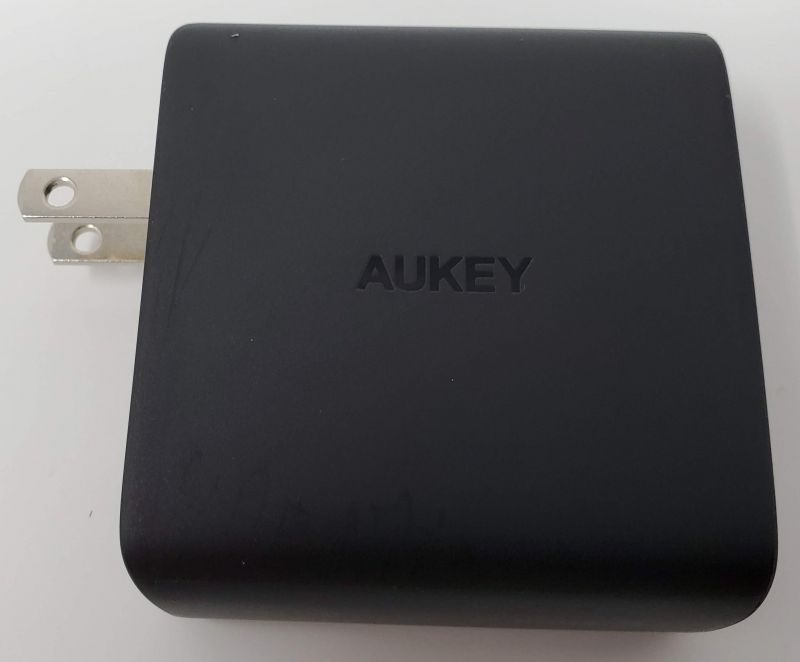 The Focus Duo, like similar models, can deliver a maximum of 60 watts when used with a single device.  Most others, though, will split the difference when using both ports, delivering 30 watts per port.  Not the Focus Duo, though – when using both ports, it will keep one at 45 watts and the other at 18 watts.  Is that bad?  No, not at all – in fact, it is quite good.  At 45 watts, the Duo can still drive power-hungry devices like most MacBook Pro 13 inch models while the lower-power port can fast-charge a phone or tablet.  Depending on your use case, this can be an advantage because now you can travel with a single charger rather than 2.
Oh, and do the math.  When using 2 ports, you get a total of 63 watts.  So you get 3 extra watts for free compared to the competition.  You're welcome.
Again, the Focus Duo is in a class of device that most of us take for granted.  When it works, we just don't think about it.  When it doesn't, we tend to "add on" – we find another device to fill any gap we perceive.  The Focus Duo seems engineered to not put us in that situation.  Aukey apparently knows how our stuff works and pushed us back into the "don't think about it" category.  It's a different way for us to think about the solution and subtly shifts us towards expecting more from those things we take for granted.
What I Like
The way in which the Duo splits power
Lighter than other dual port PD chargers I've owned
What I'd Change
A very minor thing – color-code or through some other means remind me visually which of the two is the high-power port
Final Thoughts
Solidly built with how we use our devices at the heart of its design, the Focus Duo should be at the top of your list when shopping for a PD solution.
Price: $39.99
Where To Buy: Amazon or Aukey
Source: The sample of this product was supplied by Aukey