We use affiliate links. If you buy something through the links on this page, we may earn a commission at no cost to you. Learn more.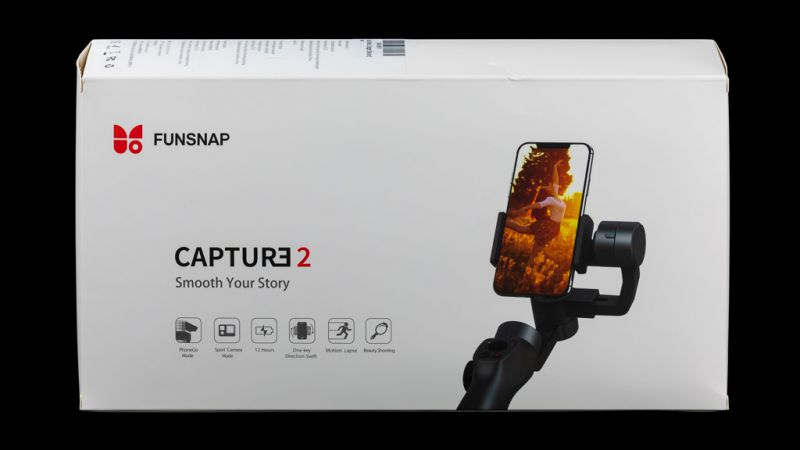 REVIEW – I've dabbled with recording video from time to time, but I've never used a gimbal. The FUNSNAP Capture 2 smartphone gimbal offer came along so I thought I would give it a try.
What is it?
The FUNSNAP Capture 2 is a 3-axis handheld stabilizing gimbal specifically designed for smartphones and action cameras.
What's in the box?
Capture2 Gimbal
Charging Cable
Counter-weight
Mini-tripod
Manual
Design and features
I've never used a gimbal for video before. I've always just used a selfie stick or handheld my phone when shooting video. As with many things, the usefulness of a product is often determined by what you're going to be using it for. A gimbal can be a bit intimidating at first, but once you use it for a while and learn how it works, it becomes much easier to use.
When I first opened the Capture 2 gimbal, I was immediately impressed with not only the packaging but the quality of the product. It's a sturdy, well-built piece of tech. There were little stickers on the gimbal to explain what to do first, which was a nice touch.
The gimbal came in a re-usable foam case, and although it doesn't latch closed, it does stick together fairly well. The gimbal is held fairly snugly in the case.
The Capture 2 gimbal has a nice ergonomic handle and does fit nicely in the hand. The controls are easily reached with one hand. I did find myself bumping the scroll wheel several times, but that could be avoided by holding the handle slightly different.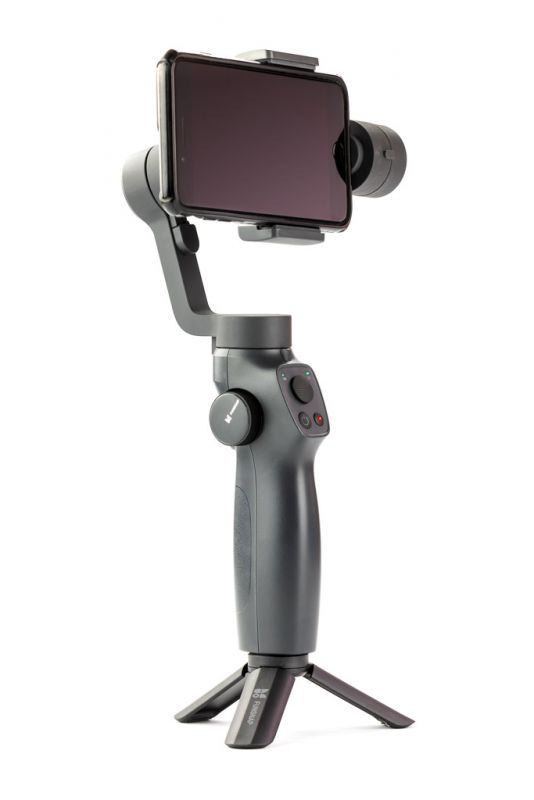 Compatible with most phones, it can accommodate phones up to 6.5 inches. I used my iPhone 7 Plus in a case. The built-in 2200 mAh battery provides up to 12 hours of use and can also be charged with a portable power bank.
Also included is a folding mini tripod that connects via a standard 1/4-20 screw socket on the bottom of the handle. The standard screw socket could also be used to attach accessories like lights and microphones.
The stabilization was fantastic. I was impressed with how well it worked, even with sudden movements, something you wouldn't normally do when recording.
You can use either the Capture 2 phone app or any camera app of your choice. The Capture 2 software is fairly feature-filled. There are a lot of options and modes, but there is a slight learning curve to figure out exactly what is where. I do think the software could use some improvement, though. Some of the menus are semi-transparent, and selected items are shown in a slightly bolder font, making it difficult to determine what is really selected.
Photo Modes: Single, 2, 5, 10-second timer, HDR, Pano (180 or 320 degrees), Long Exposure
Video Modes: Standard, slo-mo, timelapse, M-timelapse, T-timelapse
Video Resolution: 720p 30fps, 720p 60fps, 1080p 30fps, 1080 60fps, 4k 30fps – I'm guessing that these may be limited by the phone you are using.
Tracking Options: Face tracking and Object tracking
Camera Options: Video stabilization, Video resolution, Beauty mode, Filter, White Balance, Flash mode, Grid display, Picture ratio
Gimbal Options: Scene (walk, sport, extreme), Mode (lock, FPV), Trigger (lock, Phone Go), Wheel (reverse, pitch, yaw, sensitivity), Joystick (left/right reverse, up/down reverse, sensitivity), others (initialize sensor, horizontal fine-tune, video tutorials)
The three main modes of the gimbal are:
Default mode (green) – The roll axis is locked, the pan and tilt axis follow the handle movement. Basically this points the camera smoothly wherever you point it.
Lock mode (red) – The roll, pan, and tilt axis are locked and the shooting scene is locked in the current direction.
Pitch-Follow mode (blue) – The tilt axis and roll axis is locked and the pan axis follows the handle movement. Basically, the tilt (up/down) is locked and the camera follows left to right with the handle movement.
You can switch between modes by tapping the power button, and you can do this while recording. This does take some practice to get used to, especially if you're speaking while recording.
The shooting button does take some getting used to. You press for 2 seconds to start recording a video and tap once to end recording. Pressing once will switch to photo mode and take a picture. I don't really like this and I wish it was configurable. I wouldn't take photos that often with a gimbal, so I would prefer the button just start and stop recording.
There is also the option to use any other camera app that you may have on your phone. Simply connect to the "shuttersnap" Bluetooth device. Once connected, the modes will still work, and the record button will start and stop the video just like pressing the button on the phone.
Here's a short video explaining some of the features and sample clips:
What I like
Build Quality
Plenty of Software options
Ability to use the Capture 2 camera app, or any other camera app
What I'd change
Non-transparent areas on photo/video options
The Scroll wheel is a little too close to the trigger
Could not get the timelapse mode to work without crashing
Final thoughts
If you're willing to put in a little practice, this gimbal will definitely improve your video. It performs well and has a variety of useful modes.
Price: $99.99
Where to buy: Amazon (use code to save 10%: gadgeteerus valid till March 31th, 2020)
Source: The sample of this product was provided by FUNSNAP.