We use affiliate links. If you buy something through the links on this page, we may earn a commission at no cost to you. Learn more.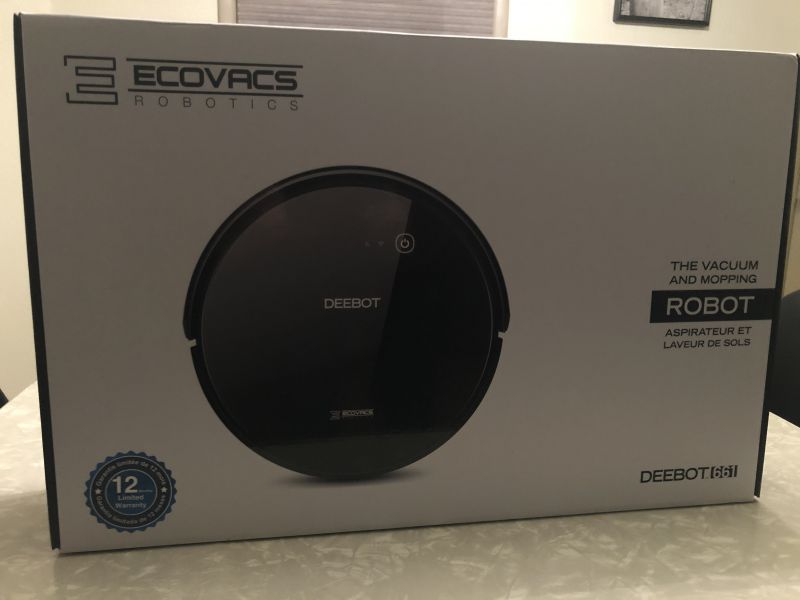 REVIEW – Here we go folks, another robot vacuum! This will be my second review of a robo-vac but there is a purpose to this as I have a two story house and until robo-vacs can navigate stairs, I need one for our basement just as much as I needed one for our upstairs living area. I will do my best to not draw direct comparisons between this one and the previous one I reviewed, as they are designed to do different jobs despite having some of the same functions. This robot vacuum is the Ecovacs Deebot 661 and it has proven its mettle in keeping our basement utility room clean. Let's take a look!
What is it?
The Deebot 661 is a convertible vacuum and mopping robotic vacuum.
What's in the box?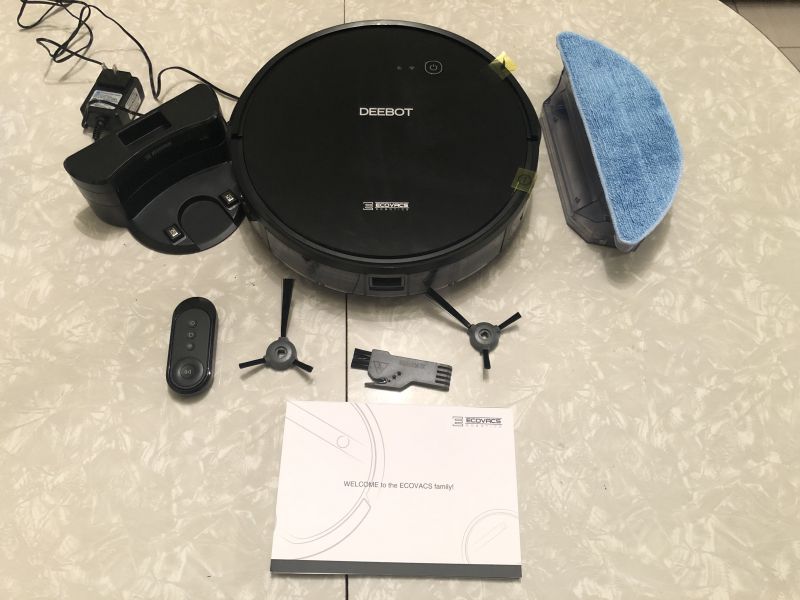 Robot Vacuum (w/ rotating side brushes to attach
Remote control
Charging dock
Water reservoir and velcro mopping pad
Instruction book
Design and features
The Deebot follows the design of the standard modern robot vacuum with a suction port on the bottom side and a collection bin in the rear. Nothing out of the ordinary on this unit. The collection bin easily removes from the back of the unit for cleaning or for converting the unit to the mopping function.
Other than putting the mop reservoir onto the unit, there's nothing that needs to be done to switch to mop mode. The robot knows the water tank is attached and switches to that mode internally on its own.
The navigation of the unit follows different pre-programmed paths depending on which function is in use – where vacuuming follows a random path and mopping follows a grid pattern that starts with doing an exterior edge followed by and back and forth through the cleaning area.
Setup
Not much to do here outside of removing from the box and setting the charging dock in an area where it can easily get off and back onto the charging dock.
Performance
At first, we tested this vacuum upstairs but found that our threshold between living room hardwood and the kitchen tile was just too much for the robot to navigate and it would get stuck. So I could definitely be cautious on thresholds over 1/2″. It did perform well against the stair threshold though, as it did not fall down the stairs, to the anti-drop function works great.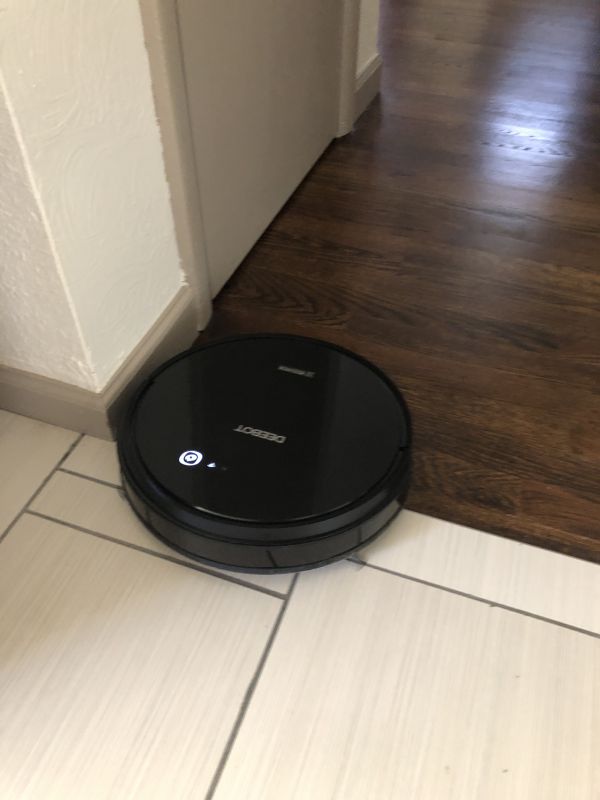 So we moved the unit downstairs for what we anticipated would be its permanent work area: the utility room. We have our washer and dryer down there as well as our cats' litter boxes so we figured there would be plenty of opportunities for the vacuum to do some heavy-duty work. We started by activating the vacuum function after each time we scooped the liter. It would then start and do random patterns throughout the room, and out onto the carpeted hallway and kept vacuuming in this pattern until the battery died out – about 100-110 minutes. During this time, it just kind of bumped around the available and vacuumed. We really liked this as it was easy to set it and walk away, knowing it would find it's way back to the charging dock once it knew it's battery was depleted.
The dual rotating brush heads on the front of the unit do a great job of pulling debris into the vacuum suction port, without kicking it out and across the room. The overall suction is great in getting fine dust-like cat litter, as well as larger pieces such as cat food or dust bunnies.
We would allow it to charge back up again, which was easy to check on the smartphone app that is available to download but isn't required for use. Then it was just a matter of filling the water reservoir and telling it to start mopping. For this, we would shut the utility room door to keep it from going out on the carpet.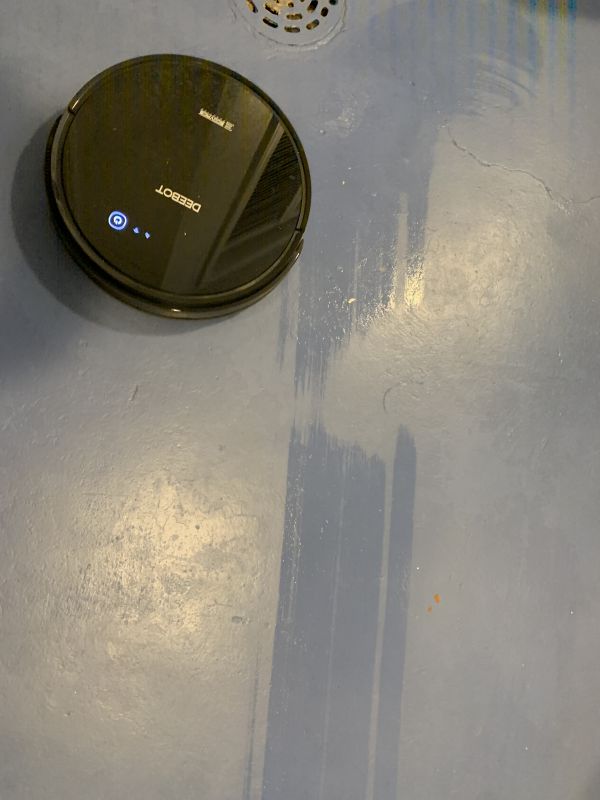 The robovac then did an exterior loop around the walks/obstacles, then started a back and forth pattern across the space between.
This robo vacuum doesn't store or hold a "map" of the cleaning area, whether mopping or vacuuming so each time you activate the unit it will clean a different pattern. It's simple to use, in that you hit one button on the unit, app or remote to start or stop the cleaning. The positive side of this is that you can take the vacuum to any room, plop it down and let it do some work without worrying about having to re-map an area.
What I like
Very simple and easy controls, whether using the app, unit or remote.
Great job on actual vacuuming – the suction is powerful enough to get cat litter dust up from the floor effectively
Mopping function is adequate for cleaning the small area.
It's not super fancy but it does its job effectively without having to babysit it and can be moved easily into new areas.
What I would change
The lack of a mapping function makes it difficult to use the mopping in any area where you have carpet and hard surfaces next to each other – there's no way to tell it not to go onto the carpet or avoid an area without a physical barrier for it to hit.
For the price point, it doesn't have some of the bells and whistles you would expect.
Final thoughts
The Ecovacs Deebot 661 has performed well within the context of what we need it to do, and the "set-it-and-forget-it" aspect of being able to turn it on and allow it to exhaust itself then return to charge is great for us as well. It had definitely helped keep our utility room clean and vacuum our carpeted hallway space that tended to be neglected. The lack of being able to put up barriers on a map makes the mopping function a little more of a hands-on processes that take some planning if you have mixed surfaces in your desired cleaning area. I would recommend this unit if you have the need and are looking for a unit that isn't overly complicated.
Price: $399.99
Where to buy: Amazon
Source: The sample of this product was provided by Ecovacs.