We use affiliate links. If you buy something through the links on this page, we may earn a commission at no cost to you. Learn more.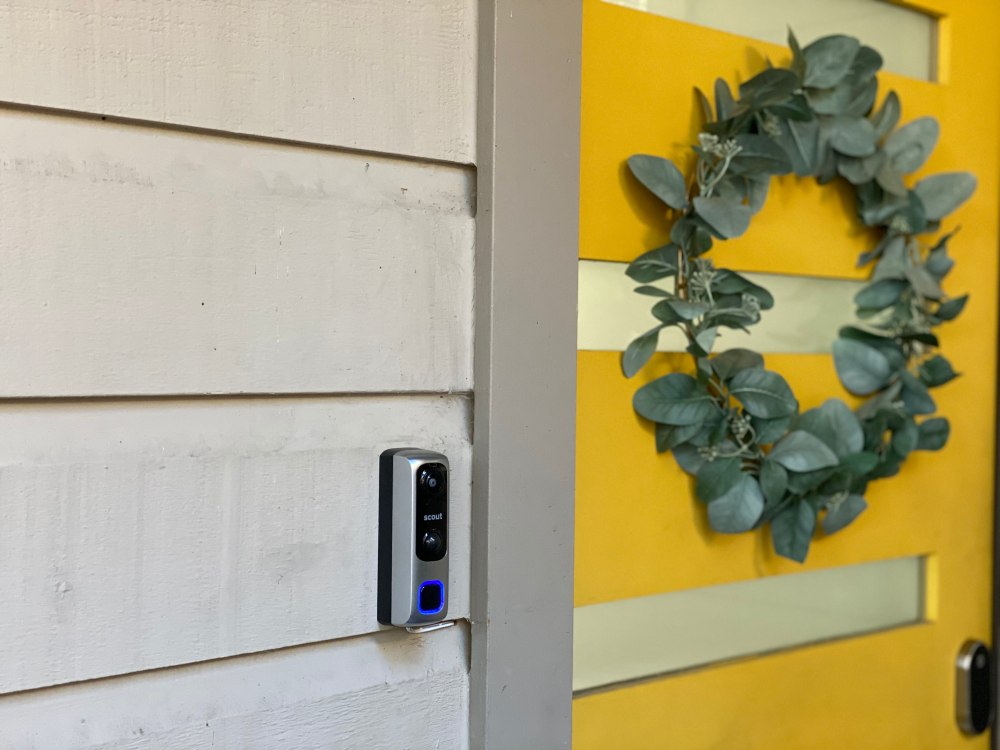 REVIEW – 'Video Doorbell' may be synonymous with Ring and Nest, but there are a lot of other brands out there vying for a spot next to your front door. Scout has a new contender for you to consider, appropriately named Video Doorbell (take that SEO!). I've been using Scout as my alarm system for over three years and was excited to check it out.
What is it?
The Video Doorbell from Scout is a smart doorbell with video, two-way audio and WiFi connectivity letting you answer your door from your smartphone in addition to standard doorbell duties.
What's in the box?

Video Doorbell
3 Faceplates
1 Mounting plate
Power kit and guide (available separately)
Hardware specs
Video: 1080p HD, 180º field of view, Night vision
Detection: People detection, motion detection
Communication: Two-way audio via smartphone app
Dimensions: ~ 5″ x 1.7″ x 1.4″
Power: Uses existing 16V digital or analog doorbell wiring
Design and features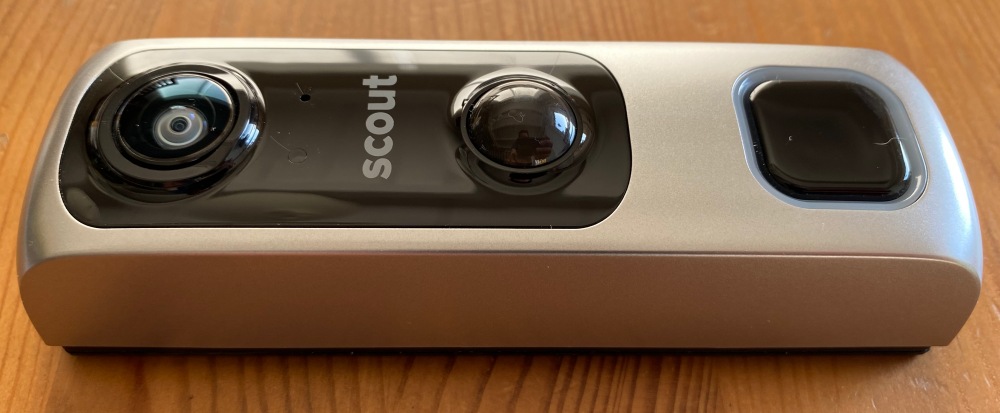 The Scout Video Doorbell is designed to replace a standard doorbell, and they've kept the size relatively small to be able to do just that. Usually adorning front doors, the aesthetics matter to homeowners and to Scout, so they've included three different colored faceplates to better blend in with your home.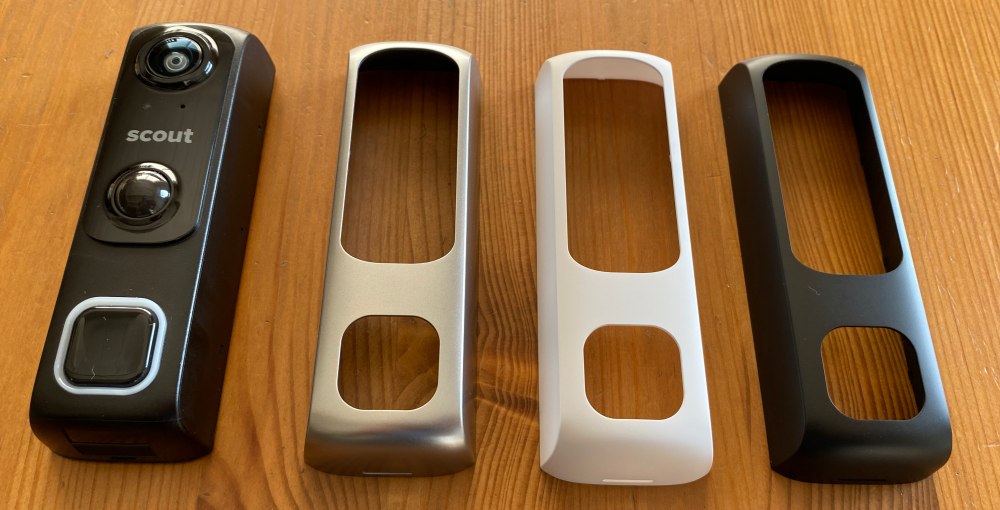 From a design perspective, it's clear that this is a doorbell with the blue glow around what is clearly a button. It's also very apparent that this is a camera. Both of these are intentional as you want to welcome guests and have them find that button easily and let everyone else know that they're on camera.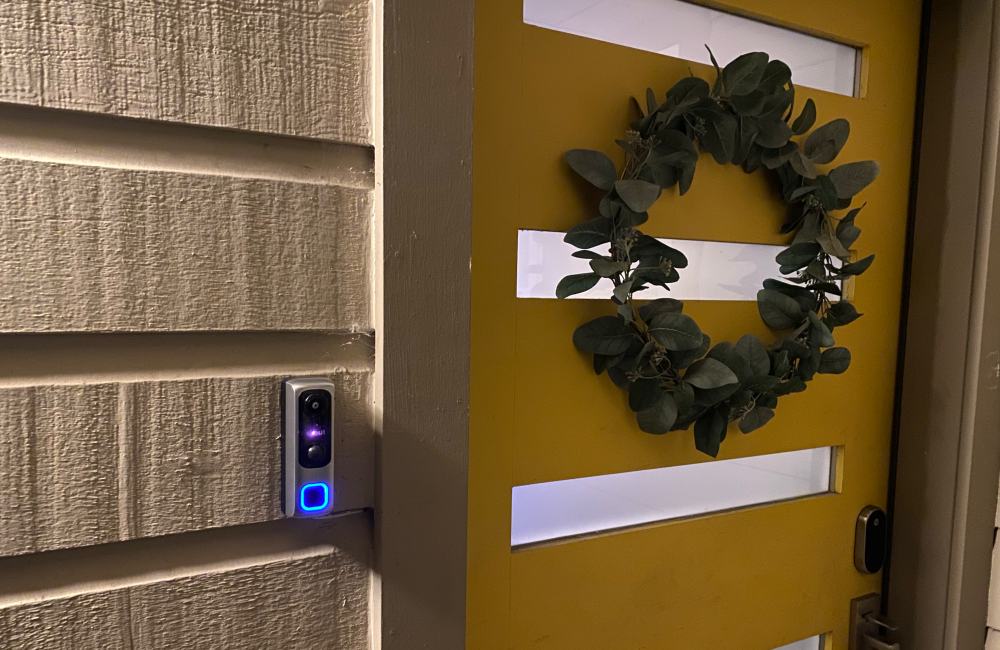 The doorbell has been integrated into Scout's existing app which is great news for anyone like myself already using Scout for their home security needs.
Setup
Scout's doorbell is available for both analog and digital wired doorbells, so you'll want to determine which your home has as you'll want to order accordingly. Generally, if your current doorbell has a ding-dong sound or that of real chimes then it's analog. If it sounds digital or has a speaker then it is digital.
Install and open the app, sign up if necessary and then from the device's screen click on 'add device' and select Scout Video Doorbell. As with their other security products like window and door sensors, there's a thorough walk through within the app that will help you along the way. I'll let the screenshots do the talking where relevant as here as there's a bunch of them.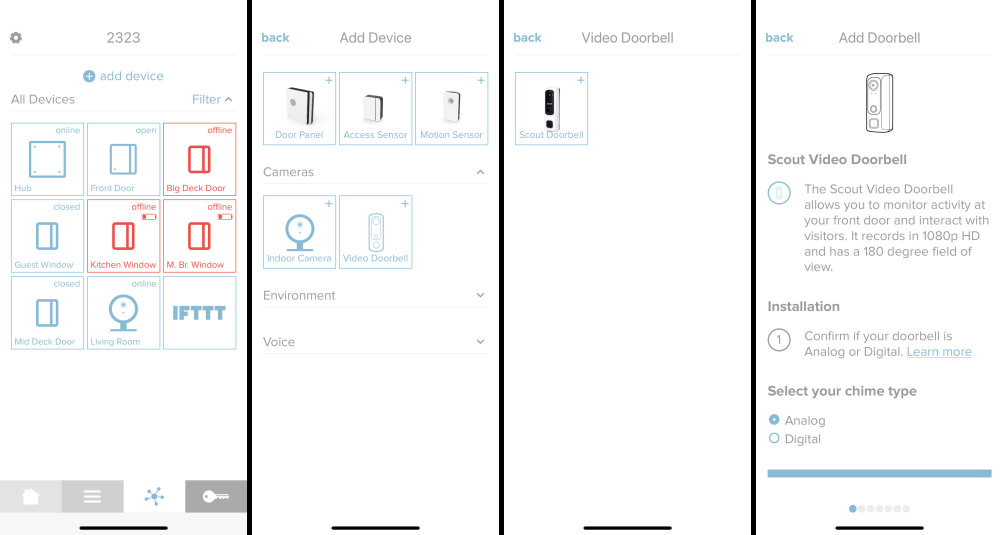 Make sure to visit your breaker panel your turn off all electricity to your doorbell before starting the actual install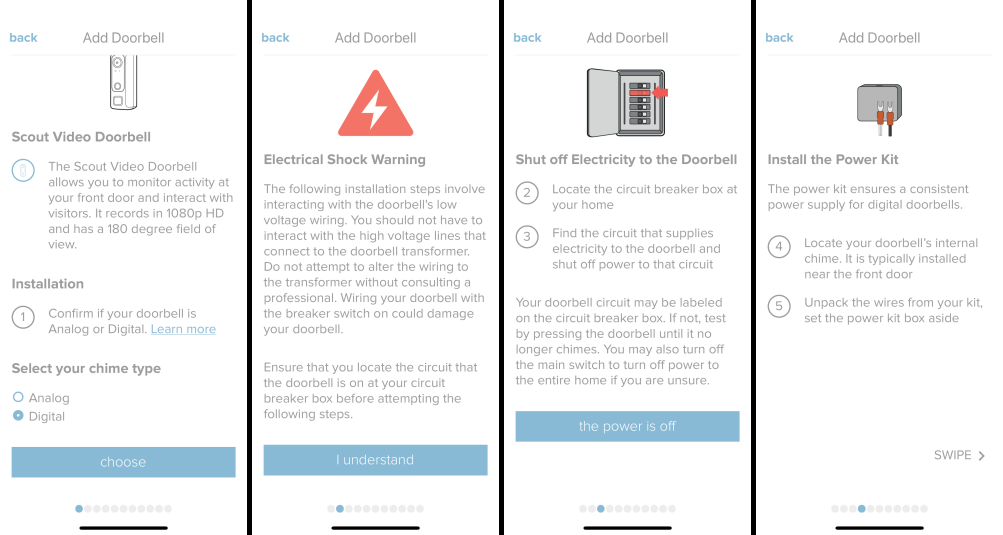 The Power Kit is only needed for digital doorbells, so if this isn't you, you can skip this step.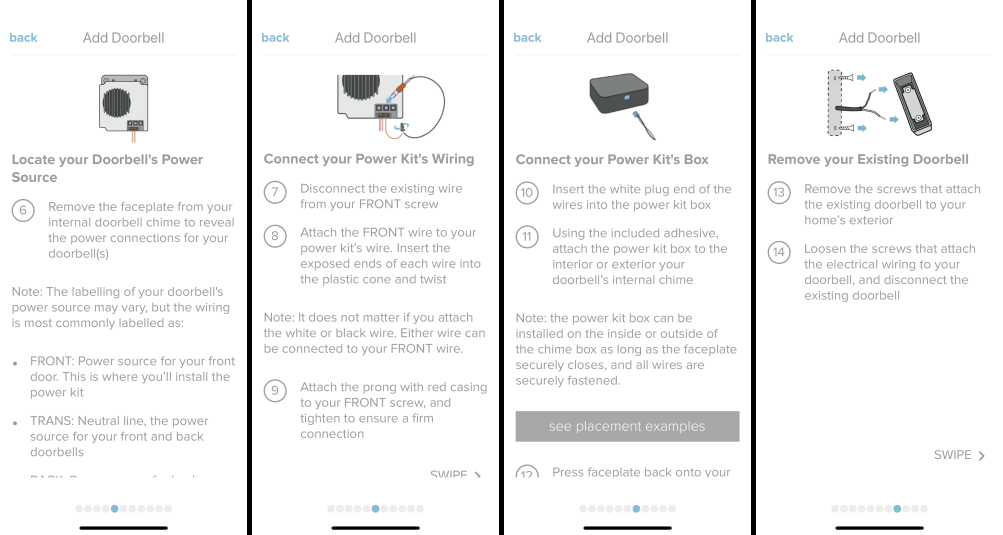 It's time to wire up the doorbell. Connect the two leads from your existing wiring to the back of the doorbell mounting plate. There's a small elastomer flap that helps seal out moisture that you'll need to move out of the way (tucked in photo) and then press back into place when done.

Use two screws to mount the plate to the wall and make sure it's flush against the wall and stable. With the doorbell mount installed and wired up, it's time to add your doorbell to the Scout App. The initial step is to power on the doorbell module itself. On the back, under the rubber cover is a small white dip-switch that you will need to flip on.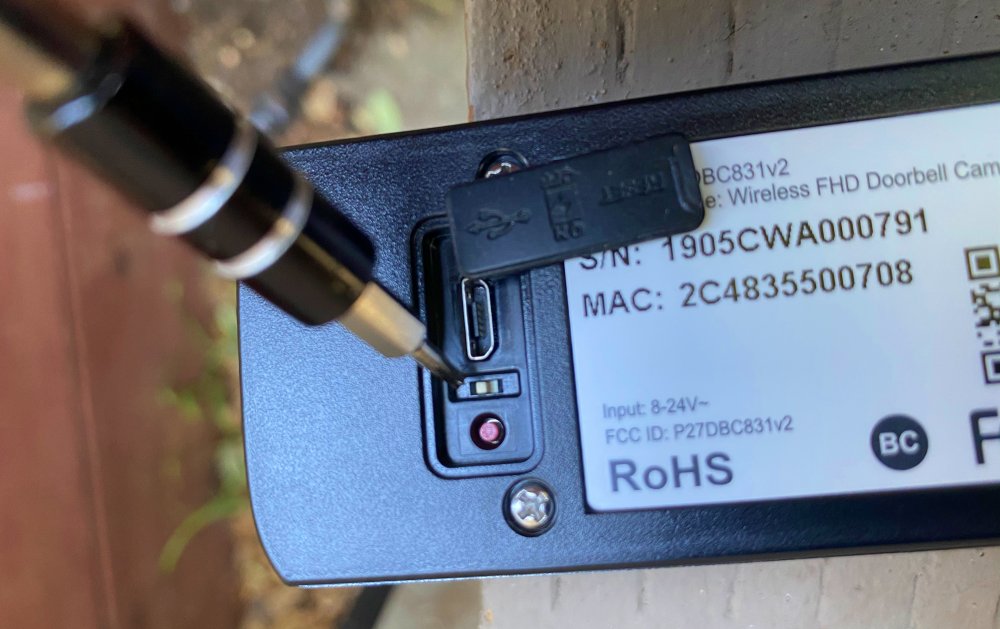 Replace the rubber cover and then snap the doorbell into the mount, leading with the top edge and then clicking the bottom into place. You can now continue with the pairing process in screenshots 3-4 below.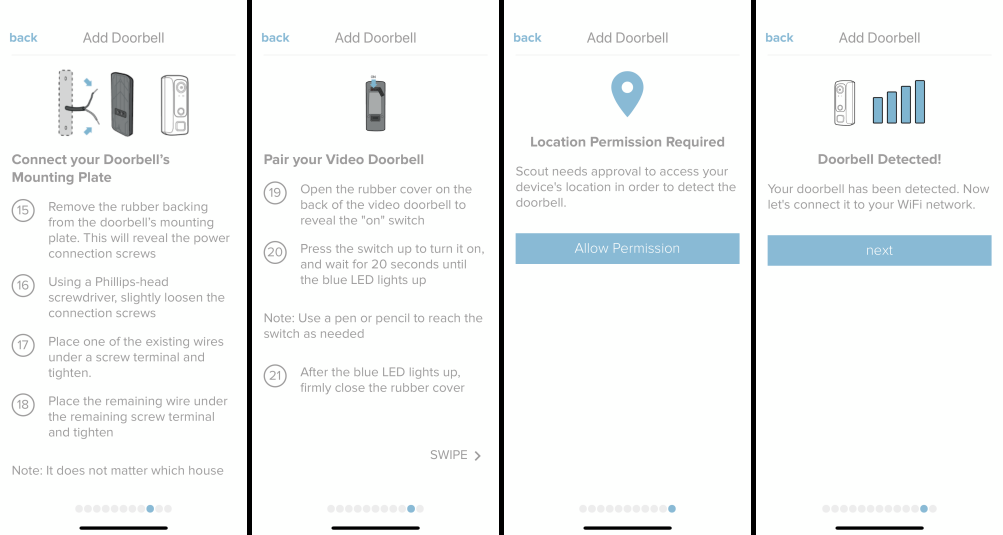 Next is to add the doorbell to your WiFi network and then choose a Cloud Video Storage plan if desired.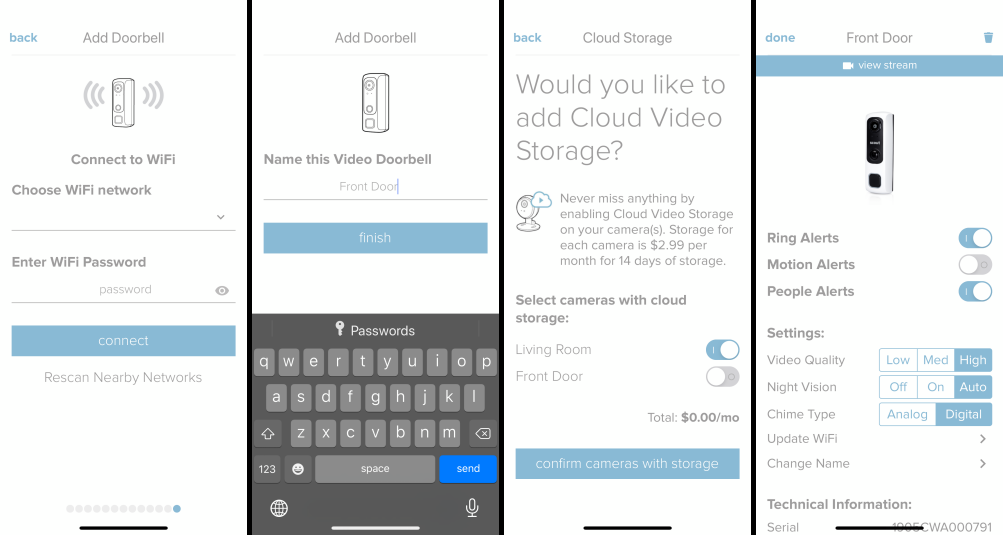 Last step is to make adjustments to video quality, night vision, and select chime type on the settings page. As you can see, there's plenty of guidance along the way, and now you're set up. Let's move along to the actual review.
Performance
My house did not have a standard doorbell when we moved in. Initially, I used a wireless doorbell with a horrendous digital chime that worked but was hardly designed to look like it belonged. That was quickly replaced with a Gen1 Ring video doorbell until now.
The outside install was easy, but without a built-in doorbell, I had no power. Scout's Video doorbell needs an input voltage of ~ 16v. As it turns out, I had previously purchased a wall adapter to convert that other doorbell from battery to wall power and it just so happened to fall within the proper range. Those were the two leads I connected and bingo… power.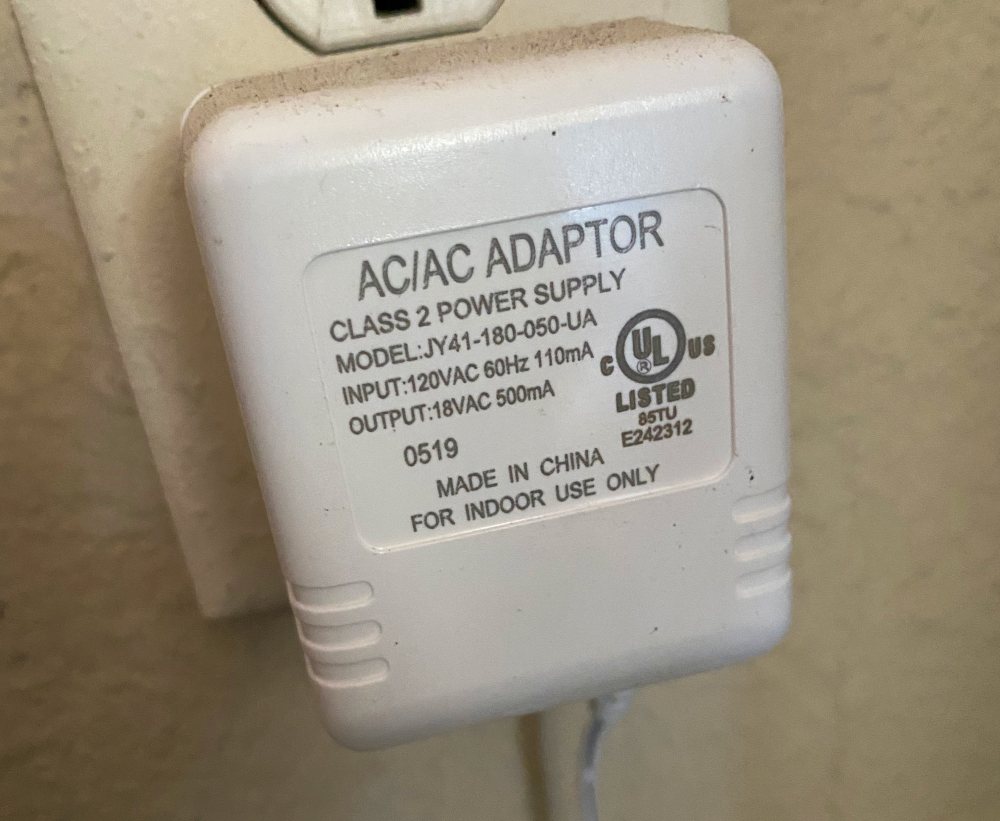 That however left me with the issue of no physical chime to sound. The Scout App handles that pretty well as long as I have my phone set up to push alerts and my sound on. I have my phone on mute most of the time, so for the first couple of days, I missed a couple of package deliveries when I was home because I missed the notification on my phone.
We happen to use an older iPhone as a clock in the living room and my makeshift solution was to install the Scout app on that phone and max out the volume. That's been working pretty well but still not as well as a real chime. I'll be working on a better solution there soon.
Scout does have Alexa integration and will be doing more in that space in the near future. Most of what's available now is around arming/disarming the security system which is great, but I'd love to see an Alexa Skill announcing someone is at your door.
As for using the system, when someone rings your new doorbell, you will receive a push notification on your phone where you can tap into the app and answer the door from anywhere (as long as you have connectivity). You can start a conversation with your guest by using the [Speak] button, or immediately dispatch Police if needed with the red button on the lower right.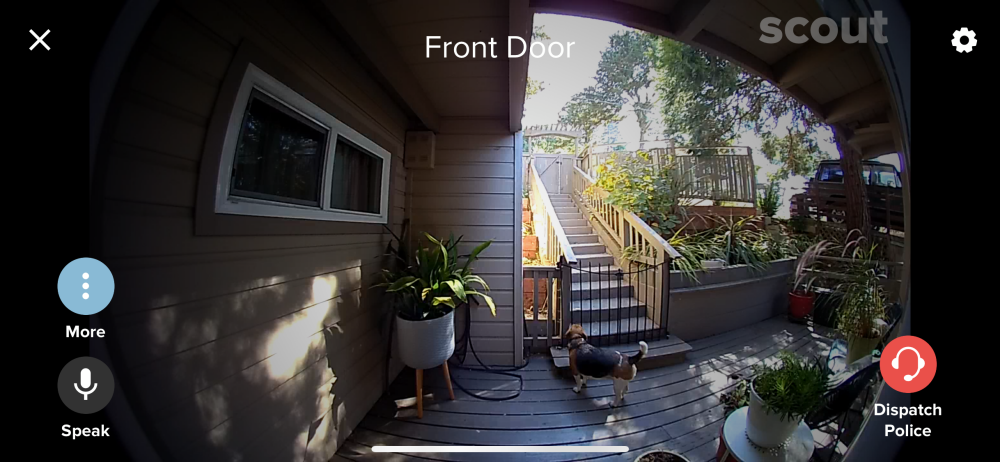 With the 'More •••' button you can also select from a couple of canned answers if you're busy. Those look like this.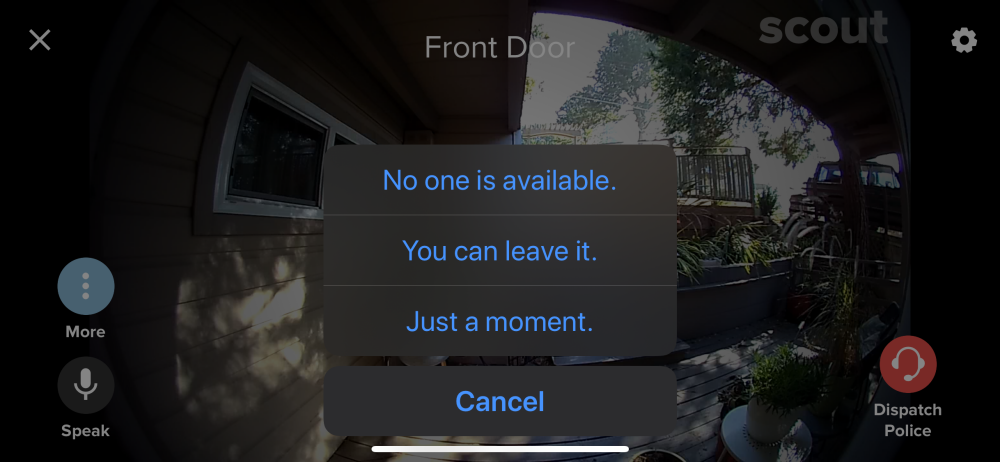 The camera quality is impressive and a significant step up from that other doorbell which was getting up in tech years (kinda like dog years, but higher). The two-way audio is handy and the volume is good enough to overpower some street noise. In the app you can click into the camera at any point from the home screen. Any doorbell activity shows up inline along with all your notifications which you can see in the image on the right (and also that we open and close the deck door a lot).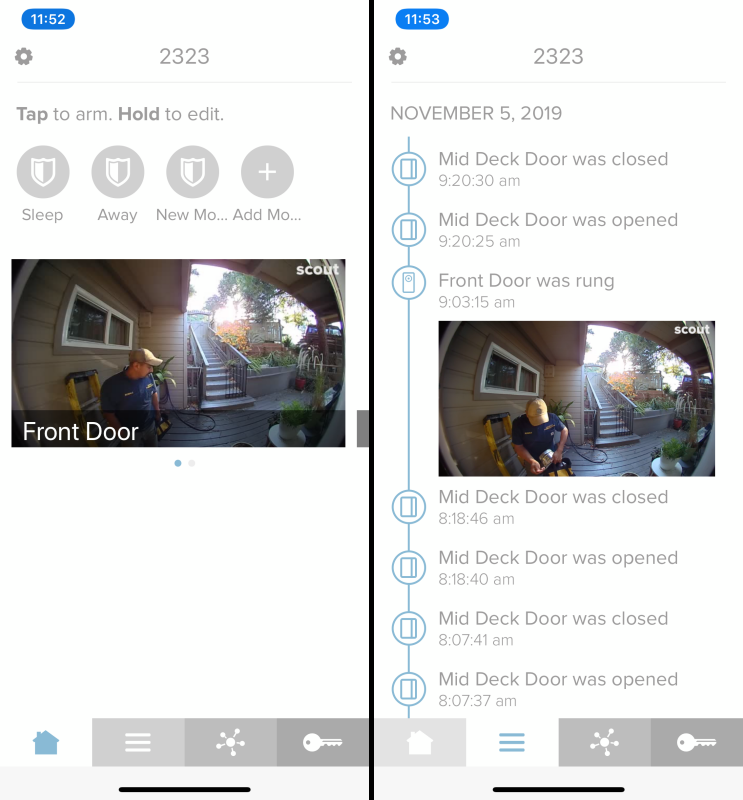 In the settings you can adjust to get notifications for doorbell presses, motion and 'person detected'. We have a fair amount of plants and branches that move around when the wind picks up so having motion on triggered a fair amount of false positives. Detecting a person is a cool feature that definitely works on people and it's nice to get an alert that someone is heading towards your door. On warmer days we occasionally leave the front door open for the dogs to wander out on the front porch. That's where I discovered that Scout thinks they're humans. This isn't a dealbreaker for me, but definitely a flaw.
One thing you should know is that if you turn off an alert, the system does not log those things as events either. In my case that means that all my alerts are arm/disarm of my system, open/close of any door/window sensor or doorbell events. This feels like a miss as I'd like to know that there was a person on my porch in the wee hours, especially if they didn't ring the doorbell. Whether that's motion or person detection doesn't matter, but alerts and notifications are two different things and should be treated separately. There also can be a delay between a doorbell ring and you getting the push notification. This is likely completely dependent on your network and connectivity. Just something to be aware of.
For me, the doorbell functionality and video quality are great and enough to recommend this as a solid purchase. If like me, you're already a Scout user then it feels really good to be able to delete a separate app from your phone and condense to a single platform.
What I like
Video doorbell functionality
Video quality is pretty fantastic
A single app for doorbell and home security
What I'd change
Add separate settings for alert and notification for each event type
Doorbell integration with an Alexa skill announcing someone is at your door
A power and chime solution for homes without wired doorbells
Final thoughts
I really like the Scout Video Doorbell. I have a unique install issue with not having an existing doorbell, so I'm not going to hold that against this product as it's clear you need a chime. That said, the video quality is great and the two-way audio works really well. I hope they can tweak some of the notification settings with further app updates to further customize the functionality. Take a look at this one if you're in the market for some new tech beside your front door.
Price: $99 (analog), $105 (digital)
Where to buy: Scout and Amazon
Source: The sample of this product was provided by Scout