We use affiliate links. If you buy something through the links on this page, we may earn a commission at no cost to you. Learn more.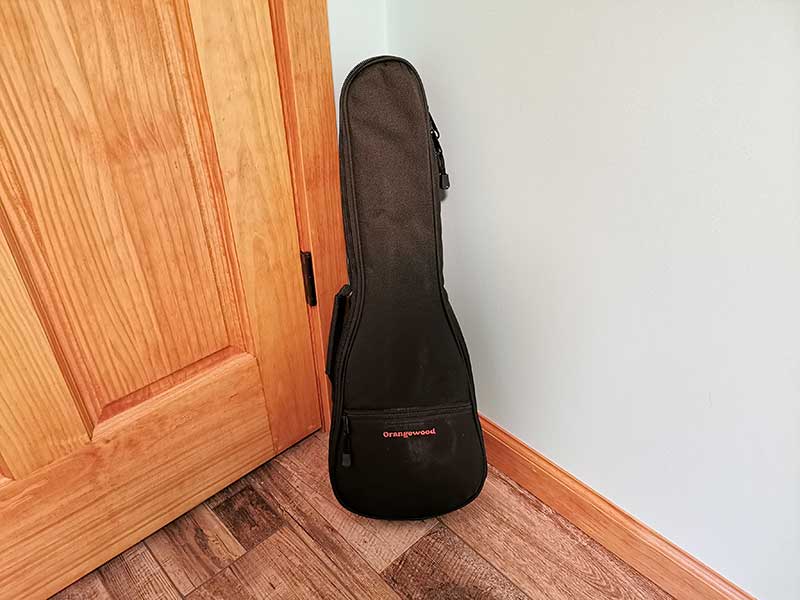 REVIEW – If you've ever wanted to learn to play an instrument but were intimidated with all the keys on a piano or guitars with 6 strings, you should consider trying a ukulele. They are easy to learn, don't take up a lot of room (unless you get addicted and start collecting them), and they only have 4 strings. Orangewood Guitars sent me their concert-sized Harper uke to test. Let's take a look.
What is it?
The Harper Concert Acacia Ukulele for Orangewood Guitars is a concert-sized (middle-sized) ukulele that is constructed of Acacia wood.
What's in the box?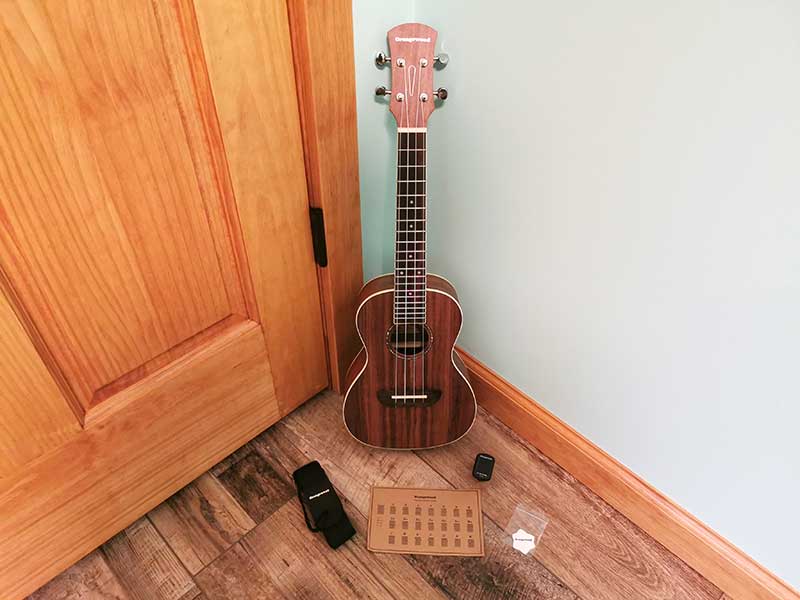 Harper Concert Acacia Ukulele
Zippered canvas case
Strap
Clip-on tuner
Picks
Chord chart
Design and features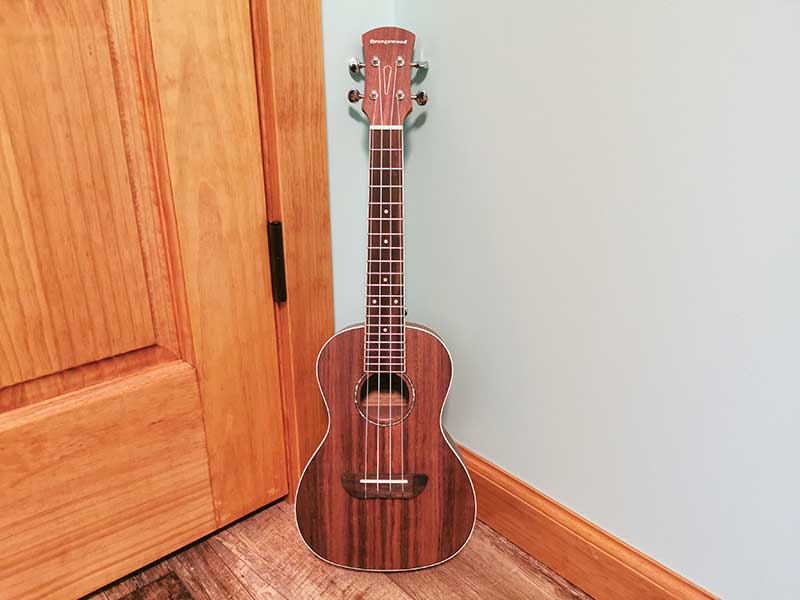 The Harper uke has a very pretty satin-finished top made of Acacia which is a hardwood that is harvested from trees 60 to 100 feet in height that are native to Australia and Hawaii. Since ukuleles pretty much originated in Hawaii, it's fitting that this wood is being used to construct these little instruments.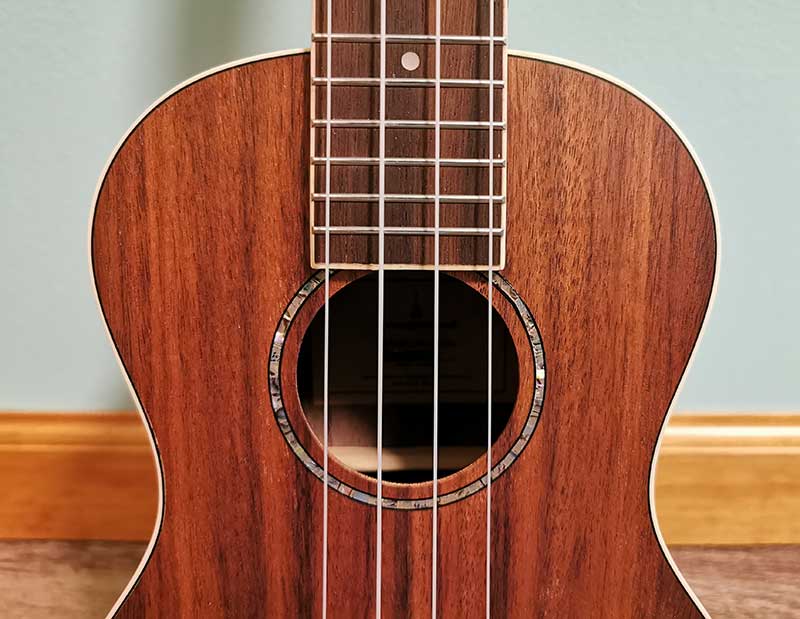 The top has white binding around the edges and fretboard. There are position markers on the fretboard itself and also on the side biding. It also has an abalone shell rosette around the soundhole.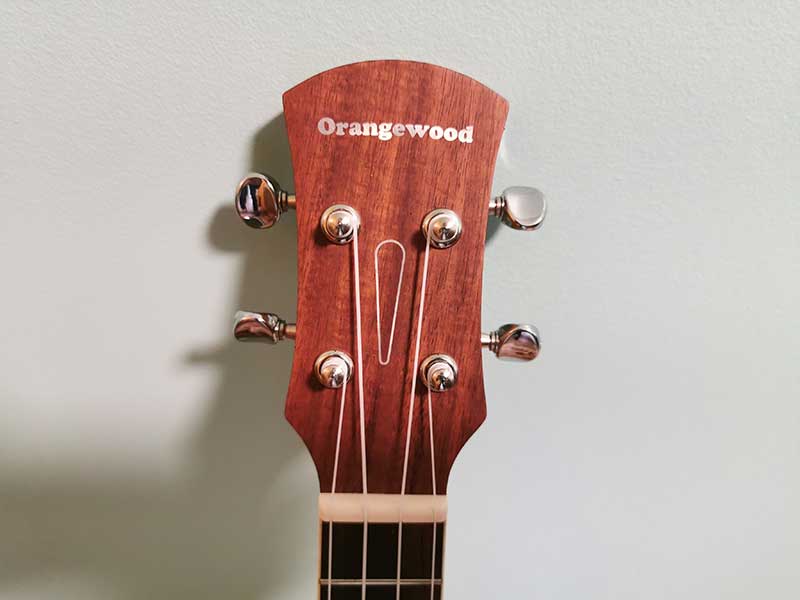 The peghead has the Orangewood logo at the top and a teardrop shape inlay.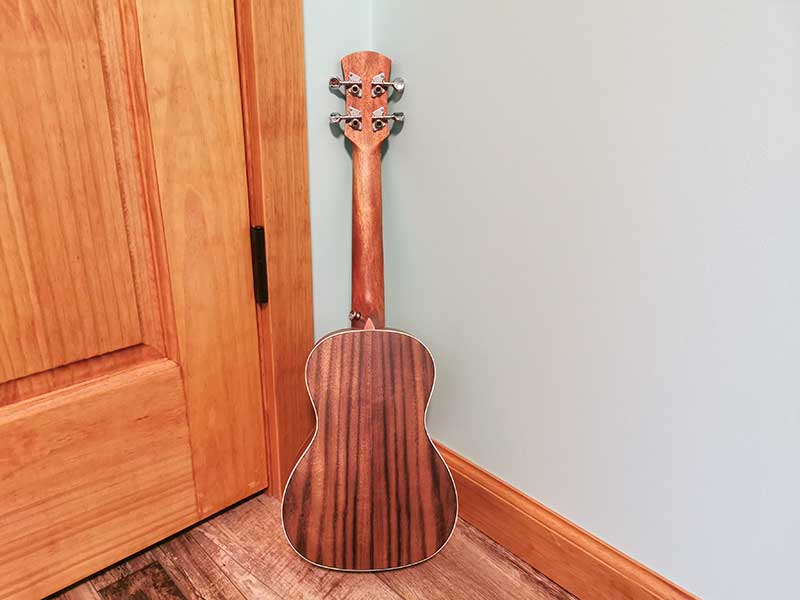 The neck is made of Okume which isn't a wood that I've heard of before now.
The metal tuners are open style which just means that you can see the gears.
Check out the stunning pattern on the back of the uke.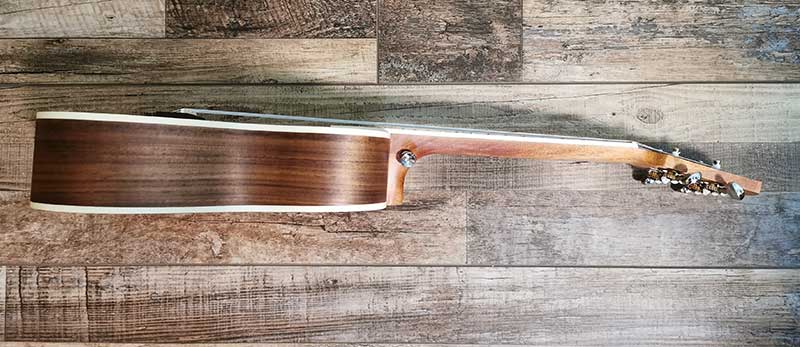 The fretboard is made of Laurel which again, is a wood I've not seen used in ukuleles.
You'll notice that there's a strap button on the side of the neck where it meets the body. There's another strap button on the lower bout.

The Harper uke comes pre-strung with nylon strings and a nice low action that beginners will appreciate. Action is how high the strings are above the fretboard and the higher the action, the harder it is to press down the string to make a chord. Lower action means it will be easier to fret and play chords.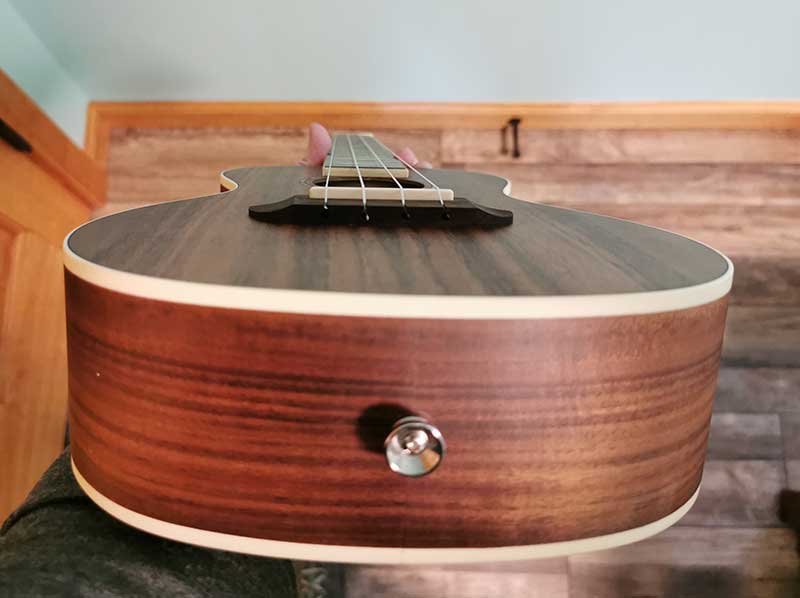 There's that lower bout strap button for those of you that like to sling your ukes around your neck. 🙂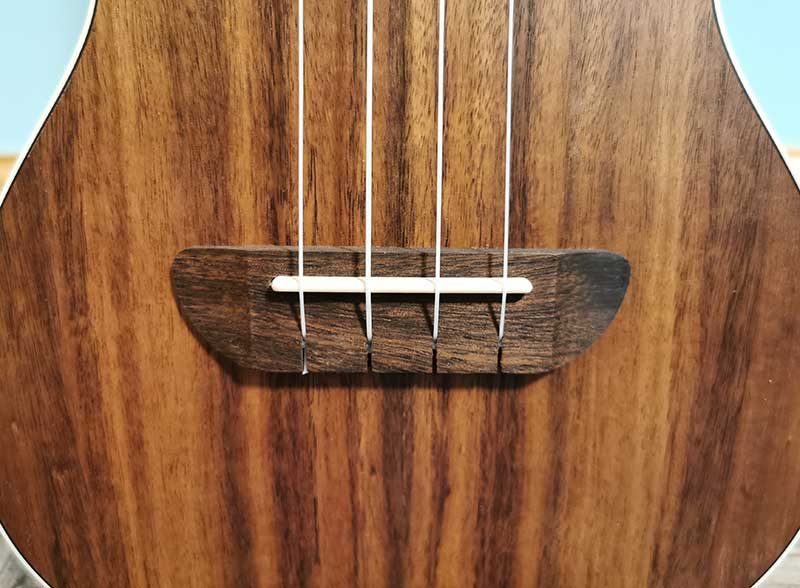 The uke's saddle is made of Laurel like the fretboard and features a slot style.
How does it play and what does it sound like?
To be completely honest, I'm pretty rusty when it comes to playing the ukulele. I've not played one in a year or longer. That said, I found the Orangewood Guitars Harper Concert ukulele to be comfortable to hold and play. The low action makes all the difference when it comes to playing any stringed instrument. This is true especially for beginners because it takes a while to build up calluses on your fingertips. While you're doing that, it can be a little painful to press down on strings while you're playing music if the action is too high.
When it comes to sound, I found the Harper uke's Acacia top/back to give the uke a bright tone but with some warmth too. Check out the quick sound bite/video below.
What I like
Affordable
Well made
An accessory kit is included
What I'd change
Final thoughts
For a budget-priced ukulele, the Orangewood Guitars Harper Concert Acacia Ukulele has a good bang for the buck. You not only get a very well made instrument that's set up for playability, but there's also a zippered gig bag, a strap, and tuner included in the price. It's rekindled my affection for ukuleles. It's time for me to brush up and start playing again!
Price: $135.00
Where to buy: Orangewood Guitars
Source: The sample for this review was provided by Orangewood Guitars.