We use affiliate links. If you buy something through the links on this page, we may earn a commission at no cost to you. Learn more.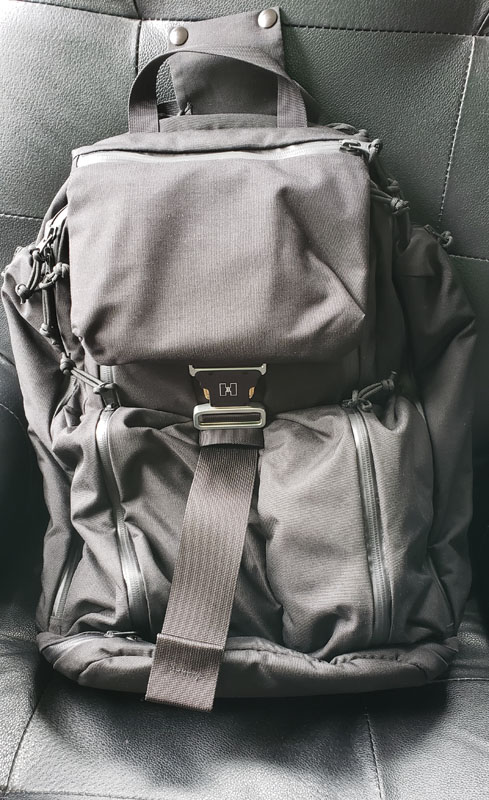 CROWDFUNDING REVIEW – Schlepping – the act of hauling or carrying, typically something awkward or heavy.  We all do it, especially when traveling.  We Gadgeteers always have lots of do-dads and gizmos to schlep, along with the requisite every day carry (EDC) items that life requires.  If we're traveling, we also need other stuff, like clothes, deodorant, toothbrush, toothpaste and so on.  If only there was a way to take everything we need for a Gadgetrific weekend getaway. The Huru A Model backpack might just be that carry-all that can hold everything.  Let's take a deeper look, shall we?
What is it?
The Huru A Model backpack is a rugged, well-made backpack with tons of usable pockets and security features.
What's in the box?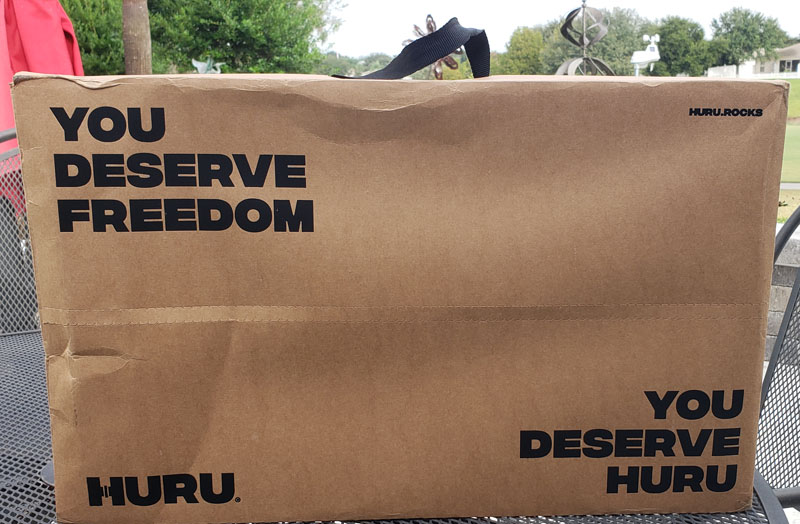 The backpack – that's it. It arrives in a nice, recyclable box with a convenient carry handle.  It is nicely not over-packaged.
Hardware specs
Dimensions: 22″ tall x 16″ wide x 9″ deep

Note – the website says 18.9″x15″x7.4″

Weight: 57.2oz (3 lb 9.2 oz)

Note – the website says 2.2 lbs

Capacity: 25 liters; 30 liters when expanded
Construction: Cordura with YKK waterproof exterior zippers and YKK interior zippers
Colors: black, JULIE – NOT SURE HERE
Design and features
Let's take an in-depth look at the features of this backpack.
Setup
The only setup might involve sizing the straps to your liking, and populating all the pockets with your stuff.
Performance
How a backpack performs is measured by what it can hold, how it holds that stuff and how well it protects the contents.
First, consider that the backpack is made from Cordura – a durable and water-resistant fabric. All zippers are YKK zippers.  The external ones are YKK's water-resistant design. Note the rubberized seal over the zipper track.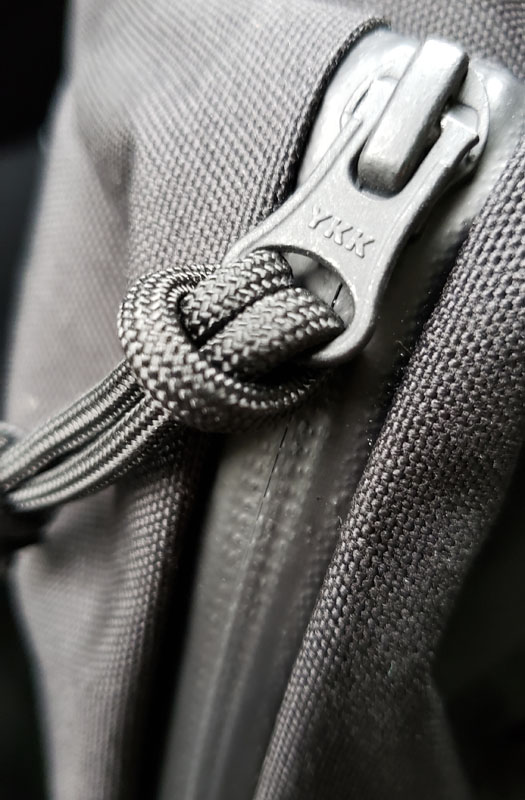 On the very top of the backpack is the snap-together carry handle.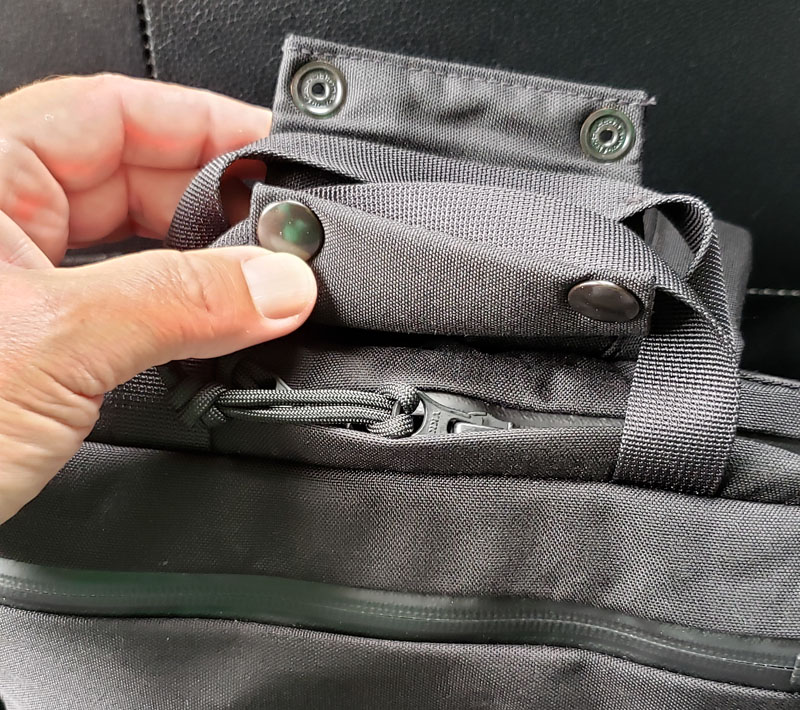 When snapped together, it protects the top-entry laptop compartment.  That compartment is designed to hold up to a 15″ laptop.  There are two sleeves inside that compartment to hold both a laptop and perhaps an iPad. The divider is highlighted below.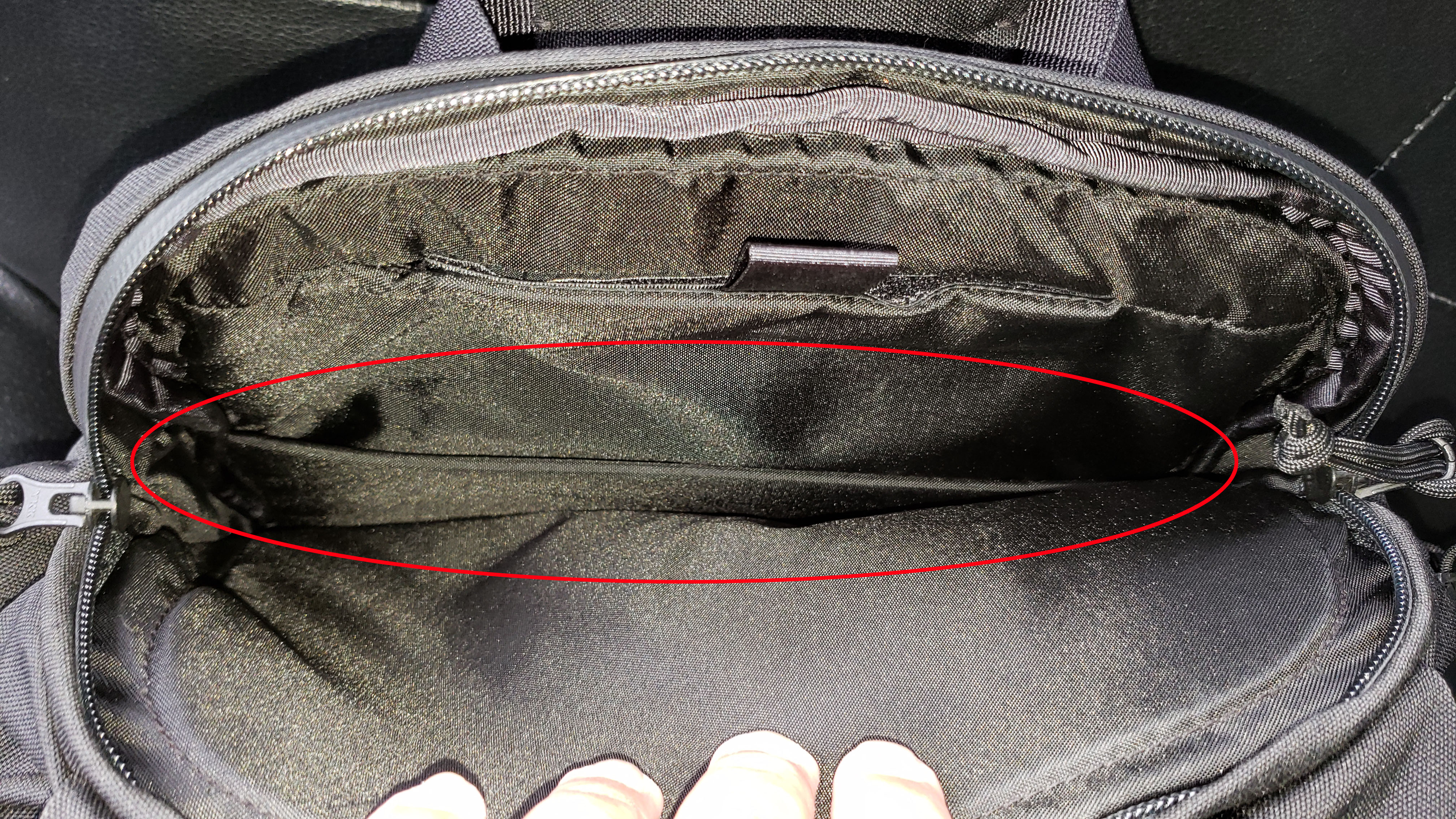 That pull-tab compartment isn't usable – it holds the plastic protection panel that provides a solid barrier to protect the laptop.  Another nice feature of this laptop compartment is that it ends a few inches above the bottom of the backpack.  This means that even if you set the backpack down hard, you won't bang your laptop on the ground.  Nice design touch, Huru.
The front of the backpack features a substantial buckle.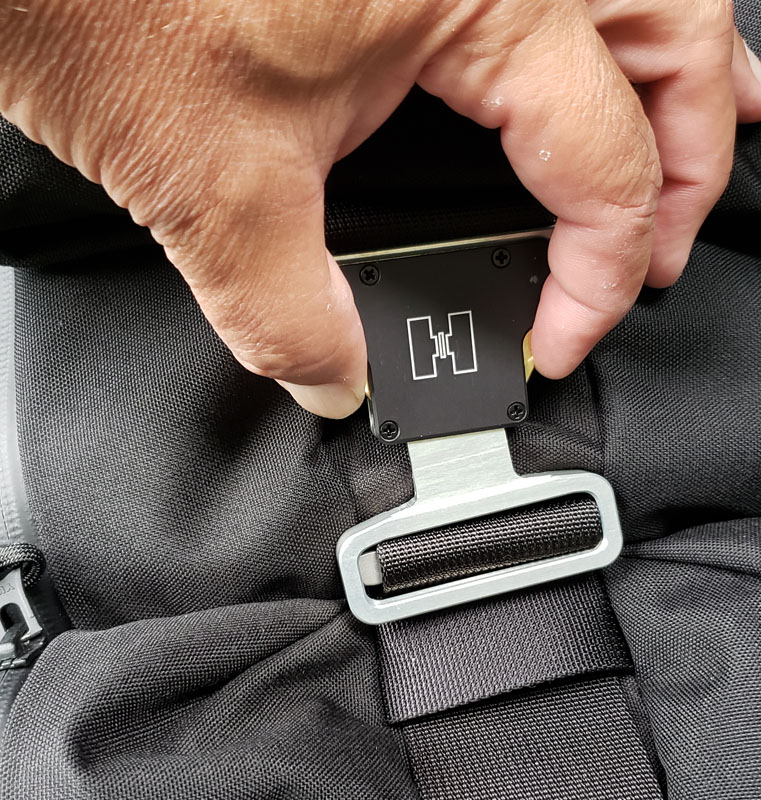 This is over-engineering at its finest.  The buckle operates with an easy squeeze and snaps together with a satisfying click. It also looks cool. That buckle secures the top front pocket to the front of the backpack. 
That pocket is fairly large.  I was able to easily stuff it with a CD-ROM drive and cables.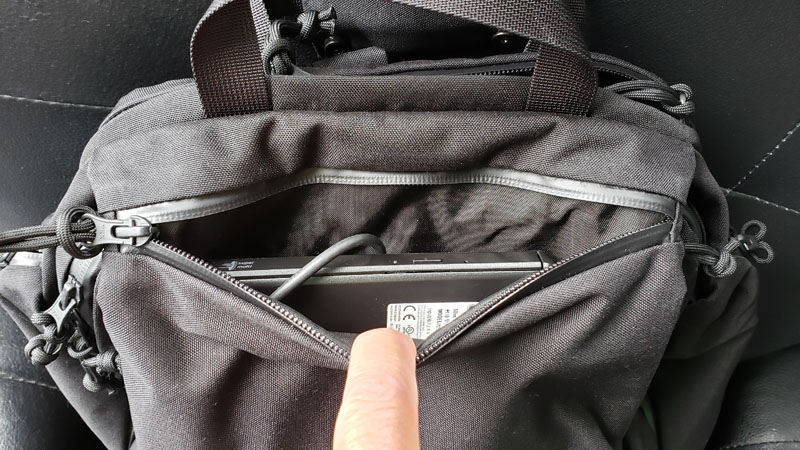 With the buckle undone and that front flap pocket folded up, we find a large pocket that goes fully side-to-side across the front of the backpack.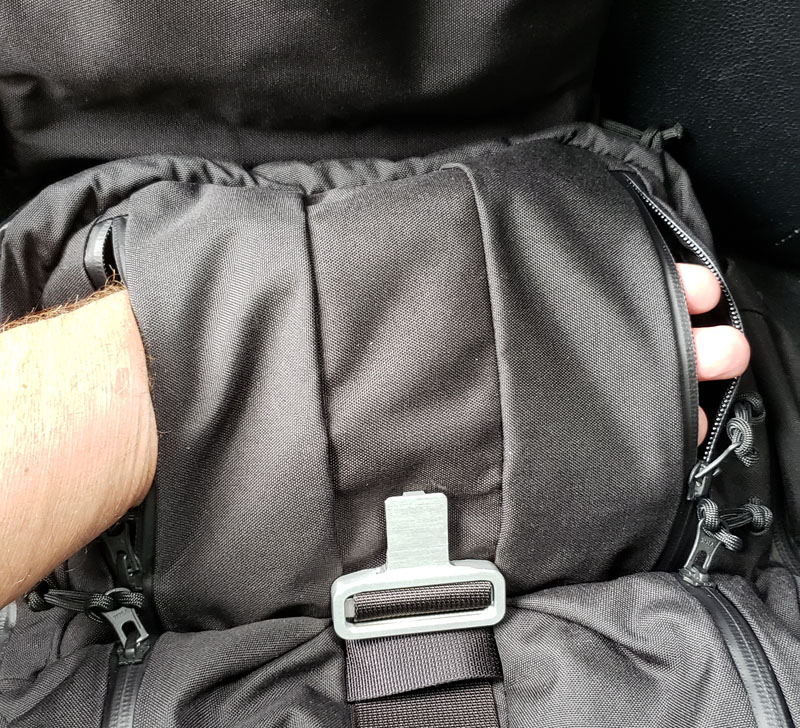 It is large enough to hold a small, collapsible umbrella and more. The waterproof zippers give access from either the left or right side of the backpack.
This is a photo of the left side of the front of the backpack.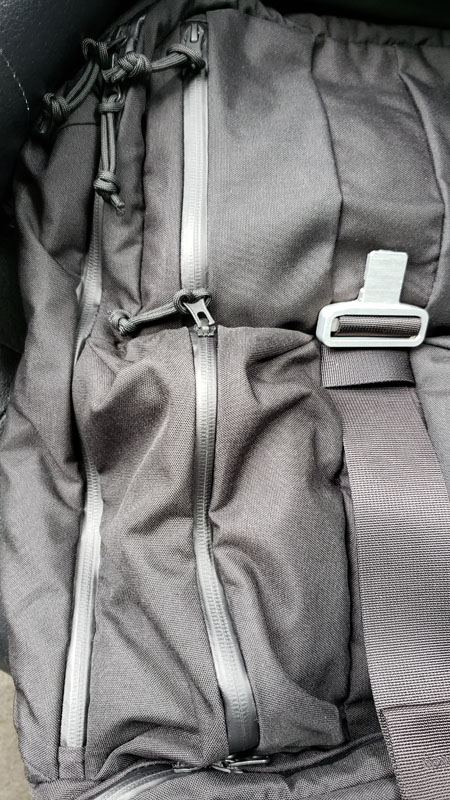 That top zipper is the compartment I just described.  Below that is another standalone compartment.
I was easily able to fit a pair of battery packs, including the MyCharge Unplugged10K, in there and it could hold more.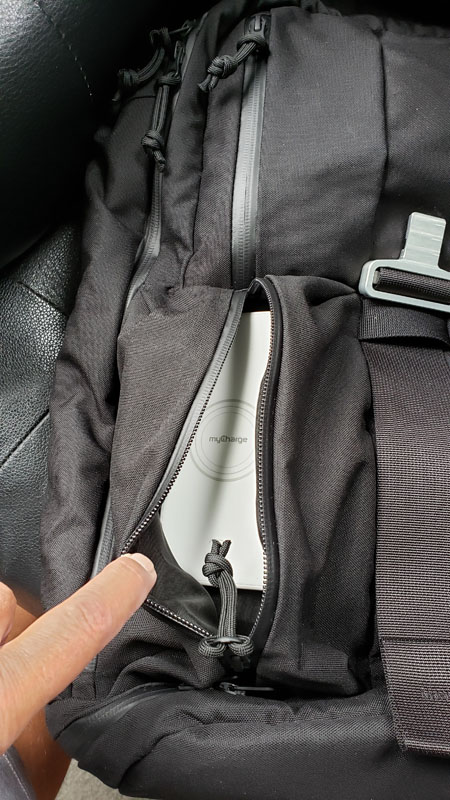 The right side is essentially identical.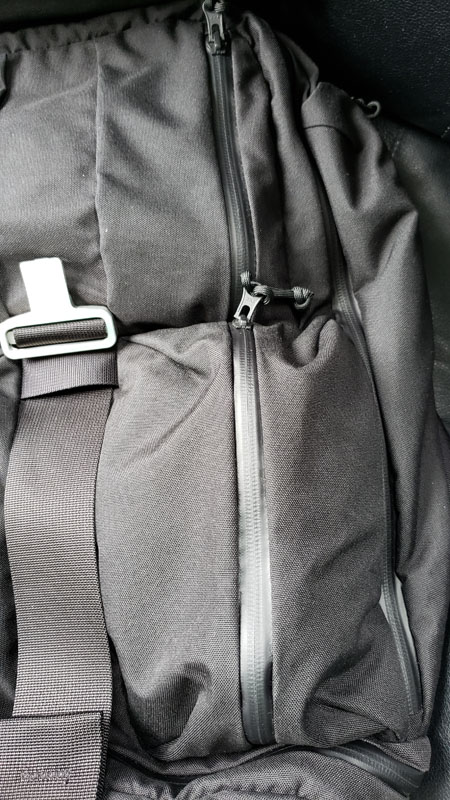 One difference is the first security compartment, located inside that lower compartment.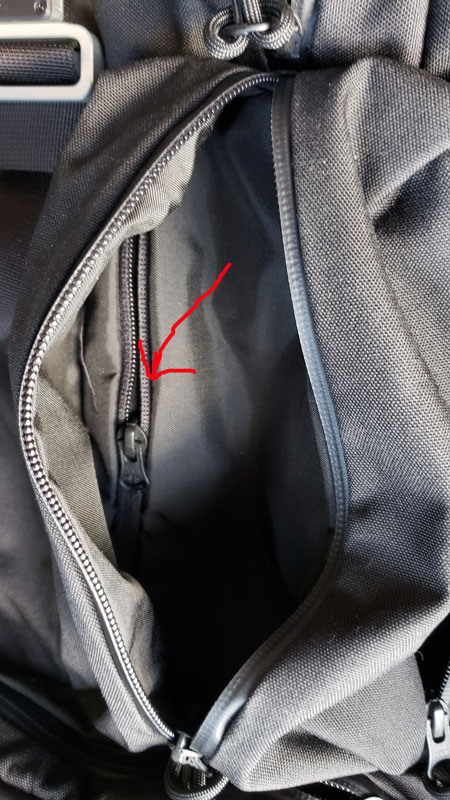 The security compartment is large enough to hold an ID, credit card and some cash.  The compartment itself easily swallowed a bunch of USB cables and chargers, including a couple of Spigen 3-in-1 cables.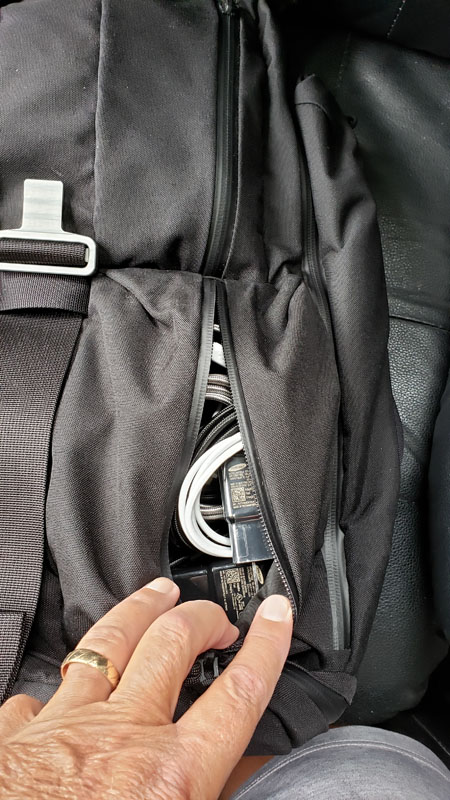 Going out wide to the left and right sides of the pack, we find a large vertical pocket on each side.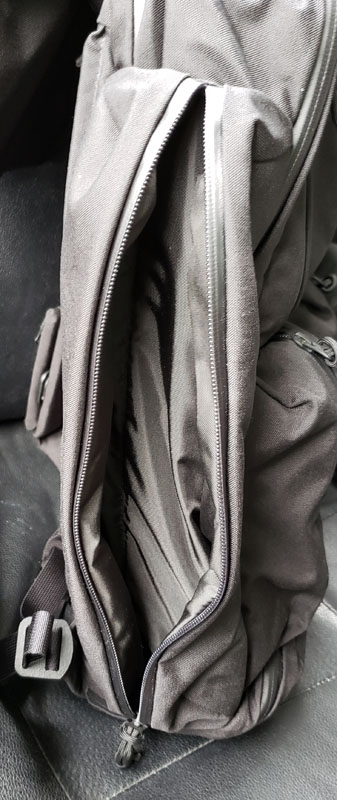 The pockets on each side are identical and are large enough to each hold a men's shoe or a large water bottle.
Unzipping the main compartment opens up the 25-liter main storage compartment.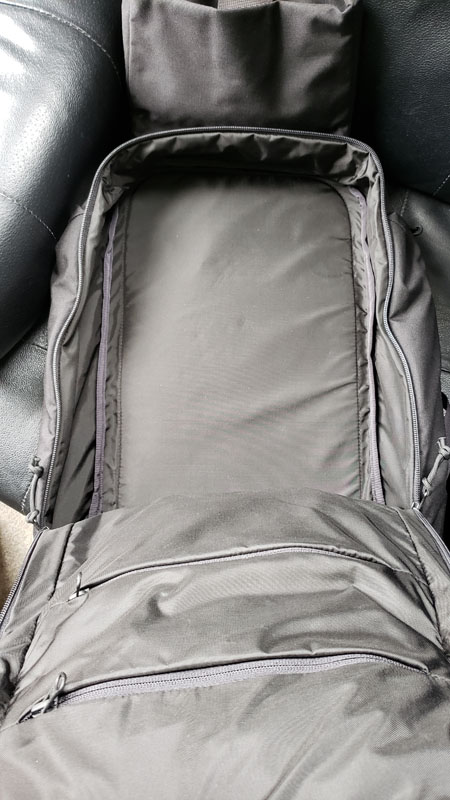 Looking back at the outside, at the bottom of the bag, we find a zipper.

Unzipping that opens up the additional capacity, increasing the main compartment from 25 liters to 30 liters.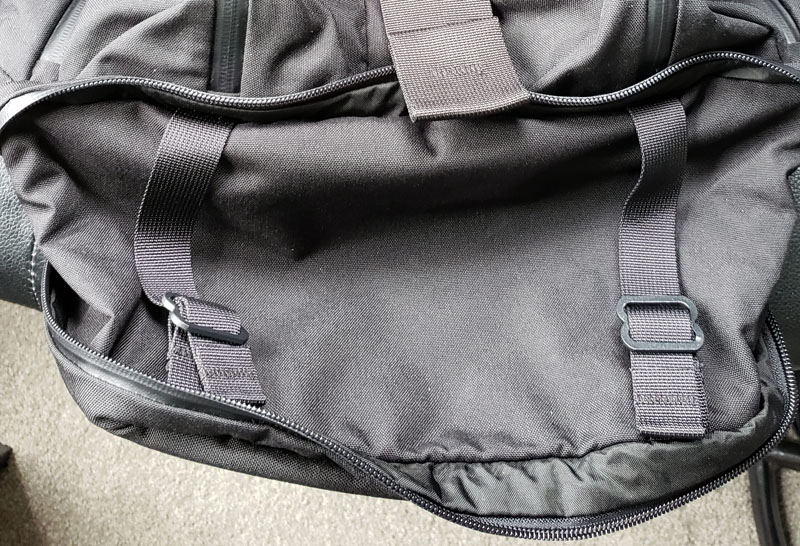 That additional storage is angled away from the back of the backpack, so the additional storage won't drag against the wearer's back.
Looking back at the inside of the main compartment, there are three zippers on the main closure flap.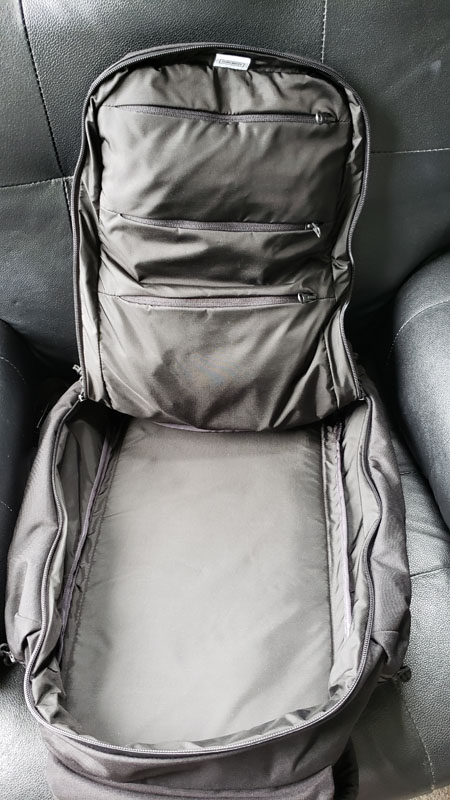 These zippers are a sewn-in organizer.  The top compartment is shallow and perfect for a few pens, USB flash drives and such.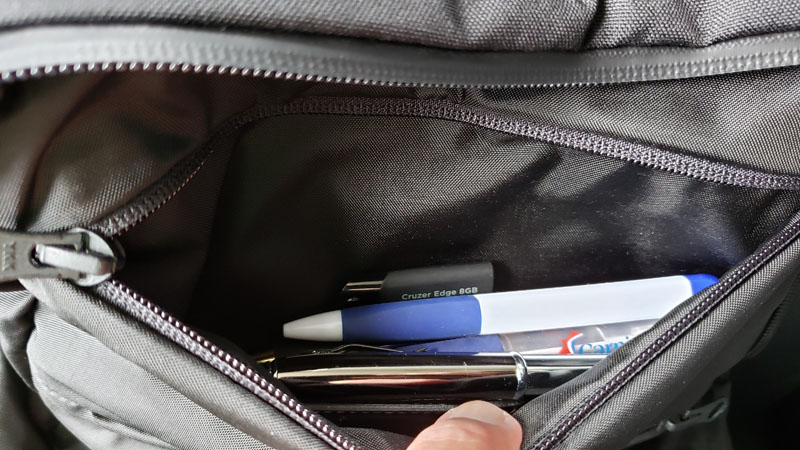 The middle compartment is similar.  I was able to toss in a small battery pack, a vehicle USB charger, and a few cables.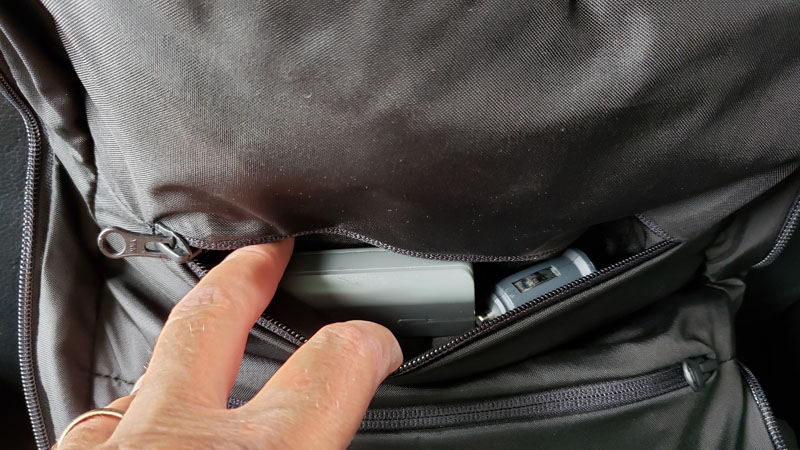 The lower compartment is deeper and easily held two pill bottles, an eyeglass cleaning kit, and a few other small items.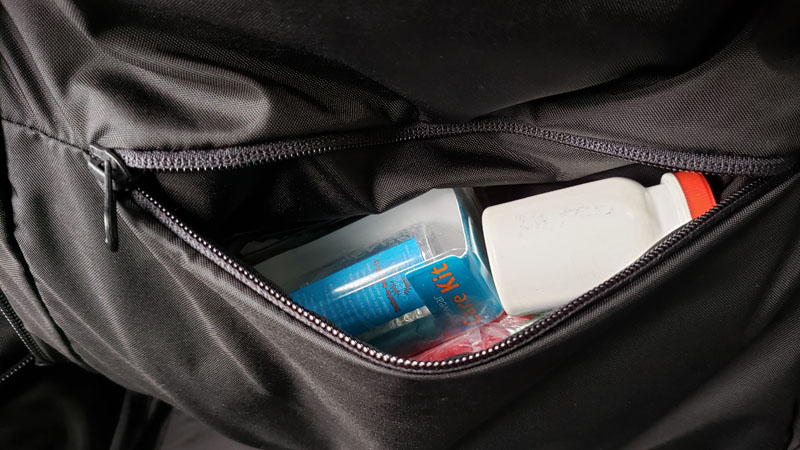 My only complaint with these sewn-in pockets is that there seems to be just enough extra material around the zipper that once I had items in the pockets, the zippers would occasionally bind up.  I couldn't get them to bind up when the pockets were empty.
The back of the pack, of course, has the shoulder straps attached.  Each strap has a small zipper compartment attached.  Each one is sized to hold a few bills, credit cards or perhaps a key or two.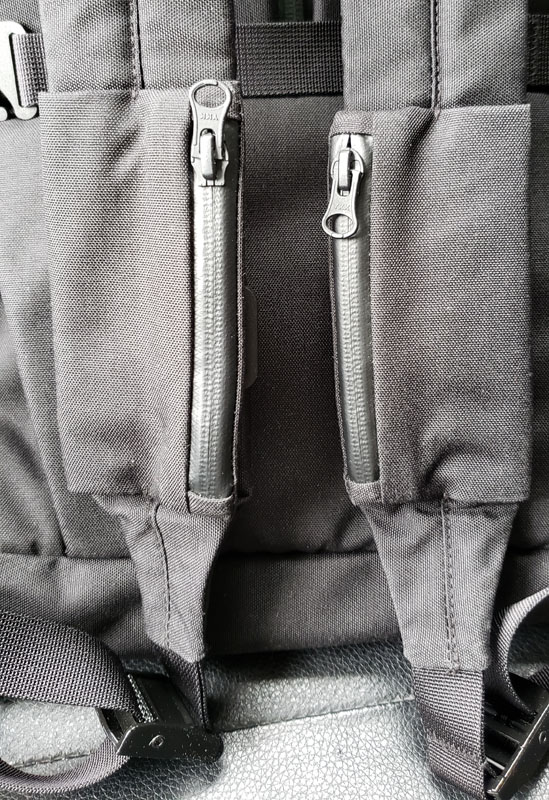 Behind each compartment are clips that look ready to hold a chest strap.  Curiously, there is no chest strap included, so I really can't figure out why they're there.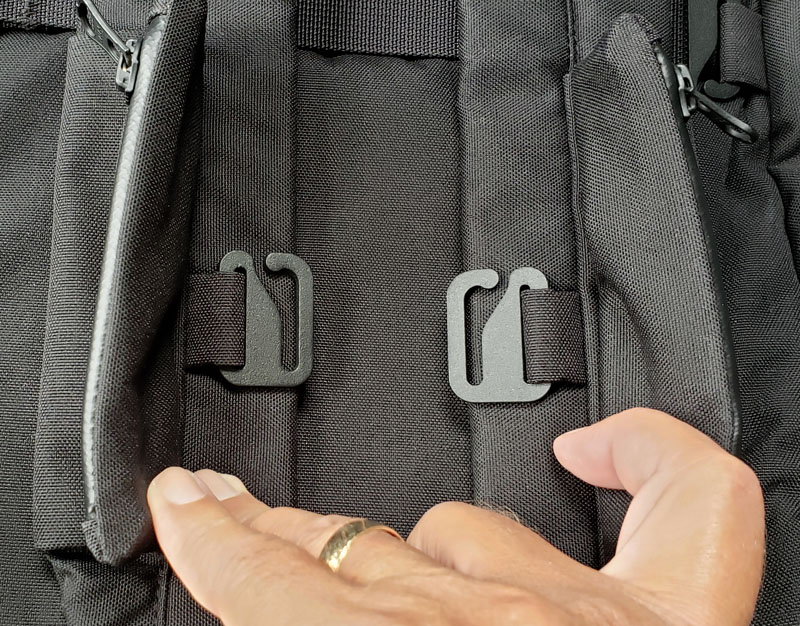 There is an elastic strap behind the shoulder straps.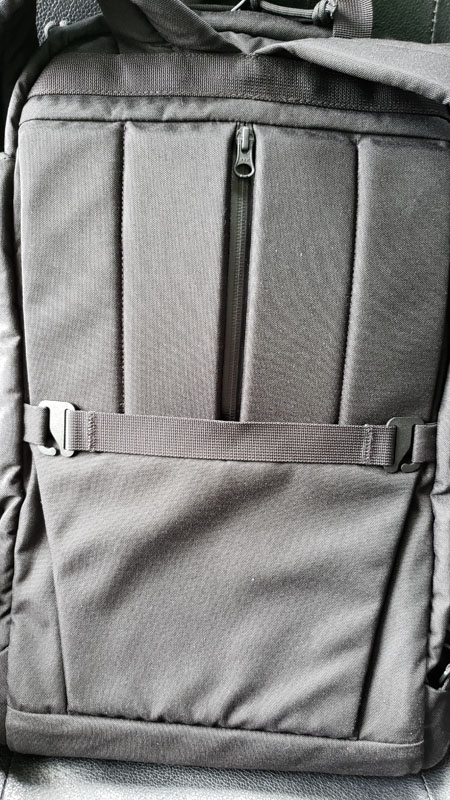 This is designed to slip over the pull handle of a suitcase, keeping the backpack safely on top of your roller bag.
Just above the strap is the second security pocket. It is designed to sit along your back, keeping items like a wallet and passport safely away from prying fingers when you are wearing the backpack.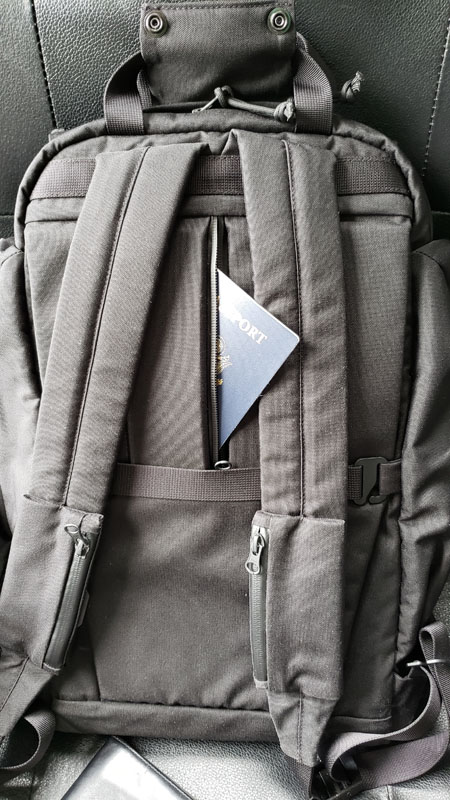 Below the elastic strap is a full-width pocket without zippers.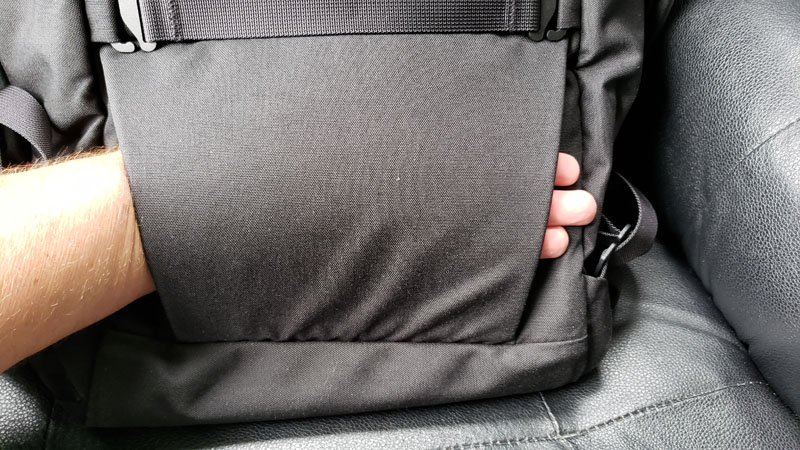 I'm sure it's there for a reason, but for the life of me, I couldn't figure out what to do with it.
I was able to take every single thing out of my existing backpack and store it all safely in the Huru A Model. But, after I did that, I didn't like it. As an EDC backpack, I just didn't find it convenient.  Sure, there was a place for everything, but some of those places were a bit of a pain to get to easily.  The pack itself didn't have enough structure when not fully loaded to stand without falling over.  The fact that most of the storage compartments are located on the main flap meant that when I loaded the pack, the front flap was quite heavy and difficult to open and close to access the main compartment.  I just can't see using this pack as a daily carry bag.
Having said all that, it's not all bad news.  I took a mid-sized packing cube and dropped it into the pack.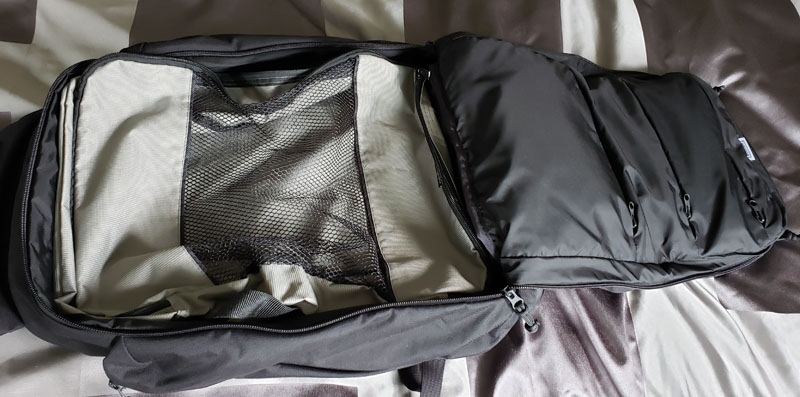 It was almost a perfect fit, even without unzipping to add the extra five liters of expanded storage.  That's when the lightbulb moment happened for me.  This is nearly the perfect weekend travel bag.  Instead of having to carry a small suitcase plus a backpack for short weekend trips, this bag can hold all my necessary tech, plus a weekend's worth of clothes and toiletries. It will do that all safely and with a bit of style.  And, if I need it, I can expand the bottom and pick up those additional five liters of storage.
What I like
Super well-made
Lots of storage nooks and crannies all over the place
Two secure pockets for things that need to be safe
Large capacity
What I'd change
A little more structure so the back will stand easily when the bag isn't fully-loaded would be nice
A description of the features would also be helpful as I still can't figure out the hooks behind the shoulder straps and the wide pass-through  on the back
Change the zipper design on the sewn-in organizer to prevent zipper binding on the fabric
Final thoughts
The Huru A Model backpack is going to become my short-trip getaway bag.  I can take a few days worth of travel necessities plus all the tech I need to get through the weekend.  It may also replace my standard backpack for longer trips like week-long cruises as it can allow me to add some practical packing space versus my EDC backpack.
I am quite impressed with the build quality and all the nice storage cubbies, especially the thoughtful security pockets and laptop compartment that isolates the laptop from impacts.
If you're looking for a great all-around travel backpack so you can schlep like a Gadgeteer, I recommend checking it out.
Price: $164 – $194
Where to buy: Kickstarter (rewards due to ship in February 2020)
Source: The sample of this product was provided by Huru.