We use affiliate links. If you buy something through the links on this page, we may earn a commission at no cost to you. Learn more.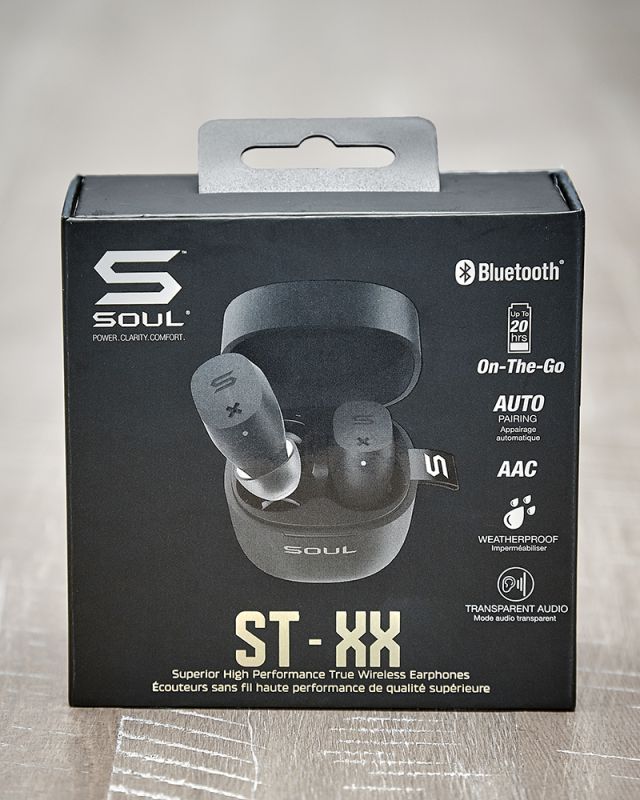 REVIEW – While headphone jacks are disappearing from smartphones, it only makes sense to switch to wireless Bluetooth headphones. In this case, wireless Bluetooth earbuds. And with the ST-XX True Wireless Bluetooth Earbuds from Soul, these are perfect earbuds for wireless use with your smartphone or another Bluetooth device. Let's face it, even if your smartphone or another Bluetooth device still has a 3.5mm headphone jack, having wireless earbuds is not only convenient but it is also less of a hassle like when it comes to detangling the wires or when your earbuds get ripped out of your ears because the wires got snagged on something. Whether listening to your music, podcast or watching a movie on your phone it can be more enjoyable with the freedom you will have by not being tethered to your phone or other media device.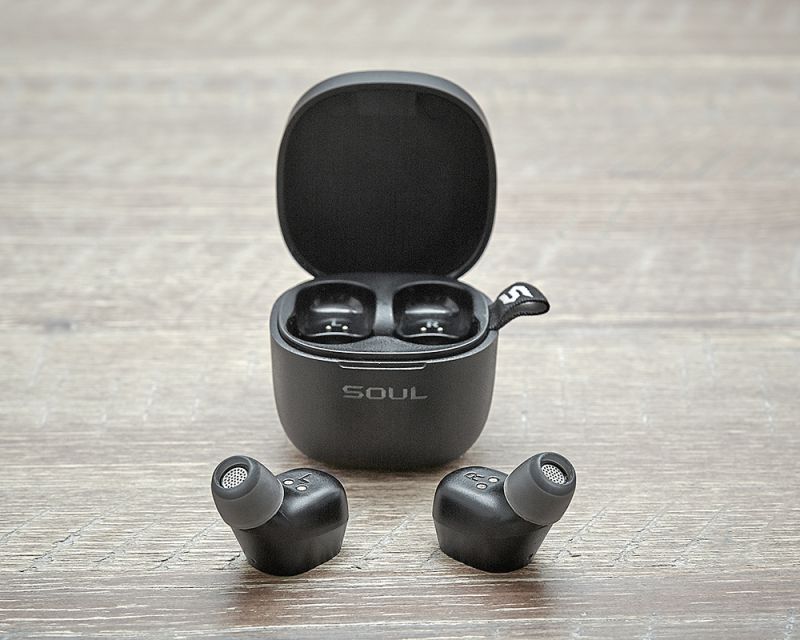 What is it?
The ST-XX True Wireless Bluetooth  Earbuds are small, lightweight and IPX5 water-resistant earbuds that automatically turn on and pair to your smartphone or another Bluetooth device when you take them out of their charging case. No need to take the time to turn on or off these earbuds because they have an auto On/Off feature. However, keep in mind that although these earbuds have Bluetooth 5.0 technology you will need a smartphone or device that has Bluetooth 5.0 to get the full benefits of the Bluetooth 5.0 features.
What's in the box?
ST-XX Earbuds
Charging Case
USB-C Charging Cable
S-M-L Eartips
Quick Start Guide

Hardware specs
Bluetooth Profiles – HFP, A2DP, AVRCP, HSP .
Earbud size – 24mm x 14mm x 20mm (0.94″ in x 0.55″ in x 0.79″ in).
Earbud weight- 4 grams
Speaker Diameter- 6mm
Sensitivity – 93dB
Impedance – 16Ω
Driver Type- Dynamic
Battery Life (Talk or Music) – up to 5 hours on a single charge/ up to 20 hours with charging case
Design and features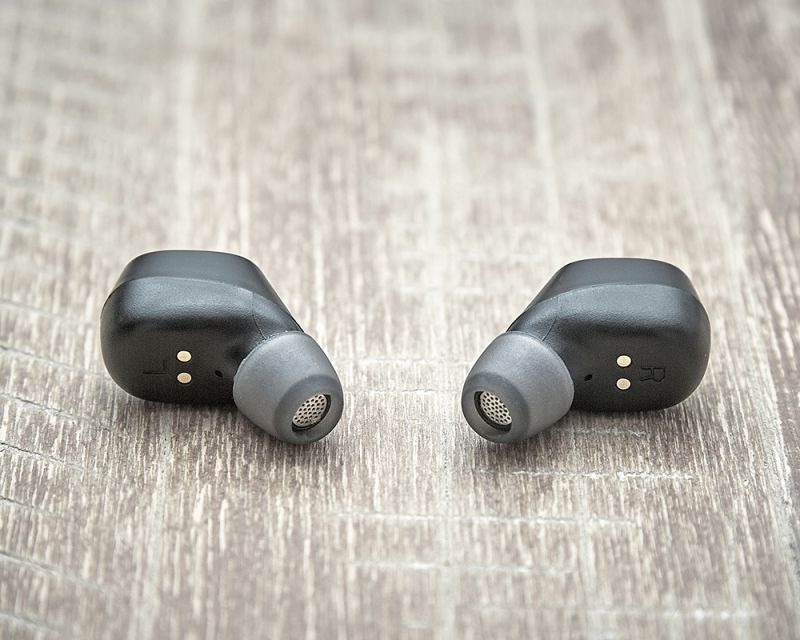 The Soul ST-XX wireless earbuds are small and portable so you can take them pretty much anywhere with you. As small as they are, you would definitely need to keep them in the charging case when you're not using them or they could easily get lost.  Fortunately, the charging case is small enough to throw in your backpack, gym bag, laptop bag, or purse. However, as small as the charging case is, it is also somewhat cube shaped in form. Although it can fit in your front pocket, it would be quite bulky.  Think of those small Rubik's Cube keychains, they are about 3″ in. x 3″ in. That's around the size and dimension of the charging case.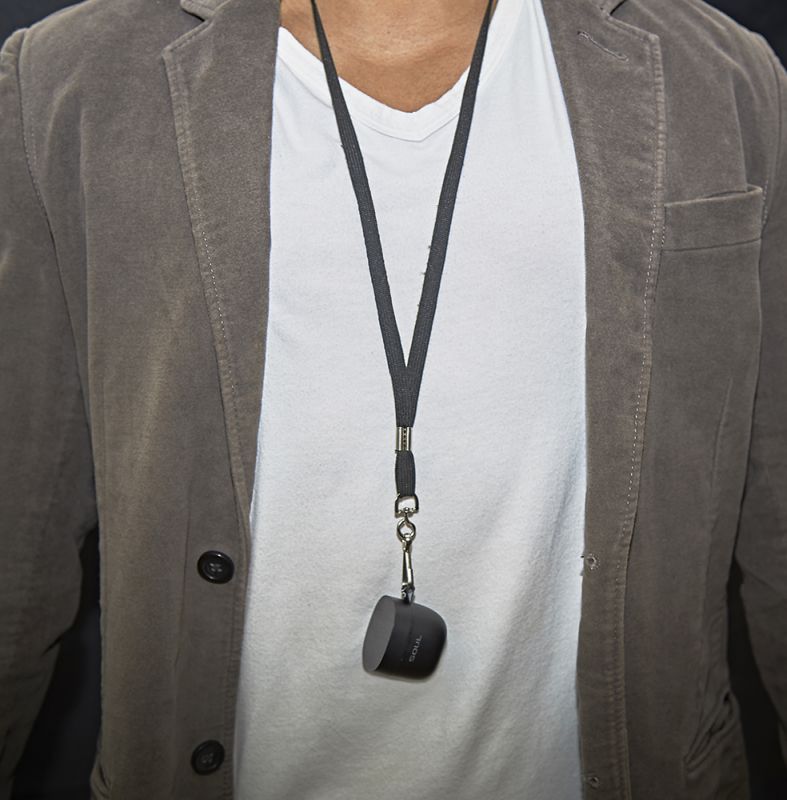 And speaking of keychains, there is a small tab, or loop, on the charging case so that you can attach the charging case to your keyring or attach a lanyard to carry it around your neck or anything that you can hook to the case's tab. The earbuds and charging case have magnets in them to help the earbuds stay inside the case so that when you open the lid the earbuds don't go popping out. The magnet also helps when you place the earbuds into the case as well by snapping the earbuds into their appropriate slot.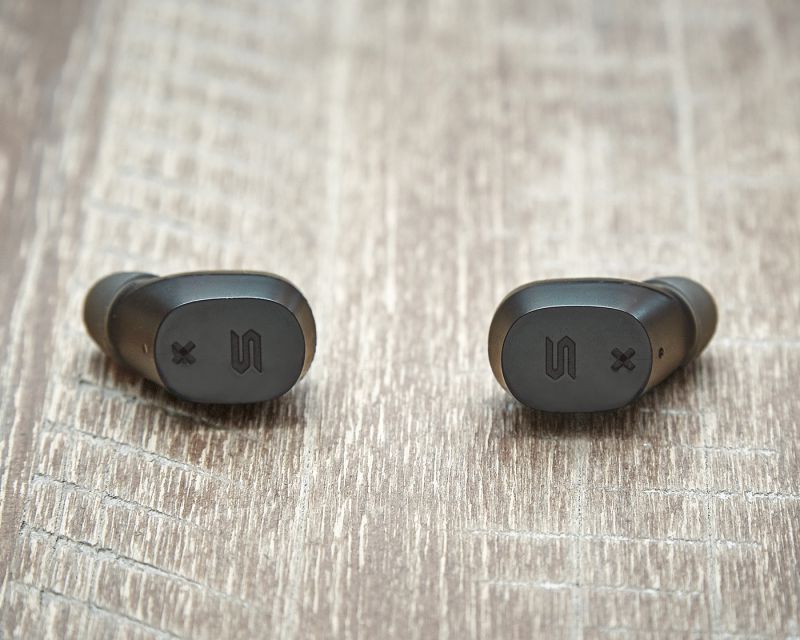 On the side of the earbud, you can tap it once to Pause and Play your music. When you get a phone call you can tap the side again to Answer the call and then you can end the call by holding the side of the earbud for two seconds.  Unfortunately, there is no Volume control on the earbuds so you will have to rely on your smartphone or device to control the volume. Also, by holding the side of any earbud for 2 seconds allows you to skip to the next song. However, there is no function on the earbuds to go back to the previous song or to replay the current song. You will just have to use your smartphone or device to do that.
I noticed that the touch sensitivity on the sides of the earbuds is very high so the earbuds will respond to the slightest tap. There have been several times when I went to adjust the earbuds and my finger accidentally touched the side of the earbud and it paused my music. I guess maybe because the earbuds are so small that one's fingers can't help but to brush against the earbuds.
In the included Quick Start Guide, which is also available for download on Soul's website, there are other instructions for the side touch features, however, they are shown mainly by pictures and diagrams and not fully written out. Some instructions I figured out but one or two I had a hard time understanding. Hopefully, the instructions that I didn't understand I won't have to use them such as Resetting, which I am assuming is resetting the earbuds should you need to. If you can understand this diagram below then let me know.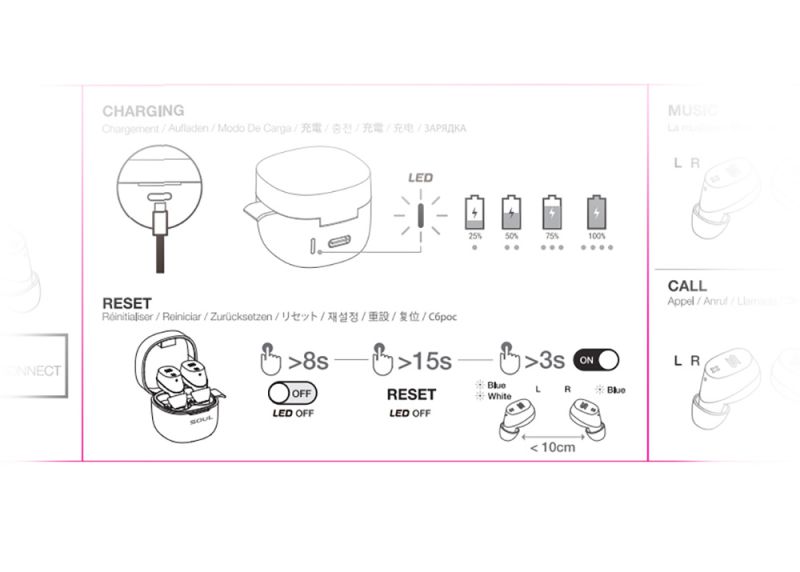 These earbuds are super small so they don't stick out so much as other true wireless earbuds I have tried. I like the small size that they are because they do a good job of keeping a low profile when they are inserted in your ear. The ST-XX earbuds are of a rectangle shape without any extra wingtips or any special form fitting curves to fit to your ear. Maybe it is the shape of my ear but when I first inserted the earbuds into my ear I couldn't find the right position for the earbuds to be seated in my ear. I guess since the way the ST-XX earbuds are shaped I just didn't get that custom fit feel.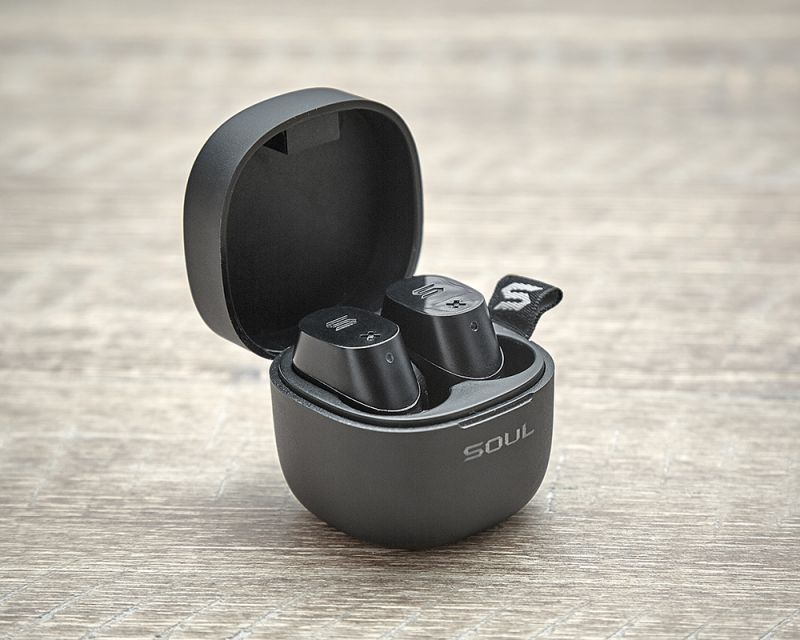 Not to say that you can't adjust them so they can be snug in your ear, because you can. With a little twisting and turning they can lock firmly into your ear. However, I noticed when I had the earbuds locked into my ears it was difficult for me to hear my ambient surroundings. When it comes to Bluetooth headphones and earbuds I have to be able to hear my surroundings around me. For example, if I am out for a run with the earbuds in, I need to be able to hear my surroundings such as cars and traffic, people on bikes behind me, maybe the neighbor's dog starting to chase me, or just anything that may require my attention if needed. It's more of a safety concern than anything.
I think that maybe it's because as small as the ST-XX earbuds are, they just sink right into my ear canal. So, what I ended up doing to remedy the situation is I just keep the earbuds loose in my ear and not pushed too far in. However, by doing this, the earbuds aren't as flushed in my ear as I would prefer and they lean out of my ear a bit but at least I am able to hear my surroundings better. And for me, safety first.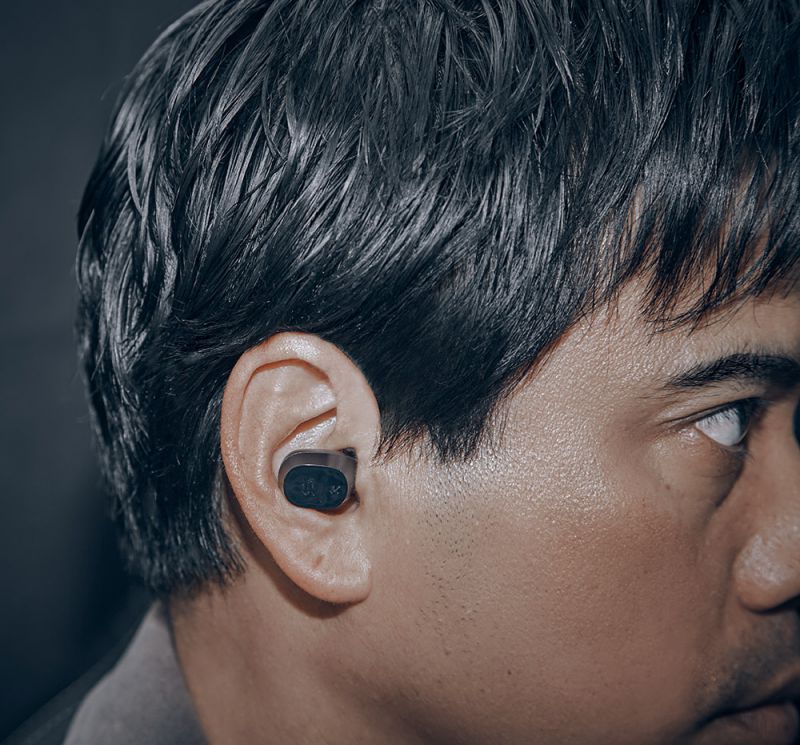 These earbuds are perfect for the gym since there are no wires to get snagged on any gym equipment. And since they are water-resistant you can keep on sweating while you workout or sweat while you are out for a run, maybe even out running in the rain if that's your thing. While wearing these earbuds loosely in my ear, they felt secure enough in my ear to do some heavy pounding while running on the street without feeling that they would pop out of my ear. Just as long as I adjust them to be locked inside my ear then they'll stay put.
Performance
I really enjoyed the sound quality of the ST-XX earbuds. While listening to music I could hear rich clean sounds which I really liked. The music was crisp and clear and I never experienced any dropouts even from walking away from my phone. Soul's website state that the range for these earbuds is 33ft (10m). The ST-XX earbuds kept connectivity even going from one room to another in an office building. Don't expect any deep booming bass from these earbuds, though. You might get some occasional heavy mids but it would depend more on the type of music, or more specifically the song, you are listening to if you really want to hear any driving bass. However, that may involve cranking up the volume. While I did test the earbuds at a higher volume, I'm happy to say that the music never seemed muddy or distorted. The earbuds did a good job at the higher volume levels. Of course, I probably won't ever be listening to my music at such a high volume but it's just a small test that I do for myself with headphones and speakers.
When I used the earbuds on a phone call the call quality sounded pretty good. I didn't experience any  call latency, echoing, or half duplexing. The sound quality on the phone call was crisp and clean. Just the way I like it.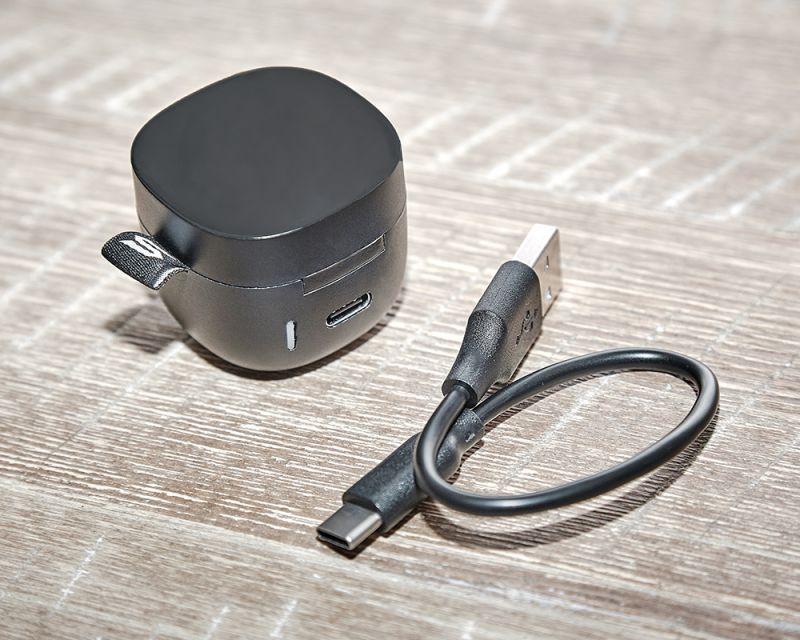 Battery life on the ST-XX earbuds is only five hours on a single charge. It's average considering many wireless earbuds and headphones nowadays range between 6-8 hours on a single charge. The Cleer ALLY earbuds have a battery life of an amazing 10 hours on a single charge. You can read my review of the Cleer ALLY earbuds here.
The ST-XX earbuds are rated for 20 hours but that's in addition with re-charging the earbuds in the charging case. So, technically you would have to charge the earbuds 4 times to get the full 20 hours out of it. Just remember to recharge the charging case or else placing the earbuds in a dead charging case will do you no good. I charge the case whenever I can because several times before I have taken the earbuds out of the case and come to find out the earbuds wouldn't turn on because I exhausted the batteries in the earbuds and in the case. I guess I was using the earbuds more often than I thought. So now, from time to time I charge the case while I am wearing the earbuds just so the case has plenty of juice when I need it.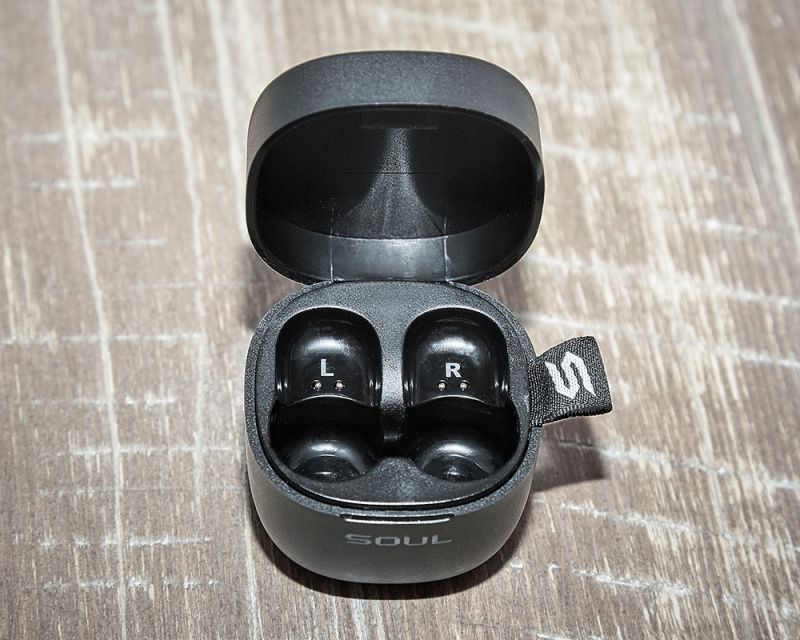 What I like
Small size
Call quality
Sound quality
Water-resistant
Small portable charging case
What I'd change
Longer battery life on a single charge
Have it so environmental sound can be heard more
Have a more custom fit
Have volume control

Final thoughts
The ST-XX Bluetooth True Wireless earbuds from Soul are small, portable, and effective wireless earbuds that may not have all the bells and whistles of higher end true wireless earbuds but they are a strong contender. The ST-XX earbuds can still hold their own with their auto On and Off features, water-resistant housing, and on-par sound quality. And even though these earbuds don't have a custom contour fit they still are lightweight and comfortable to wear. Thanks to the addition of the charging case, you can enjoy these earbuds for hours at a time as you listen to your favorite music, podcast, audiobook, or wear them as you watch a movie or view a YouTube video on your smartphone or other media device.
For the last few weeks, I have been wearing them daily for hours at a time and I have enjoyed them since then. Full disclosure, when I first tried them on I wasn't too sure of them because they felt so small in my ears that it felt weird. But with a slight adjustment here and there, it didn't take long for me to find the right angle for the earbuds to sit comfortably and secure in my ears.
If you're looking for an inexpensive true wireless set of earbuds then look towards the ST-XX True Wireless earbuds from Soul. These earbuds have satisfactory sound quality as well as clear call quality. Plus, they come in six fashionable colors to choose from: Lemon Yellow, Pure White, Raspberry Red, Sakura Pink, Navy Blue, and Matte Black.
Price: $55.99
Where to buy: Soul Website and Amazon
Source: The sample of this product was provided by Soul Electronics.