We use affiliate links. If you buy something through the links on this page, we may earn a commission at no cost to you. Learn more.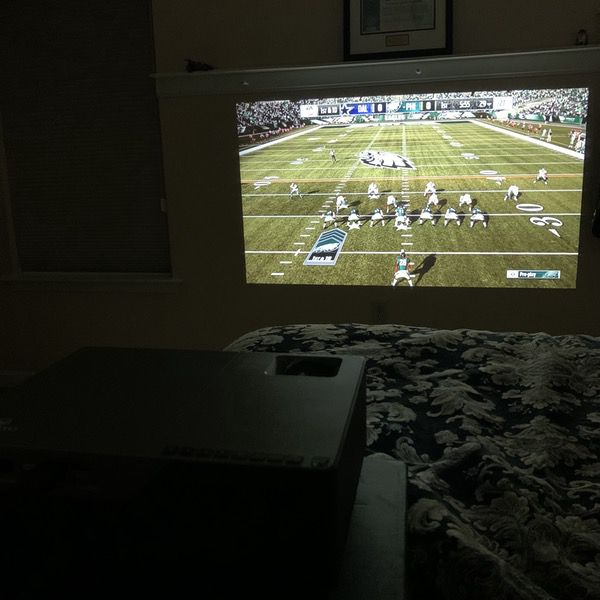 REVIEW – A 1080P projector for $250? Yes, my friends! Today we're looking at the Vankyo Performance V600 Mini Movie Projector, which promises native 1080p resolution at a bargain price. If you're looking for a new projector for personal or business use, this one may be worth your consideration. Let's find out more. To the review!
What is it?
It's a native 1080P projector that is compatible with just about any device you can throw at it.
What's in the box?
You'll get the projector, an AV cable, an HDMI cable, a lens cap, and a remote control (batteries included). It even comes with a carry bag for all the parts.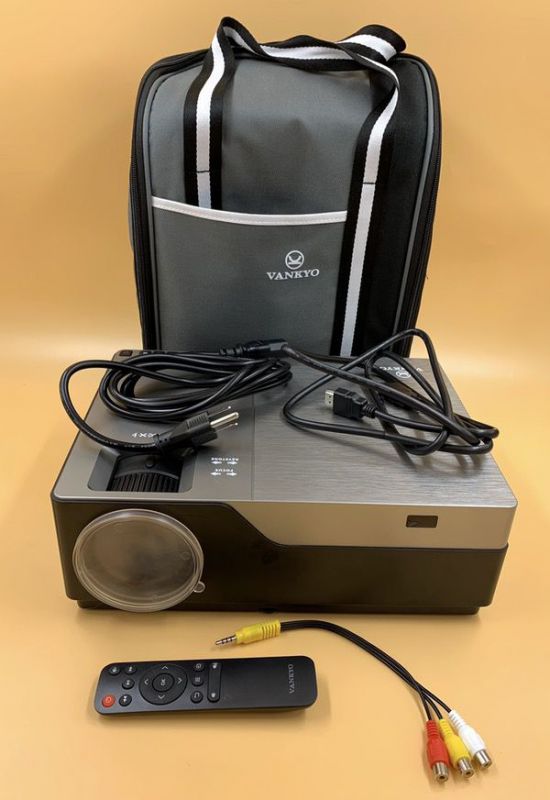 Hardware specs
1920 x 1080 native resolution
5000 Lux brightness
5,0000:1 contrast ratio
Supports 16:9, 4:3 and automatic aspect ratios
50,000 hour LED lamp life
Projection size of 50″ to 300″ with a 10 meter range
Ports for 2 HDMI connections, AV cables, USB 2.0, VGA, and an SD card
15.35″ by 15.35″ by 5.9″
8.3 pounds
Design and features
The VANKYO Performance V600 Mini Movie Projector package is nicely put together with everything you need to get started in a well designed package. Take the carry bag, for example. It's actually a well-designed piece of kit as opposed to a throw-in afterthought.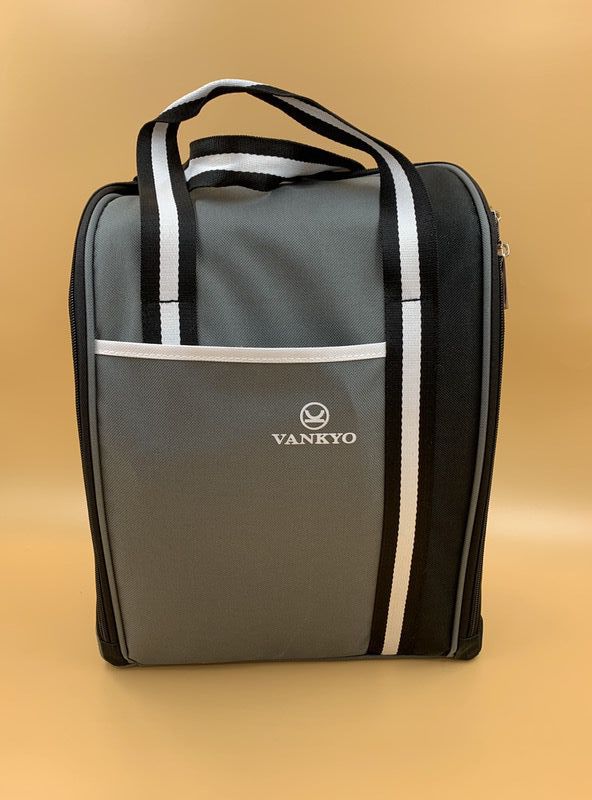 Double zips open up the bag like a clamshell for easy packing and unpacking.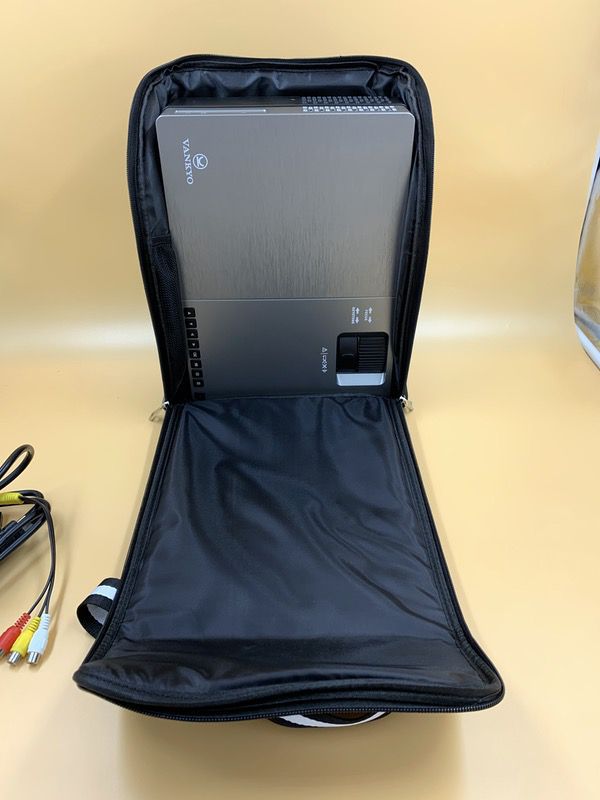 There's a pocket on the front of the bag and a second mesh pocket inside to manage your accessories.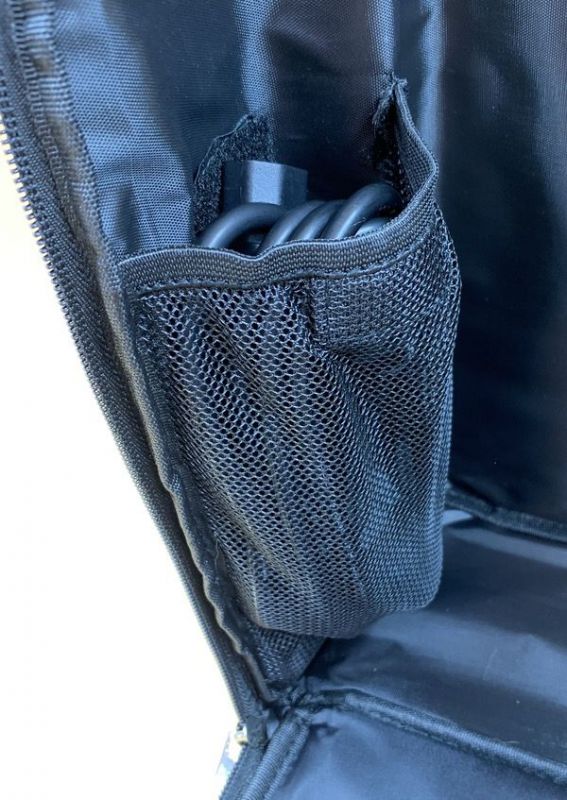 It also includes a thick lens cover to prevent nicks and scratches.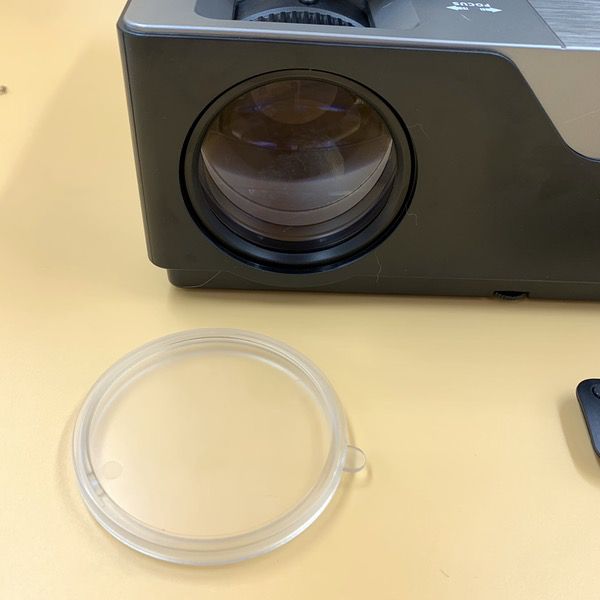 You've got options aplenty for connectivity. The back panel sports a VGA port, 2 HDMI ports, and 2 USB ports. The side panel also has an SD card slot and AV plugs. And HDMI and AV cable are included, so you can connect to just about any device right out of the box. Unless you're planning on using an iPhone, in which case you'll need to buy a lightning to HDMI cable.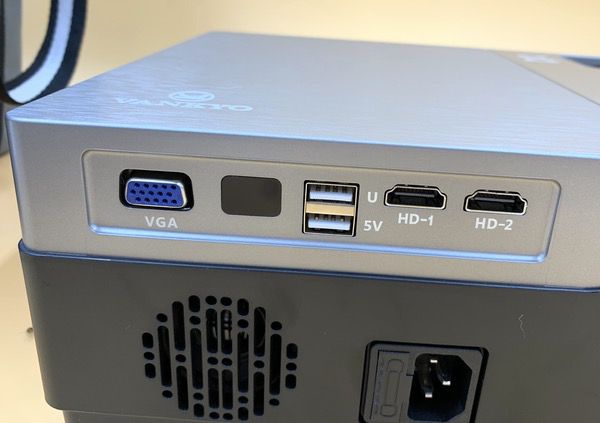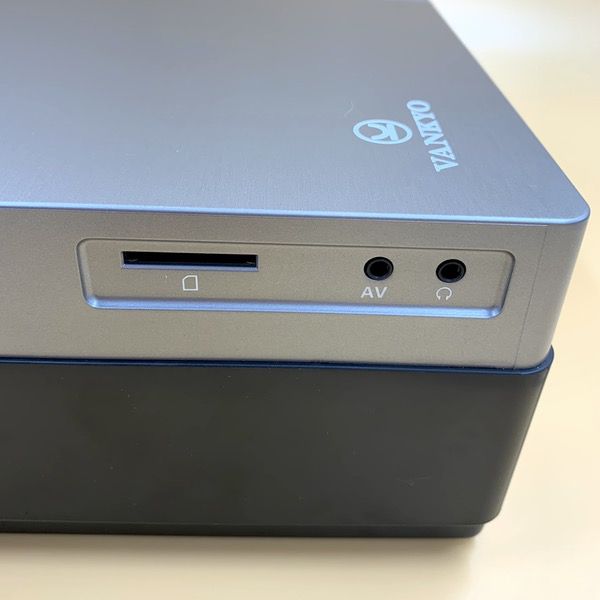 A control panel on the top rear of the unit allows you to manage all of your functions, but I like the included remote control for this. It's got some extra features like volume control, fast forward/reverse, and mute that save you pecking through the menus.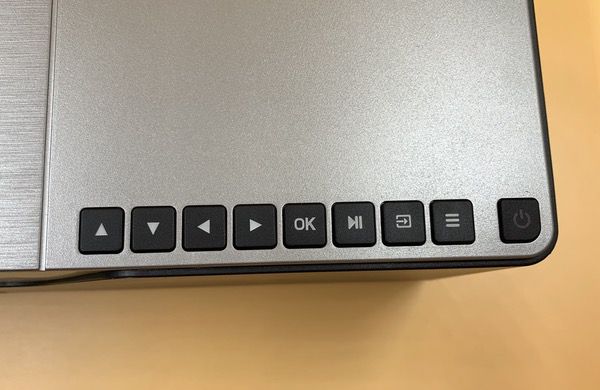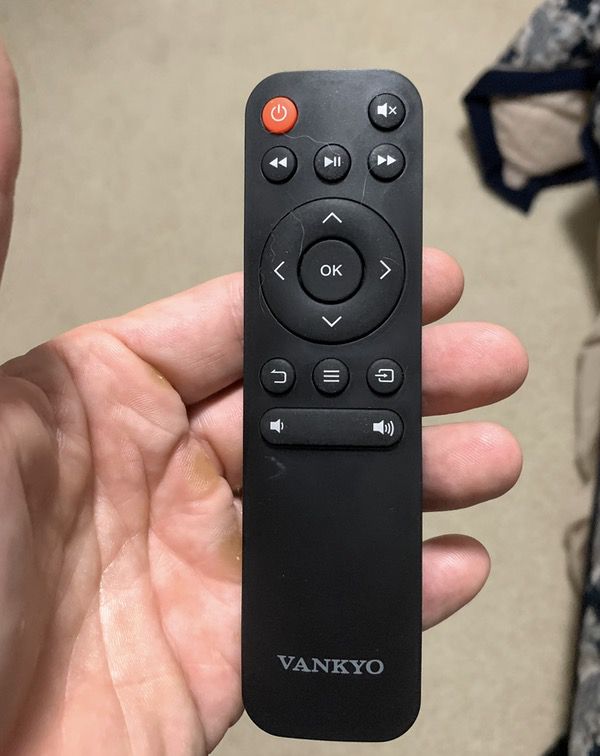 Wait… did I say volume control? Yes I did! This projector includes a built-in 5W speaker system. We actually found the sound quality to be fine for what it is. If you're serious about your audio, you'll want to rig up external speakers for quality stereo sound. But if you're doing a presentation and want to run a video or just don't have other options available, the speakers are good enough to do the job with some depth of sound and range.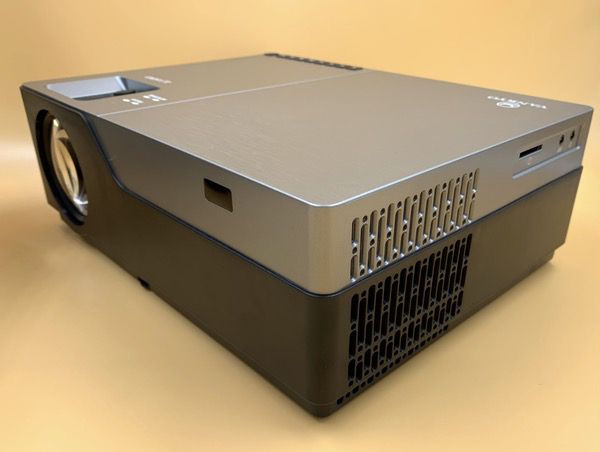 Your picture controls are old-school dials, which I like. The focus wheel allows you to precisely dial in the sharpness of the picture based on your projection depth, while the keystone adjustment enables you to tweak the picture so that you don't get that weird trapezoidal frame if you're projecting from an odd angle. I find this much easier to manage than digital controls.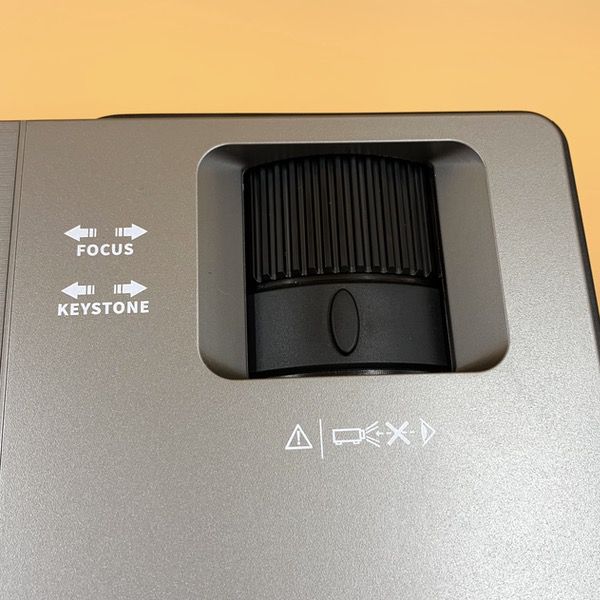 Height control is a bit lacking. You've got one tiny foot under the device with a short range of motion. You'll want to look into a stand or other options if you're trying to get a precise position on this one.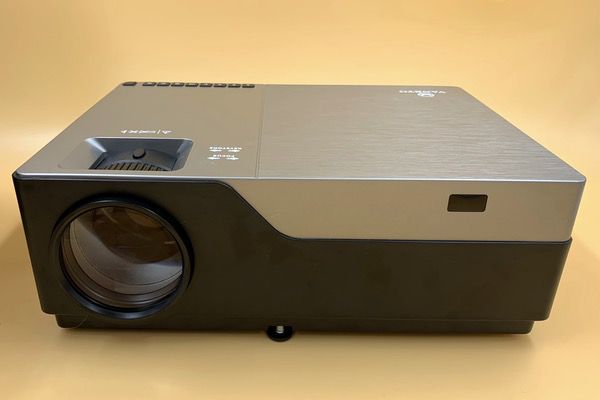 I won't drag you through all the details of getting your media to play, but there's no need to fret. Setup and operation is really easy. Choose your source to get going. AV and HDMI connections go right to the projection when the source is connected, otherwise you'll get a simple menu to navigate and pick your media after you've chosen your source. You'll then pick the folder and file as appropriate.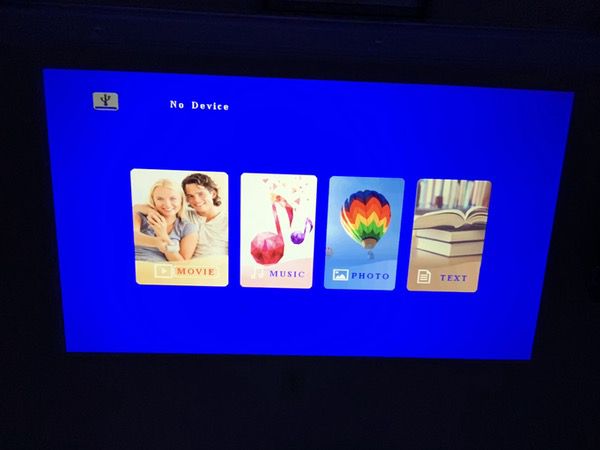 Here's the testing setup for our first rounds of evaluation. The projector is about 9 feet from the wall. I'll take you through a series of sample video from different media.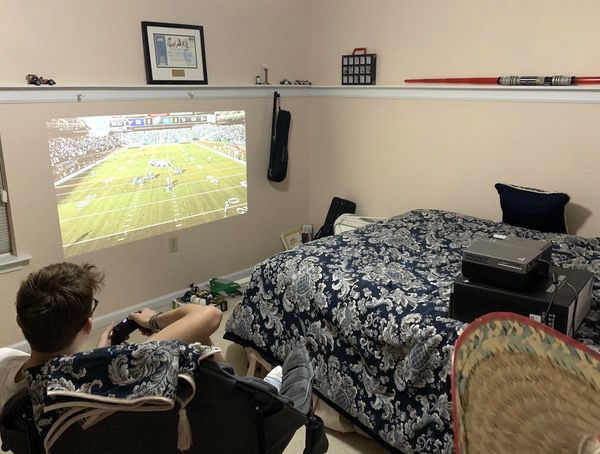 The quality of projection is clear & crisp even in a fully lit room; my son has abandoned his monitor for this as his Xbox One rig… and he's a picky dude. You'll get some color washing as you would expect with the extra light sources, but the quality is still pretty great.
When you settle in and turn out the lights, it is just spectacular.
We first tested the projection on a movie I had downloaded to a thumb drive. Check out the gorgeous color depth of King Ghidorah. Run little humans… run!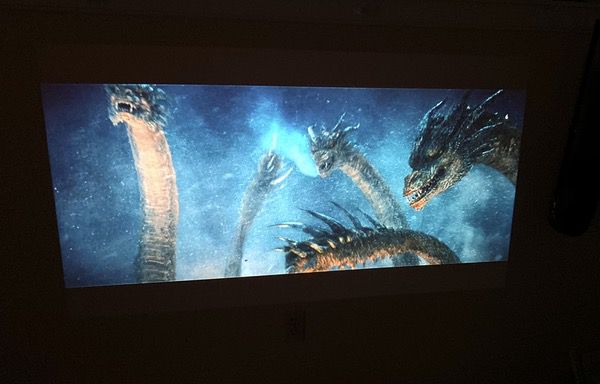 We then switched over to Netflix through my son's Xbox One (HDMI input) to check out a little buddy film about a Norse God and his big green friend. The color saturation and depth is simply stunning.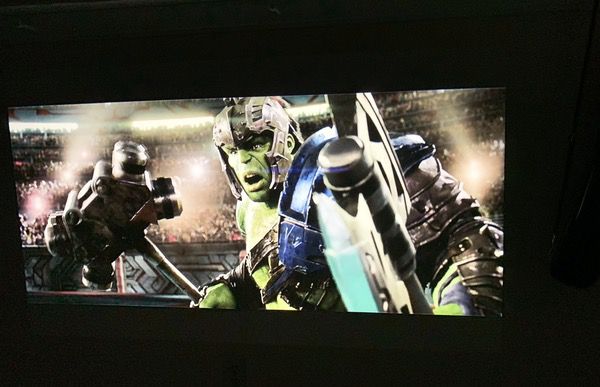 And video games? Check this out: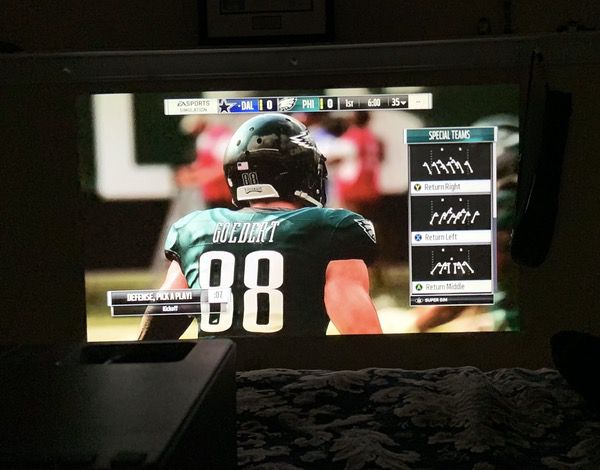 At this price point, the video quality is remarkable. And the LED lamp is rated for 50,000 hours of operation, so there's no fear of burning the bulb out with heavy use.
We did some long-range testing to see how the picture quality holds up at a 20 foot range, and that looks great as well (unfortunately, my pictures did not turn out so good). We're also planning on mounting this sucker the basement & rigging it to my wife's iPad for her workout programs. I'll post updates as we continue to experiment!
What I like
Excellent picture quality
Great starter kit supplies everything you need
Connects to just about every device
Easy to operate
Built in speakers are a nice backup option
Very portable, with a great travel bag
What needs to be improved
Speakers are OK, but you'll want an external solution for better quality if you're watching movies or playing video games
The adjustable height option isn't great, and will probably require a stand or alternative mounting solution for precise positioning
Final thoughts
I don't pretend to be an AV expert, but I'm really liking the VANKYO Performance V600 Mini Movie Projector. Easy to plug and play, excellent video quality, and compatibility with just about any device make this a projector worth a look for both personal and business use. And the price point is fantastic for the quality. Highly recommended.
Price: $249.00
Where to buy: Go get it on Amazon.
Source: The sample of this product was provided by Vankyo.