We use affiliate links. If you buy something through the links on this page, we may earn a commission at no cost to you. Learn more.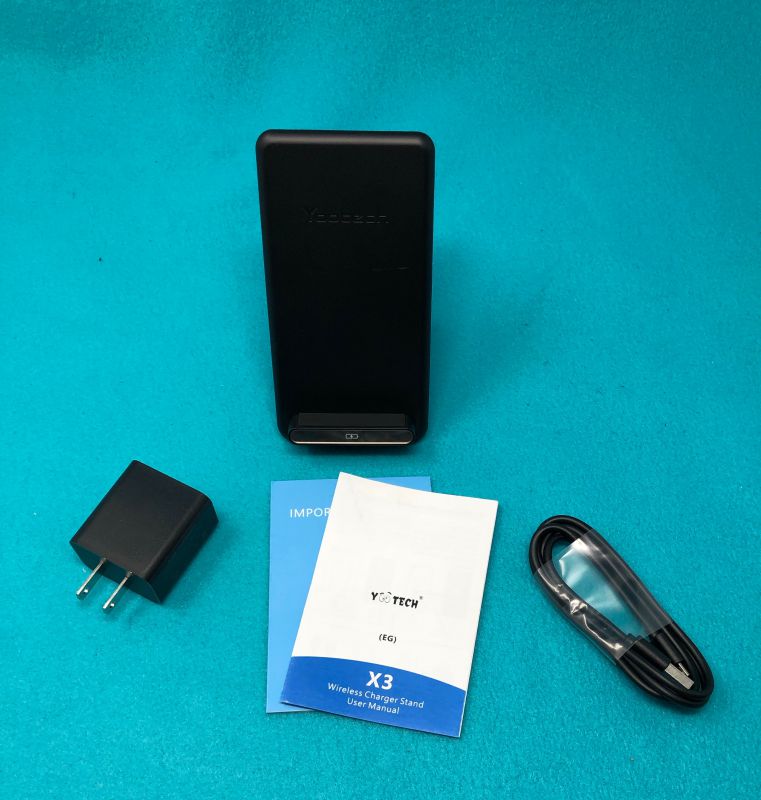 REVIEW – Most moderate- to high-end phones these days include Qi charging as a given. Because of this, manufacturers are finding it profitable to bring out chargers that can fit into our environment easily, but sometimes, you just want a simple stand/charger with no frills, right? YooTech has just released such a charger and we were sent one to test.
What is it?
A bare-bones charger stand for Qi-enabled devices. But there are hidden superpowers involved.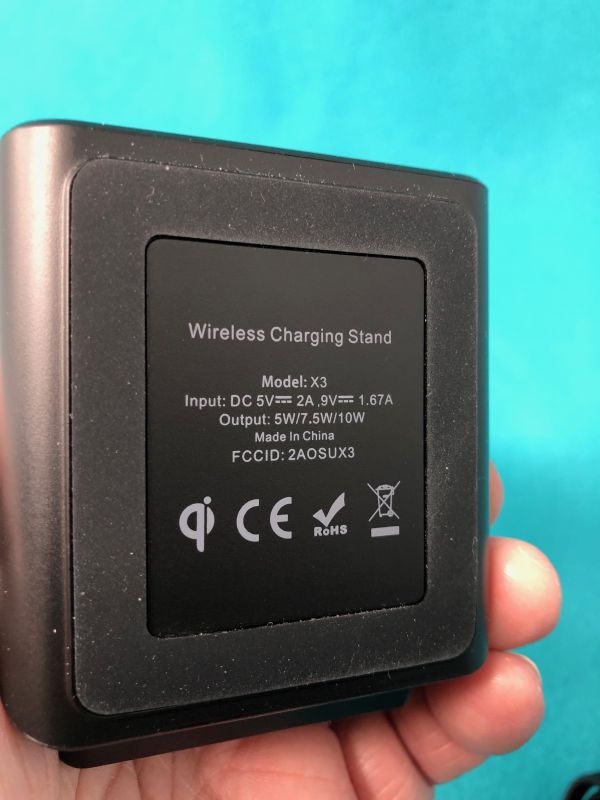 What's in the box?
Charging stand
USB wall charger
USB-A to microUSB cable
paperwork
Features
From product website
7.5W,10W and 5W WIRELESS CHARGING MODELS – 7.5W model *Using QC2.0/QC3.0 adapter (9V,1.67A) is ONLY compatible with iPhone 8/ iPhone 8 plus/iPhone X so far; 10 W model *Using QC2.0/QC3.0 adapter(9V,1.67A) is ONLY for Samsung Galaxy S9/S9plus/S8/ S8plus/S7/S7 edge/S6 edge plus/Note 5 series devices so far;5W model *Using 5V,2A adapter is for Any Qi-enabled devices like iPhone X/8/8 plus and other Qi-enabled phones. Please use the most appropriate adapters for best results.
TEMPERATURE CONTROL TECHNOLOGY – Exclusive Multifunctional Intelligent Protect Technology provides temperature control, surge protection, short-circuit prevention, and more. 0.47in thickness design plus intelligent temperature control system ensure cooler but more efficient charging. To get better experience, we would like you to take off the phone case and use our recommended adapters (NOT INCLUDED) and cables.
SLEEP-FRIENDLY – Yootech smart indicator design is for your enjoying life more. Please site your phone at the center of the pad correctly. GREEN LED indicator will flash for 3 seconds if power source is connected, while LED light turns on for 16 seconds if recognizes your phone well. Entering charging model, light turns off and keeps the whole charging process SLEEP-FRIENDLY.
PACKAGE & WARRANTY – You will get 1 x Qi Wireless Charger Pad, 1 x 3.3ft Micro USB Cable, 1 x User Manner. NO-Hassle 18 months money back/replacement warranty with 12-hour response service is friendly offered. At Yootech, ZERO Risk purchase guarantee is for every customer's smiles.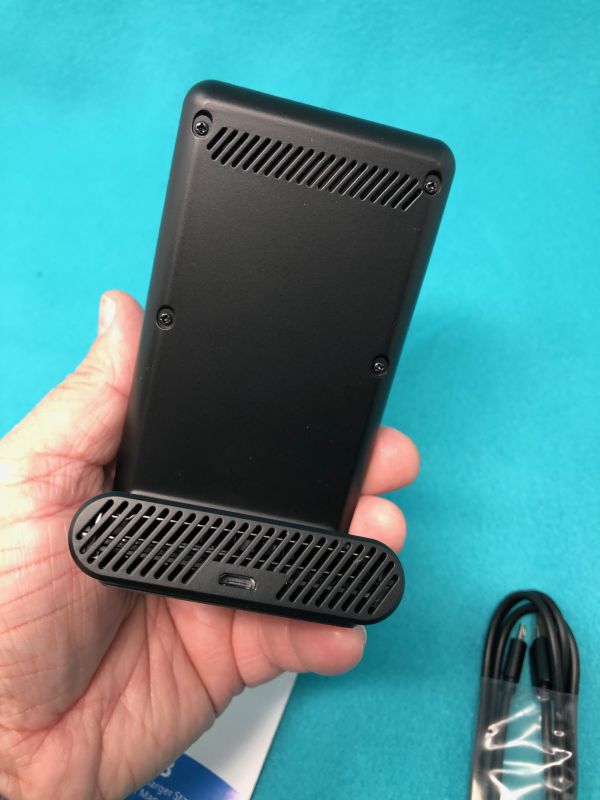 Product Specifications
From product website
Product Size:3.6 * 3.6 * 4.3 inches
Product Weight:5.3 ounces
Materials:PC/ABS (flame retardancy)
USB input:5V DC /2A, 9V DC/1.67A
Output:5W/7.5W/10W(max)
Charging frequency:110kHz-205kHz
Charging distance:3mm-8mm
Working temperature:0 to 35°C
Interface:Micro
Design and features
The YooTech charger is a black plastic angle bracket with a chromed plate across the front to draw attention to the power LED. This LED glows for just a few seconds when a charger event occurs: you plug it in, set a phone on it, or move the item being charged. Otherwise, it turns off to keep from shining in your eyes from your desk (or from your nightstand in your bedroom.)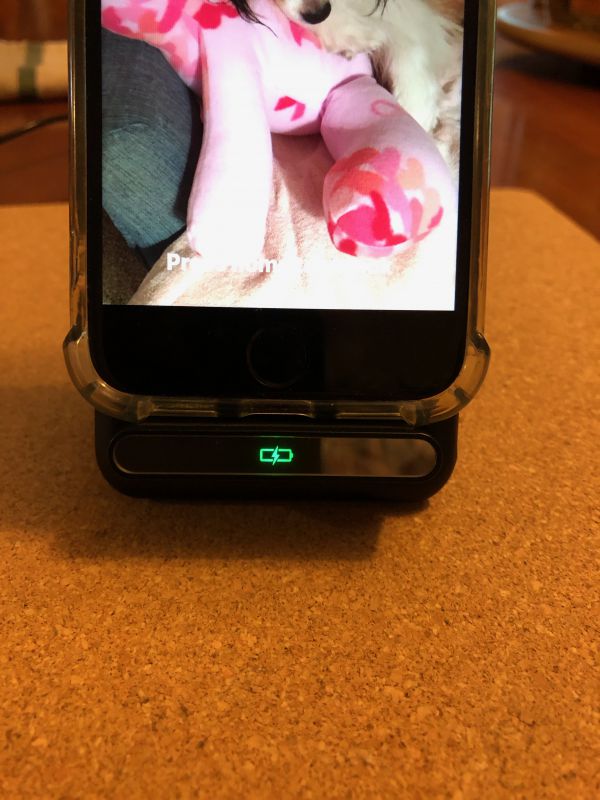 The microUSB plug on the back holds the cable tightly, so moving things around on your desk or nightstand isn't a problem. The charger connected easily with my iPhone 8 Plus, as well as my Lovely Bride's iPhone 8 without issue. Both could be used in portrait or landscape mode, which is not true for all Qi chargers. Neither had to have the case removed, but we only have a thin plastic case for grip, rather than a hardened steel battle-friendly case. The angle is perfect if this is sitting on your desk near your keyboard so that you can quickly scan incoming messages or alerts without having to pick up your phone.
The sleep-friendly LED may make this my favorite Qi charger yet. When there's a bright LED on a device, I either have to place the charger out of my line of sight, cover the LED with tape, or put something up to block it. My back-up hard drive is irritating for this very reason, as is an older multi-port USB charger that I put behind my monitors with various cords snaking their way forward. (When you're a Gadgeteer, you have several things charging at once, so you need a lot of USB ports!)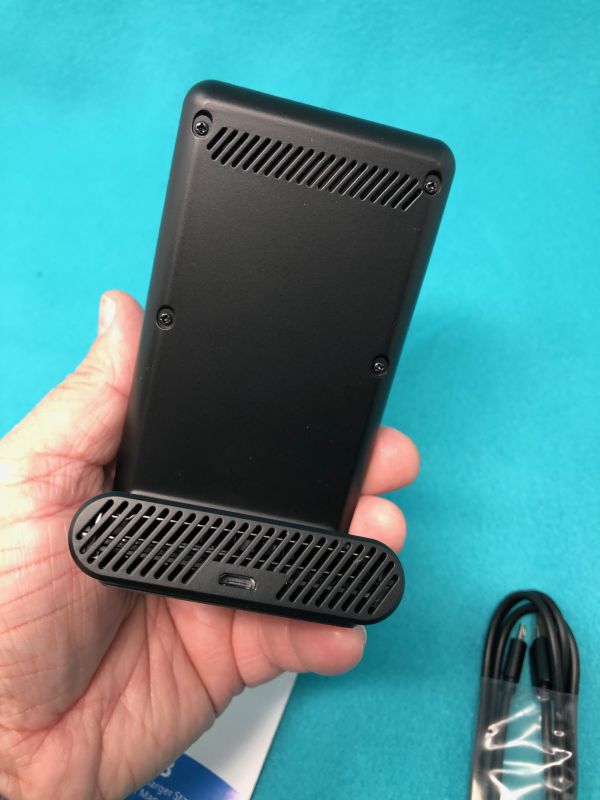 There is a fan inside this charger that starts up when a device is placed on the Qi coil, but I never once heard it running. I charged my iPhone from the mid-30% to 80-90% several times, and it was warm to the touch (which always happens in that range of charge), but the stand remained cool. I like that they have reversed the usual airflow (it pulls in cool air through the top grill, and blows it out the grill in the rear of the base), which not only cools faster but prevents pulling in dust from the surface where the stand may be sitting. (This, of course, is never the case at my house, but there are others I've heard of who may have dust around things on their desks!)
What I like
I never had an issue with the charge starting, in landscape or portrait mode
Light goes out after 16 seconds, rather than staying on
Fan is nearly silent
What I'd change
microUSB – can this just go away everywhere, please?
Final thoughts
As a bare-bones Qi charger, this unit has features that best most others. A silent fan and a charging light that shuts off after 16 seconds to allow you to use it in a dark bedroom or TV room would be welcome improvements to many of my gadgets!
Price: $19.99
Where to buy: Amazon
Source: The sample of this product was provided by YooTech