We use affiliate links. If you buy something through the links on this page, we may earn a commission at no cost to you. Learn more.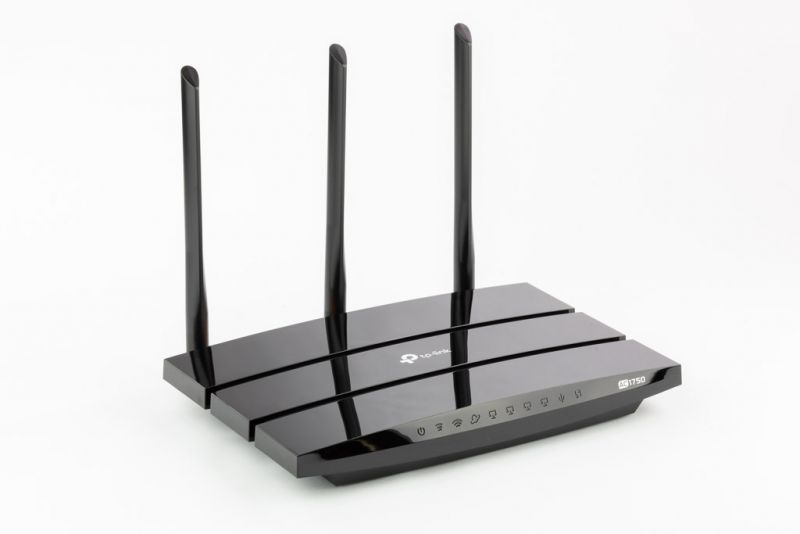 REVIEW – I've been well over-due for a router upgrade. I was just about to buy a new one when this review offer came along so I jumped at the chance to check out what the tp-link Archer A7 could do.
What is it?
The Archer A7 AC1750 is a wireless dual-band gigabit router that provides 2.4GHz 450 Mbps and 5GHz 1300 Mbps wireless connections and gigabit wired connections. It also provides a USB port for easily sharing files and media.
What's in the box?
Archer A7 AC1750 Router
Power adapter
Network Cable
Quick Install Guide
Wi-Fi info card
Hardware specs
802.11ac standard
2.4GHz 450 Mbps wireless
5GHz 1300 Mbps wireless
Four 10/100/1000Mbps LAN Ports
One 10/100/1000Mbps WAN Port
1 USB 2.0 Ports
Three fixed antennas
Reset Button
Wireless On/Off Button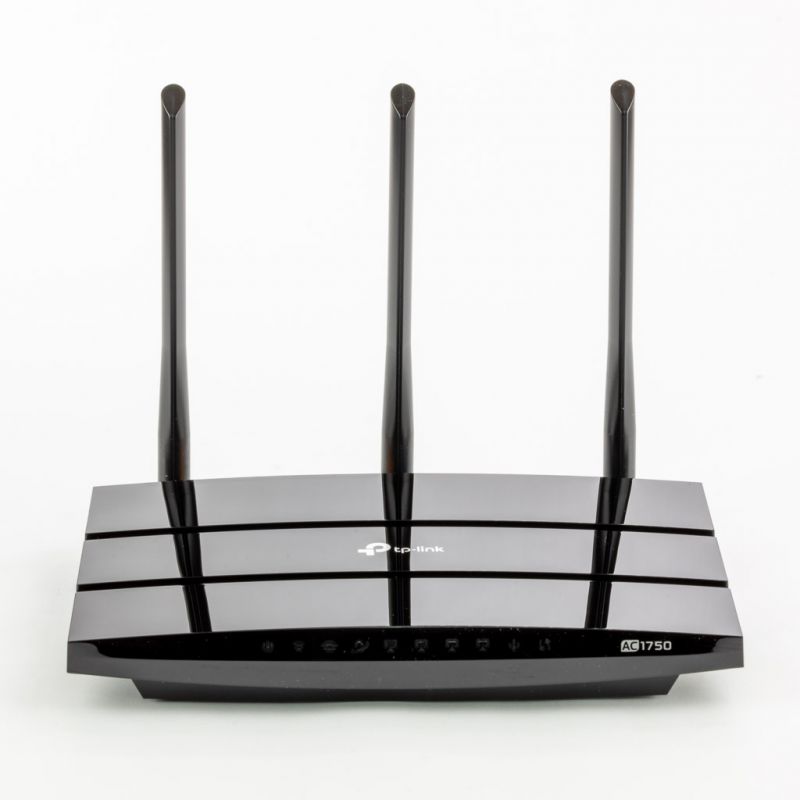 Design and features
I haven't bought a wireless router in quite a few years as most of the computers in the house are on the wired network, and any wireless devices worked fine with the old router. I've been running off of my Xfinity cable router for some time now, but after moving to a new house the Wi-Fi range wasn't quite good enough, and I ran out of wired ports.
The Archer A7 AC1750 Wireless Dual Band Gigabit Router is almost self-explanatory in its name, but that just covers the basics. It also has a USB 2.0 Port for easily sharing files and media with networked devices or remotely via an FTP server and several smart features like control via Alexa and IFTTT.
On the hardware side of things, the Archer A7 is an attractive gloss black unit with three positionable antennas. There is a power on/off button, and a Wi-Fi on/off button, both of which are nice as previous routers I had required you to unplug it.
There are screw holes in the bottom for mounting the device to a wall or other vertical surface, although there were no screws provided nor was there a template for the screw spacing provided. Finding just the right screw proved a bit difficult.
The ports on the back are color-coded, blue for the WAN (internet) port and orange for the LAN (computer/devices) ports.
Never miss one of our posts again. Sent MON, WED, and FRI with the latest gadget reviews and news!

Setup
When setting up the Archer A7, the experience was quite different than I had experienced with my D-Link routers. The primary difference was that it prompts you to create an admin password for the router instead of defaulting to a password like "admin," which helps with security.
The quick setup wizard guides you through setting up the router. This quick setup wizard is also available later in the router settings page via your web browser.
Admin Password
Time Zone
Connection Type – Dynamic IP, Static IP, PPPoE, L2TP, PPTP
MAC Address – If your ISP only allows Internet access from a specified MAC address
Wireless Settings – 2.5GHz and 5GHz network names and passwords
Once set up, the router also provides QR codes that can be saved as images that you can print out so that your friends or family can easily connect to your Wi-Fi.
The router can also be managed via the tp-link tether app for Apple and Android devices.
Accessing the settings via a browser does provide more control over the router, the app doesn't provide control for all of the things the router can do.
The browser settings administration for the router settings has both a Basic and an Advanced tab. The Basic tab provides settings for Network Map, Internet, Wireless, USB settings, Parental Controls, Guest Network, TP-Link Cloud, and OneMesh. The Advanced tab has the following additional settings sections: Status, Operation Mode, QoS, Security, NAT Forwarding, IPv6, VPN Server, Smart Life Assistant (Alexa and IFTTT), and System tools.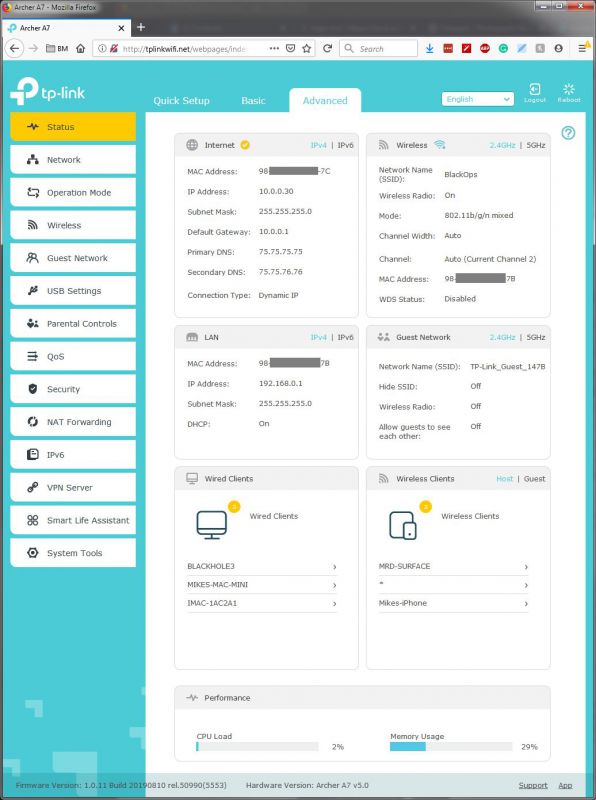 One thing I liked was that in the Advanced, System Tools, there's a Firmware Update page. This page not only shows you the notes about what's new in the firmware update, but it has an Update button you can press to do the update. You can also do a manual firmware update from a file from this screen.
Once updated to the latest firmware the Smart Life Assistant feature will be added which provides functionality for Alexa and IFTTT. With Alexa, you can prioritize the internet connection for devices such as your laptop, switch off the router's LEDs, or ask Alexa to read out the password of the guest network.
The USB drive feature is really nice. Simply plug in a USB disk and configure your settings. You can select sharing options such as access via Network Neighborhood, FTP local network, or via the internet. You can even select the folders you wish to share. This makes sharing files around the house or office extremely easy.
The latest firmware update also adds the ability to turn on and off the Wi-Fi on a schedule, which is great for making the kids go to bed!
The System Tools page in the settings also have some great features for advanced users like Time Settings, LED control, Diagnostics (ping/traceroute), Firmware Update, Backup & Restore, Reboot Schedule, Administration, and System Log.
What I like
Doesn't use a default password
QR codes for quick connections to Wi-Fi
Nice advanced user features.
What I'd change
USB drive only supports FAT32 or NTFS drives, not exFAT.
Final thoughts
There are quite a few features in the Archer A7 that are extremely useful. The setup and configuration is really easy and I didn't have any problems doing what I needed to do.
Price: $57.99
Where to buy: tp-link and Amazon
Source: The sample of this product was provided by tp-link.