We use affiliate links. If you buy something through the links on this page, we may earn a commission at no cost to you. Learn more.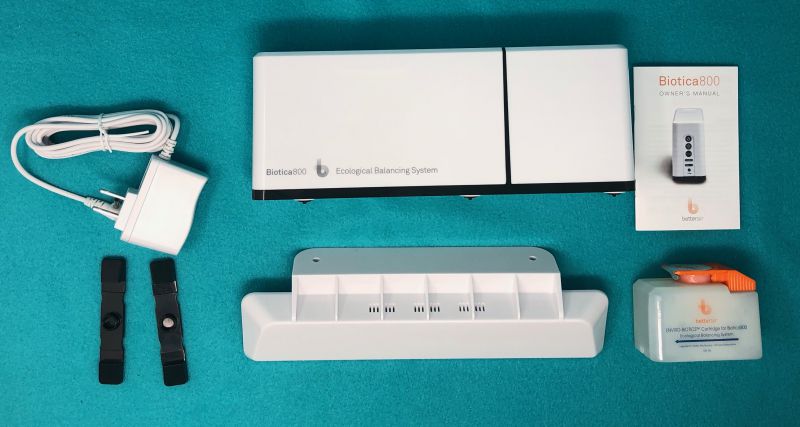 REVIEW – Better air quality indoors has been shown to improve health for humans and pets. Whether it's a super-fine HEPA filter, a radical new way of zapping allergies, or misting healthy essential oils into the air to combat the effects of the bad bugs, we've covered devices for this here at The Gadgeteer. Today, I think I've got a new one. It's called the Biotica800, and it's from BetterAirUS. I've been sleeping in the same room with it for a while now, so let's see if I'm getting any benefits.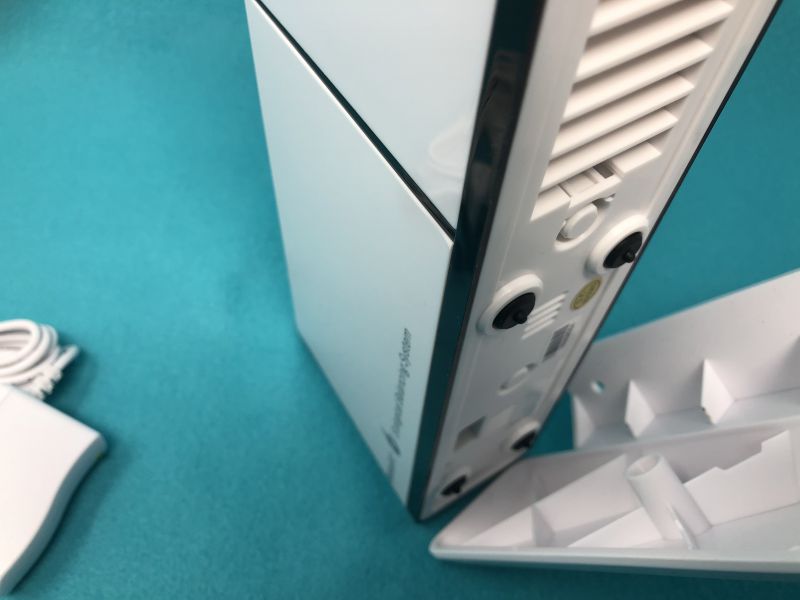 What is it?
A diffuser for single room use that disperses a healthful mist of probiotics on a regular basis.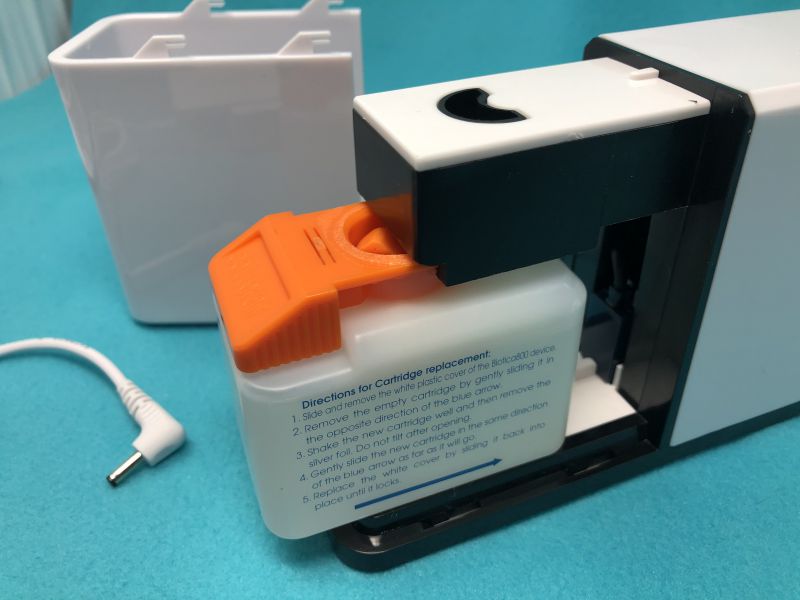 What's in the box?
Mister for pre-filled liquid
Power supply for diffuser
One cartridge that lasts three months
Wall hanging bracket
Legs for flat surface stand-up setting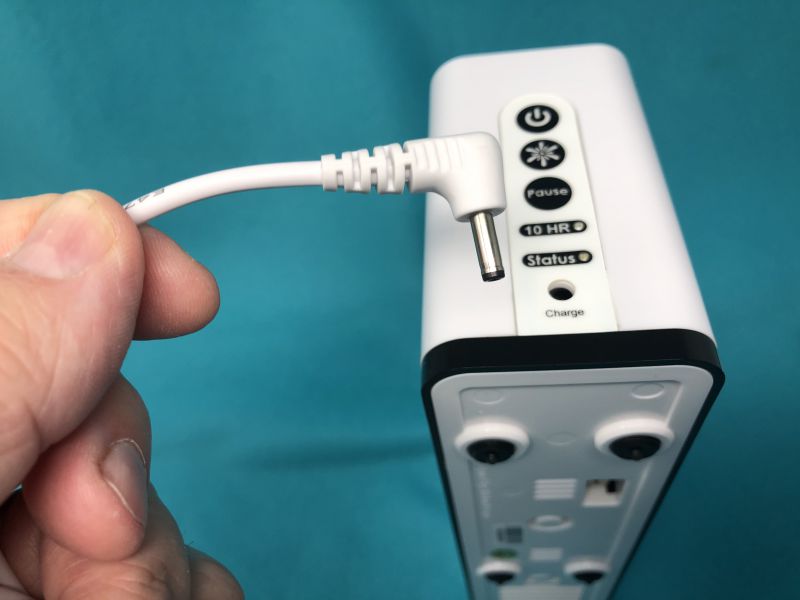 Design and features
The Biotica800 is a 10″ x 4″ x 2″ box made of slick white plastic. There is a custom DC power wart which attaches on one of the small sides, just below a row of buttons, which control power, a button to immediately release a dose of the spray, and a 10-hour standby button. In standby, there is an orange light that indicates the setting until it automatically resumes normal operation. There is also a green LED that shows the unit is getting power, and that blinks when it is spraying the liquid. Should the cartridge run dry, the light changes to red and lets you know it is time to shell out $59 for another.  As usual, there is no way to turn off this bright green light, which lights up your room at night.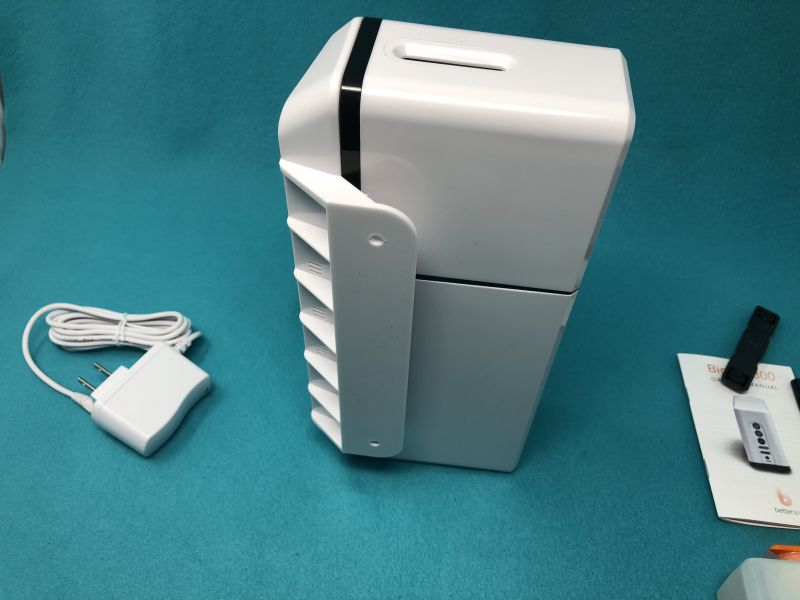 The main unit can be mounted on a wall with the included mount (screws and other hardware not included), or you can attach the two black plastic balancing legs and sit it on a flat surface. You'll need to make sure there is a power outlet nearby where ever you choose to place it.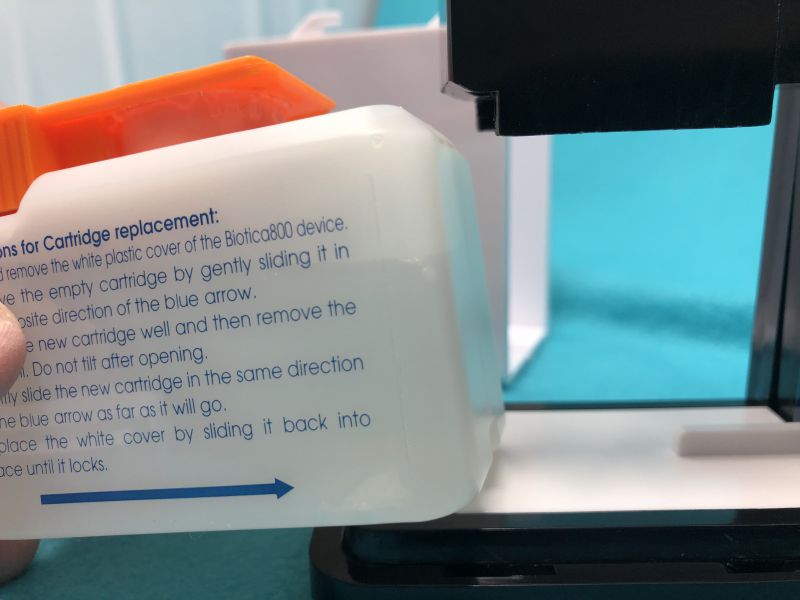 There is a cap that easily pulls off one end. The included cartridge is then prepared and inserted, and the cap replaced. After inserting the cartridge, be sure not to invert the unit, as the probiotic liquid will leak out. (I was sent a bottle of testing strips after getting the unit itself in order to ensure the spray coming out had moisture. It's totally invisible, but when holding these strips over the dosing opening, they did turn pink to indicate moisture. I never felt that any place we set up the diffuser made anything "wet" or "damp".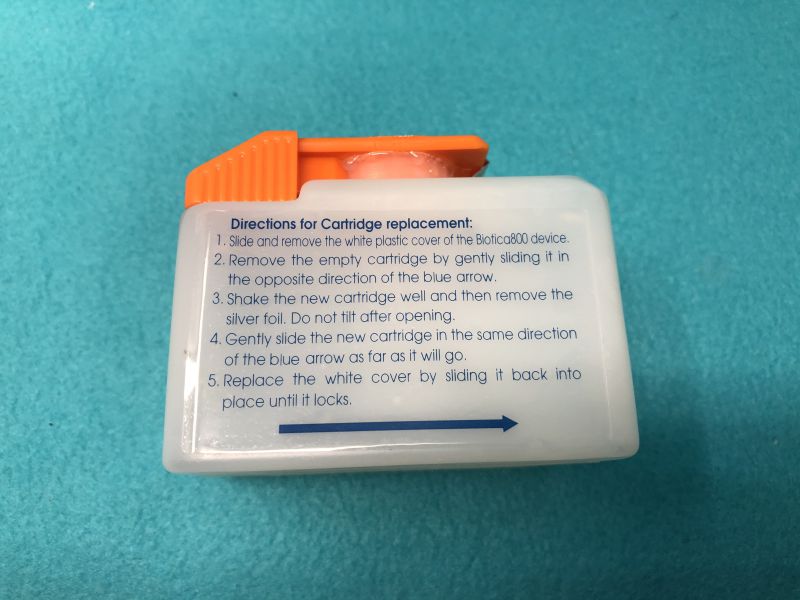 The unit disperses a premixed solution of Probiotic enzymes periodically into the air. According to the website, this should enable the following three things:
Whole-room clean – The BetterAir® Biotica800® has the power to treat your room's air, objects and surfaces all at once.
Helps alleviate allergens and asthmatic reactions – BetterAir's proprietary probiotics actively consume the allergens that trigger these allergic reactions.
Restores natural ecology – The betterair® system rebalances your home's indoor ecology to mimic the outdoors where our bodies are their healthiest.
So, it's squirting microbiotics into the air that eat germs, dust mite poop, and skin flakes. It's safe for people and animals and acts on air-borne germs and allergens as well as surface-borne ones. It's designed to treat an 800 square foot room.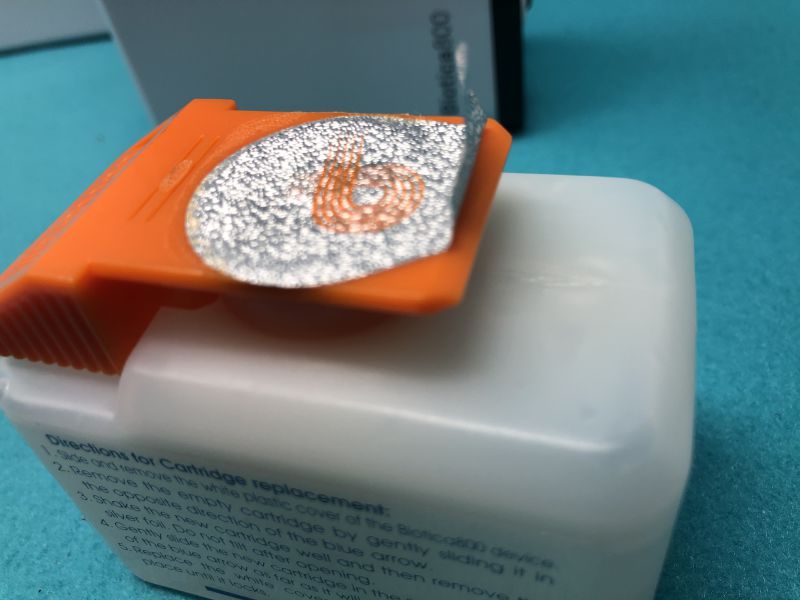 Setup
Inserting the premixed cartridge into the diffuser unit (shake it first and remove the foil seal – about as hard to do as inserting a new printer cartridge) and plugging it in is all that is required. Every few hours, the mister sprays out a measured amount of the pre-mixed Probiotic into the air. It's very quiet, but if you're awake, it sounds like someone in another part of the house is running the sink or an outdoor faucet. About the time you mentally become aware of it, it stops. Of course, to draw your attention, the helpful LED blinks during this in your otherwise dark bedroom.
I have not been able to tell any benefits from running this – there is no scent, I don't feel better or worse for having it in the bedroom with my wife and our dogs. I wish I could say "The room smells cleaner" or "I don't sneeze as much," but I don't normally sneeze in our bedroom that often, and have never noticed any odors, despite having 2-3 dogs sleeping in the room with us.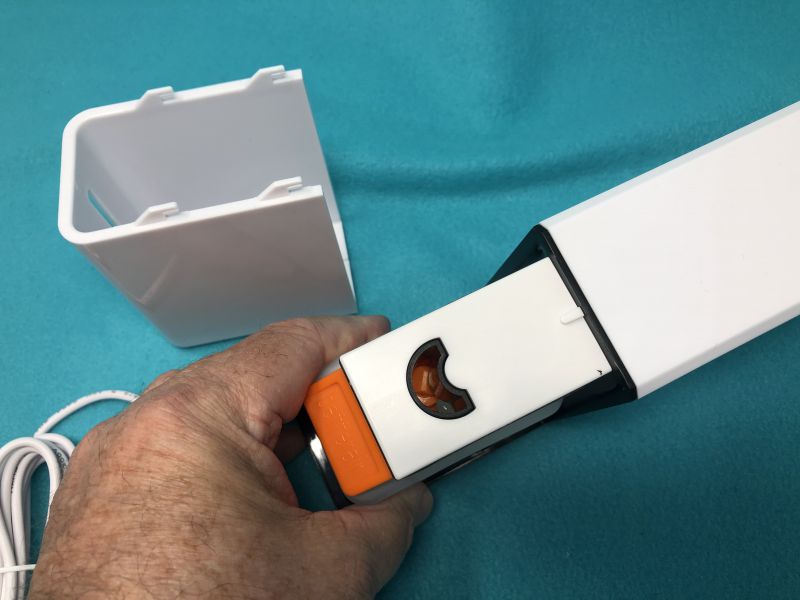 What I like
No actions on the part of the user are required. It's all automated.
Apparently, it is happening in the background and is good for me
Quarterly replacement of the cartridge is all that is required
What I'd change
More feedback on the efficacy of probiotics
Something to look for that shows it is helping
Final thoughts
Things that change your atmosphere are difficult to measure. It's like the old joke of the guy standing in the middle of the road. A friend walks up and asks him:
"What are you doing?"
"I'm repelling elephants."
"But there are no elephants around here for 1500 miles."
"It's working pretty well, isn't it?"
I have no idea if the BetterAir Bionica 800 is doing anything at all – positive or negative. I didn't have pet smells or musty odors in my home before setting it up, and can't tell if I have healthier air after running it. It will be interesting to see if I notice anything after the 90-day cartridge is out of juice, but I'm not really a believer in this product at this point. As I'm posting this, I've moved it out to the main kitchen/family room, so I'll see if things change during the rest of the 90-day cartridge.
Price: $299.00 for diffuser unit and a single 90-day cartridge. Additional cartridges are 2 for $118.
Where to buy: BetterAirUS website and Amazon
Source: The sample of this product was provided by BetterAirUS.