We use affiliate links. If you buy something through the links on this page, we may earn a commission at no cost to you. Learn more.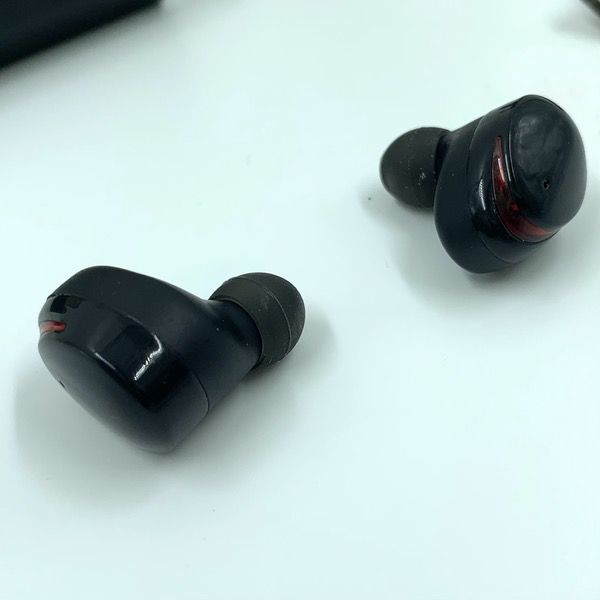 REVIEW – My quest for the perfect earbuds continues! The HolyHigh Waterproof Sports Wireless earbuds might be the coolest looking earbuds I've seen to date, and provide some of the latest tech. But how do they play in day-to-day use? To the review!
What is it?
They're wireless stereo earbuds that come with a portable charging case. You can also use the charging case to power up other devices.
What's in the box?
Your package comes with an impressive array of kit. You'll get a portable charging case, a USB-to-micro-USB charging cable, a pack of replacement earbud sleeves (with different sizes), and a travel bag to carry everything in. Plus the earbuds, of course.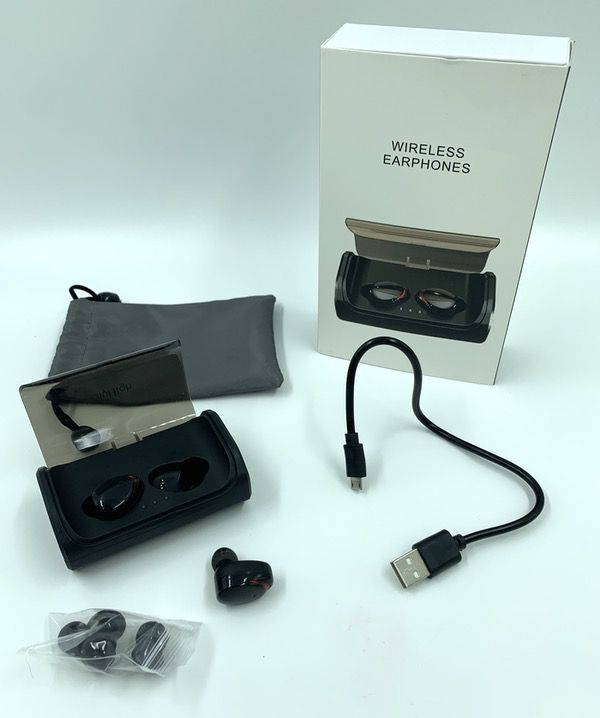 Hardware specs
Bluetooth 5.0 compatibility
CVC 8.0 noise cancellation technology
3 hours of play time on the earbuds before recharge
Charging case support 60 hours of recharge time with 3000 mAh
Charging case can also be used as a portable battery for other devices
Earbuds are water resistant
Design and features
If you're looking for that futuristic vibe in your gear, the HolyHigh earbuds have you covered. All black and contoured, with little red LED bands that light up with different functions. They remind me of the Cylons from Battlestar Galactica, without all of that nasty "annihilate the humans" vibe.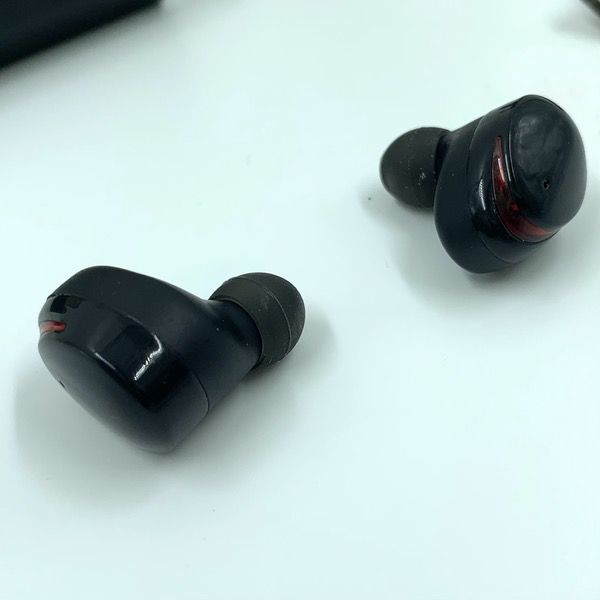 Your little cyber friends take their rest in an equally sleek multifunctional case that's one of the highlights of this package. The case has a built-in 3000 mAh battery for constant charging while the earbuds are docked. The blue LEDs in the case indicate the battery level.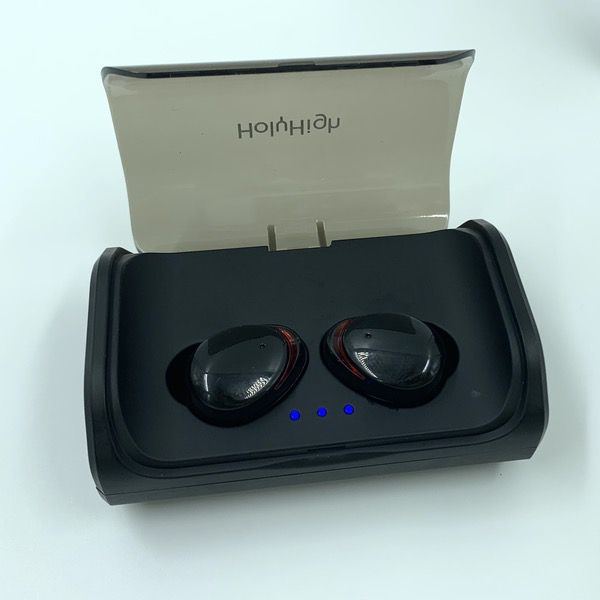 It looks cool, right? All black and smoked plastic.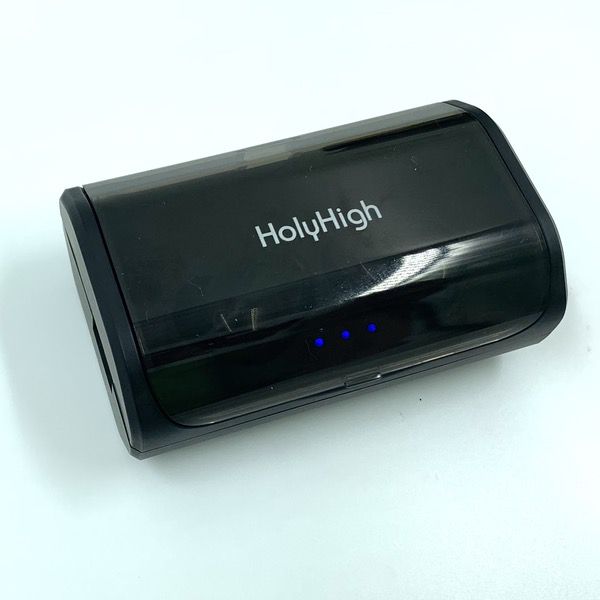 A standard micro-USB port is used to charge the unit when the internal battery runs low (cable included).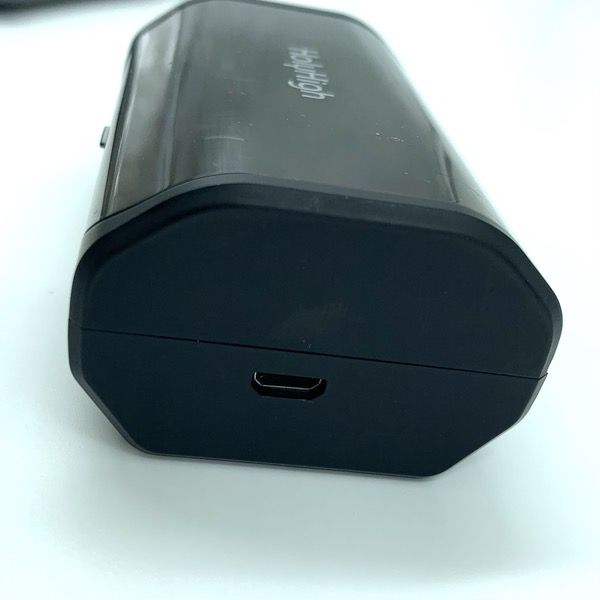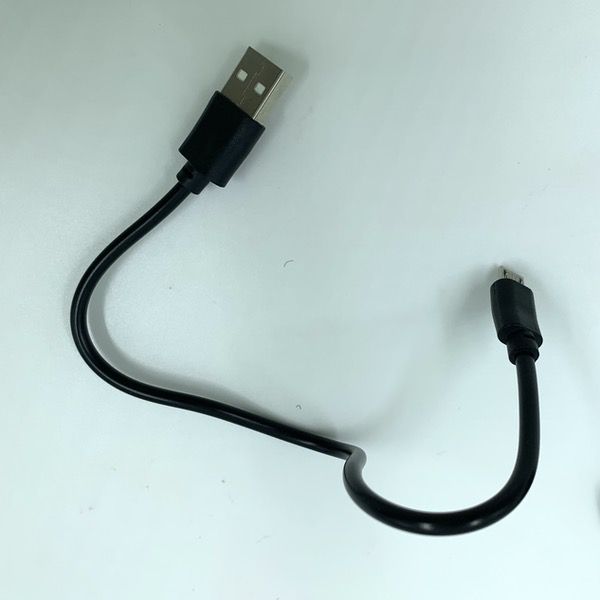 But here's a little extra bit of utility for ya: there's a full-sized USB port on the opposite end that you can use to charge other items. With a rating of 3000 mAh it won't get you super far (one full charge on an iPhone 6 plus, for example), but it will save you having to carry an extra portable battery in a pinch.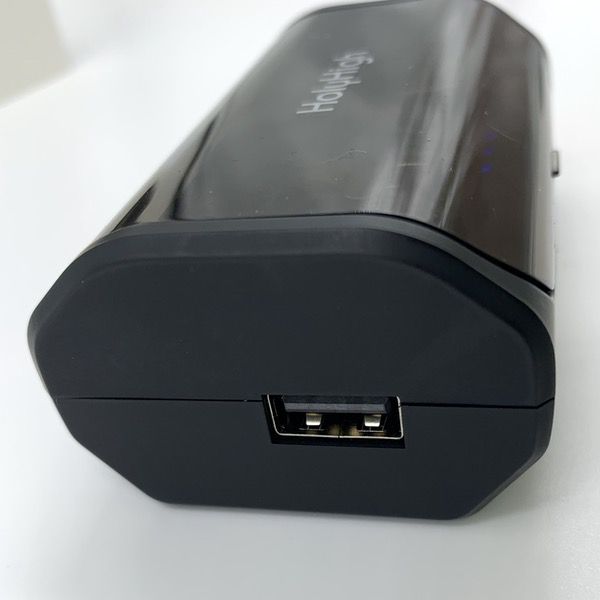 Speaking of charging, the earbuds will go for 3-4 hours on a single charge playing music and they can be used individually (maybe… see below). HolyHigh claims that you'll get 120 hours of total listening time from a full charge on the case… but that's if you use only one earbud at a time. 60 hours of stereo sound on one charge of the case is still pretty great, though.
You'll also get a bag of extra earbud sleeves in different sizes, with an extra pair of the medium sleeves that come on the buds. I tend to need the smaller sizes, so this addition is greatly appreciated.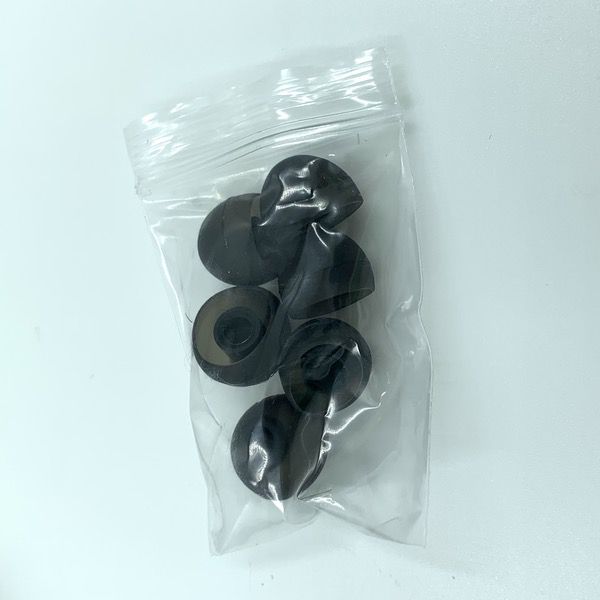 A nice, durable travel bag is also included to keep your kit together including your cable.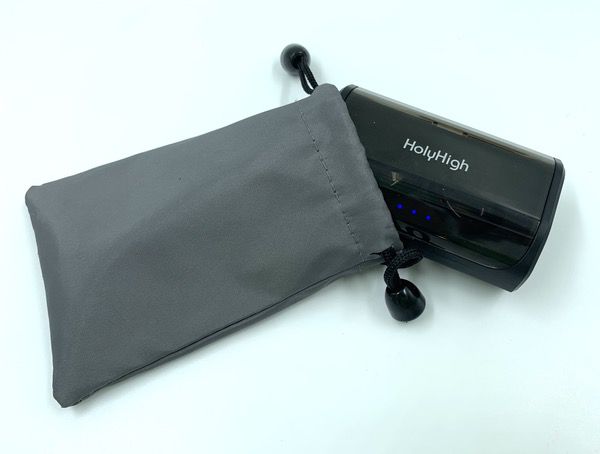 One last note on the features. HolyHigh states that these earbuds are "waterproof," but I can find anything in the documentation that gives an IP water resistance rating. The externals seems to be tightly sealed, and I have had no issues with sweaty gym work. Given that there is nothing in the docs supporting this, however, I would not necessarily take that "waterproof" statement at face value.
Setup
The HolyHigh Waterproof Sports Earbuds don't have a power button. They turn off when docked, and turn on when pulled out of the case. The contoured design is excellent for a snug fit, even with my smallish ears.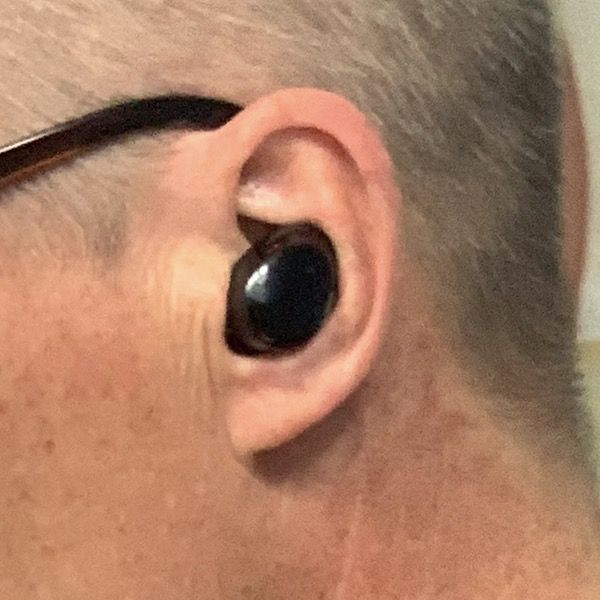 Connecting the earbuds is also a straightforward affair. The left earbud is the controlling element in this case, and goes into search mode as soon as you pull them from the case. A voice indicator tells you when the pairing is complete, and then each earbud will indicate that it is connected. You can also pair both buds, and they'll show up in your bluetooth pairing at T8-L (left bud) and T8-R (right bud) if you plan to use them individually. You can also pair to two different devices and set up one as the primary device for pairing when you pull the earbuds out of their case.
So far so good, right? Well… all this flexibility does bring some issues when it comes to performance as we'll see in a moment.
Performance
Let's talk about the sound quality first. The HolyHigh Waterproof Sports Earbuds have clear sound, and excellent noise cancellation. But to my ears the sound quality seems to be inconsistent, sometimes lacking the depth of range. I believe this may be the result of the Bluetooth pairing, as I have had situations where one of the earbuds (the right in particular) kicks out and I'm playing in mono mode on the left earbud until it reconnects. I should note that I see this more on my older iPad than my iPhone XS Max, so this may be the result of older Bluetooth tech in my devices.
The controls can be a bit maddening. Almost the whole external surface of each earbud also acts as the button/tap region for controls using some variation on single tap, double tap, or tap-and-hold to execute functions (playback/pause, answer call, volume, skips, redial last call, etc.). These tap regions are super-sensitive, however, so I find myself triggering an event every time I accidentally come in contact with the surface. Scratch your ear? You're triggering something. Go to push the earbud back in your ear if it gets loose? Ditto. And because the earbuds have no power function, they are "hot" as soon as you take them out of the case. I've accidentally called someone multiple times as I was putting the buds in my ears to start a workout. If you're doing active stuff, you'll find this to be very irritating.
The pairing works fine for two devices… unless both are in range. They tend to compete with each other for actions, and I have found myself having to disconnect the earbuds on one device to use the other. Coupled with the sensitive touch issues I've had all kinds of interesting conflicts like music playing from my iPad unsolicited when I am trying to use my phone, or calling someone while trying to watch a movie on my iPad. It's a feature that sounds good in theory, but can be frustrating in practice without some way to manage which device you want to be connected at a given time.
The phone function is about the same as it is with most wireless earbuds… which is not great. You sound like you're talking through a pillow, and it's hard to hear you unless you REALLY speak up. Great for emergencies, not so great for normal conversation.
On the plus side, these earbuds are super comfortable and tend to stay locked nicely in your ears in use. I've found them to be great for the gym, as long as I am willing to deal with those control/connectivity issues.
What I like
Great multipurpose case.
Very comfortable to wear.
Long battery life for wireless earbuds.
What needs to be improved
Sound quality can be inconsistent.
Connectivity challenges when using multiple devices.
Control management is difficult.
Not good for using call functions.
Final thoughts
Despite some of the flaws I've noted with the performance, I really do like the HolyHigh Waterproof Sports Earbuds for the gym. They have some quirks, but generally, do a good job of playing clear music and being very comfortable while I'm doing my active things. The charger is great, and the battery life is surprisingly good. But that control setup is something you'll have to be prepared for if you invest in these earbuds.
Price: $44.95
Where to buy: HolyHigh (use coupon code gadgeteer23 to save $23 – Expires 10/31/19). You can also find the earbuds on Amazon
Source: The sample of this product was provided by HolyHigh.