We use affiliate links. If you buy something through the links on this page, we may earn a commission at no cost to you. Learn more.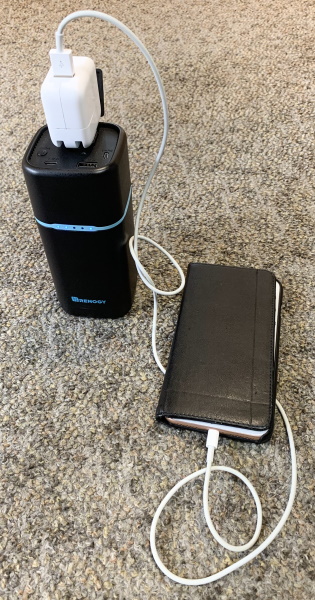 REVIEW – As my quest continues to find enough feature-filled, versatile and capable power banks that can support my powering/charging needs for my devices when shooting videos/photos on location or keeping them up and running during a storm, I am fortunate enough to have the opportunity to test and review another candidate that seems quite credible on paper. The Renogy Phoenix 100 Mini Power Station seems like a good contender to joins the ranks of my existing collection of these devices.
What is it?
The Renogy PHOENIX 100 Mini Power Station is a portable and compact power bank that is built with 21700 lithium-ion batteries and provides 27000mAh charging capacity. It features multiple charging options including a built-in AC output that can support devices that require up to 100 watts of power.
What's in the box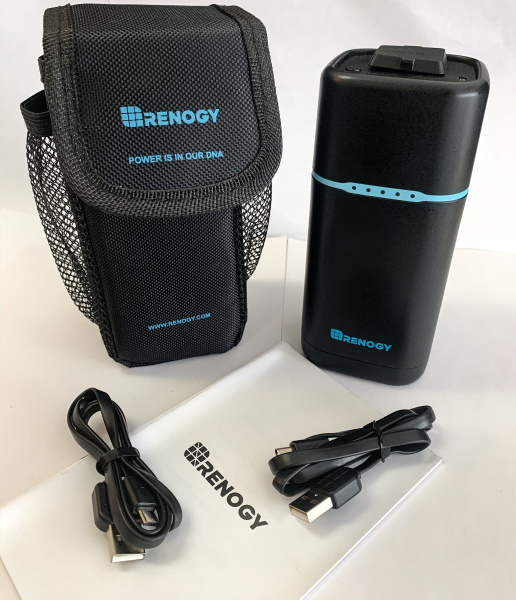 1 x Renogy Phoenix 100 Mini Power Station
1 x USB-C Cable
1 x Micro USB Cable
1 x Carrying/Storage Case
1 x User Guide
Design and features
Features:
Maximum Protection: Keep both the mini power station and your devices from damage with overcharge, short circuit, and current surge protection.
Rapid-Heat Dissipation: Cool down the battery efficiently while blocking out the dust with built-in air vents and dust sheets.
Uncompromised Quality: Top-notch 21700 battery cells with extremely high energy density ensure more than 1000 charge cycles and extended service life.
Multiple Charging Options: USB ports together with AC outlet power up both mobile devices and home appliances up to 100W.
Specifications:
Power Capacity: 27000mAh / 97.2 Wh
Micro USB Input: DC 5V /2A Max
USB-A Output: DC 5V / 2.4A Max
USB-C Input: DC 5V / 3A Max
USB-C Output: DC 5V / 3A Max
Micro USB+USB-C Input: DC 5V / 5A, 25W Max
AC Output: AC 110V/ 60Hz, 85W Rated / 100W Max
Dimensions: 2.7 x 2.7 x 6.1 inch / 6.9 x 6.9 x 15.4 cm
Weight: 17.8 oz / 705 g
The Renogy Phoenix 100 Mini Power Station is a relatively small and compact device. On the front of the device, as shown below, there are 5 LED indicator lights. Each light represents 20% of the charging capacity of the battery.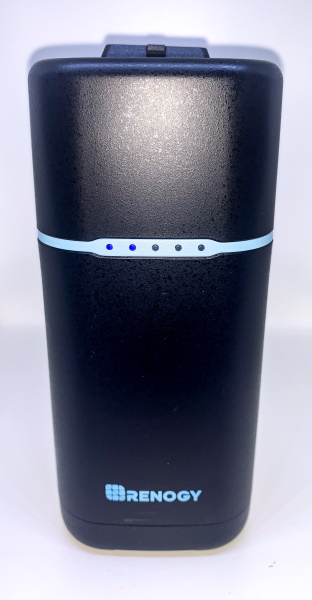 On the top of the Power Station, there is a micro USB input port, a USB A output port, a USB-C input/output port, the power button and the AC outlet that is protected by a rubber cover.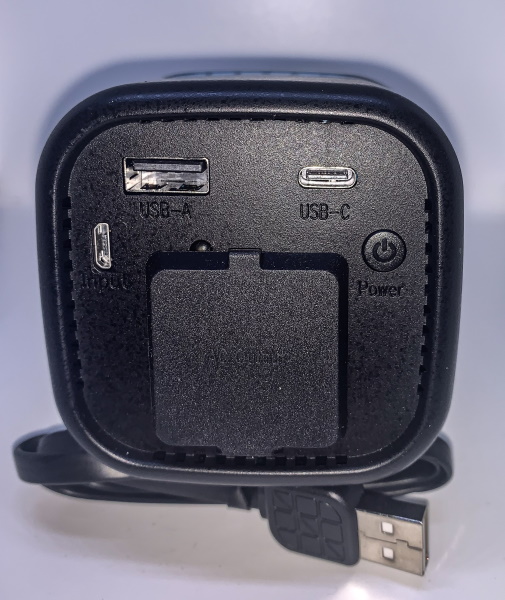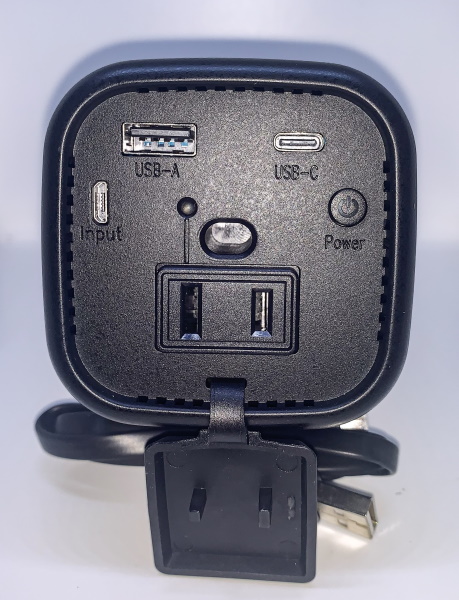 At the bottom underneath the Power Station, there is an air vent the covers a cooling fan.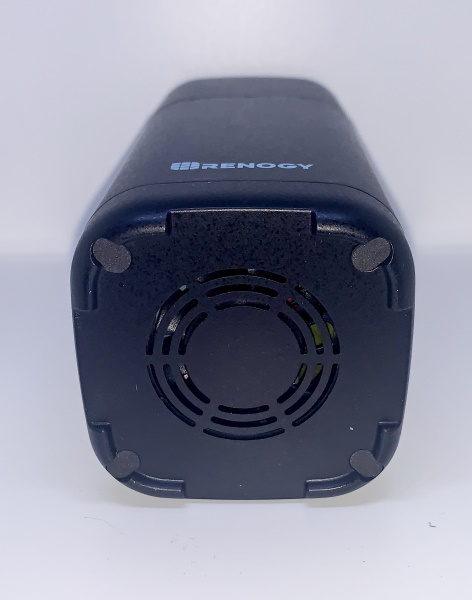 Performance
The first thing that I did right out of the box was to attempt to charge the Power Station. I first tried using a surge protector with built-in USB charging ports that I use to charge other devices. I used the micro USB cable via the micro USB input port. As soon as I plugged it in to charge, the first 2 LEDs lit up with the 2nd LED blinking. My assumption was that the device was charging. However, the next morning when I got up some 7 hours later, only the first 2 LEDs were solid blue and nothing else was blinking or lit. After trying that process again via the micro USB input, I then changed and tried charging with the USB-C cable plugged into the USB input/output port. This time it seemed to have charged successfully, or at least I assumed so since the first, second and fifth LEDs were lit up in the solid blue. My conclusion is that the 3rd and 4th LEDs are not working.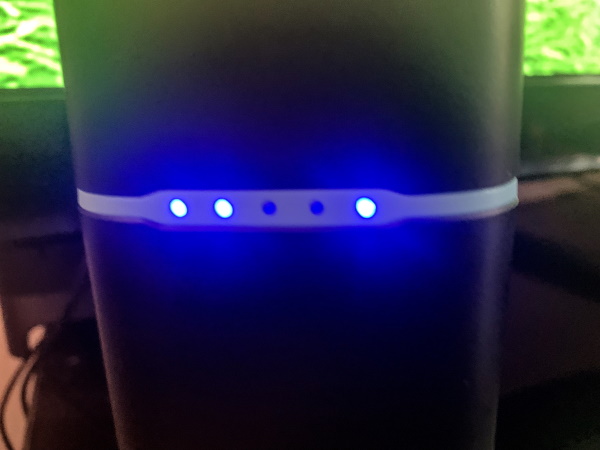 When the power button is pressed for about 3 seconds the green LED turns on indicating that the Power Station is now providing power. The LEDs on the front show the level of charge of the built-in battery. As you can see again in the picture below, 2 of the LEDs are not lit.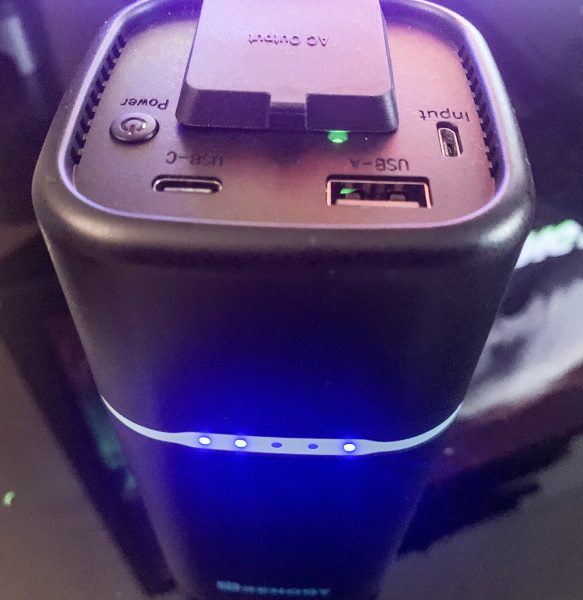 I was able to use the Power Station to power a CPAP machine, a Nebulizer machine, my iPad while using it and my iPhone. It handled all of these tasks well. One issue that caused me additional concern was that after about 45 minutes of my iPhone power adapter plugged into the Renogy, it was warm and bordering on hot when I touched it. I decided to plug it out since I was worried that it could somehow damage the adapter and we all know that iDevice adapters are not that cheap. When I plugged in the Nebulizer machine that uses a regular 2-prong AC cord and does not have a transformer in the cord, I could not tell if there was an issue with heat by touching it. I am assuming that adapters with inline circuitry may be the victims here. I also noticed that the cooling fan that is in the bottom of the device is relatively loud even when placed on a surface.
The following short video will give you an idea of the volume of the cooling fan:
What I like
The build quality
The design
The PD in/out port
What I'd change
The volume level of the cooling fan
Improve on Quality Control
A better manual that provides more detailed information
Final thoughts
The Renogy Phoenix 100 Mini Power Station is a compact power bank that can easily fit in the same space that a small water bottle would and is therefore easy to integrate as a part of your EDC. I personally have used it for charging both my iPhone and iPad and for powering my kids' Nebulizer when on the go. Since both of my kids suffer from asthma, having the ability to administer Albuterol treatments via the Nebulizer wherever we are is great. For me, the downsides are the noise level of the cooling fan which could be disruptive if I chose to use the Power Station in a library or even late at night when all is quiet, the fact that 2 of the status LEDs are not working, and that the wall warts for my iDevices seem to heat up more than usual when using the AC output from this device. Some of the other devices that I tried had regular AC cables without transformers, so I am not 100% certain that this condition is true for all AC devices that are plugged into the Renogy.
If you want to know more about this Power Station, the Renogy website provides additional information. However, at the time when writing this review, any attempt to download the manual from the website resulted in a"404 ERROR – PAGE NOT FOUND" message.
Nevertheless, this is a solid, portable and convenient Power Station that is worth consideration.
Price: $139.99
Where to buy: The Renogy website and Amazon
Source: The sample for this review was provided by Renogy