We use affiliate links. If you buy something through the links on this page, we may earn a commission at no cost to you. Learn more.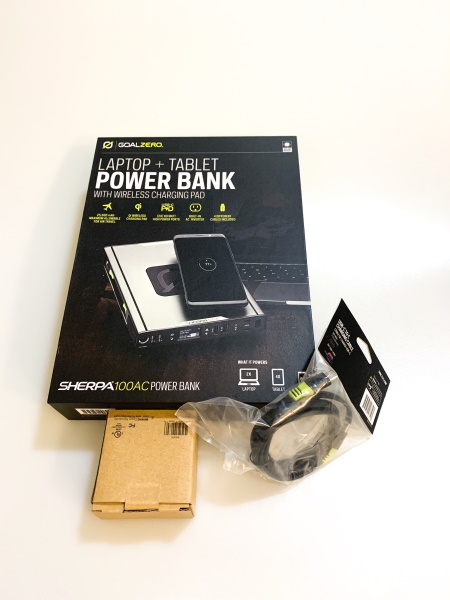 REVIEW – I probably have a dozen different brands and type of power banks, with each newer one having better specs and more capability than the previous one. I love the convenience of power banks and I am always interested in the ones with multiple powering options and well-designed versatility. The  Goal Zero Sherpa 100AC Power Bank is the latest to join my collection. Let's see if it is worthy of membership into my Power Bank club.
What is it?
The Goal Zero Sherpa 100AC Power Bank is a slim, sleek and powerful 100AC, 94.72Wh Power Bank that is equipped with features like wireless charging, high-speed Power Delivery, USB-C in/out ports that can power and charge phones, tablets, DSLR cameras, laptops, and other devices.
What's in the box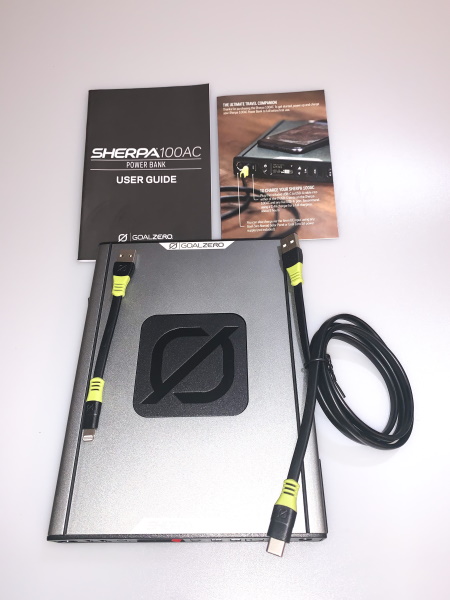 1 x Goal Zero Sherpa 100AC Power Bank
1 x USB-C to USB-A cable
1 x USB-C to USB-C Cable
1 x Micro USB to USB-A
1 x Lightning to USB-A
1 x User Guide
1 x AC Wall Adapter
Design and features
Specifications
Charge times:
USB-C PD Source(60W): 2.5 hrs.
Wall charger(45W): 3 hrs.
USB-A (2.4A): 9 hrs.
Nomad 14: 14-28 hrs.
Nomad 28: 7-14 hrs.
Boulder 50: 4-8 hrs.
Battery:
Cell chemistry: Li-ion NMC
Cell type: 18650 by LG chem
Single Cell Equivalent Capacity: 25600mAh @ 3.7V
Lifecycles: Hundreds of Cycles
Shelf-life: Charge every 3-6 months
Management system: Charging and low battery protection built-in
Ports:
Wireless Qi (output): 5W max
USB A ports (output): 5V, up to 2.4A (12Wmax), regulated
USB-C PD ports (input/output): 5V,9V,12V,15V,20V up to 3A (60W each,100W max), regulated
AC inverter US (output): 110V, up to 0.9A (100W max), 60Hz, modified sine wave
AC inverter Int (output): 220V, up to 0.45A (100W max), 50Hz, modified sine wave
Solar charging port (input, 8mm diameter): 14-22V (50W max)
Weight: 2.0 lbs. (898 g)
Dimensions: 7.5 x 1.0 x 5.68 in (19.0 x 2.54 x 14.4cm)
Features
Two High-Speed Power Delivery Ports: At 60W each, these USB-C Power Delivery ports provide rapid power for laptops, phones, and more.
Integrated 100W AC: Take the outlet with you, on the plane or in the wild, for serious power anywhere you need it. Perfect for keeping cameras and laptops charged.
Qi Wireless Charging + 2.4A USB: No matter the phone, there's a wicked fast, convenient charging solution designed for you. USB ports are useful for devices with proprietary charging (fitness trackers, watches, etc.).
Interactive OLED Display: Check power in and power out, get detailed port information, and even set roles for ports.
Four Rugged Cables Included: Included are the cables, you need to get the job done, and an incredibly easy way to store them for later. Includes Lightning, Micro USB, USB-C, and USB-C to USB-C.
Recharge from the sun: Connect a compatible solar panel. Charge time is dependent on the size of the solar panel. The Nomad 28 Plus will fully recharge the Sherpa 100AC in about 7-14 hours.
Use included cables: Recharge from a USB source in 8 – 10 hours. Fully recharges from the wall in about 3 hours using the Sherpa Power Supply

accessory (not included).

Recharge from your car: Recharge from your car 12V adapter in about 3-5 hours.
On the front of the device, there are all of the connectivity ports and the display. From left to right as shown below, there is an 8mm DC input charging port, 2 in/out USB-C Power Delivery ports, the LED Informational Display, 2 USB-A ports, and the AC port.
On the back of the device, there is a cooling fan and on the top flat surface of the device, there is the Qi Wireless charging interface.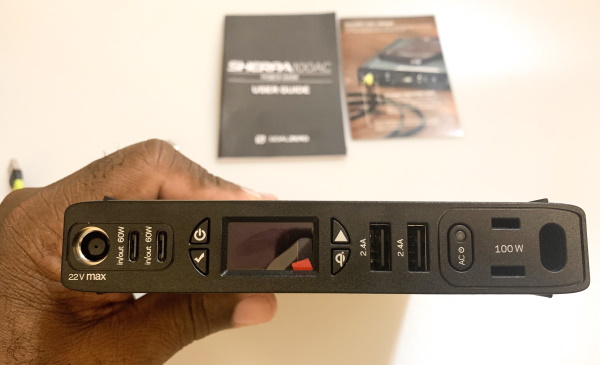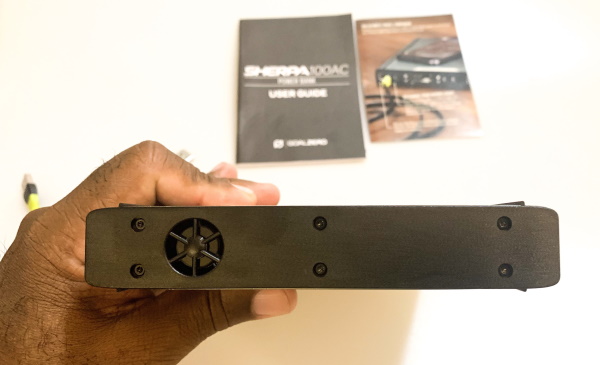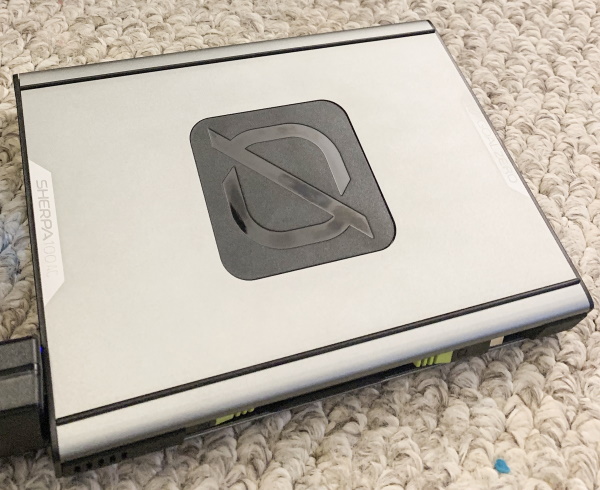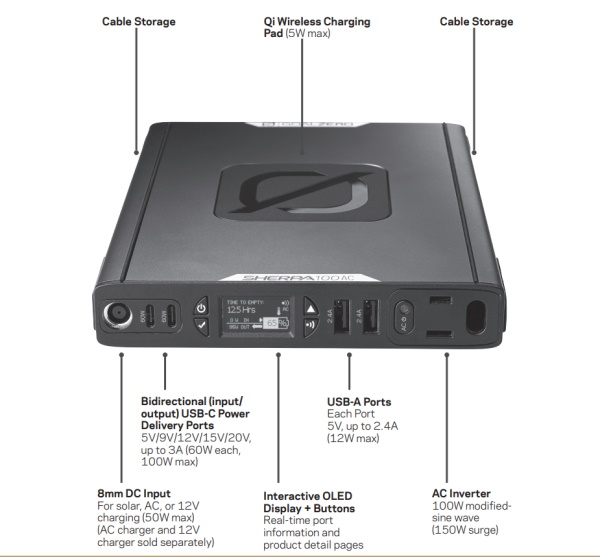 On each of the two sides of the device, there are short connectivity cables that are housed in slots designed for their storage and safekeeping. On one side there is a USB-C to USB – C cable and on the other side, there is a USB-C to USB-A cable.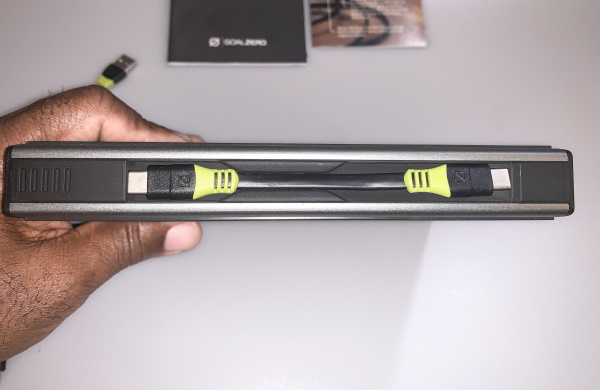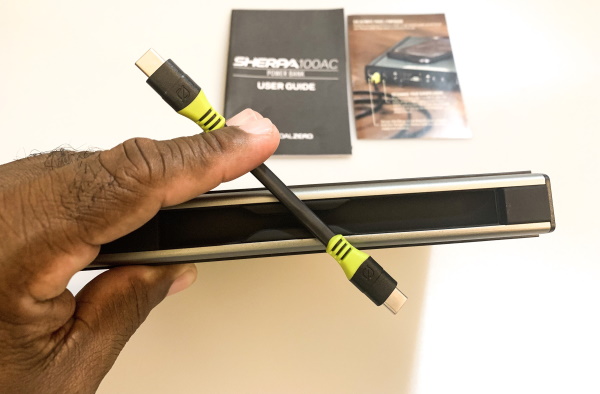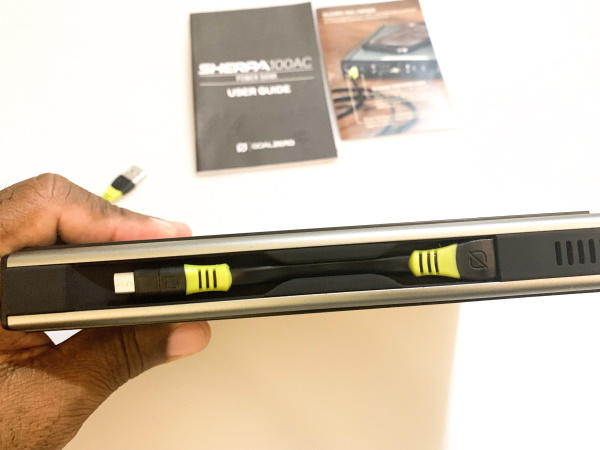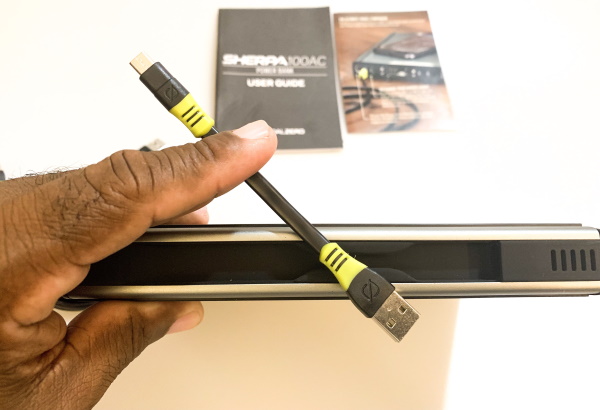 Goal Zero also included a wall adapter that has 2 built-in ports that include a 45W power delivery port and a USB-A smart port. The prongs for the AC plug can be folded in for storage.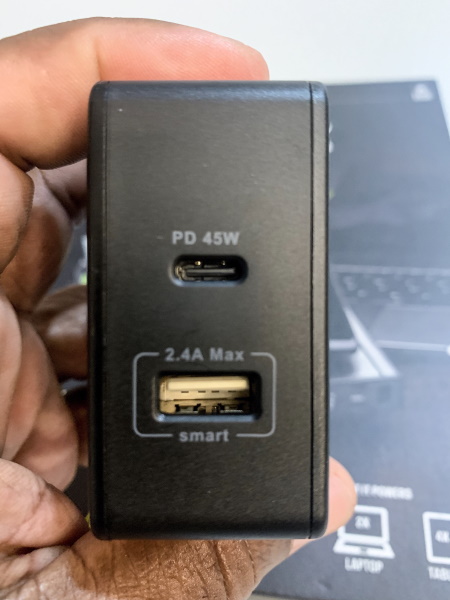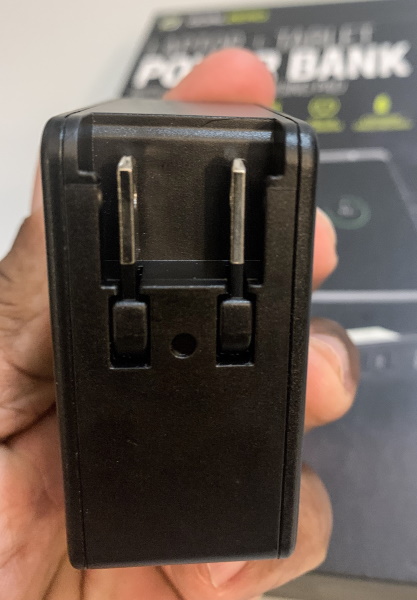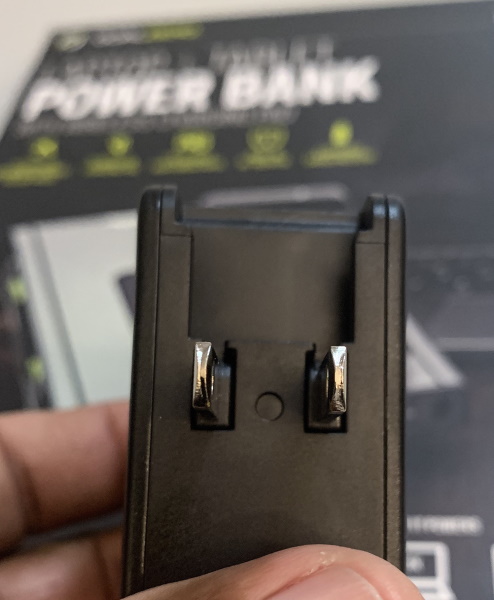 Performance
The Goal Zero Power Bank comes well packaged and is basically a plug and play device. When I received it and plugged it in to charge, it was already charged at over 90%. I left it charging for an entire day and when I checked it, the charge was 99%. At first, I was surprised that it was not at 100%, but it has achieved 100% after subsequent charges.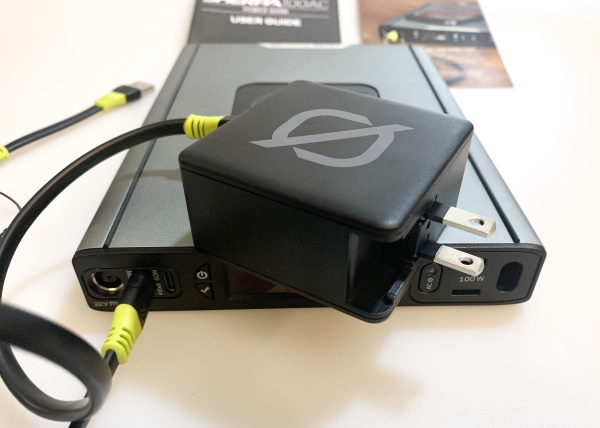 The photo below shows the LCD display during charging.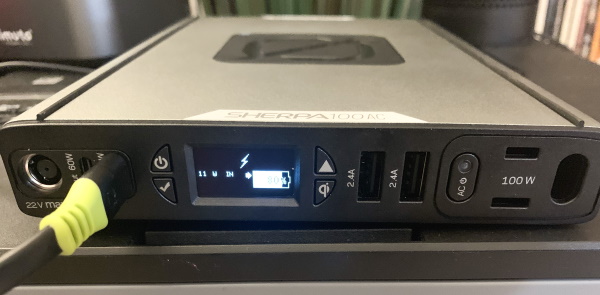 The display provides a lot of information on status and input/output as well as the options as you toggle through the screens that provide information for the customizable functions. In the photos below the first one shows the display when there is no load, and the last one shows the display hours later after using a tablet while it was plugged into the AC port.
You can click here to read the user guide and get more information including details of the customizable options.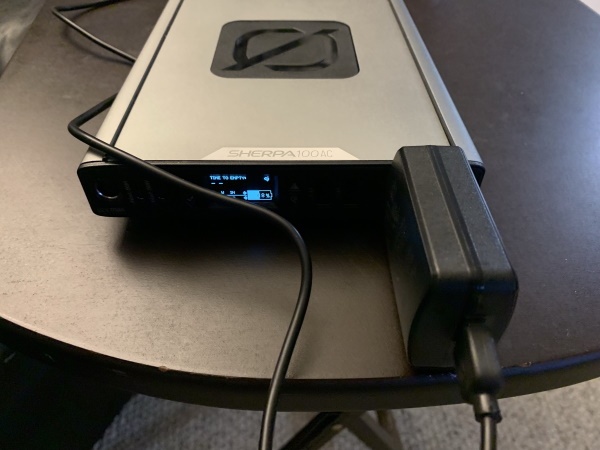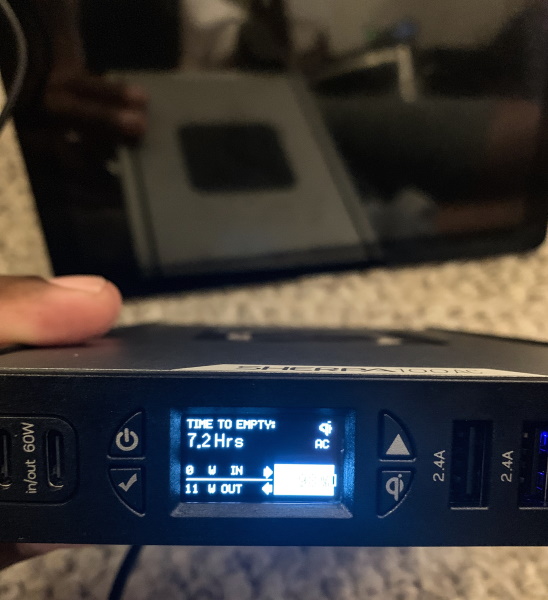 I really love the Qi wireless charging this device offers in addition to all of the other power/charging options. I use it every night to charge my iPhone 10X Max smartphone.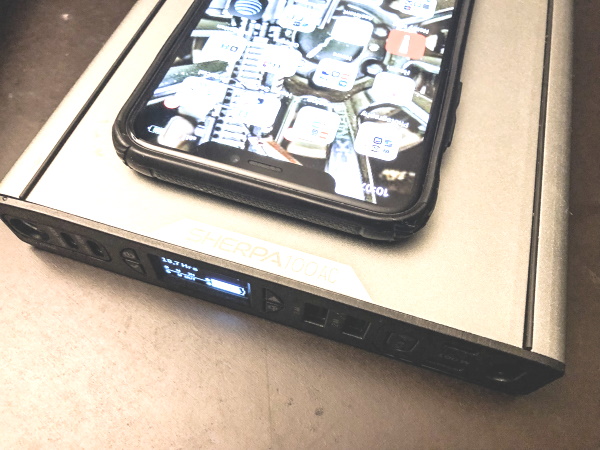 I use the ports exactly as they were set up when I received the device since they meet all of my needs as they are. I like the individual buttons to turn on/off the Qi wireless charging function and the AC power, etc.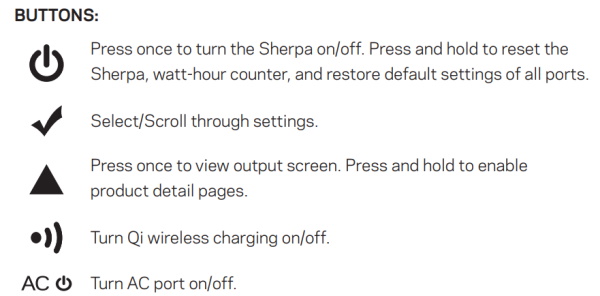 My only concern with this Power Bank is shown in the photo below. If you are using a wall adapter that is wider than the device then it is no longer level, and the bigger the adapter the higher off of the surface the device will be.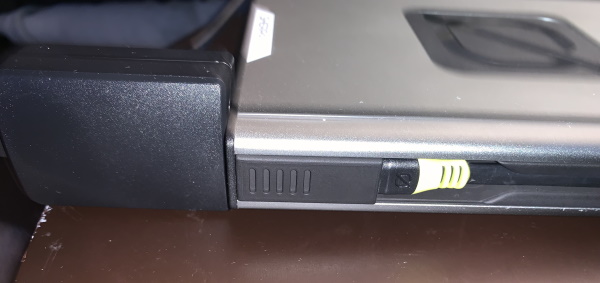 What I like
The build quality
The versatile connectivity ports
The sleek design
The power delivery capacity
The Qi wireless charging
What I'd change
Maybe the ability for the built-in AC port to be able to swing upwards to accommodate larger AC adapters.
Final thoughts
A few of the power banks that I own are quite versatile, but none as versatile and portable as this Goal Zero Sherpa 100AC Power Bank. The dual in/out USB-C power delivery ports along with the regular USB ports and the AC port make this perfect for my use. The Qi wireless charging takes it over the top for me. The only minor issue that I have with it is that the obvious way to use it is flat on a surface, and since the AC port is slim and fixed, anything AC plug that is thicker than the device raises it off of the surface and puts the weight on the AC plug. It can also possibly make using the Qi wireless charging difficult if the level that it is raised to is too steep. Otherwise, this Power Bank is a win and gets a well done and two thumbs up!!
Price: $299.95
Where to buy: The Goal Zero website and Amazon
Source: The sample for this review was provided by Goal Zero.