We use affiliate links. If you buy something through the links on this page, we may earn a commission at no cost to you. Learn more.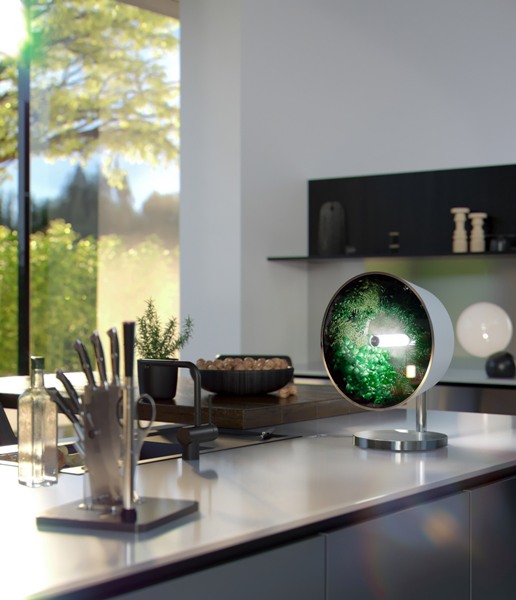 NEWS – The Rotofarm by Bace (Dezeen) is a countertop rotating hydroponic planter for anyone who lacks the space to grow their own food. Heck, I have the backyard space to grow a garden and I still want a Rotofarm! Anyway, this innovative device allows you to grow your own plants in a small amount of space because if its circular design. It only requires a 30 cm footprint to grow 1.5 m of plants. And, because it rotates once per hour, gravity doesn't have its normal effect on the plants, thus they grow faster.
The water and nutrient reservoirs are located in the base of the unit and the light is placed at the center to allow all the plants access to it. The light emulates that of the sun with a little more of the red spectrum to increase the speed of growth. "The light automatically fades on and off at optimal sunrise and sunset times" (Bace video shown below). Rotofarm allows you to adjust the light settings (dimming and timing) via an app to cater to different plant needs. The light can be a bit bright to some people, so the developers created a magnetic cover to reduce the glare by about 50%.
Toby Farmer, who founded Bace, created the Rotofarm according to Dezeen. He plans "to launch the Rotofarm on Kickstarter in September" (Dezeen), but the price was not revealed. This rotating growing technology was initially developed by NASA to be used on the International Space Station (Dezeen).
Check out the above video illustrating the Rotofarm. And be on the look-out for it on Kickstarter soon. Seriously, I want this!