We use affiliate links. If you buy something through the links on this page, we may earn a commission at no cost to you. Learn more.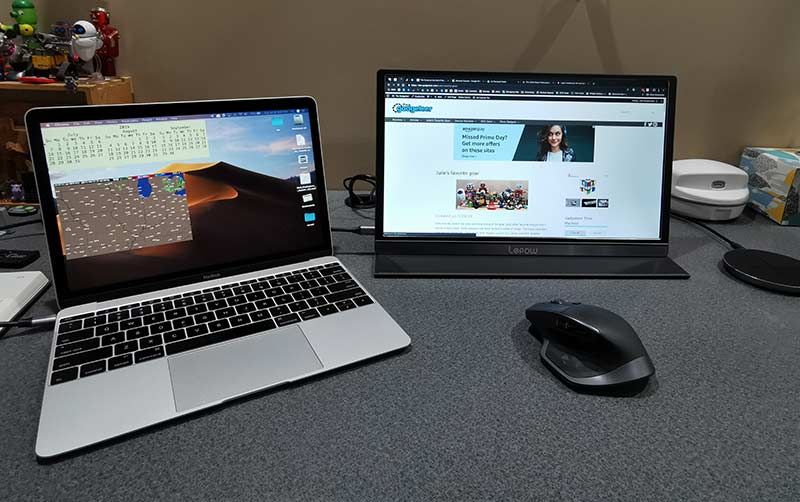 REVIEW – I switched from a huge 27″ iMac to a MacBook more than 7 years ago and although I still use an external monitor with it when I work in my office (Gadgeteer HQ), I sometimes wish for some extra screen real estate when I'm working away from home. One solution is to buy a bigger MacBook, but that's not a solution I want to take. Another solution is a portable monitor like the Lepow USB-C display. Let's check it out.
What is it?
The Lepow USB-C display is a 15.6-inch portable display that connects to laptops and mobile devices with a USB-C cable.
Hardware Specs
Screen size: 15.6 inch
Visual area: 344.16 x 194.59mm
Panel type: IPS
Dimensions: 368 x 225 x 8.8 mm
Aspect ratio: 16:9
Resolution: 1920×1080
Display color: 16.7M
Color temperature: 6800K
Visual angle: H: 85/85Min V:85/85Min
Contrast ratio: 1000:1
Brightness: 300cd/m2
Output interface: 3.5mm headphone jack
Speaker: 1Wx2
What's in the box?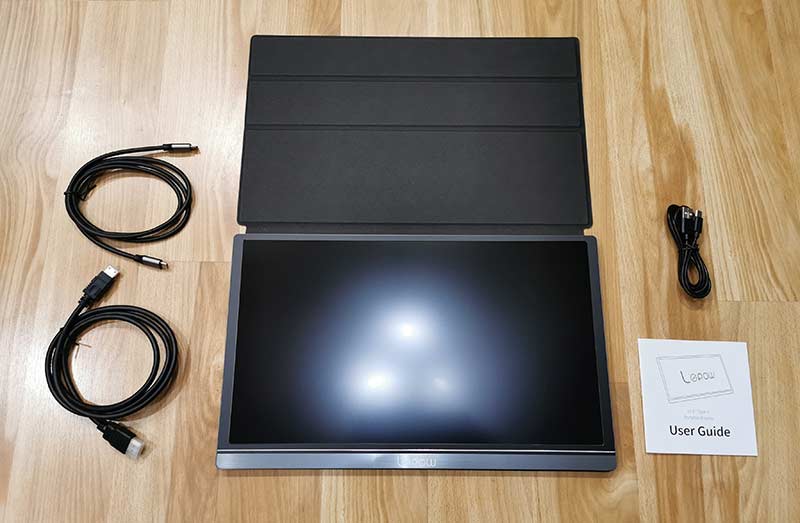 Lepow USB-C monitor
Magnetic cover
Screen protector
USB-C to USB-C cable
HDMI to mini HDMI cable
USB-A to USB-C cable
User Guide
Design and features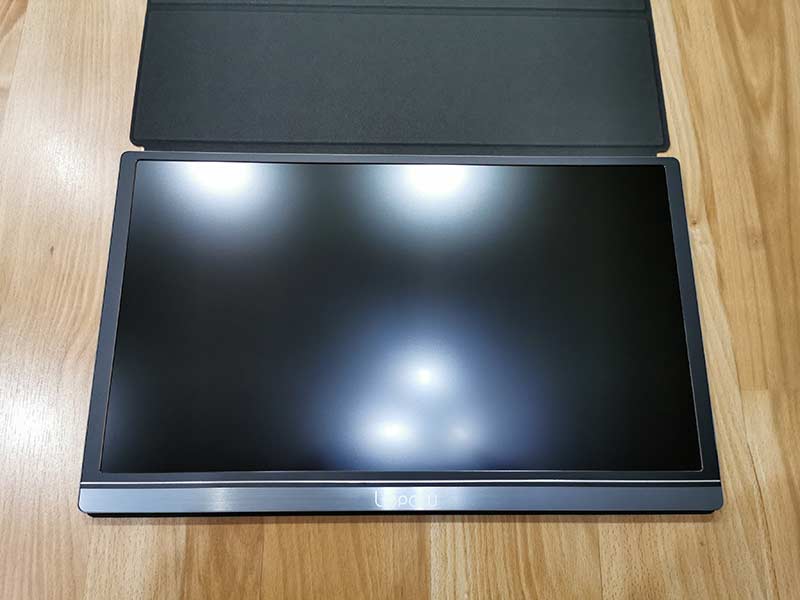 The Lepow 15.6-inch USB-C portable display immediately reminded me of a supersized iPad Pro with an Apple smart cover. It's designed like a slab/tablet, without a built-in stand. That's what the case is for.
The display has slim bezels and a dark grey shell that holds a matte screen that unfortunately is not a touchscreen.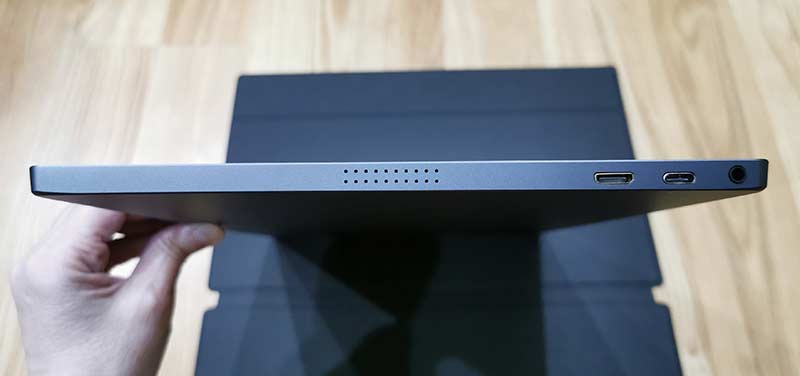 Both sides have ports and speaker vents. The left side has a mini HDMI port, the main USB-C port, and a 3.5mm headphone jack.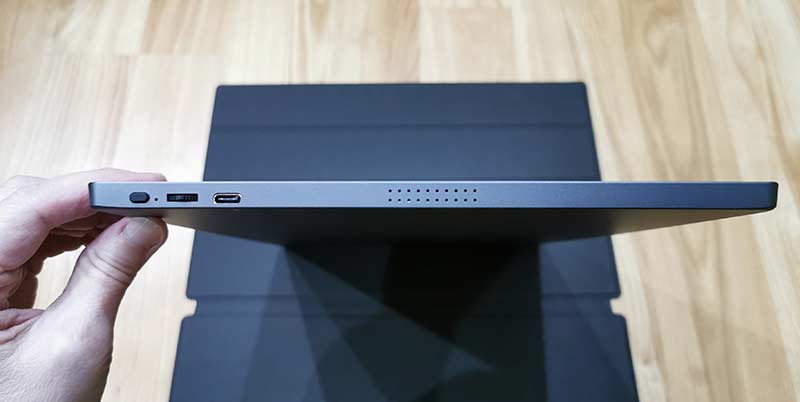 The right side has another speaker vent, a power button, a roll key for menu selections, and a PD USB-C port.
The monitor does not have a built-in battery so it requires an outside power source. It can pull power from a laptop, a smartphone, a tablet, or you can connect a USB-C cable and an AC adapter to the USB-C PD port on the side and use that to power the monitor and charge the device (laptop, phone, etc.) connected to the other USB-C port on the opposite side of the monitor.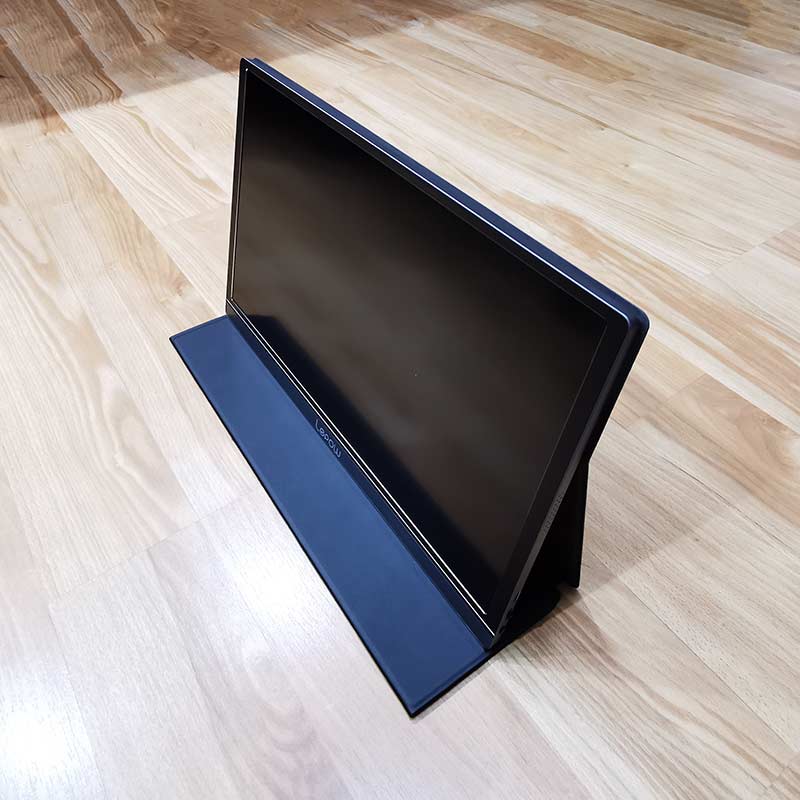 As mentioned above, the Lepow monitor does not have a built-in kickstand, but the included smart cover not only protects the screen when you're not using the display, but it can fold into a stand.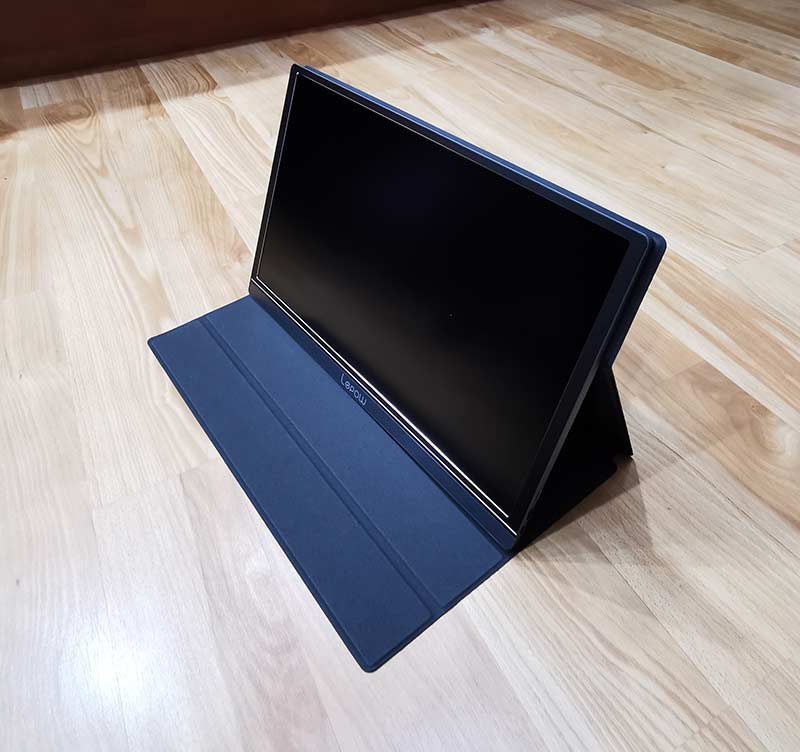 The cover has grooves so you can customize the viewing angle and small magnets at the edges hold the cover to the monitor for ease of use.
Using the Lepow USB-C portable monitor with a laptop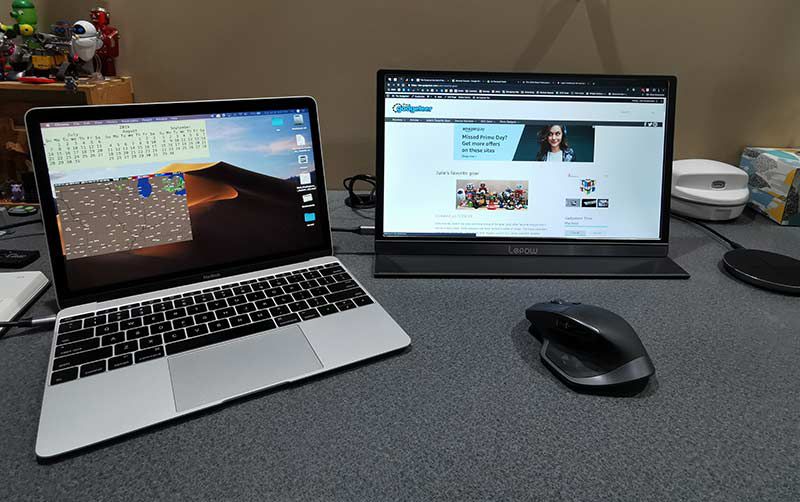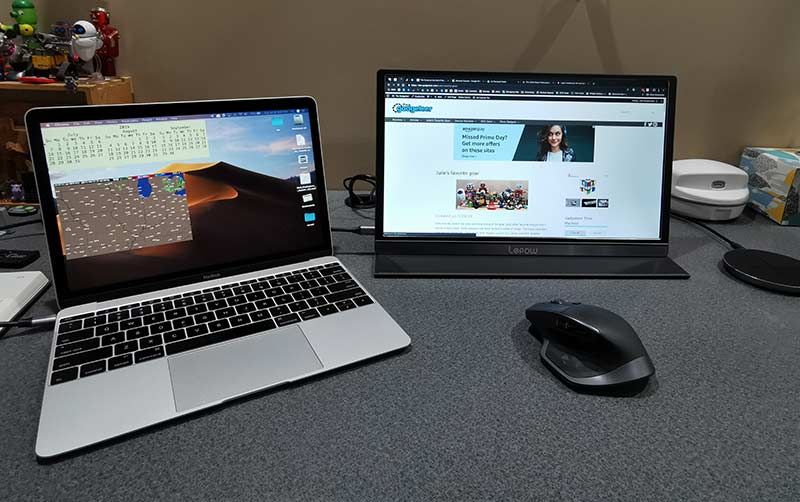 I tested the Lepow monitor with my 2016 12in MacBook and my Huawei P30 Pro smartphone, both of which have a USB-C port for easy connection. The Lepow also has a mini HDMI port that you can use with the included mini HDMI to HDMI cable to connect the monitor to full-sized HDMI port.
One of the best things about the monitor is that it doesn't require its own power source because it pulls the power it needs from the connected device. That means that you won't need to carry a bulky power supply with you or need to be near a wall outlet to use the display because it powers on as soon as it's connected to the laptop or phone.
By default, the monitor is in landscape orientation when connected to a macOS or Windows laptop.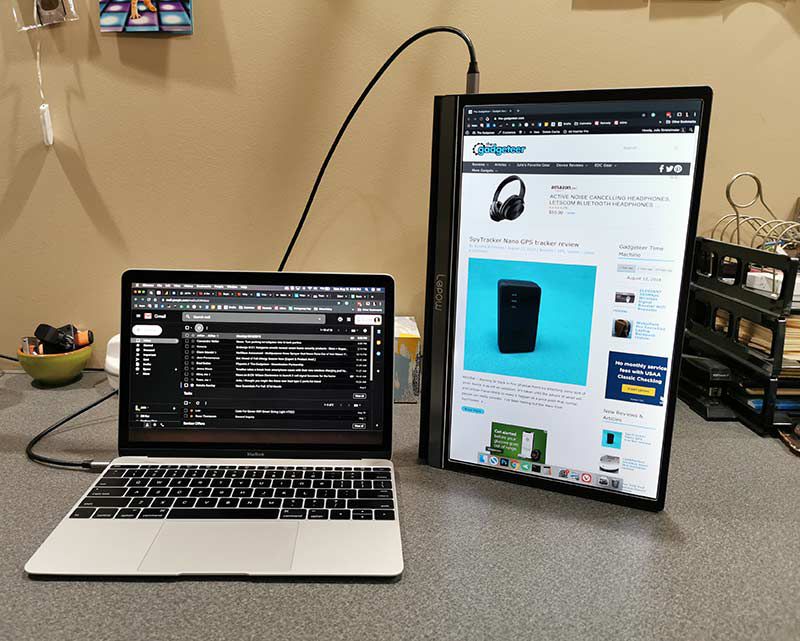 However, you can go into the settings on the computer to rotate the display like you see above. The only problem is that when you physically rotate the Lepow USB-C monitor, the folding cover doesn't make a very sturdy stand in that orientation. And even worse is the fact that there's the cable sticking out of the top of the monitor when it's in this orientation and the monitor will rest on the roll key which when pressed, will bring up the onscreen menu. All that said, it is doable in portrait orientation, just not very convenient compared to a traditional landscape orientation.
The monitor's built-in speakers on both sides of the display are not impressive when it comes to volume or audio quality. Even at full volume, the audio is weak and definitely not loud enough if you're using the monitor in a noisy environment.
Using the Lepow USB-C portable monitor with a smartphone or tablet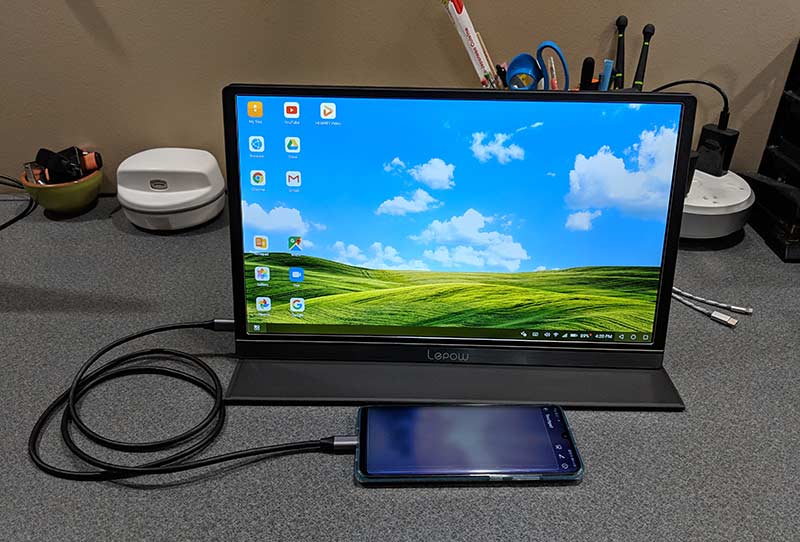 If you happen to own a smartphone or tablet that allows for video out though USB-C like the Huawei P30 Pro (shown above) or a Samsung Galaxy device, the Lepow monitor can turn your mobile device into a computer-like device with a full screen experience.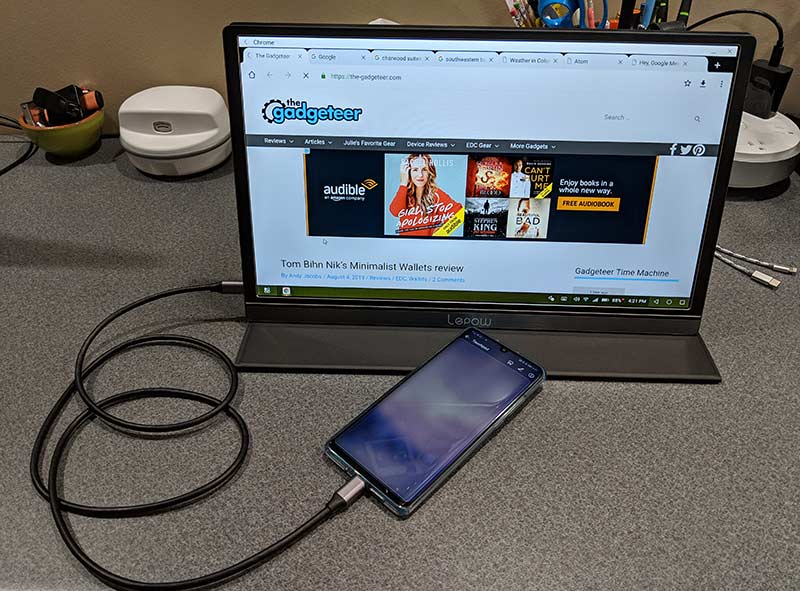 Depending on the device that you use, it really does feel like your phone becomes a computer. With the Huawei connected to the Lepow, it becomes a touch pad.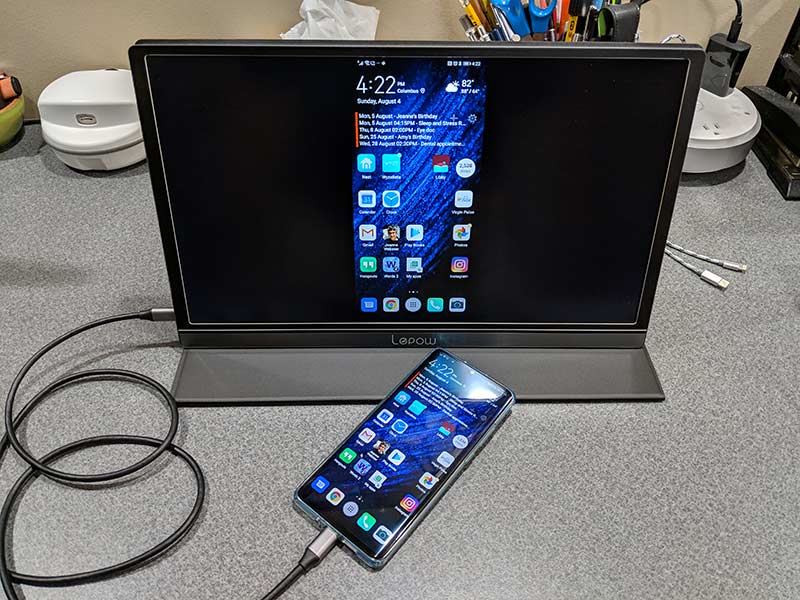 I tested the monitor with normal everyday activities like using it to surf my favorite sites, work in spreadsheets, work in documents, editing images using Photoshop, and watching videos. Note that I did not use the monitor for gaming as I don't play games. But for all the tasks that I did try with the Lepow, it worked fine.
The colors are good, the image was clear and crisp, and viewing angles are decent. I'm not going to say that the Lepow is better than my BenQ 27inch monitor which has a resolution of 2560×1440, but the Lepow's 1920×1080 resolution is perfectly adequate for its intended use as a portable companion monitor for travel or small workspaces.
One thing I did notice early in the review process was that the monitor defaults to 30% brightness and doesn't save changes to the brightness setting or other settings. So even if the computer times out and the monitor goes idle, when you wake it back up, the Lepow screen's brightness goes back down to 30%.
I also noticed that routing all the audio through the Lepow monitor's built-in speakers was not a very good experience. Volume levels are low even with the volume setting cranked to the max.
What I like
No power adapter needed
Portable
Pass through power port
What I'd change
It would be nice if settings were saved between sessions
Volume through the built-in speakers is very weak
Final thoughts
There are 100's of excellent full-sized monitors on the market but the selection of ultra-portable monitors is limited, especially monitors that only need a USB-C connection to work. No bulky AC adapter needed.
If you don't mind that the monitor doesn't save settings like brightness and volume, the Lepow 15.6-inch USB-C portable display has a lot going for it. It has a nice screen, with vivid colors, and crisp text. It's portable enough to fit in a gear bag along with your laptop and it comes with a magnetic case that doubles as a stand.
Price: $169.99
Where to buy: Amazon
Source: The sample for this review was provided by Lepow.