We use affiliate links. If you buy something through the links on this page, we may earn a commission at no cost to you. Learn more.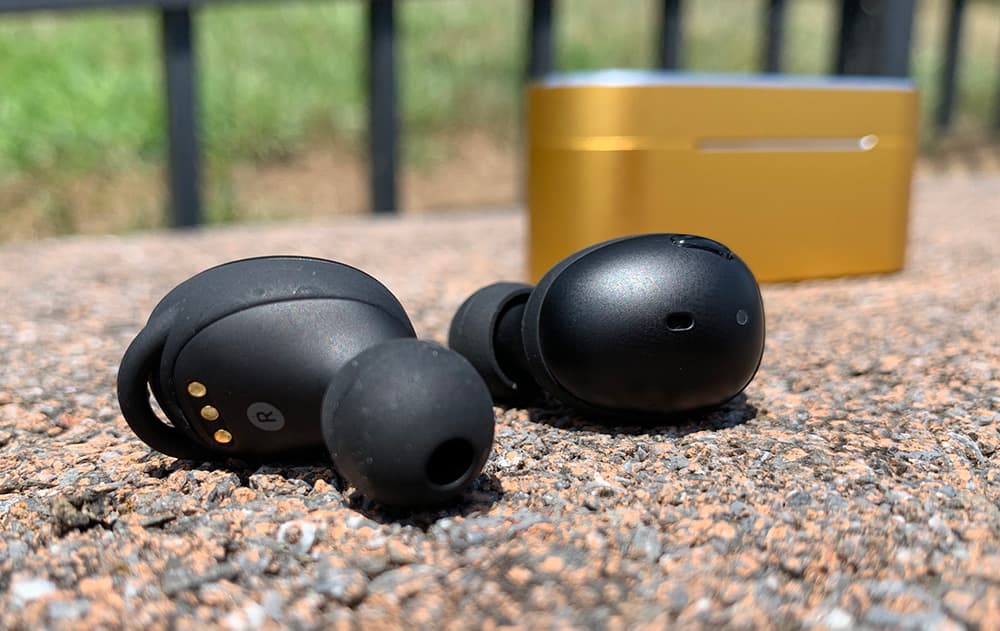 CROWDFUNDED REVIEW – Today, we're taking a hard look at the REECHO EchoWeek to find out if these truly wireless stereo earbuds are an instant classic or a cautionary tale of crowd-funding gone awry.
What is it?
REECHO's EchoWeek TWS earbuds are yet another entry into the crowded wireless earphone market. They are currently in prototype stage and have only in the past month or so sent out their first batch of product to their Indiegogo backers. I received a sample product with that first shipment, and I really hope I didn't jump someone's place in line who paid real money for a pair.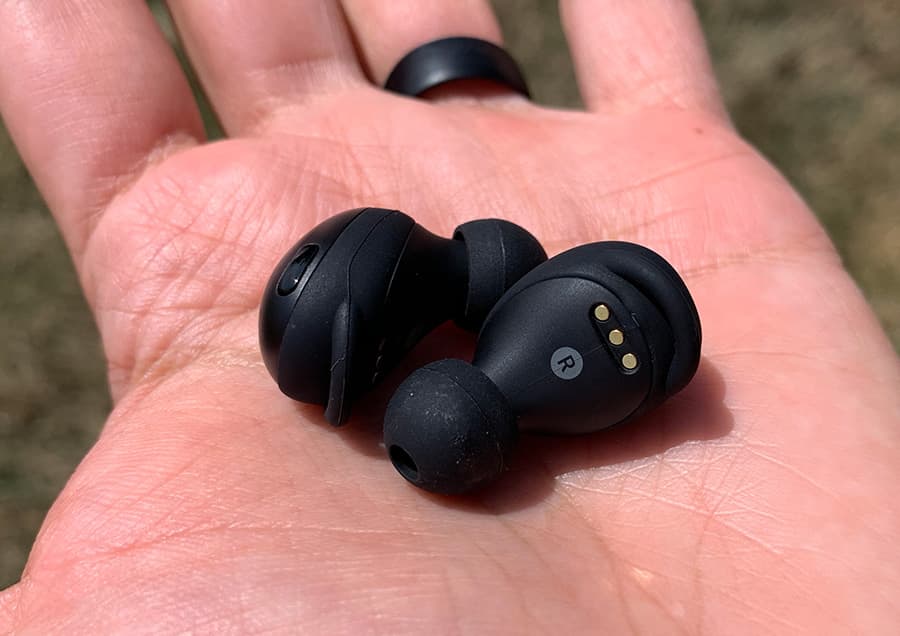 What's in the box?
earbuds and case
3 different earbud tips and sports wingtips
micro-USB cable
manual and quick guide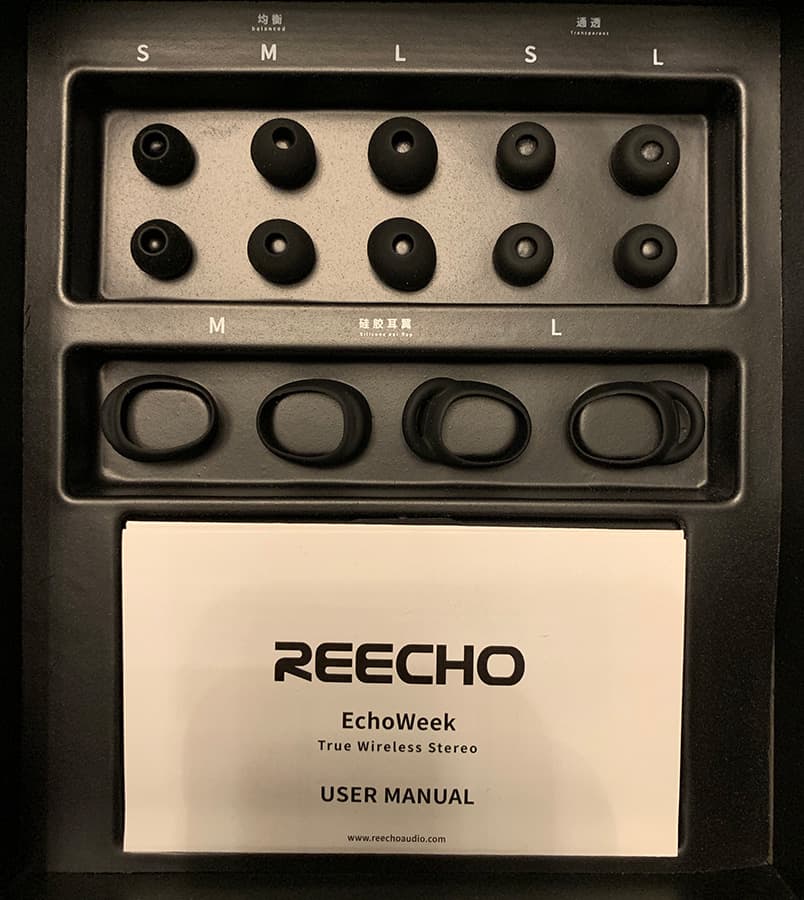 Hardware specs
Unique rounded balanced armature
True-wireless stereo earbuds
3 sizes of wingtips & 3 sizes of eartips
IPX6 sweat resistance
Bluetooth 5.0 wireless connection
Up to 48 hours with use of charging case (750mAh case capacity, 50mAh earbud capacity)
Easy access to voice control smart assistants
Design and features
The EchoWeek earbuds have a nice look to them. Made from smooth, black matte plastic, they have sleek, sporty feel and are very lightweight. I was pleased that the largest of the earbud tips fit well in my notoriously difficult ears, fully sealing my ear canals.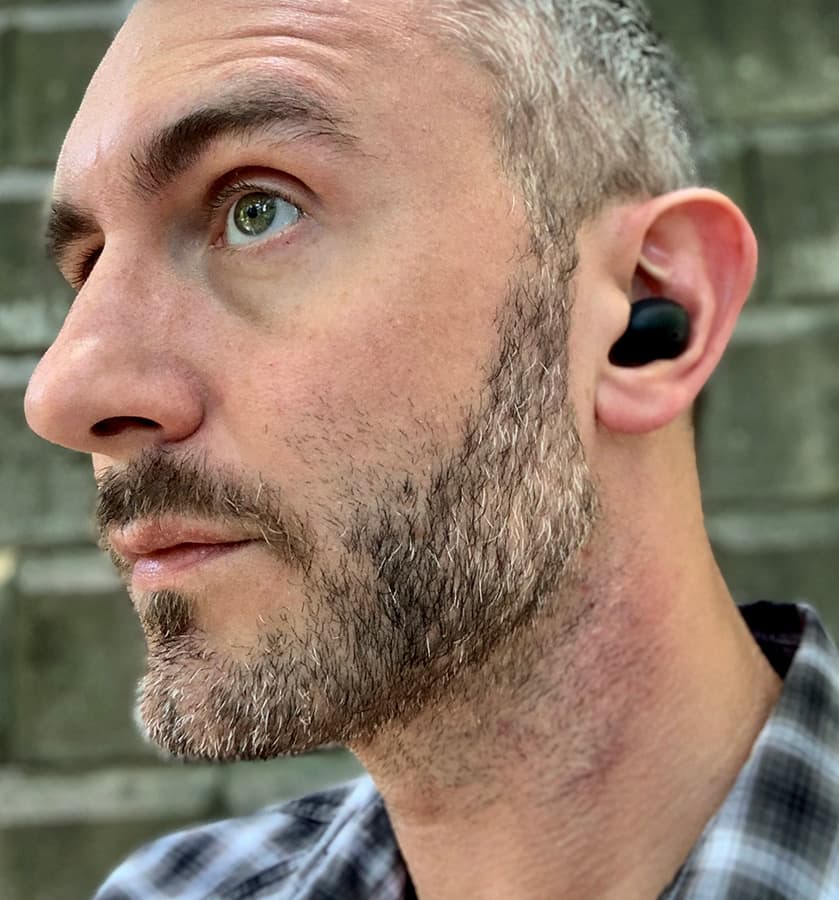 The case is … fine. It's colored metal, with chamfered silver edges, and you can tell that they were simply trying to match the color of the plastic cases pictured in their Indiegogo campaign page. Looking at what they were promising versus what they delivered, it's clear that they either ran out of time or the glossy plastic of the 3D prototype just couldn't be achieved.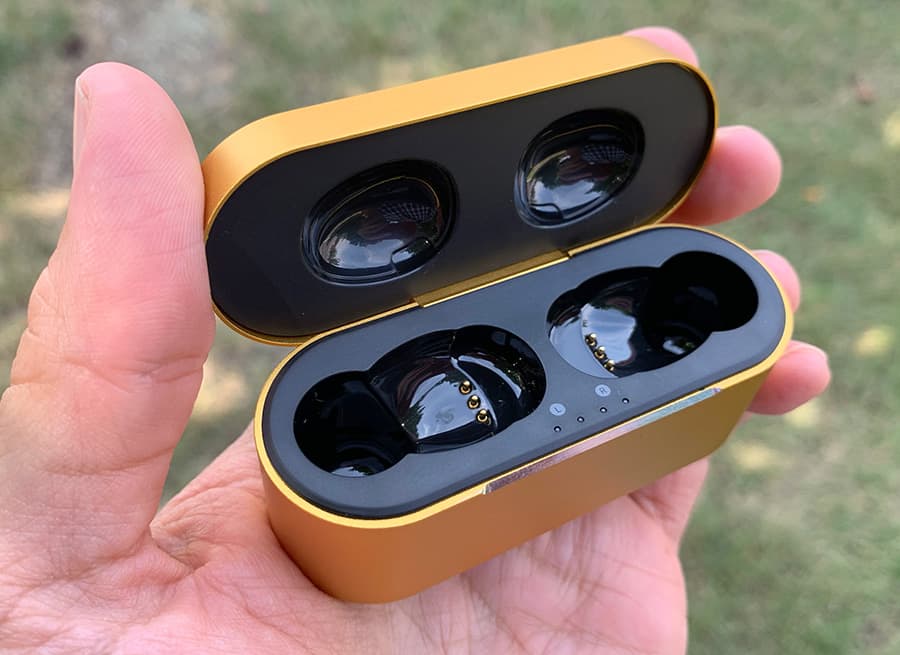 They don't even match the box they were shipped in. It must have been a really late decision in the manufacturing process.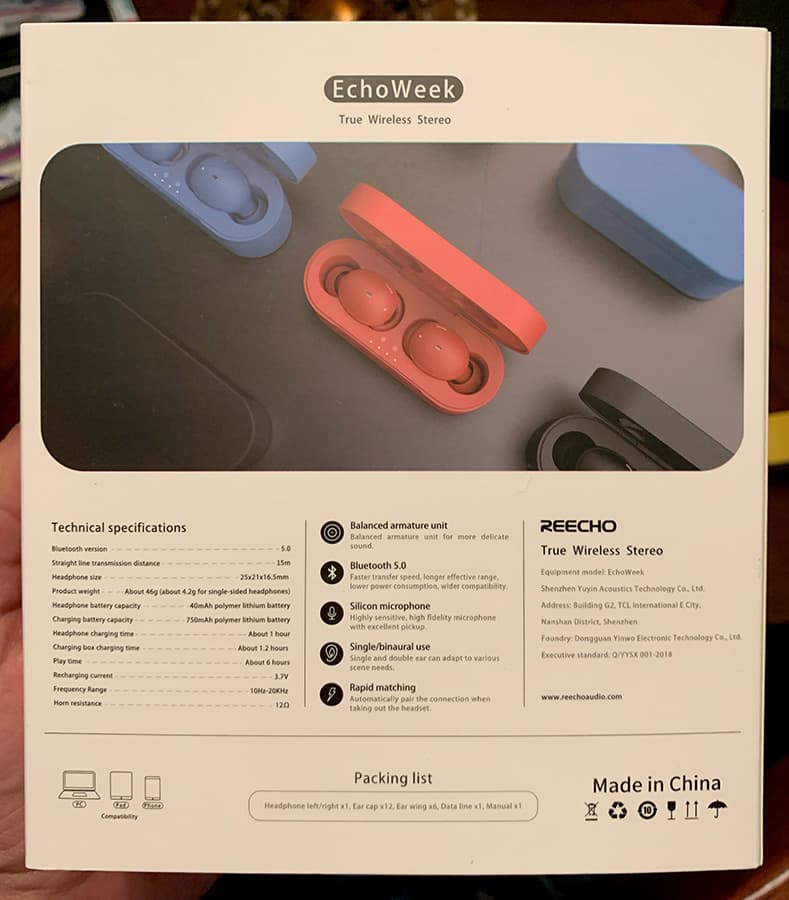 The earbuds were supposed to match the color of the case, but instead, all of the shipped products were black, which garnered a lot of complaints from their project backers. I would have preferred a straight silver case instead of this color, but I'm assuming they still had to try to match the seven colors they were offering in the campaign.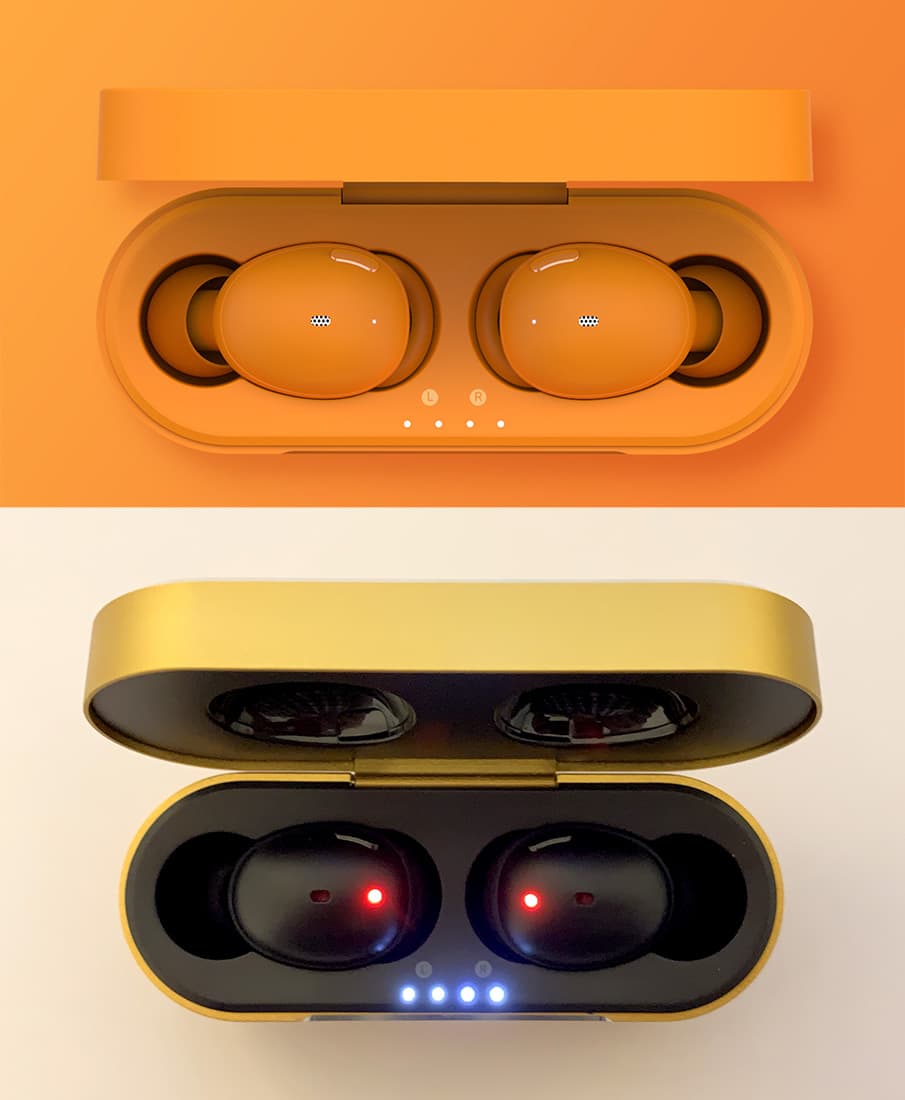 I wonder if REECHO called it the EchoWeek because there were 7 colors, one for each day of the week. Indeed, the top-tier perk ($399) was for a 7-pack. Just a random thought.
Setup and Functionality
Pairing is, as usual, pretty straightforward. I've heard that these TWS earbuds are sort of hit and miss when it comes to Bluetooth setup, since they're technically two separate devices that work together as one, but I've never run into any issues.
Once you're paired up, it's a simple matter of opening the case and removing the earbuds from their chargers to connect to your device. You can use one or both earbuds, which is nice for when you want to keep an ear free for traffic or talking to others.
One thing that I'm a bit torn on is the button function. Look at this button guide.
It's comprehensive as to what you can do with the buttons, but difficult to remember what hitting the right button 2 times or the left button one time will do. Plus, the buttons are a bit tough to press, so completing a triple-click is quite difficult. Compare that to a programmable double-tap on Apple's AirPods, and, well, even if that's not a fair comparison, I guess I just like things simple.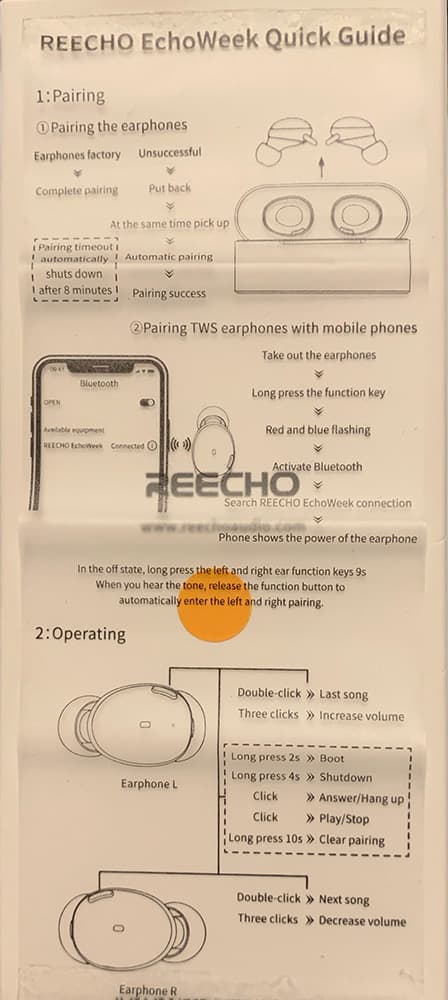 Sound
The sound drivers, which Reecho is dubbing their "balanced armature drivers (BADs?)," are claimed to have superior sound isolation, require less power, and are very small and lightweight. And given the apparent uniqueness of this driver, REECHO can tout on their IndieGoGo page that the EchoWeeks are the "smallest rounded BA TWS Earbuds," because everything has to the be the first and/or only thing of its kind on crowdfunding sites.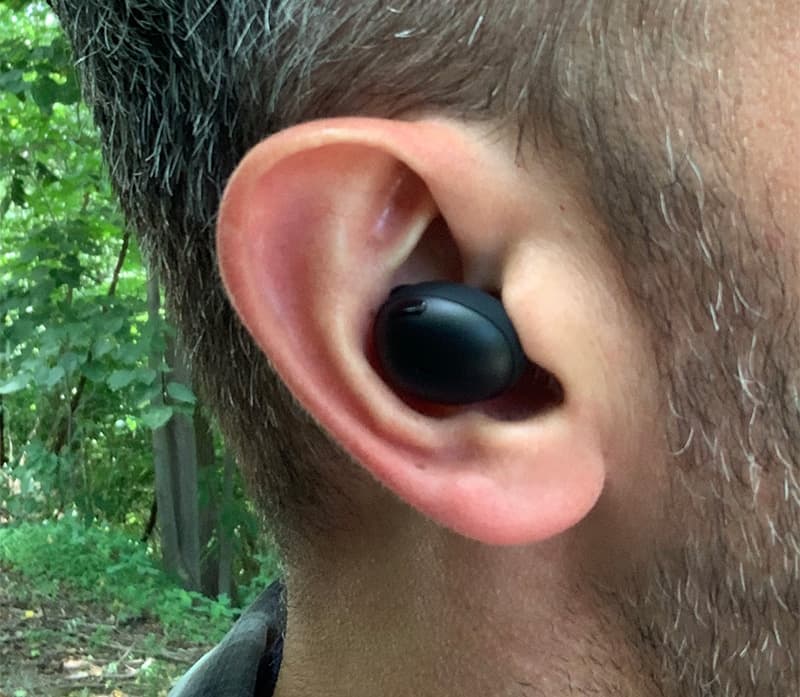 Overall, they sound pretty good! Especially if these earbuds would only set you back a mere $29. They sound a little flat, overall, like the highs are a bit muted. I can't say if the
Connection
As with some past TWS earbuds that I've come across, the connection seems rather spotty. Reecho claims 10m "straight line connection distance," but it seems even putting my phone in my pocket is enough to interrupt the audio at times. Placing my hands over my ears is also enough to cause music to fuzz out to silence.
You're certainly not going to be full on swimming with these things on, despite REECHO's promotional videos might show. I mean, seriously?
I can't even get a wall to work between these earbuds and my iPhone, and this dude is full on Michael Phelps-ing around the pool. I'm not buying it.
Battery Life
Unsurprisingly, the battery life on these earbuds didn't quite match their advertised 6 hours. I got about 3.5 hours of constant music out of them before they died. I imagine you would get 7 charges out of the case, though, mathematically speaking, bringing that total listening time to over 24 hours. That's not too bad, it's in keeping with most other TWS earbuds of this size.
What I like
They do sound pretty great for the apparent price
Build quality is good, too
What I'd change
Buttons are a bit hard to press
Weak connection, sound drops out
Simplify the button controls
Final thoughts
If the time spent with the EchoWeek's taught me anything, it would be to approach crowdfunded products with a side of caution, because this is a very real outcome.
From an objective standpoint, these earbuds sound great for $29. If REECHO somehow launched their product on a mass scale at this price, they'd be a clear favorite. Even with the weak connectivity issues. But as to whether or not you'll actually be able to get your hands on a pair … let's just say I wouldn't hold my breath.
I tried to get in touch with a representative from the company and didn't hear back from them. Reading the comments on the Indiegogo page, there are a lot of others who unfortunately had the same issue.
Price: Lowest backing "secret" price was $29, but no word on what the final retail product cost will be or if they'll go into full production.
Where to buy: This product is, as of the time of writing, unavailable for purchase. You can find their closed Indiegogo page here. And if you want a bit of schadenfreude for their backers, read through the comments section.
Source: The sample of this product was provided by REECHO.