We use affiliate links. If you buy something through the links on this page, we may earn a commission at no cost to you. Learn more.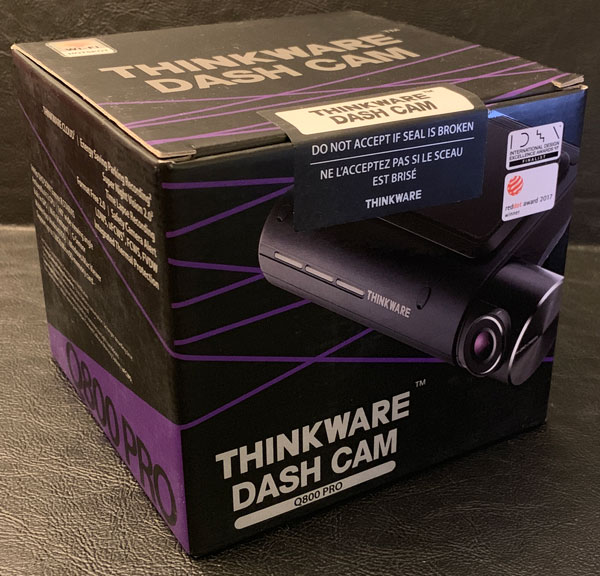 REVIEW – The past few years I've had the opportunity to review both of Thinkware's flagship dash cams: the F800 and F800 PRO. With many other brands to choose from, the 800 series continues to be my dash cam of choice. I've even had the Thinkware 12v power cable hardwired into my vehicles enabling all of their features to be fully functional. That said, the only negative/criticism I had in those reviews was the F800's HD resolution. In today's high-res world, 1920 x 1080 is a bit meager IMO. Well, Thinkware has finally addressed this shortcoming in the new Q variant of the series, bumping the resolution to 2K QHD (2560 x 1440)…a welcome upgrade. Let's see if it lives up to the anticipation 😉 .

Since the F800, F800 PRO and Q800 PRO are nearly identical in form and function, I will be plagiarizing myself while describing the Q800's shape, ports, and shared features but dive into what differences there are. Here you can see, that other than lens/camera assembly the F800 PRO and Q800 PRO are identical.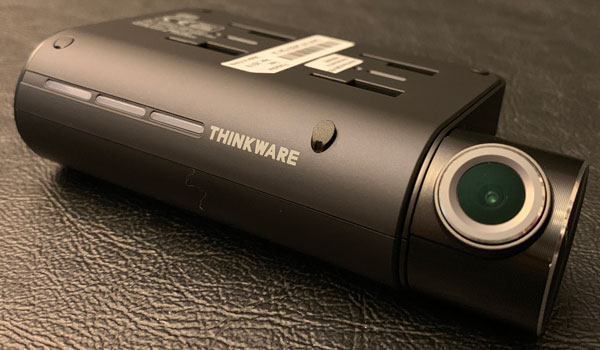 What is it?
The Q800 PRO is a screen-less dash cam, shaped more or less like a thick deck of cards with a growth on its side to house the lens assembly. Like it's predecessors, I love the minimalistic, non-distracting form factor of the Q800 PRO. Other than verbal/audio notifications, you can hardly tell it's installed in your vehicle being tucked behind my rearview mirror. The Q800 PRO is even more stealthy than the original F800, housed in all-black (vs gray) plastic and packed full of the latest tech, features, and Sony's 2K/high resolution 5.14MP Sony STARVIS camera sensor.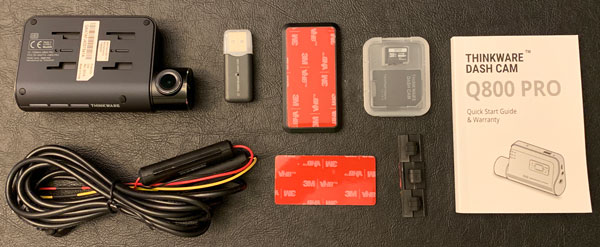 What's in the box?
Main dash cam unit
Mount with 3M tape (1ea)
12v power cable
Adhesive cable holders
16gb microSD memory card with adapter (consumable)
Quick start guide/warranty card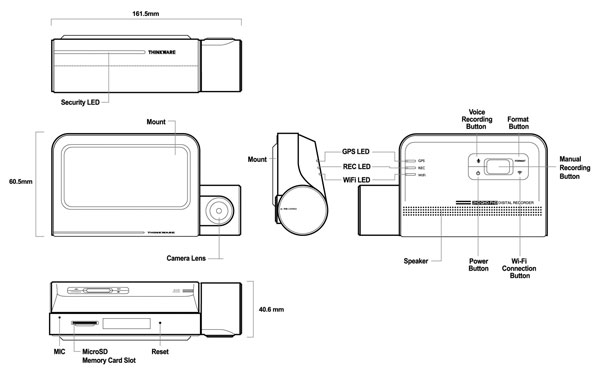 Hardware specs
• Resolution: Front – 2K QHD (2560 x 1440) / Rear – Full HD (1920 x 1080) [Optional]
• Camera: Front – 5.14MP Sony STARVIS  / Rear – 2.13MP Sony STARVIS [Optional]
• Frame Rate: 30 fps
• Viewing Angle: 140° (Diagonal)
• Dimensions (WxDxH): 4.2 x 1.3 X 2.4 inch
• Weight: 107.5g (0.237 lb)
• Storage Temperature:   -4°~ 158°F / -20°~ 70°C
• Operating Temperature:   14°~ 140°F / -10°~ 60°C
• Capacity:  MicroSD card 32/64/128GB (UHS-I)
• Input Power:  DC 12/24V, Built-in Super Capacitor
• GPS:  Built-in GPS Antenna
Design and features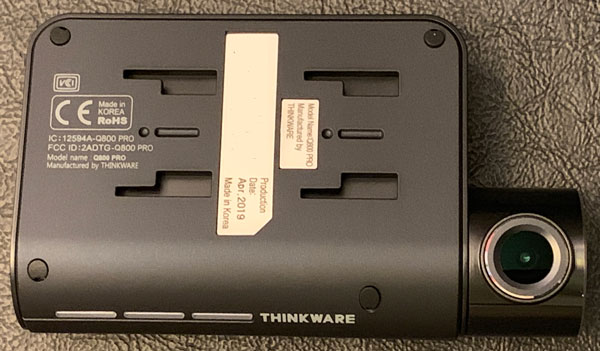 The top of the Q800 PRO has four slots that slide onto the mounting plate which allows for easy installation and removal of the device. The mounting plate is securely held to the windshield by a 3M adhesive strip (vs suction cup mount). The dash cam locks onto the mounting plate with a secure, wiggle-free connection.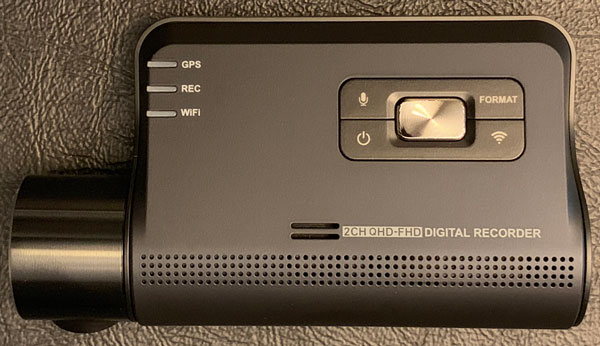 The main face of the Q800 PRO has the mic mute, SD card format, WiFi, and power buttons in addition to the GPS, recording, and WiFi status LEDs located on the left. The Q800 PRO's speaker is also located on the front of the device. Like the F800 and F800PRO, the Q800 PRO's speaker impressed me just like its brethren, definitely the clearest and loudest dash cam I have experienced to date.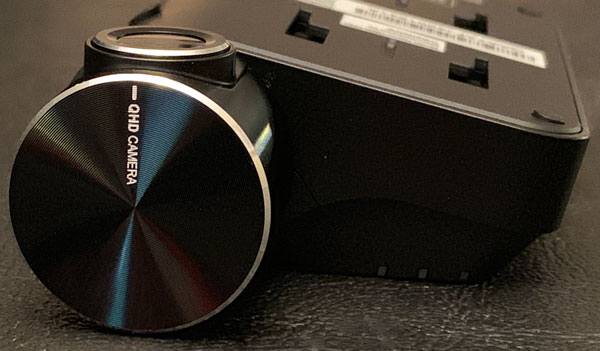 The Q800 PRO's camera is on the left side of the device, engineered to sit very close to the windshield to reduce distortion and glare. The camera housing is able to rotate vertically approximately 90 degrees to accommodate nearly any windshield angle and vehicle design.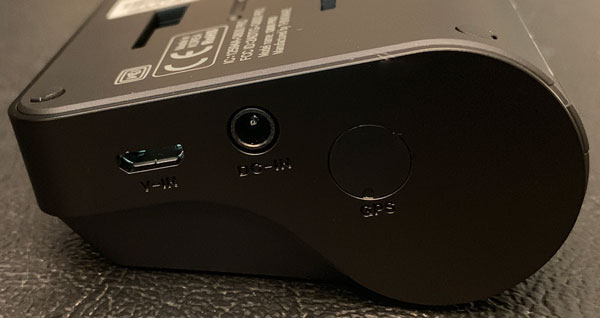 The right side of the Q800 PRO has its video-in, power, and external GPS ports. The video-in port is for the rear, second channel camera. The Thinkware Rear View Camera is an optional accessory that connects to the Q800 PRO via microUSB cable providing HD quality video with a 2.13MP Sony STARVIS sensor and 140 degree viewing angle. The rear video feed can be viewed concurrently with the main, front-facing video on the PC Viewer.

The top of the Q800 PRO has a recessed reset button, microSD card slot, and microphone. Thinkware includes a 16gb microSD card. The Q800 PRO can accommodate up to a 128gb card. Considering the Q800 PRO records in 2K with video taking up twice the space/capacity of standard HD, seems like Thinkware could have included a 32 or better yet 64gb microSD card with their premium device.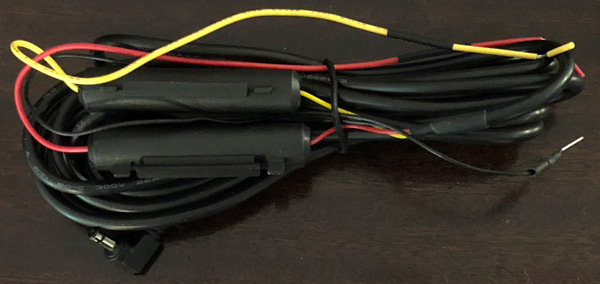 Installation
Instead of sending a standard 12v power cable that plugs into your cigarette lighter, Thinkware includes their TWA-SH hardwiring cable with the Q800 PRO. I had the hardwiring cable professionally installed during the F800 PRO review and it has performed perfectly. In addition to looking cleaner and more polished, the hardware kit enables you to use all of the Q800 PRO's Parking Mode features/capabilities.

Once installed a majority of the configuring, managing and viewing/downloading video is all done via the Thinkware app available for iOS and Android devices.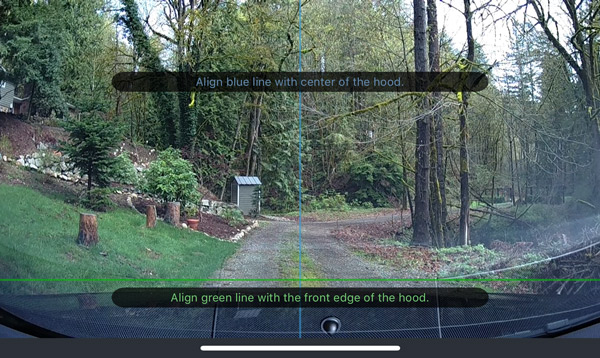 The Thinkware app even helps you align the dash cam when first setting the 3M mounting plate as you can see here with the blue & green lines.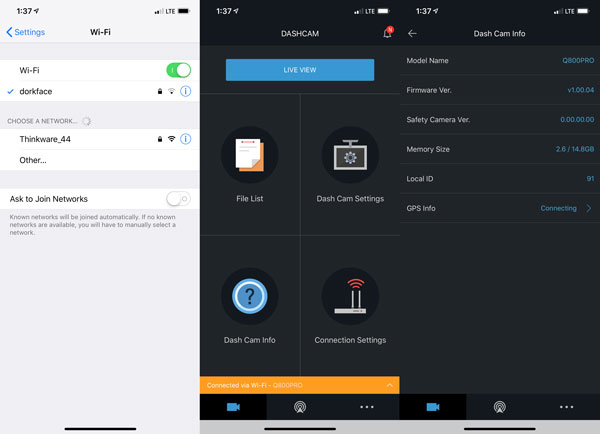 Setup and management
Setting up the Q800 PRO's involves connecting your smartphone to the dash cam via WiFi and using the mobile app to tweak things as you like. The process requires you to press the WiFi button on the front of the dash cam, directly connect to its WiFi (for me it is Thinkware_44), then start up the app.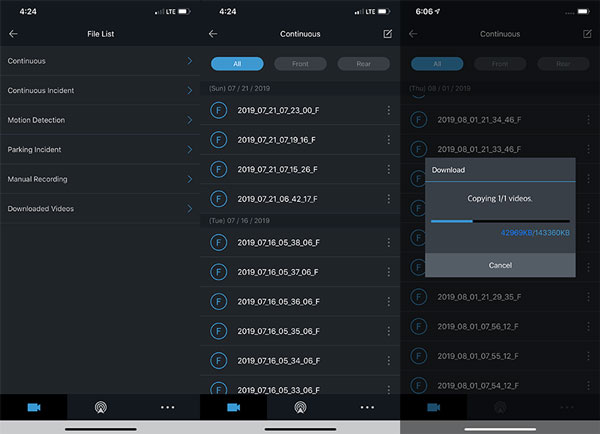 In addition to accessing the Q800 PRO's camera (memory card/camera/recording/road safety/system) settings, the app also provides a listing of recordings and enables you to download these files from the microSD card to your smartphone wirelessly. Each 146mb file takes several minutes to download. Viewing videos are definitely easier by removing the microSD card and watching them on the Thinkware viewer on your computer.
Noteworthy Features

Built-in GPS sensor  – the 800 PRO series has the FASTEST built-in GPS I have ever tested.
Driver assistance – Includes lane departure, forward collision avoidance, and forward vehicle departure warning.
Speed camera alerts – the Q800 PRO has an internal database that warns you when you're coming up to an intersection or location with a known speed camera standing watch.
High-temperature protection system – a built-in thermal sensor protects the Q800 PRO hardware and data against intense heat by automatically turning it off to prevent overheating.
Dual channel capable (aka second camera) – Thinkware also offers a rear camera that captures HD video @30fps.
Geo-Fencing – allows drivers or parents to stay alert of the vehicle location.
Locate Vehicle – enables drivers to find the vehicle's current location.
Driving Impact Notification – will notify owners when their vehicle has sustained a significant impact.
Energy Saving Parking Mode – reduces power consumption by 1/3 less and gives 3x longer video recording than typical parking mode.

Performance
Thinkware's new optical lens and improved 5.14MP Sony STARVIS image sensor combine to deliver impressively crisp and clear video quality in 2K QHD. The Q800 PRO just works…once installed, it blends into your car only needing to be accessed when something bad happens or an alien spaceship zips across the horizon.

Video Quality
As I mentioned above, the Q800 PRO uses a Sony 5.14MP STARVIS QHD (2560 x 1440) sensor that captures 2K video at 30fps. The clarity and detail in all lighting condition is excellent. Like the rest of the Thinkware's 800 series dash-cams, the Q800 PRO gives you a relatively wide viewing angle with a 140-degree view of the road.
With its better lens and greater resolution, the Q800 PRO's daytime video is excellent. The detail, color, and clarity make for a much improved image quality over its predecessors.
Thinkware's Super Night Vision 2.0 and Sony improved Exmor CMOS image sensor are very good at capturing light, producing low-light and nighttime video.
Here is an example of the Park Mode video. Even though my parking garage is dimly lit with shadows and bright lighting, the lights are not overexposed and the detail is very clear and detailed.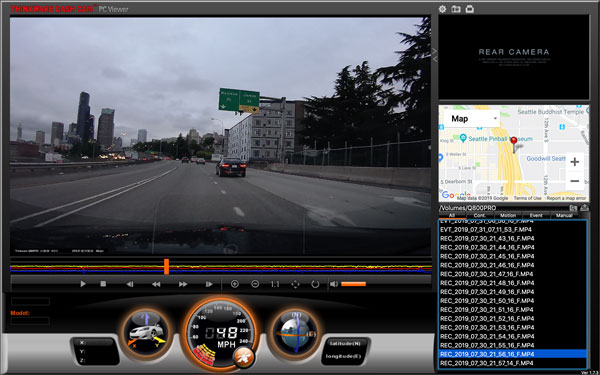 Thinkware Viewer
The Thinkware PC viewer is one of the best features of using their dash cams, very well polished and intuitive. Other dash cam manufactures either create a half-baked viewer or do not offer one at all.  The Thinkware viewer is an excellent integrated tool for viewing not only your driving video but speed, lat/long, Google map location, and three-dimensional G-forces the car is experiencing at any particular moment. These G-forces are illustrated in the bar graph under the video and the dial with a car in it with X- Y- and Z- axis in the lower left corner of the window. Like the F800 and F800 PRO, the Q800 PRO records in 1:00 minute blocks but its 2K resolution bumps the file size from approximately 85 to 146mb in size. So, I swapped out the 16gb microSD card Thinkware provides with a 64gb one I had laying around, to (obviously) hold more video at one time before the dash cam overwrites itself.
F800 PRO vs Q800 PRO:

As I mentioned above…other than the lens assembly, there is no outward/physical difference between the F800 PRO and the Q800 PRO. The Q800 PRO's improved resolution and video are the only things that truly set it apart from the F800 PRO, the features are the same.
What I like
Great build quality
2K QHD (2560 x 1440) resolution
Additional features and functions
Stealthy/minimalistic form factor
Very good video quality (especially Night Vision)
TWA-SH hardwiring cable included
Dual channel/camera capable
Quick GPS lock
Excellent PC viewer
Solid companion smartphone app
Easy to install/use
What I'd change
Included microSD needs to be higher capacity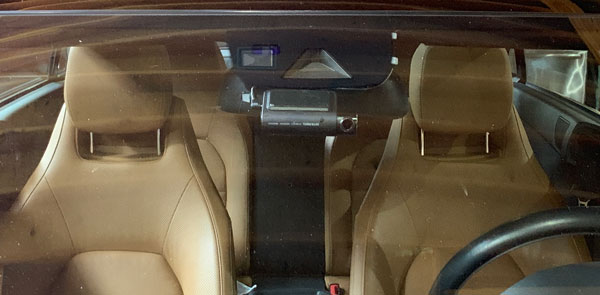 Final thoughts
I really like Thinkware's 800 series of dash cams…so much so, I have had them hardwired into several of my vehicles. I have always prefer their screen-less, minimalistic form factor. The Q800 PRO raises the bar by bumping up the camera's resolution from 1080p to 2K. As I have said in past reviews, I prefer a higher resolution sensor and Thinkware has delivered with their latest & greatest. The Q800 PRO is jam-packed with features you would expect from a high-end dash cam (tho I can see many not using some of its more advanced capabilities). I love the all-black PRO's stealthy look and vibe. Bottomline: I recommend the Q800 PRO for its video quality, design, features, and polished ecosystem. If you're thinking of buying or upgrading your dash cam, I definitely recommend the Q800 PRO be on the top of your list.
Price: $299.99
Where to buy: Amazon or Thinkware.
Source: The sample of this product was provided by Thinkware.com.