We use affiliate links. If you buy something through the links on this page, we may earn a commission at no cost to you. Learn more.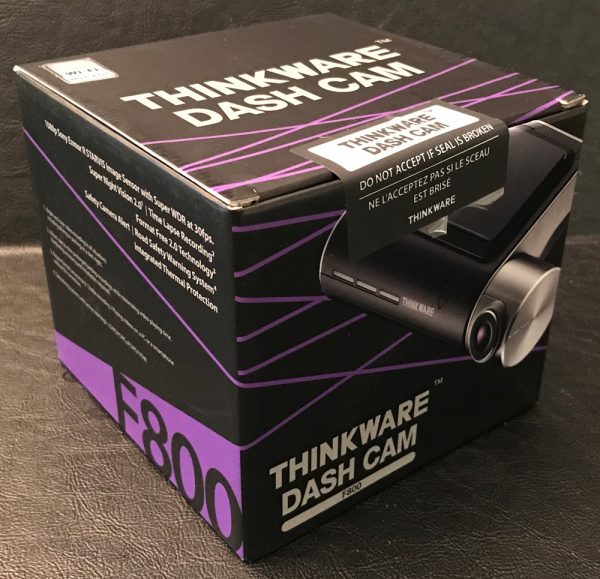 I've been patiently waiting for the Thinkware F800 dashcam to make it to the US market since Thinkware announced their latest flagship @CES 2017, hopeful they would send one my way to review. The F800 is similar to the Thinkware F750 Julie reviewed last year in many ways. Though Thinkware has added polish and features to its latest flagship dashcam making it even more tech-worthy in the process. Let's see if my patience has been worth the wait 😀 . 
Note: Photos may be tapped or clicked for a larger image.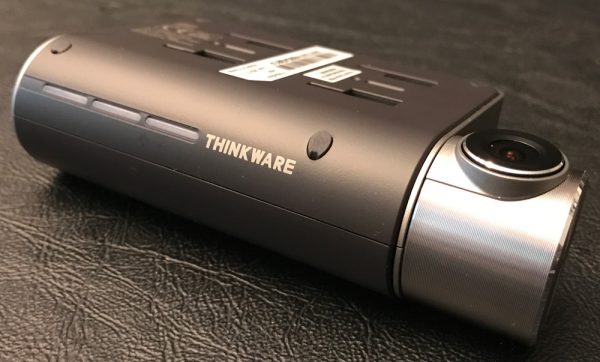 Like Thinkware's previous F-series flagships, the F800 is screen-less, shaped more or less like a thick deck of cards with a growth on its side to house the lens assembly. I'm not saying that is a bad thing. I love the minimalistic, non-distracting form factor of the F800. Other than verbal/audio notifications, you can hardly tell it's installed in my fast car being tucked behind my SLK's rearview mirror. In addition to just looking sweet, the F800 is packed full of the latest tech, features, and Sony's 2.13MP Exmor CMOS camera.
Specifications:
| | |
| --- | --- |
| Camera | Sony Exmor CMOS 2.13MP (Same for rear camera) |
| Resolution | Front & Rear: Full HD (1920 x 1080P) |
| Capacity | Micro SD Card 16GB / 32GB / 64GB UHS-I |
| Recording Modes | Continuous Recording, Incident Recording, Manual Recording, Audio Recording |
| Sensor | 3-Axis Accelerometer G-Sensor (3D, ±3G) |
| GPS | Embedded GPS |
| Power | Input Power: DC 12/24V |
| ETC | Security LED / Operation Status LED/ GPS Receiver LED/ Wi-Fi LED |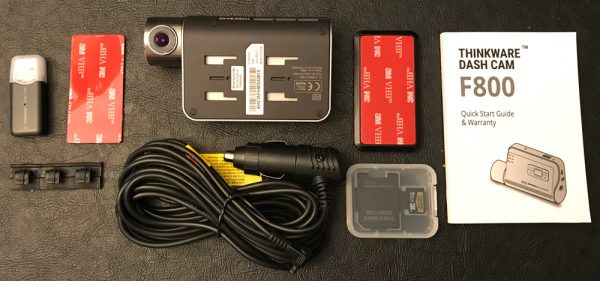 Package Contents:
Main Dash Cam Unit
Mount with 3M tape (1ea)
Cigar Jack Adaptor
Adhesive Cable Holders
MicroSD memory card with adapter(consumable)
Quick Start Guide/Warranty Card
F800 Hardware: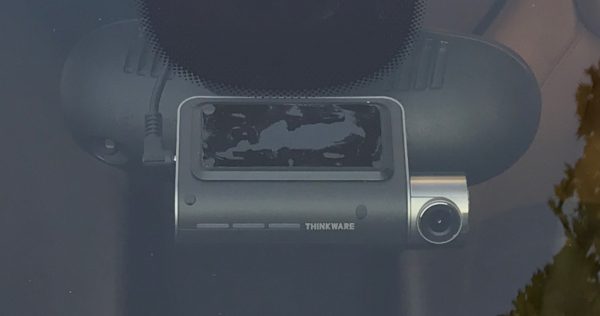 The F800 is one of Thinkware's latest dashcams featuring full HD resolution, GPS, WiFi, 3-Axis Accelerometer G-Sensor, Night Mode 2.0, dual channel recording, etc. As I said, I really like the F800's form factor…preferring screen-less dashcams, finding them less distracting or intrusive.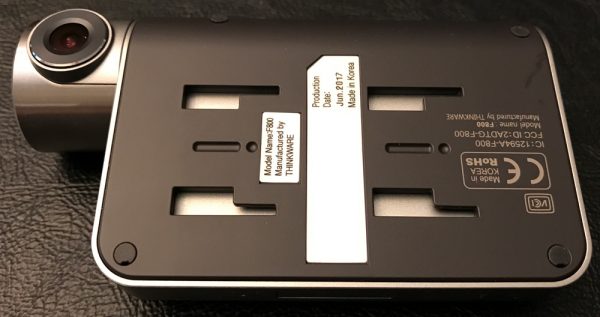 The top of the F800 has four slots that slide onto the mounting plate which allows for easy installation and removal of the device. The mounting plate is securely held to the windshield by a 3M adhesive strip (vs suction cup mount). The dashcam locks into place with a secure, wiggle-free connection.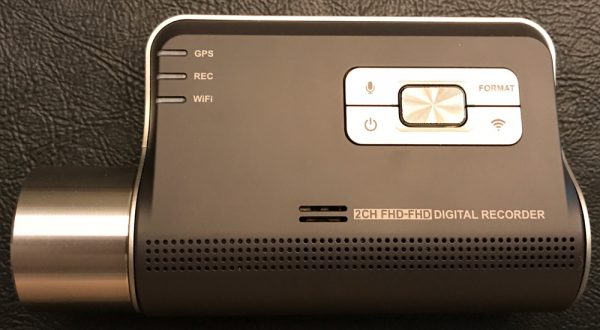 The main face of the F800 has the mute, SD card format, WiFi, and power buttons in addition to the GPS, recording, and WiFi status LEDs located on the left. The F800's speaker is also located on the front of the device. I have to say the speaker impressed me, definitely the clearest and loudest dashcam sound I have experienced to date.

The bottom, front facing edge of the dashcam has LED security lights that are managed via the Thinkware smartphone app.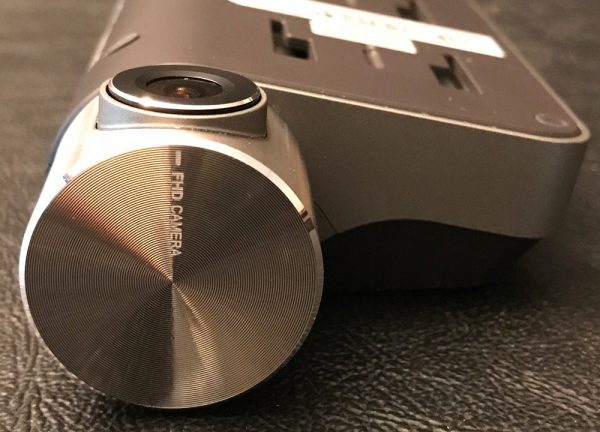 The F800's camera is on the left side of the device, engineered to sit very close to the windshield to reduce distortion and glare. The camera housing is able to rotate vertically approximately 90 degrees to accommodate nearly any windshield angle and vehicle design.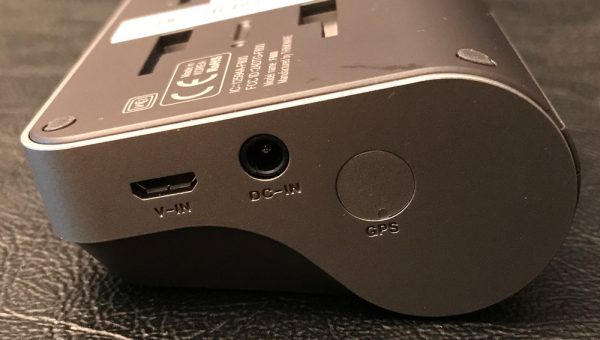 The right side of the F800 has its video-in, power, and external GPS ports.

The top of the F800 has the recessed reset button, microSD card slot, and microphone.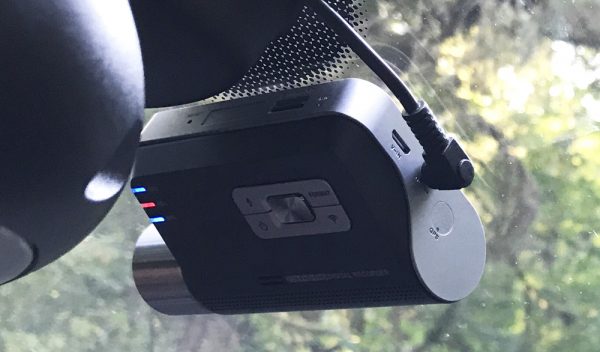 Other than the mute, format, WiFi, and the power buttons, configuring, managing and viewing/downloading video is all done via the Thinkware app available for iOS and Android devices.
Setup and Management: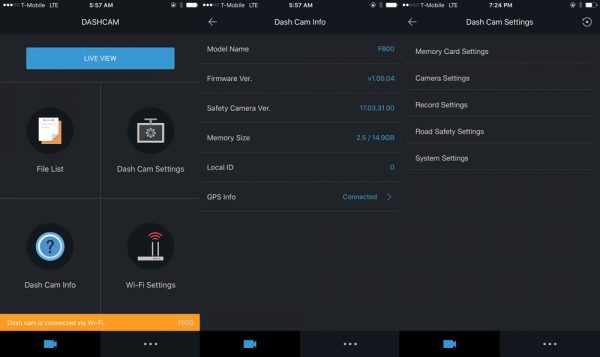 To customize the F800's multitude of settings, you have to connect to the dashcam via WiFi and use the mobile app to tweak things as you like. The process requires you to press the WiFi button on the front of the dashcam, directly connect to the its WiFi (for me it is Thinkware53), then start up the app.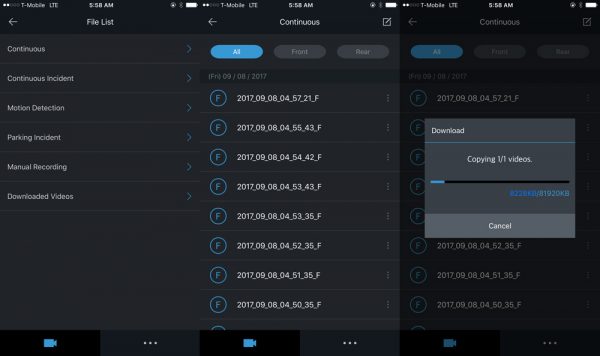 In addition to accessing the F800's camera (memory card/camera/recording/road safety/system) settings, the app also provides a listing of recordings and enables you to download these files from the microSD card to your smartphone wirelessly. Each 85mb file takes approximately a minute to download. Viewing videos are definitely easier by removing the microSD card and watching them on the Thinkware viewer on your computer.
Noteworthy Features:
Built-in GPS sensor  – the F800 has absolutely the FASTEST built-in GPS I have ever tested.
Driver assistance – Includes lane departure, forward collision avoidance, and forward vehicle departure warning.
Speed camera alerts – the F800 has an internal database that warns you when you're coming up to an intersection or location with a known speed camera standing watch.
High-temperature protection system – a built-in thermal sensor protects the F800 hardware and data against intense heat by automatically turning it off to prevent overheating.
Dual channel capable (aka second camera) – Thinkware also offers a rear camera that captures HD video @30fps.
Optional Parking Mode with permanent installation – Thinkware has an optional wiring kit that allows you to hardwire their dashcams directly into your cars electrical system. This enables you to use the F800's Parking Mode with time-lapse recording to capture video when you leave your car or regular video if it detects an impact.
Daytime Video:
Like the X550, the F800's daytime video is good with solid resolution, excellent color, and better than usable image quality. Even though the F800 has a 2.13MP Sony Exmor CMOS image sensor, some details are lost at HD (1920 x 1080) quality video.

The F800 uses the Ambarella A12 Chipset able to record 1080p simultaneously on both channels. The lens has 140 degrees of viewing angle with little fish-eye effect.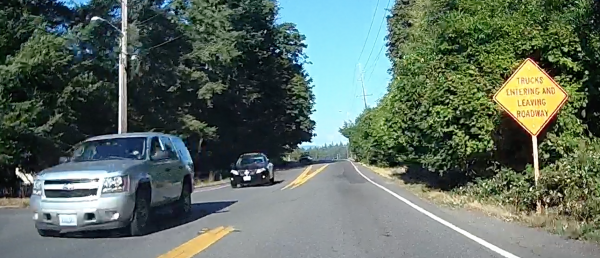 Here is a screen capture from this video where you can make out the street sign but not the vehicle's license plate passing by.
As I have stated in past Thinkware reviews, I firmly believe Thinkware needs to up its game in this department, bumping its higher-end dashcams up to 4MP – 2K (2560 x 1440 @30 fps) HDR video.
Nighttime Video:
Thinkware's Super Night Vision 2.0 and Sony Exmor CMOS image sensor are very good at capturing light, producing excellent nighttime video. The example shows excellent control of glare and exposure while producing well lit, very usable video.
Thinkware Viewer: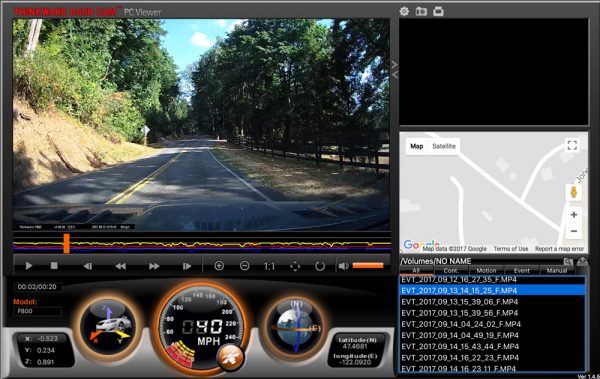 The Thinkware PC viewer is one of the best features of using their dashcams, very well polished and intuitive. Other dashcam manufactures either create a half-baked viewer or do not offer one at all.  The Thinkware viewer is an excellent integrated tool for viewing not only your driving video but speed, lat/long, Google map location, and three-dimensional G-forces the car is experiencing at any particular moment. These G-forces are illustrated in the bar graph under the video and the dial with a car in it with X- Y- and Z- axis in the lower left corner of the window. Like the X550, the F800 records in 1:00 minute blocks that are approximately 85mb in size. The only issue I had with the viewer was the Google mapping integration was a bit hit or miss but I believe it might be the security settings on my Mac and/or iPhone.
F800 vs F800 Pro:

Thinkware also creates a F800 Pro version of its flagship dashcam. Other than its very cool all black casing, I have not been able to find any significant difference between the two. The Pro version is available on Thinkware's worldwide website but not in the US.

Bottomline:
I really like the F800's screen-less, minimalistic form factor. This feature rich, WiFi enabled dashcam is without a doubt a keeper. I would prefer a high resolution sensor but Thinkware's flagship device has solid video quality and definitely gets the job done. Many of the Road Safety Warning System features may not be for some users but can be disabled in the Thinkware app. The hardware, smartphone app, and viewer are all well thought out and very nicely done. If you're in the market for a high end dashcam the Thinkware F800 is definitely worthy your consideration.
Updates 11/07/17
Thinkware's F800 dashcam is without a doubt my favorite dashcam I have reviewed thus far. It's stealthy form factor looks great in my fun car, hidden away from view behind my rearview mirror. Thinkware provides not only a well-made product but a nicely polished ecosystem in the smartphone app.
Source:  The samples for this review were provided by Thinkware. Please visit their site for more information and visit Amazon to order.
Product Information
Price:
$299.99
Manufacturer:
Thinkware
Retailer:
Amazon
Pros:

Great build quality
Stealthy/minimalistic form factor
Good video quality (especially Night Vision)
Dual channel/camera capable
Quick GPS lock
Excellent PC viewer
Easy to install/use
Solid companion smartphone app

Cons:

Needs 2K resolution
Some of the driver assist features need work