We use affiliate links. If you buy something through the links on this page, we may earn a commission at no cost to you. Learn more.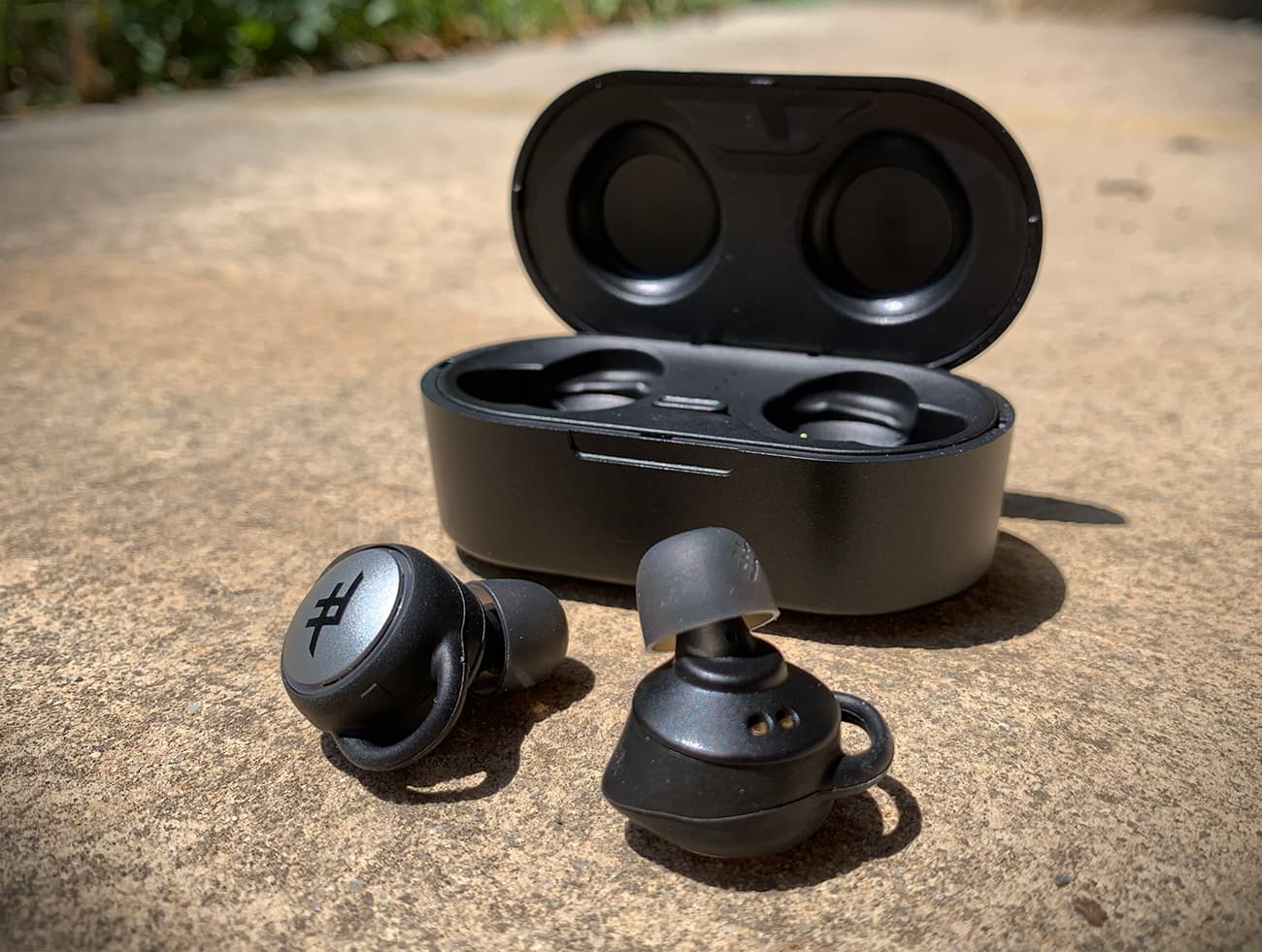 REVIEW – Another day, another pair of truly wireless earbuds to run through the review gauntlet. Do the iFrogz AIRTIME Earbuds have what it takes to jump ahead of the pack?
What is it?
iFrogz's AIRTIME are "truly" wireless earbuds that are geared for sports and workouts with their IPX-4 water resistance and 3-hour run time. They come in a low-profile charging case that can charge the earbuds an additional 4 times, for a total of 15 hours of playtime.
What's in the box?
AIRTIME Wireless Earbuds
Charging Case
Charging Cable (Micro-USB)
Additional Earbud Tips (3 Sizes)
Quick Start Guide
Hardware specs
Bluetooth 5.0
IPX-4 water resistance holds up to sweat and light rain
earbud case supports quick-charging, 10 minutes delivers 1.5 hours of play
earbuds case charges over micro-USB
Auto-Pair Mode – open the charging case and the earbuds seamlessly pair
Dual microphones
Design and features
The iFrogz (part of the Zagg brand) AIRTIME Truly Wireless Earbuds look pretty great. That was my first thought as I opened the package to reveal a case that was smaller than I expected, housing a pair of earbuds that also looked nicer than I was expecting. And indeed, the case itself seems to be smaller, or a lot less tall, that other wireless earbuds that I've come across.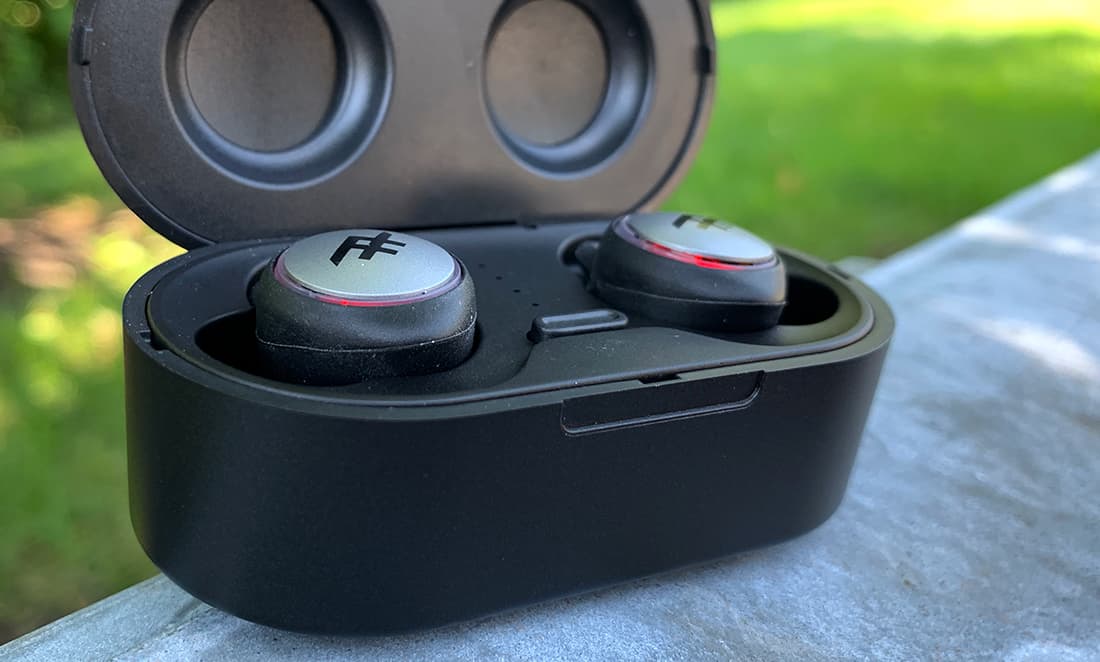 Once I paired the AIRTIMEs, which was a simple process (for me, anyway, some people on the comments section of their website would disagree), the earbuds connect very quickly when the case is opened.
The AIRTIMEs come with the typical three ear tip sizes: small, medium, and large. However, even the largest size of the available tips was still too small to completely form a seal in my ear canal, which is important to the sound quality when you're dealing with in-ear headphones. This degraded the quality a bit, and I would have appreciated a tiny bit of a size increase between the three available ear tips.
Obviously, I could simply have weird ears. But it's worth mentioning.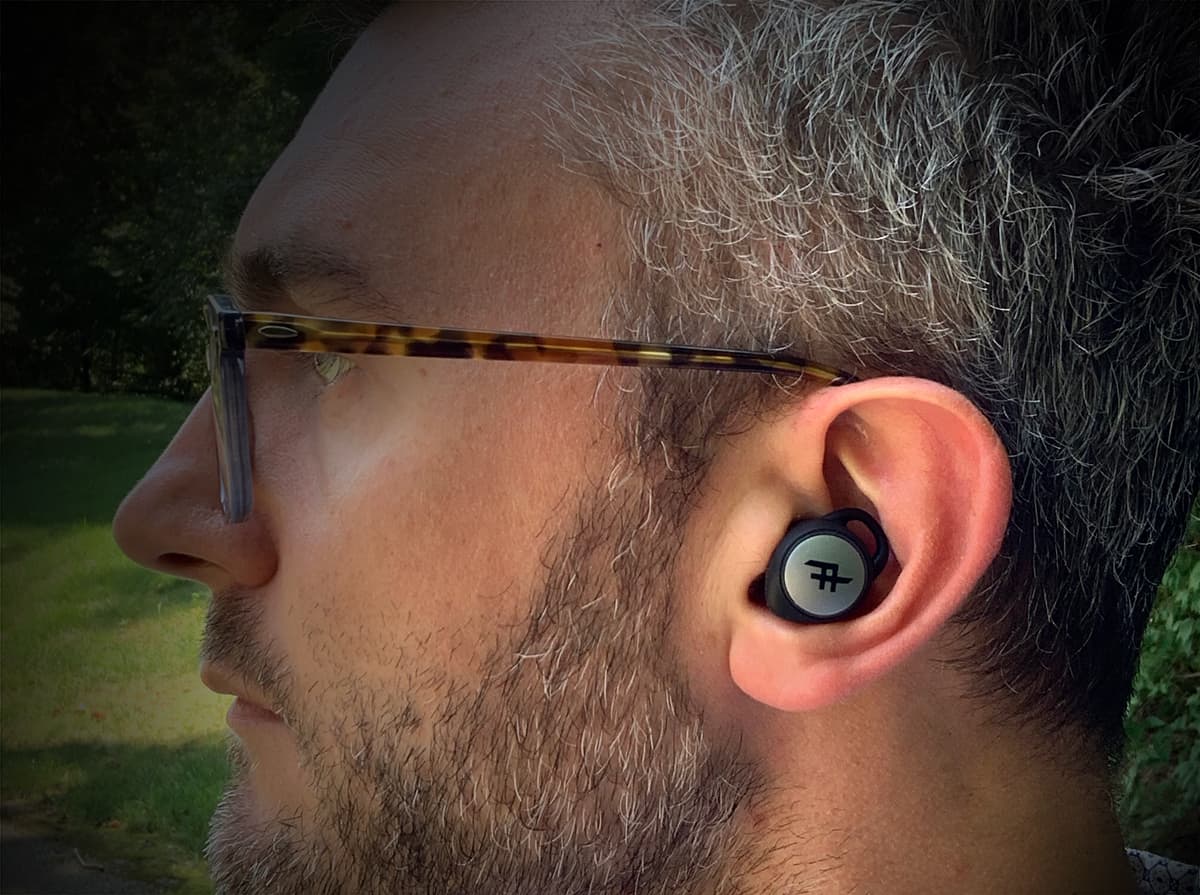 Using the AIRTIMEs is fairly straightforward. Simply open the case to pair, pop them in your ear, and start playing some tunes. Each earbud is equipped with a large button, in fact that button is almost the entire surface of the earbud itself. These buttons independently offer different functions, for instance, one quick press on either the left or right earbud pauses or resumes the music, but a double press on the right or left earbud plays the next or previous song, respectively.
You can also double-press an earbud to invoke Siri or voice command, but only when music is not playing.
Holding down a button for a few seconds changes the EQ setting from Signature (standard flat EQ) to Podcast (boosts voice and treble) or Bass Boost (lowers treble and greatly boosts the bass.) I didn't find this feature particularly useful and kept it in normal "Signature" mode. I've never found built-in hardware EQ settings to be very good, and that "press and hold" button feature might have been put to better use as a way to adjust the volume, instead.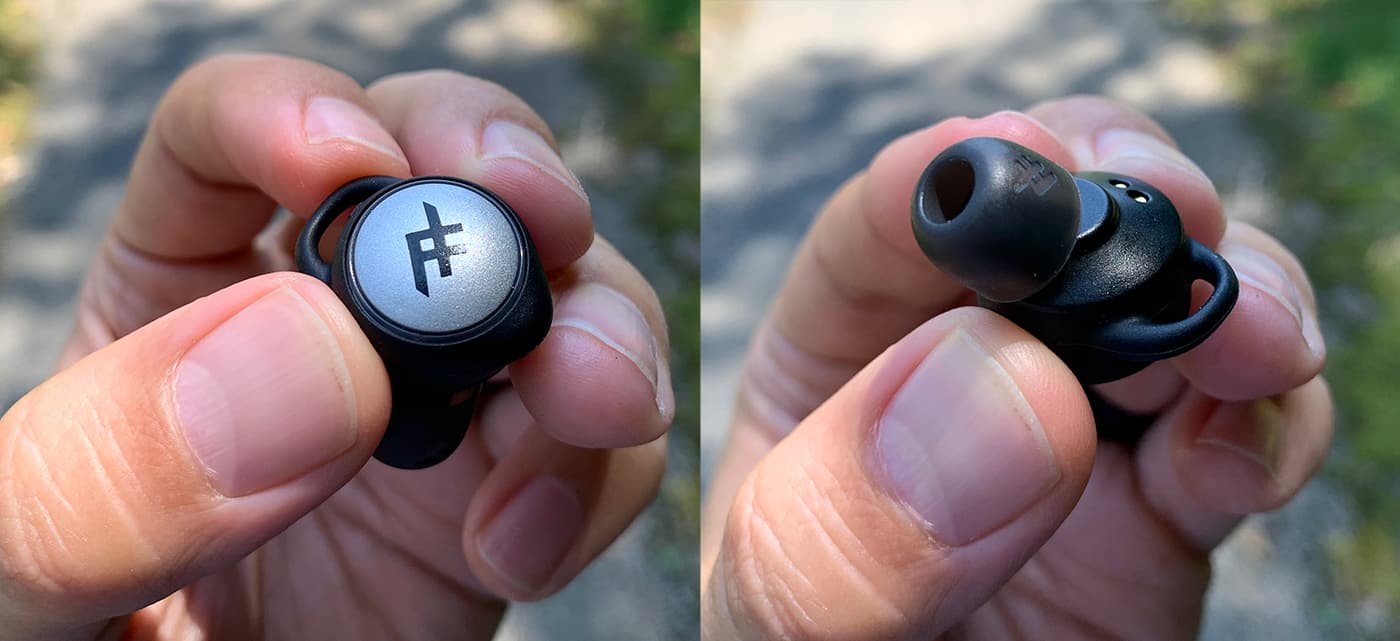 Speaking of the buttons, themselves, I'm not sure if it was because they were really large or if it was the materials they used, but they were pretty hard to press in. This made it difficult to double-press the button to skip the music track. Plus, when pressing the buttons, you're actively forcing the earbuds even deeper into your ear canals, which can be painful if you're not careful. It got to the point where I simply didn't use this function.
At least the earbuds stayed put. Between the large-enough ear tips and the little sports wings on the side of the buds themselves, they stayed firmly planted in my ears.
The sound quality was decent — about what you'd expect from a middle of the road earbud. Overall they sounded a little flat, not very punchy in either end of the bass or treble spectrum. The Bass Boost mode certainly does louden-up the lower end of the sound range, but at the cost of muddy mids and highs.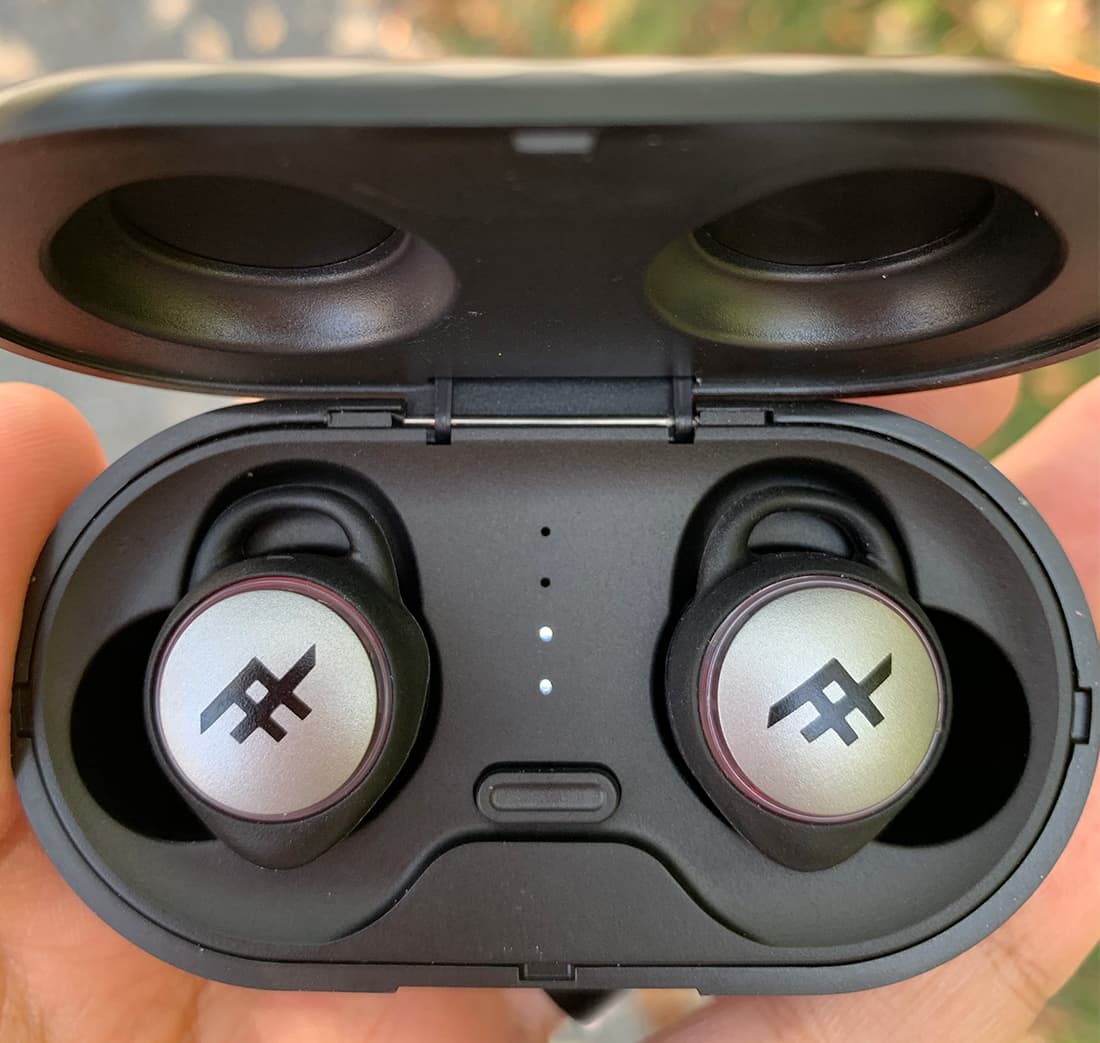 I didn't have a problem with the wireless pairing until I stepped outside for a walk, and things got bad real quick. I had my iPhone XR in the front pocket of my khakis and found that if I even so much as turned my head to the left, the sound cut out. First on one earbud, and then on both, until I turned my head facing front, again.
I did some more experimenting with head position, and indeed, the fabric of my pants and that extra few inches of turning or craning my neck was enough to cause an interruption in the connection. If I put my hands over my ears, all sound would stop within one second because of the extra blockage from my hands.
Holding the phone in outstretched arms seemed fine. Perhaps running with an arm case or holding your phone would be okay, too, but I wouldn't be surprised to discover some interference in this configuration. I'd rather have a wire leading into my pocket than deal with all those pops and seconds of silence. Really disappointing.
UPDATE: I received word from an IFROGZ representative, and they mentioned that they are aware of the intermittent Bluetooth connectivity. This issue affected a small fraction of the inventory and they are currently in the process of swapping out those units. So it sounds like they are working on this matter and it will very likely not affect future batches.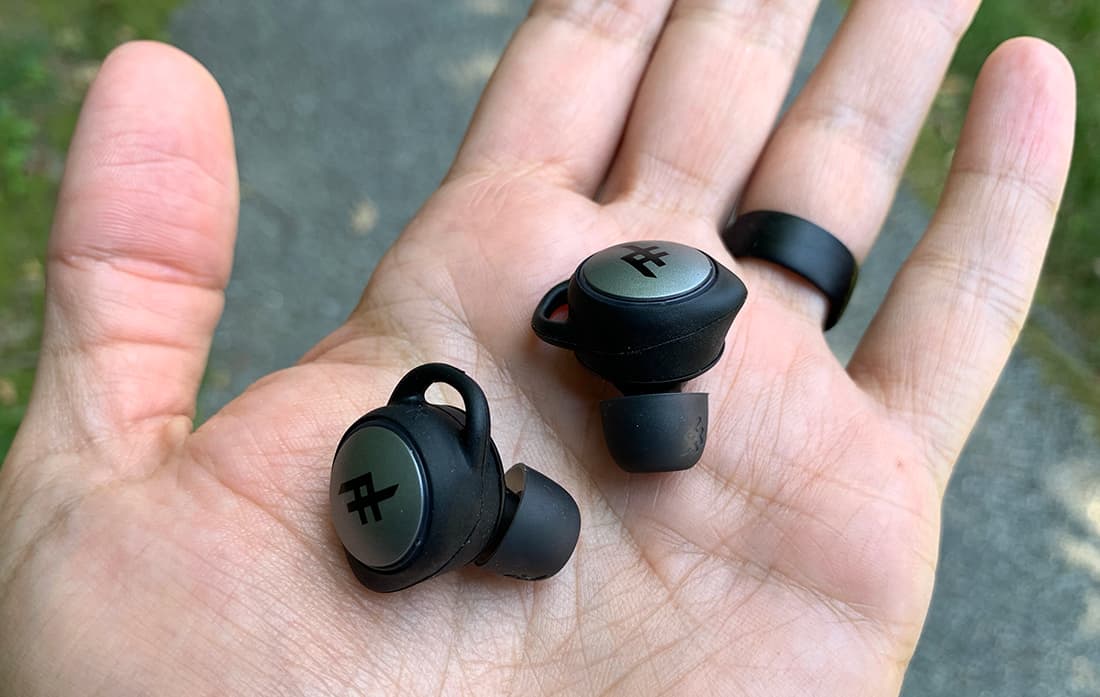 The battery life of the AIRTIMEs seemed close to advertised, getting nearly 3 hours out of a single charge, and then being able to charge the earbuds an additional 4 times. One could get more than a day's worth of play time out of single "case charge." The case itself is lightweight, but seems a bit flimsy. I don't think it would survive a drop down… a flight of stairs, for instance. The case door seems likely to snap off, and since that's integral to the function of turning on and pairing the earbuds, that wouldn't be great.
Finally, for what they are, the price of the AIRTIMEs seems a little on the steep side, to me. A quick search on Amazon reveals a $35-55 price range for similar looking (and sounding I'm assuming) earbuds. While I think these look a little nicer than most of those, and the case is smaller and more discreet, function beats form any day, and the AIRTIME earbuds fell short in more ways than one.
What I like
connects quickly
discreet design doesn't draw attention
pretty good "fit," difficult to jar loose
What I'd change
connection strength – but this is actively being resolved
make the earbud buttons easier to push
the largest earbud tips are still too small (for my ears)
would rather have volume controls rather than useless EQ settings
and they should be about $20 cheaper
Final thoughts
While the design aesthetic of the AIRTIME is nice, there isn't a whole lot here to differentiate itself from the growing sea of "truly wireless earbuds." The connection issues (which I'm assured will be fixed), limited functionality and just-OK sound make it a hard recommendation for the asking price.
Price: $59.99
Where to buy: Zagg and Amazon
Source: The sample of this product was provided by Zagg.