We use affiliate links. If you buy something through the links on this page, we may earn a commission at no cost to you. Learn more.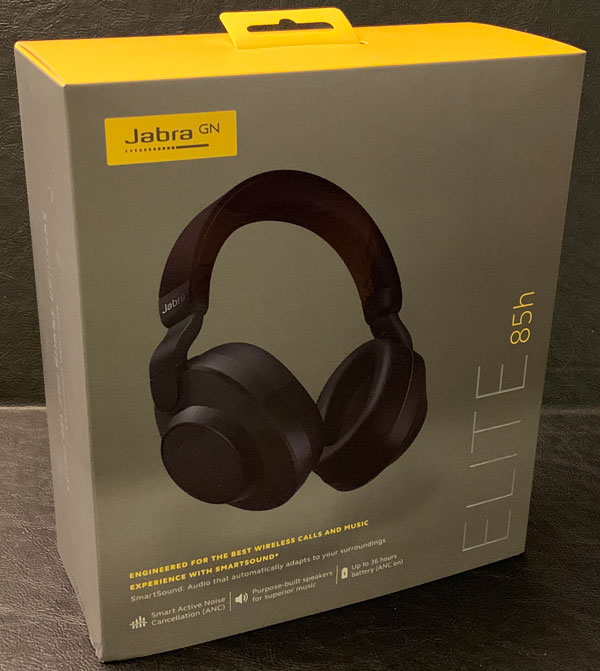 REVIEW – Over-the-ear headphones have grown on me over the past few years. I have preferred sport-centric earbuds due to their portability and ability to survive sweaty, nasty workouts. But I have come to appreciate the comfort, sound quality, and added features that over-the-ear headphones bring to the table. My current go-to earbuds are the Jabra Elite Active 65t's that I carry with me most of the time. So, when Jabra announced their new Elite 85h active noise-cancelling wireless over-the-ear headphones, I raised my hand and volunteered to check them out, hoping they live up to their smaller sibling.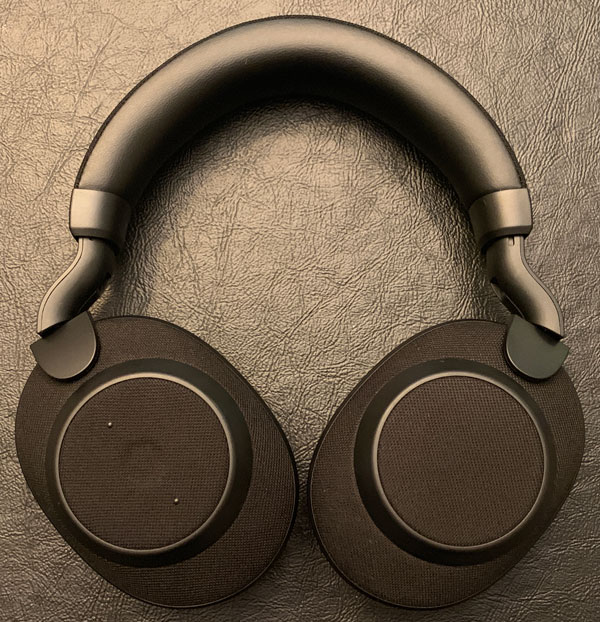 What is it?
The Elite 85h's are Jabra's first active noise cancellation (ANC) over-the-ear headphones, engineered to compete with the likes of Bose, Sony, B&O, etc. Their design is comfortable and compact, meant to go with you throughout your day and world travels while providing a top tier listening experience.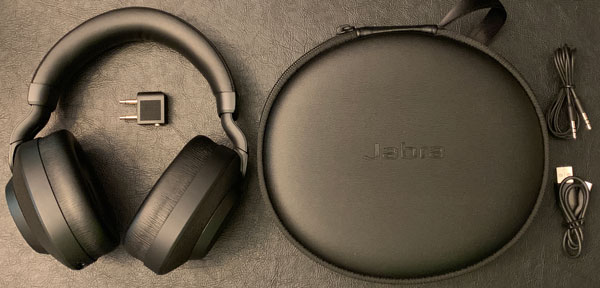 What's in the box?
Elite 85h ANC wireless headset
Carrying case
Audio cable
USB C charging cable
Flight adapter
Hardware specs
General
Main unit dimensions (LxWxH): 195 x 82 x 225 mm

Weight (headphones): 296g

Operating temperature: -5° C to 45° C

Materials used (outside): Fabric, leatherette (PU), PC/ABS,PC/ABS with metallic paint, PBT, SUS with PVD(MIN part), PC

USB cable length: 30 cm

Audio cable length: 120 cm

Warranty: 2-year warranty against water and dust
Audio
Active Noise Cancellation (ANC): Digital Hybrid ANC uses 4 of the device's 8 microphones

Passive Noise Cancellation: Yes

Noise reduction on outgoing voice signal: Yes, advanced call technology uses 6 of the device's 8 microphones

Wind Noise protection: Yes

Voice Assistant access: Yes, one-touch access

Adaptive audio with SmartSound: Yes

Number of microphones: 8 microphones
Connectivity
Connection: Bluetooth 5.0, USB-c, 3.5mm jack

Supported Bluetooth profiles: HSP v1.2 , HFP v1.7, A2DP v1.3, AVRCP v1.6, PBAP v1.1, SPP v1.2

Operating range: Up to 10m (33ft)

Paired devices: Up to 8.

Multi-Connect: Two devices can be connected at one time.

Auto pause music: Yes
Battery
Music & Talk time: Up to 41 hours (with ANC off) / Up to 36 hours (with ANC on)

Sleep mode: Yes

Standby time: >1 year (auto power off after 72 hours)

Charging time: 2.5 hours (with dedicated 500mA USB wall charger)

Battery after 15 min charging: Up to 5 hours (with dedicated 500mA USB wall charger)

Charging plug: USB-C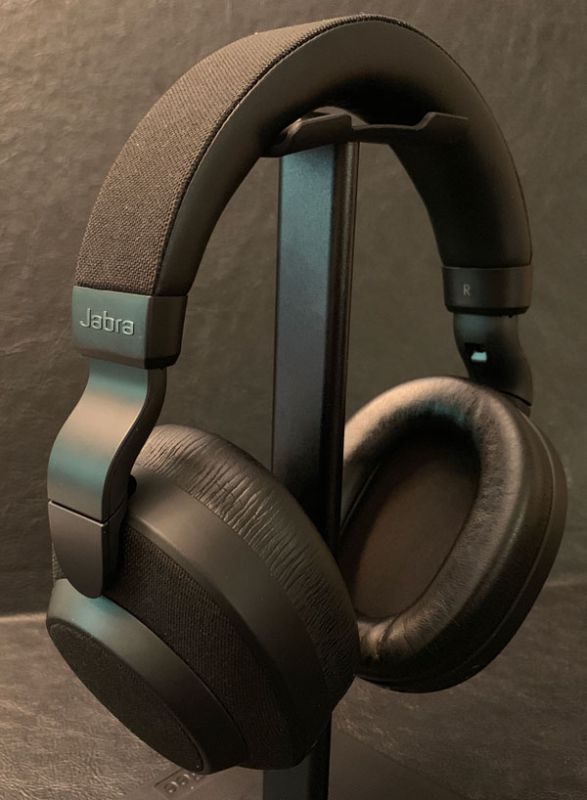 Design and features
As I mentioned, the Elite 85h's are Jabra's first ANC over-the-ear headphones but this is far from their first rodeo in term of bringing music or phone calls to your ears. The 85h's include an impressive list of features and baked-in technologies including an 8 microphone array, 36 hours of battery life (w/ANC on), hands-free Alexa, Google Assistant and Siri support, 40mm custom-engineered drivers, SmartSound customization technology to name just some of the capabilities of these headphones.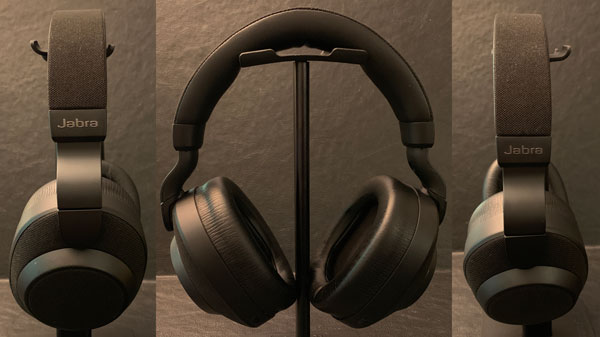 The Jabra Elite 85h has eight microphones in total: four dedicated for calls, two for the Digital Hybrid ANC, and two for SmartSound. In combination, six (of the eight) microphones are used in the Elite's advanced call technology and four microphones for their SmartSound adaptive noise-canceling.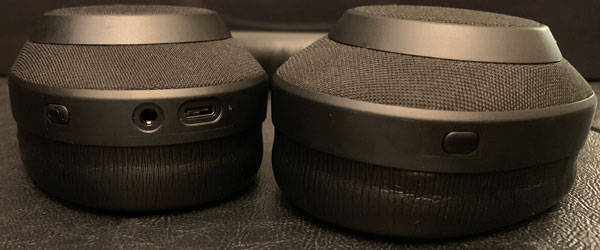 The Elite 85h charges via USB-C (cable included) and has a fast-charge feature with 15 minutes of charging that provides 5 hours of playback. In addition to the USB-C power port, the only other port on the headphones is a 3.5mm jack for hard connecting the headphones (via included cable) to your device.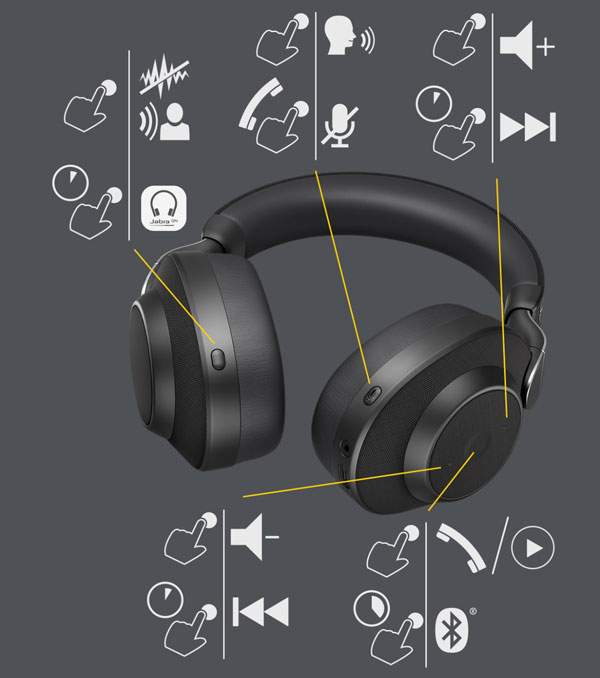 There is a dedicated button for accessing Siri, Google Assistant, or Alexa and muting the mics during a call on the bottom of the left ear cup. And another on the opposite side that toggles between noise-canceling ON, "Hear-Through" mode, and ANC off. The up & down volume and select/answer buttons are located on the exterior of the right ear cup. All the 85h's controls are intuitive and easy to use.
The Elite 85h's are water-resistant with a nano-coating to protect them from sweat and dust.
Setup
Like most Bluetooth headsets these days, Jabra makes connecting the Elite 85h's to your smart device simple and easy. Once you pull the headphones out of the box and twist the ear cups 90 degrees for the first time they immediately go into pairing mode. Simply select them in your Bluetooth menu and you're good to go.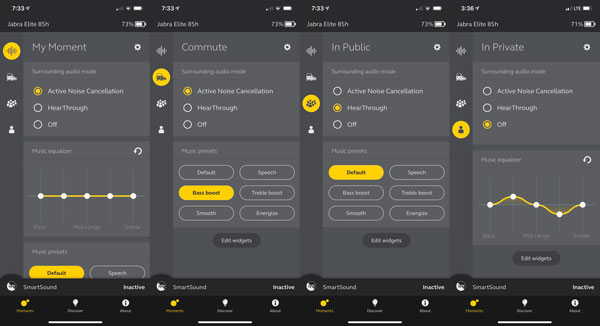 Once paired, you should download the Jabra+ app to fully customize your listening experience. The app enables you to tweak the headphones to your liking. There are various situation profiles that give you a great deal of management and control over how your headphones sound and operate depending on conditions.
Performance
The bottom line is these headphones sound excellent. They have great precision with very good clarity, depth, and spatial definition. Everything I listened to had noticeable separation at all levels with a solid, yet not over done bass response giving a nicely balanced listening experience. While I played with the Jabra+ app for this review, I preferred the sound settings Jabra had right out of the box. According to Jabra, "SmartSound automatically analyzes your sound environment and applies your personalized sound settings, to give you the best calls and music experience, every time".
The Elite 85h's have Bluetooth 5.0, enabling it to be paired with up to 8 devices and actively connected to two devices at once. The headphones switched back and forth between my iPhone and iPad seamlessly. Their range is very good, I can leave my iPhone at one end of the house and be in the far end, rooms away with no connectivity issues.
The active noise-canceling is solid and gets the job done but is not quite as effective as the equivalent Bose and B&O headphones. They did a good job blocking out road, plane, and wind noise but I could definitely hear the kid making noise or dog barking in the background occasionally. Where the Bose and B&O's filter out that sort of noise a little better.
That said, call quality is very good. The way Jabra has engineered the multiple microphone array makes for an excellent call experience on both sides of the conversation. It was as if the people I was talking to were right next to me.
The Elite 85h's battery life has some pretty long legs as well, with up to 36 hours of uses with active noise-canceling enabled and up to 41 hours with ANC off. They can go around the world and then some without needing a recharge.
The Elite 85h have automatic ear detection that pauses playback when the headphones are removed and resumes after placing them back over your ears.
Build Quality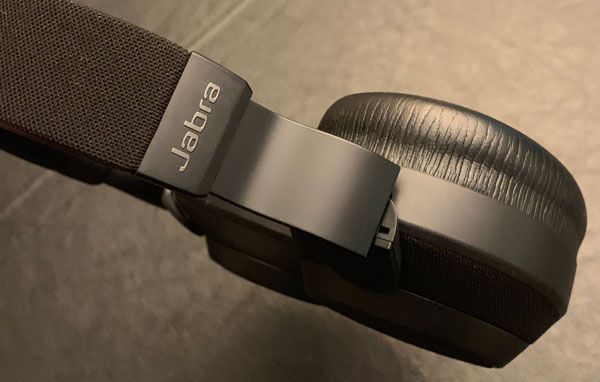 The build quality of the Elite 85h's is very good as well, made from fabric, leatherette (PU), and PC/ABS with metallic paint. The main casing is constructed from a dense plastic that holds up well to use and folding/unfolding as you would hope/expect. I have yet to discover any marks or scuffs on the plastic casing from about a month of use.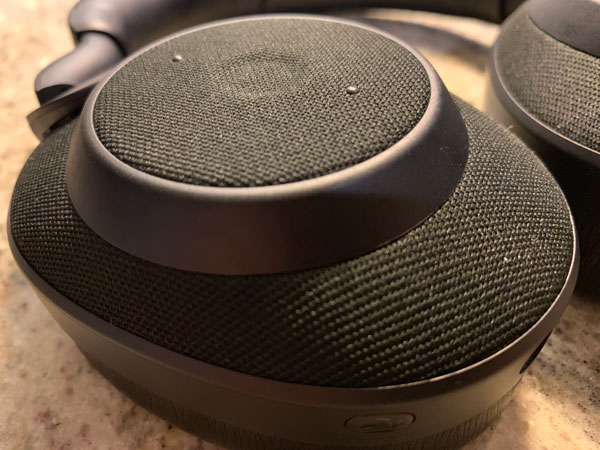 The exterior of the ear cups and headband have a densely woven fabric covering that doesn't get dirty all that easily. Though I did get flour on them that took a while to clean off/get out of the material but it did eventually.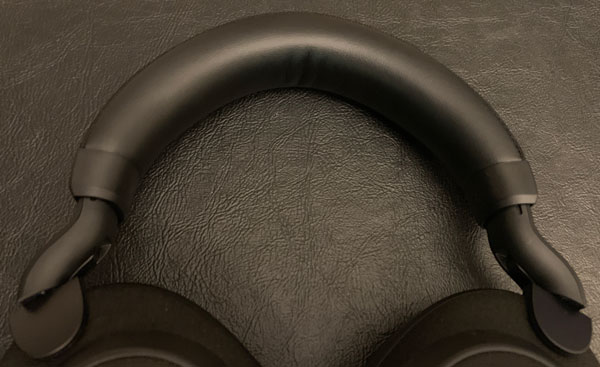 The headband is lined with a padded leatherette making for a soft, comfortable ride.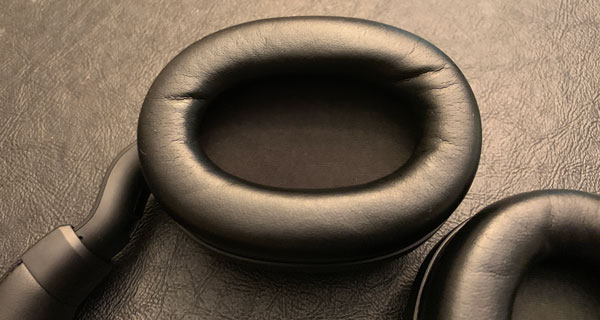 The ear cups are made from the same leatherette material as the headband.
Comfort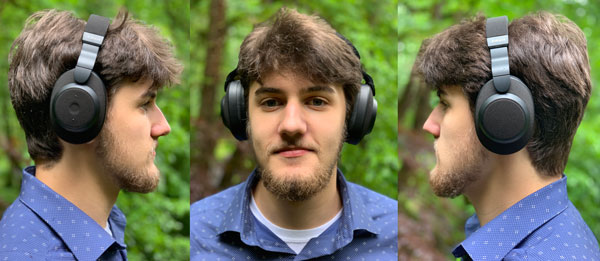 As I mentioned, the Elite 85h ANC headphones are very comfortable and can easily be worn for hours at a time (though my ears do occasionally get overly warm). The ear cups are soft, form-fitting, and large enough for most ears. These headphones are average sized for this tier of active noise-canceling wireless headphones and weigh in at two-thirds of a pound. Both sides of the headphones can be extended for larger heads.
Portability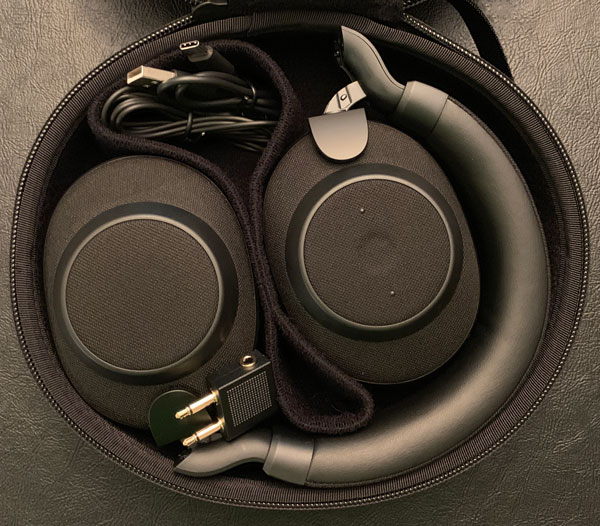 The Elite 85h's are designed to be portable, engineered to twist and fold in upon themselves for minimal volume for their size. I think that Jabra has done a more than solid job pulling this off.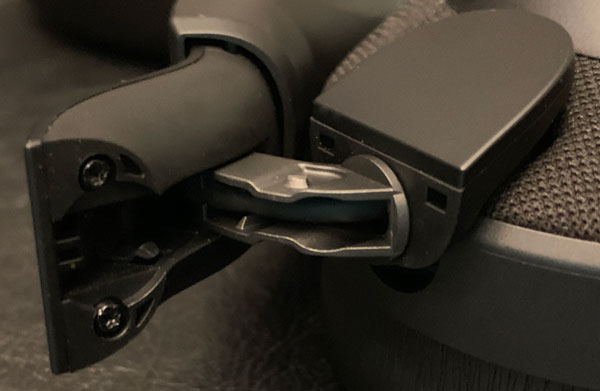 I was initially a bit hesitant taking them in and out of their case, not wanting to damage them. But Jabra has used metal internal components to strengthen key points that take the most wear and tear.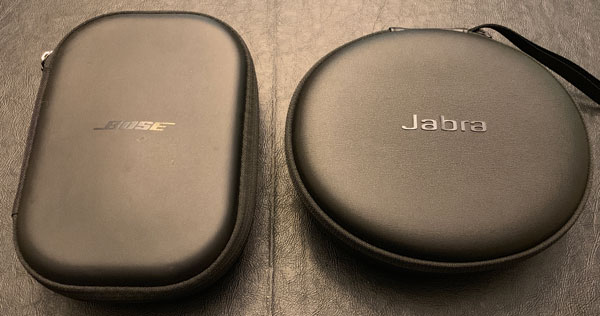 Here you can see the Bose and Jabra travel/storage cases compared. They both take up approximately the same volume with the Jabra case made from slightly tougher material.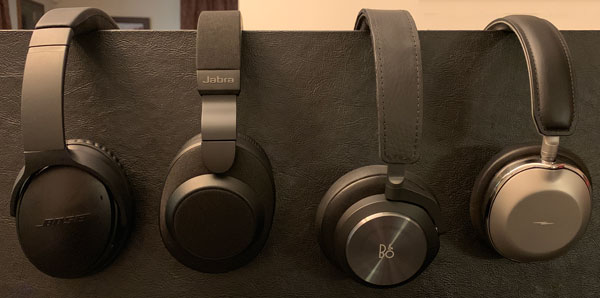 Pictured left to right: Bose QuietComfort 35 II, Jabra Elite 85h, Bang & Olufsen Beoplay H9, and Shinola Canfield headphones. When you consider size, weight, toughness, and portability/foldability the Jabra is the best of the lot.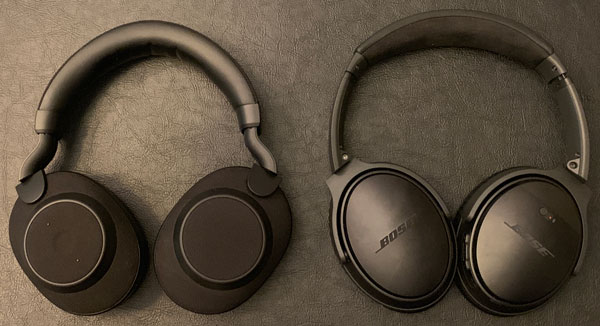 I find the Jabra 85h more comfortable and better engineered than the Bose QuietComfort 35 II. The Bose just feel more flimsy and breakable when compared to the 85h's. But to be fair, my wife (who is pretty rough on her tech gear) has been using the Bose for approximately a year and they're still going strong.
What I like
Well-built design
Comfortable
Excellent sound, call quality, and battery life
Portable
USB-C charging
Water-resistant nano-coating
Auto ear detection
Bluetooth 5 and multi-connect
Dedicated one-button access to Google Assistant, Alexa, and Siri
What needs to be improved
Active noise-canceling could be more pronounced
My ears get hot with extended use

The Elite 85h's are available in Black, Titanium Black, Navy, and Gold Beige. Jabra backs these headphones with a 2-year warranty against moisture/sweat and dust.
Final thoughts
I really like the Elite 85h wireless active noise-canceling headphones. Jabra has done a great job creating an ANC headset that competes in a pretty crowded tech-space. Their sound experience, build quality, comfort, and engineering are all excellent. I also prefer their hardier form factor, design, and portability to other headphones I have tried. Their impressive battery life and comfort make them a better option when compared to earbuds on long flights or all day @the office.
Price: $299.99
Where to buy: Best Buy
Source: The sample of this product was provided by Jabra.