We use affiliate links. If you buy something through the links on this page, we may earn a commission at no cost to you. Learn more.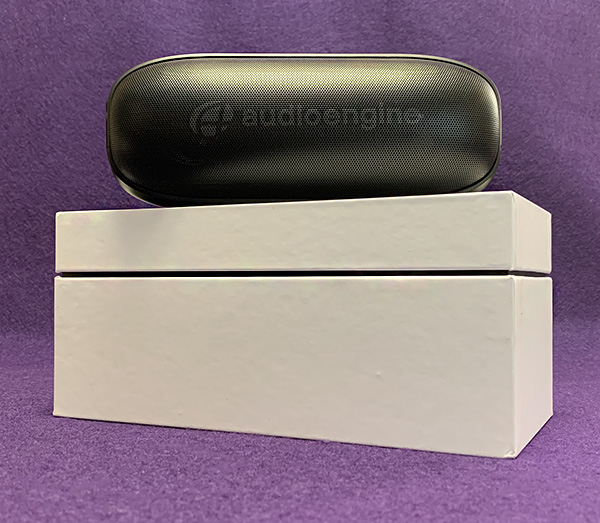 REVIEW – As I've reviewed a few Audioengine speakers over the years, one thing stands out as much as the audio quality, and that's integrity. Audioengine doesn't BS the customer with hyperbole or inflated specs. They are honest and deliver good to great audio products for a fair price. Even if I find fault with anything they make, it's not because they cut corners or used some off-brand part. Which brings us to their first portable Bluetooth speaker—the Audioengine 512 Portable Wireless Speaker.

What is it?
The 512 is Audioengine's first portable speaker. It's relatively small, easy to carry and is built tough. Two custom 2″ transducers with advanced voice coils on one side and a 3″ x 1.75″ passive radiator on the other side provide a 360° soundstage with plenty of bass—especially when you consider its size. The shell is a combination of a tough, thick plastic band that wraps two rounded-metal perforated grills. The 512 is a speaker that is as tough as it looks—as long as it doesn't get wet. More on that later.


Specs
Amplifier type: Class D
Power output: 20 watts total (10 watts per channel)
Drivers: 2" full-range transducers, 3″ x 1.75″ passive radiator
Inputs: Wireless Bluetooth, 3.5mm stereo mini plug
Battery life: (up to) 12 Hours
Charge time: 5 hours to 100%
Frequency response: 60Hz-20kHz
Protection: Output current limiting, thermal over-temperature, power on/off transient protection
Bluetooth 5.0 audio
Wireless operation range: (up to) 100ft (30m)
Weight: 2.5lbs
Dimensions: 3"(H) x 7.75"(W) x 3"(D)
What's in the box?
Micro USB – USB charging cable, 2.67 feet
Quickstart guide

Design and features
Audioengine has stated that they waited on making a portable speaker until they could get it right. I don't doubt that because they got many things right with the 512. The speaker looks like a large pill—similar to Beats "Pill" speakers, but shorter and higher. It comes in two color choices—black or forest green. There's no handle, but it's not needed. It's easy to grip for carrying. Beware of dropping it because the protective metal grill can dent, although the speakers underneath should still be protected. Four small rubber tabs help keep the speaker in place and upright so it won't roll around on its tubular shape.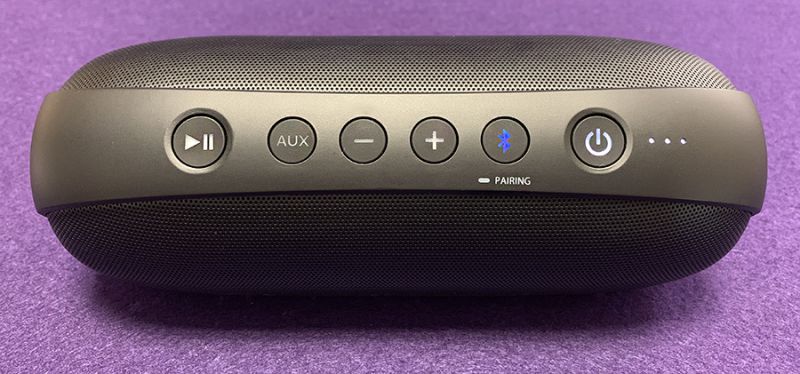 There are a series of straight-line buttons along the top of the 512 speaker. From left to right are Play/pause; AUX (bypassing Bluetooth), Volume down, Volume up, Bluetooth pairing and finally the On/off button. There are tiny LED lights on top that indicate how much battery power is left.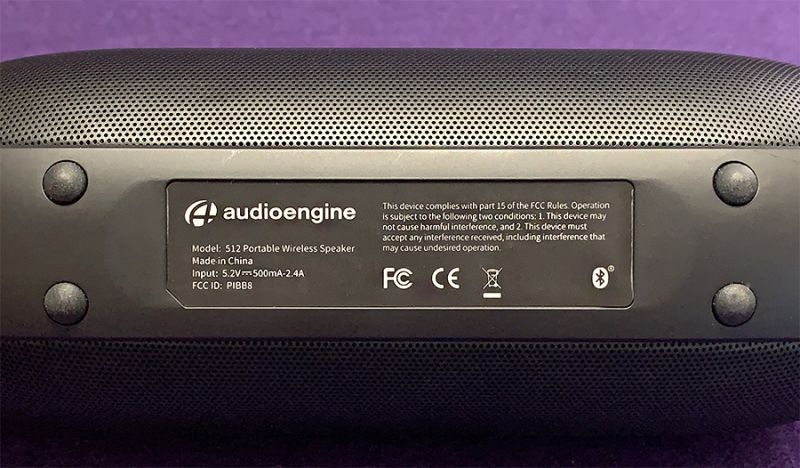 The 512 speaker uses Bluetooth 5.0 which gives the best Bluetooth audio quality possible. Bluetooth has come a long way in just a few years and the 512 takes advantage of that. Plus the Bluetooth range is 100 ft.—three times the average range of 32 ft.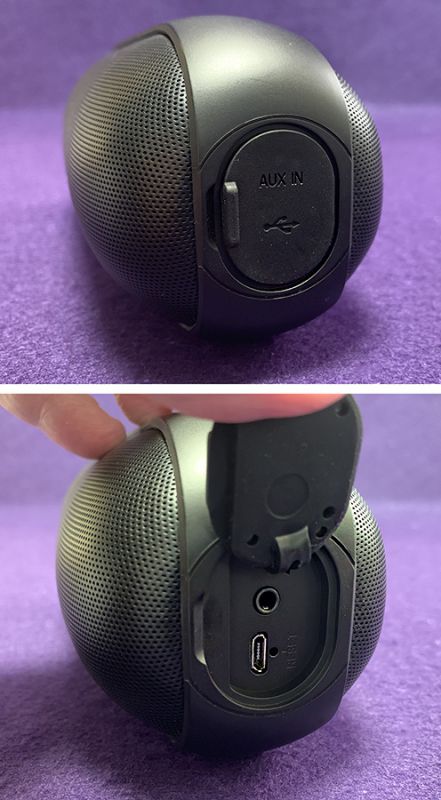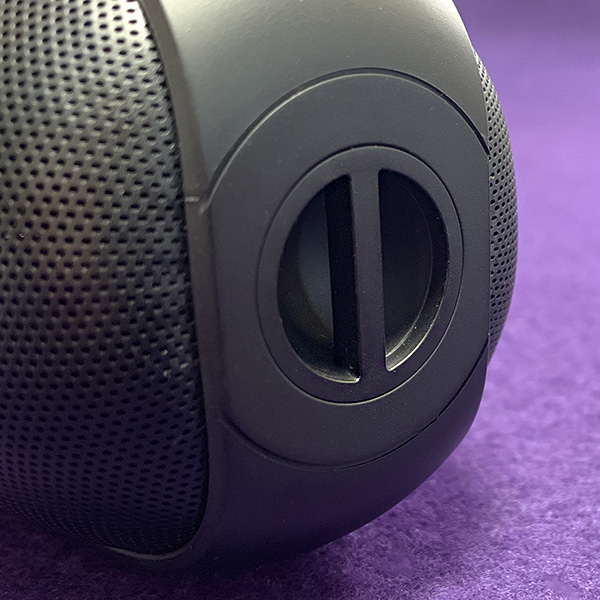 At one end is a rubberized cover that protects the AUX and charging ports. At the other is a place for looping a strap. However there is no strap included, so you're on your own if you want to hang the speaker anywhere.
I'm conflicted about the design of the 512 speaker. The speaker is rugged and looks like it's built for the outdoors. However, it's not water resistant. In other words, don't get it wet. It just looks like it can survive a rainstorm. Even the ports are covered with a waterproof seal. So, if the 512 is technically an indoor (or outdoor good-weather) speaker, why not design it as a classy indoor portable speaker and save the rugged look for a future speaker that can fall into a pool? 
To be fair, Audioengine has said that they can easily make a waterproof speaker, but to do so compromises the audio, so they made the hard decision to forgo a waterproof rating. Here is their statement, "This is something we struggled with when developing the 512. Our engineers choose materials based on what will provide a high quality sound, and using water-resistant materials would have a negative effect on that. It was a tough decision to make, but if we have to compromise on something, sound quality is not going to be it." I get that—it just looks waterproof.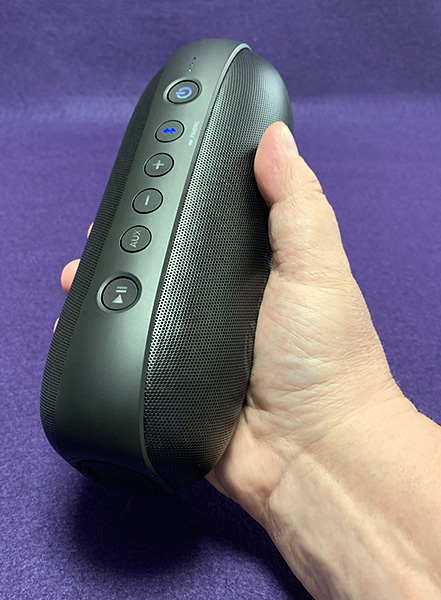 Enough nitpicking. What's most important is how the 512 speaker sounds. Good news: it sounds really, really good. There are specific things you listen for when reviewing any audio product. Portable Bluetooth speakers require some compromises, but the 512 hasn't compromised at all in a couple of areas. One is stereo separation. When the 512 is centered in front, there is definite left and right stereo going on. True, this is heard in many dual driver Bluetooth speakers, but it's much more pronounced on the 512. 
Which brings us to soundstage—that feeling of being in the music rather than off to one side of the stage. This is something almost no portable Bluetooth speaker has. It's just not there. It's shocking how "spread out" music on the 512 sounds. Sometimes it seems that there is more than one speaker playing. It can be eerie. This may sound like hyperbole, but it's not. The 512 speaker's soundstage is flat out amazing! You have to hear it to appreciate it.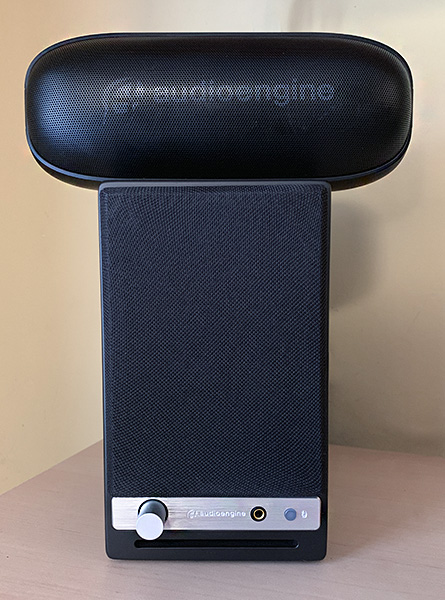 Audioengine states that they voiced the 512 speaker to sound like, well—an Audioengine speaker. To my ears, this means that the speaker leans a bit to the warm side with slightly boosted bass. The advantage of this audio approach is that a speaker can be listened to for hours with no aural fatigue. The 512 does exactly this. Any style of music I want to hear sounds warm and full with no harshness in the upper frequencies. That goes for classic rock, jazz, modern music and even audiophile recordings that may contain more upper range than people may be used to.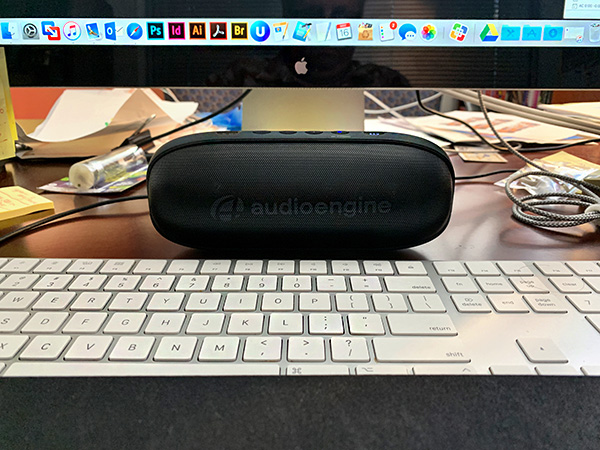 I discovered one interesting advantage while listening to the 512 speaker. I play music all day while at work and it can never be played loud (NO one I work with likes my taste in music). So, the volume has to be set quite low. I discovered that the 512 still sounds great—even at a lower volume. Many portable speakers tend to just disappear if the volume is set too low. Not the 512. Plus, when centered between my keyboard and monitor, the magic of the 512's soundstage becomes quite apparent.
Of course, the 512 can get loud, but it's never loud to the point of distortion. I have other portable speakers that can get louder, but they cost 3 times what the 512 speaker costs. For its price, the 512 holds its own, thank you very much.
What I like
Heft and build quality
Easy on the ears audio
Clear and easy button layout
Easy Bluetooth pairing with extended range
That soundstage!
What needs to be improved
It looks waterproof, but isn't

Final Thoughts
The Audioengine 512 Portable Wireless Speaker has a lot going for it. It's easy on the ears at any volume and worth its price on soundstage alone.
If you're wondering why the 512 speaker is called the 512, it's simple. Audioengine is located in Austin, TX and the area code is … 512.
Price: $169 US
Where to buy: Amazon
Source: The sample for this product was provided by Audioengine.