We use affiliate links. If you buy something through the links on this page, we may earn a commission at no cost to you. Learn more.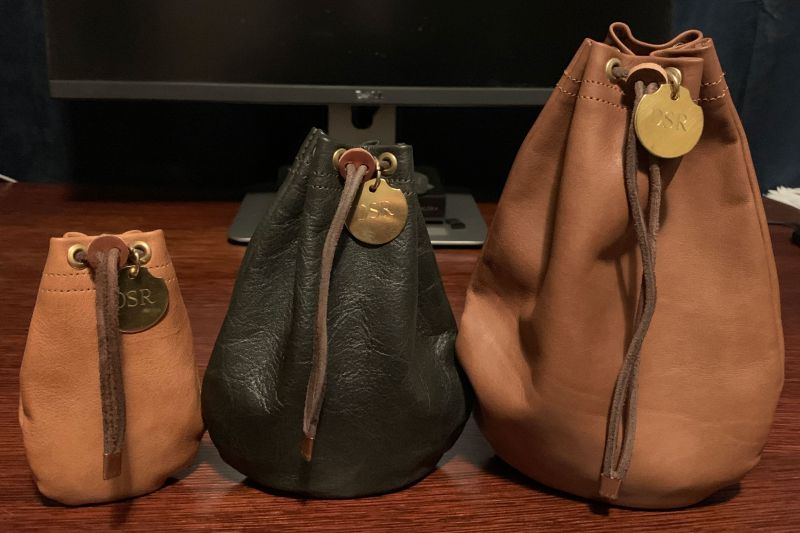 REVIEW – In our hectic lives, our world can get pretty crazy at times with work, school, home improvement projects, travel, etc. We have several spots in the house we call the Danger Zones, where if you're crazy enough to leave something important in those spaces, you do so at your own risk.  I'm pretty AR about some things and have several sanctuary spaces I keep my gear so 1) I know it's safe and 2) I have it when I need it and don't have to go searching around the house to find my stuff when I'm late getting on the road. All that said, I also like keeping my gear organized/protected in these spaces and use various boxes, bags and bins to make that happen. Colonel Littleton has created three general purpose leather pouches to help do just that, called the Possibles Bags. He's sent me one of each size to checkout for this review.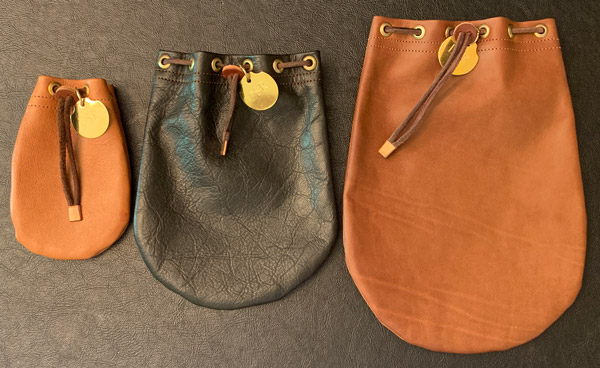 What is it?
The Possibles Bags are handmade drawstring leather pouches created to hold nearly any small to medium item(s). The Possibles Bags come in three sizes: small/No. 1, medium/No. 2, and large/No. 3.
In times gone by, people used bags like these for trips into the wild and stuffed them with medicines and survival items. It's still a jungle out there – only the essentials have changed. Today, you might stash your bag with jewelry and accessories, coins, mobile phone, etc. Use them to hold your valuables in your golf bag, or to hold your cat's eye or aggies. The possibilities are endless.
Hardware specs — Sizing & Weight
Large No. 3 – 9.5″ H x 7.5″ W / 1.4oz
Medium No. 2 – 7.25″ H x 6.5″ W / 2.1oz
Small No. 1 – 5.13″ H x 3.75″ W / 2.9oz
Design and features
The Possibles Bags are handmade in the Colonel's workshop from soft, dry-milled leathers. They have a simple, practical design meant to carry anything from some of your EDC bits/cables to your golf balls. The drawstring closure ensures that what you put in them stays safely and securely within. The design and engineering on these bags are very old school but are meant to be nearly foolproof.

These bags are constructed from two pieces of leather stitched together with thin nylon thread. The leathers are soft, supple and has a wonderful smell. The bags feel great to hold and will last many years of use, growing softer with time.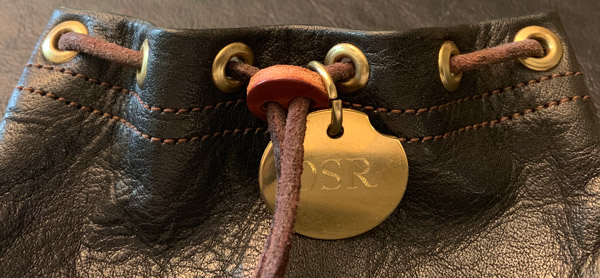 The top opening is held closed by a round leather lace drawstring threaded through brass eyelets. These eyelets not only serve in the closure system but adds strength along the top of the bag similar to rivets.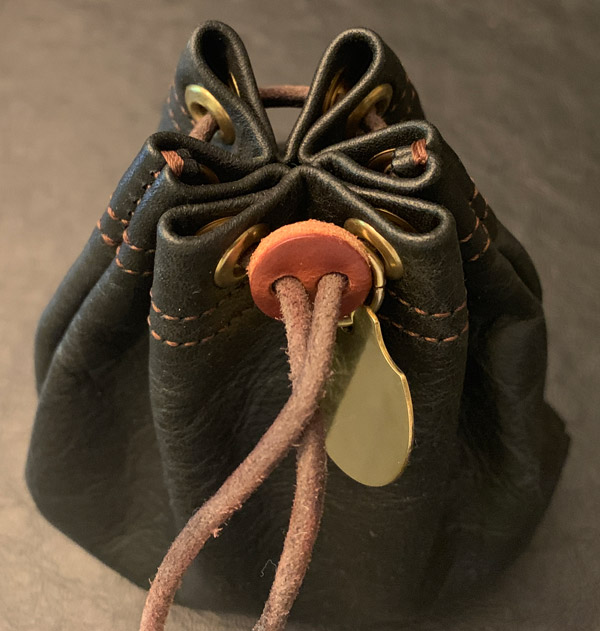 There is a small circular piece of leather that the drawstring ends go thru that enables you to synch the bags closed. There is a small copper tab on the drawstring ends to keep the leather cord from coming undone.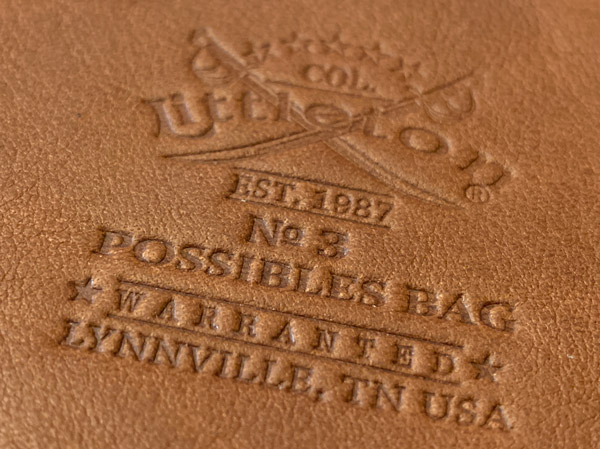 The back of the bag has the Colonel Littleton logo, product name, warranty, and Lynnville, TN embossed into the leather.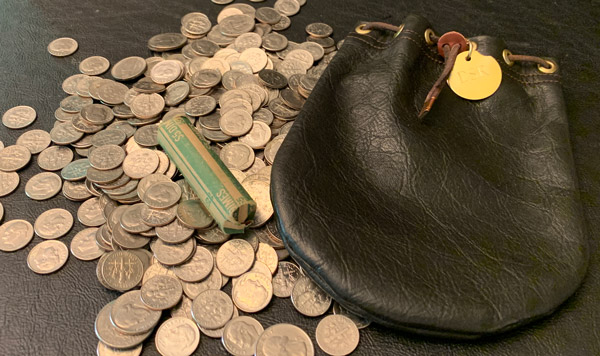 Our family and friends have a semi-regular card game we play (Tripoly) and keeping your stash of dimes in a safe and known location is key. I've decided the black No. 2 bag is the perfect size to do this. Plus when I belly up to the card table with this bag, it reminds me of an old western movie as the cowboy sits down to play poker and plunks their bag of loot on the table. I've also been using the largest of the pouches in my 1943 Navigator Bag to hold all my EDC gear that rattles around the bottom of several of its pockets.
What I like
Excellent handmade craftsmanship
Soft, supple dry-milled leather
Simple/practical design
What needs to be improved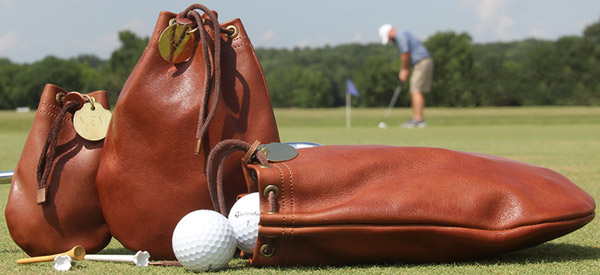 All three sizes of Possibles bags are available in black, vintage brown or saddle tan leather. There is a brass tag for your initials.
I have easily found uses for the No.2 & No. 3 bags but am still searching for a purpose for the smallest of the trio in my world. It'll most likely end up holding some jewelry that is currently bouncing around our safety deposit box.
Final thoughts
Like all of the Colonel Littleton gear I have used over the years, the Possibles Bags are made with the same old world craftsmanship and attention to detail I have come to know and appreciate. These bags are relatively basic, yet not only get the job done but give off a vibe of times gone by. The Possibles Bags are made of high quality leather and materials and will certainly last the test of time.
Price: Large (#3) – $75 / Medium (#2) – $65 / Small (#1) – $55
Where to buy: available directly from the Colonel Littleton website.
Source: The sample of this product was provided by Colonel Littleton.