We use affiliate links. If you buy something through the links on this page, we may earn a commission at no cost to you. Learn more.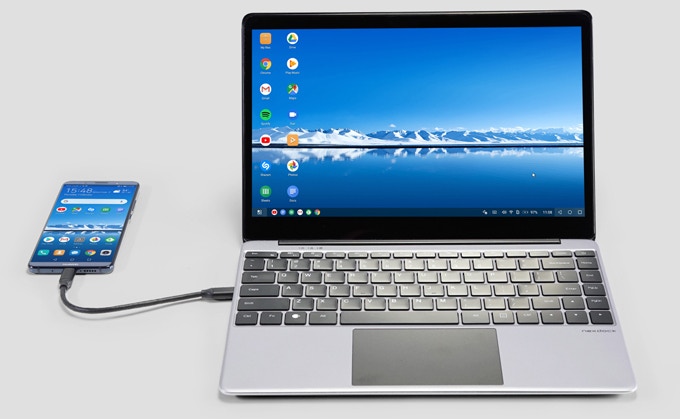 CROWDFUNDING NEWS – It's been about 2 years since the first NexDock device was rolled out as a successful Indiegogo campaign and now the Nex Computer team is back with an updated version of the laptop that is powered by your Android smartphone or Raspberry Pi computer.
What is it?
The NexDock 2 is the latest update to the original NexDock laptop shell. The device looks like a laptop with a display, keyboard, and touchpad, but it's really a "dumb" device until you connect your Samsung or Huawei smartphone or Raspberry Pi to it. Then it turns into a "smart" laptop using the attached device's OS.
Why do I like it?
For decades, I've had a dream of owning one device to rule them all. A device that would be my camera, and my computer, either as a laptop or a desktop.
The NexDock 2 brings that dream one step closer to reality because I already use my phone as my only camera and now the NexDock 2 gives me a way to turn my phone into my only computer by providing a 13.3 inch IPS LCD, USB-C ports, SD card reader, full-sized keyboard, and a touchpad.
What to consider before pledging
At the moment, the only smartphones that will work with the NexDock 2 are Samsung's newer Galaxy devices with the DeX feature (Galaxy S8/ S8+/ S8 Active, S9/ S9+, Note 8 / Note 9 and the new S10e/ S10/ S10+) and Huawei's newer smartphones (Mate 10/ 10 Pro, Mate 20/ 20 Pro/ 20 X, P20/ P20 Pro, P30/ P30 Pro and Honor Note 10 / View 20) that have the EMUI easy projection feature that provides a desktop-like experience when attached to a monitor.
If you don't have one of those phones, a Raspberry Pi, or a PC stick, then the NexDock 2 will be little more than a paperweight for you until Android Q is released, or if you just want to use it as a second screen for another device since it does have an HDMI connector.
Where can I find more info?
The NexDock 2 campaign ends on 4/20/19 they have already surpassed their funding goal of $50,000. You can pre-order a NexDock 2 starting at $209. After the NexDock 2 campaign ends, rewards are estimated to start shipping in September 2019. Visit their Kickstarter page for all the details.