We use affiliate links. If you buy something through the links on this page, we may earn a commission at no cost to you. Learn more.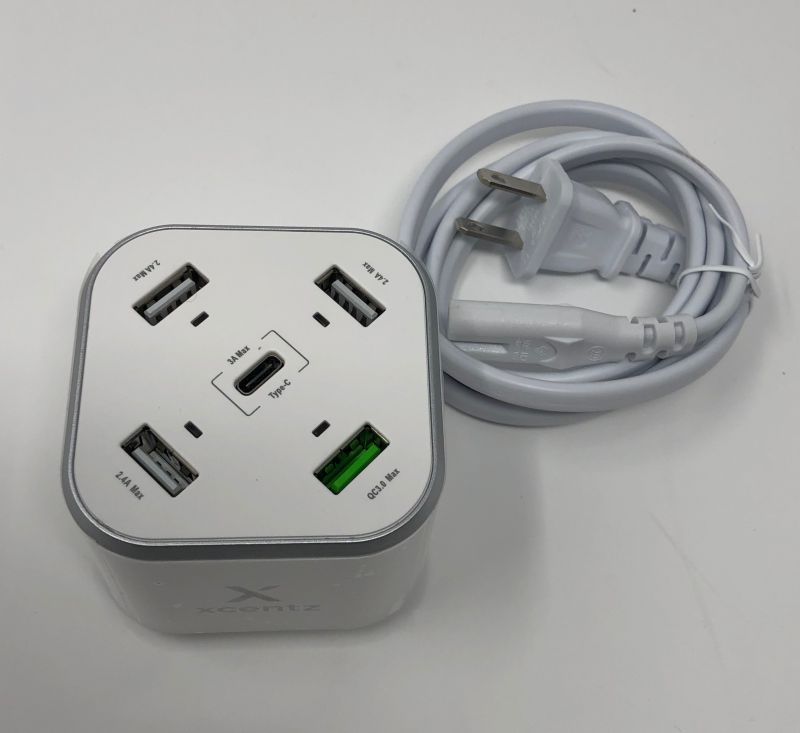 REVIEW – How many of us look behind desks and dressers and nightstands and see a warty jumble of wall plugs? Your watch, phone, tablet, and earphones all want their own outlet and wall connector. What if you could plug all those different types of cables into just a single box? And it wasn't limited to sticking into the wall outlet directly? Well, that's the promise held out by the Xcentz xDynamo 5-port charger. I was sent one to test and I'm here with the inside story.

What is it?
The Xcentz xDynamo is a simple cube that sits on a surface and provides 5 outlets of USB goodness in various forms. You supply the cables, it supplies the proper power levels.
What's in the box?
xDynamo
4-foot power cord
Owner's guide

Hardware specs
From product website
Power for All – Quick charge 3.0, type C charge & 3 USB charging ports charge multiple devices simultaneously at the highest speed possible.
Superior Safety – Advanced Smart xPower by Xcentz, provide safe charge for your devices.
Advanced Charging Speed – Save up to 1 hour with Quick Charge 3.0 or type C charging.
Premium Design – Compact cube design, keeps your desktop organized.
Universal Compatibility – Compatible with all Micro USB and Type C charging port devices from smartphones to tablets.
Worry-Free – Our products are built to last, which is why we offer an industry-leading 18-month warranty, no-questions-asked. Please feel free to contact us and we will give a satisfied solution within 24 hours.
Specifications
Ports: 1* Quick charge 3.0, 1* Type-C Port, 3* USB-A Ports
Input: 100-240V~1.5A 50-60Hz
QC3.0 Output: 3.6-6.5V=3A; 6.5-9V=2A; 9-12V=1.5A
Type-C+3USB-A Output: 5V=6A (3A Max for Type-C, 2.4A Max Per USB-A Port)
Power Cord: 1.2m / 4ft
Size: 2.2×2.5×2.5 inches
Weight: 7.7 ounces

Design and features
The xDynamo is a white smooth rounded 2.5″ cube (Well, it's only 2." high, but let's not quibble.) that sits on a surface with a rubberized base ring. There are 5 outlets for various flavors of USB: one 3A Max USB-C in the center, three "regular" 2.4 A USB-A ports, and one Quick Charge (QC) 3.0 Max smart charging port with a green insert. Each of the corner ports has a green LED lamp for when it's connected to power, which helps you find it, but isn't like the aircraft landing lights some chargers have. The clean, modern styling means it can sit in a CEO's office, the front reception desk, or the mailroom. With the detachable power cord, it's also easy to pack for those trips when you and your companion both need to charge phones, tablets, and power banks and there's only 2 outlets to spare in the B&B.
It could also find it's way to your family room, where kids do homework on iPads, parents charge their wireless TV headphones for after the kids are asleep, Mom's updating her presentation for a sales meeting tomorrow on her iPad, and Dad's checking the sports scores or the weather report for his cycle ride this weekend while topping up his phone. Plug it in and set it on a table next to chairs in a remote corner of your office. Toss some charging cables into a nearby drawer, and you've got the digital equivalent of a cup of water in the desert.
What I like
Covers all main types of USB charging
Not too big
No power supply box
What needs to be improved
Could have an AC plug on one side – jus' sayin'
Final thoughts
One can never have too many chargers. This is possibly the most typed sentence in our work Slack channel, (other than "I want doughnuts!") – "Does anyone have a charger I can borrow?" With this on your desk, the answer is always, "Sure." I love that it only requires the cable, so you can leave the bulky individual chargers at home.
Price: $27.99
Where to buy: Amazon
Source: The sample of this product was provided by Xcentz.