We use affiliate links. If you buy something through the links on this page, we may earn a commission at no cost to you. Learn more.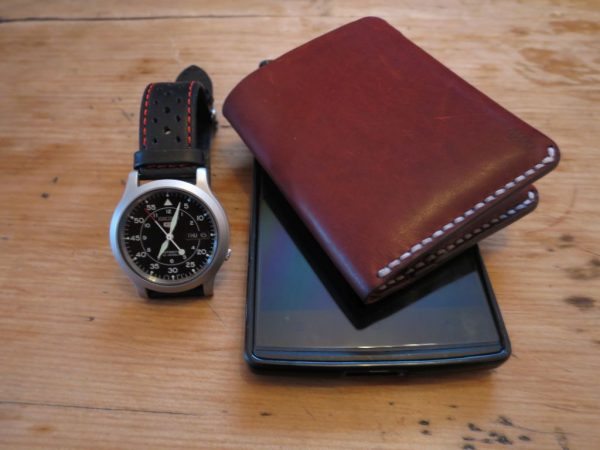 REVIEW – Firstly an apology to Fused Good.  This review has taken me literally years.  After receiving the products and starting my draft review I moved to Vietnam for a couple of years and because of their cash economy and the size (both of the notes and the wad of money you need to take with you) and reliance on only cash, I had to retire the wallets until my return back to Australia 🙂 The longest time to test a product on The Gadgeteer?
Thinking about this review, it's interesting that a site that reviews technology has so many posts about "old school" materials especially when it comes to wallets and bags.
Fused Goods is a small company run out of Brisbane, Australia hand making wallets.
How does this leather wallet differ from all the rest of the leather wallet reviews on The Gadgeteer? Because it uses good old Australian kangaroo leather. Does this make much difference to the wallet?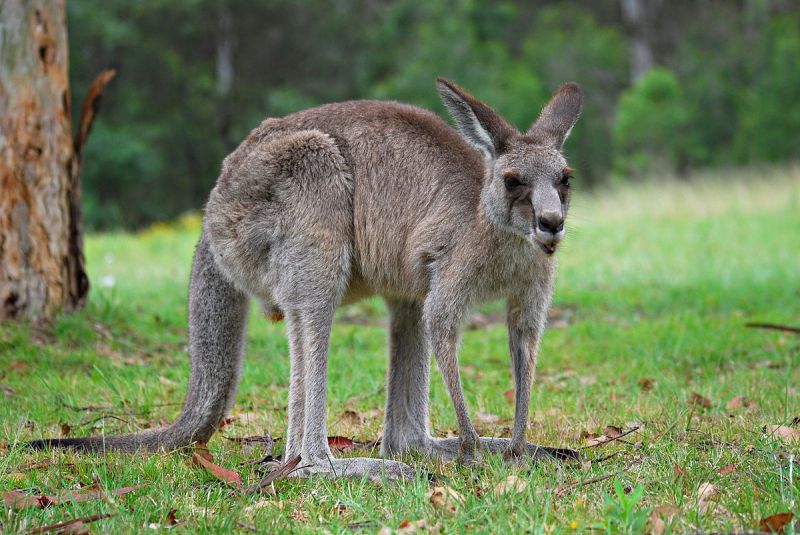 Why use kangaroo skin?  Because it has the highest tensile strength of all leathers.  This means that they don't have to add a backing (like pigskin or material) for strength meaning their products can be thinner and lighter.  The vegetable tanned leather is sourced from a local tannery who supplies kangaroo leather for a majority of Australia's football and cricket balls.
Bifold Wallet: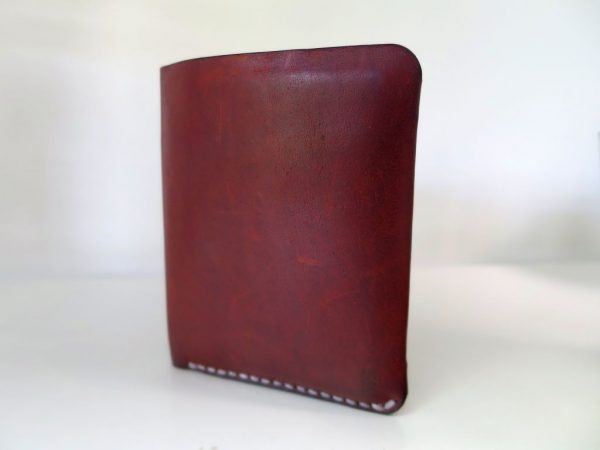 Fused Goods laser cut the leather and then hand stitch it, hence their name, a fusion of new and old technology. I was sent their bifold wallet in Burgundy.  Its got a nice "raw" look to it.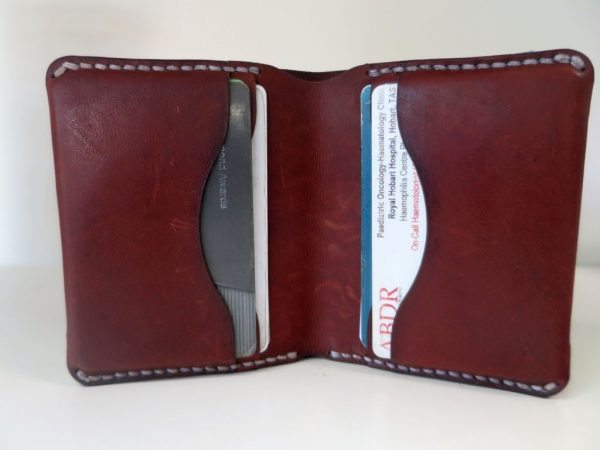 The wallet is 170mm x 120mm (open) and 102mm x 85mm (closed). It has 4 credit card pockets, each of which holds 1-4 cards.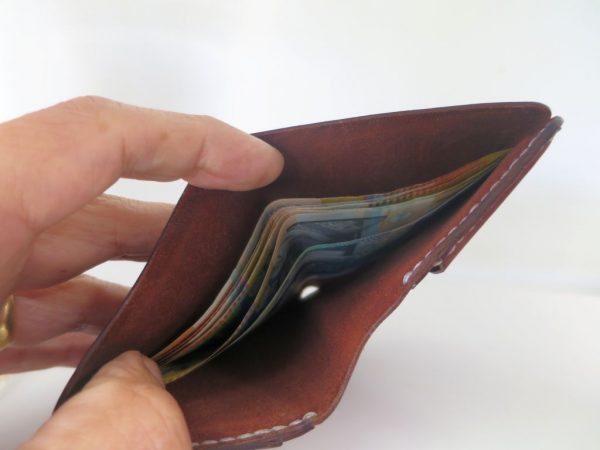 In the back is a slot for the notes. As a standard purchase, it holds AUD and USD but if your currency doesn't fit you can get a custom size made up.  You can see here that the leather is much slimmer without having to have any sort of strengthening material attached.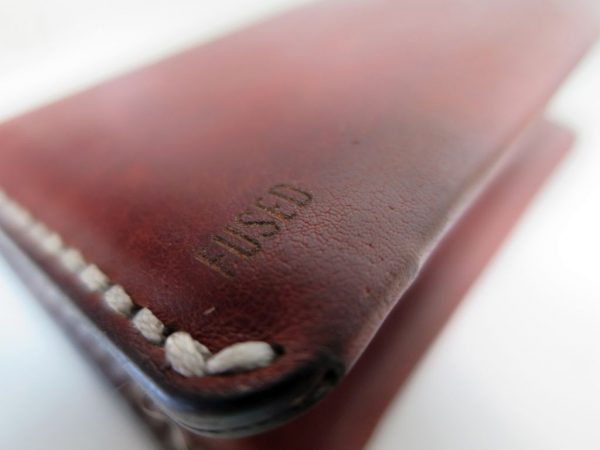 They can do custom laser engraving as well.  Here you can get a closer look at the hand stitching.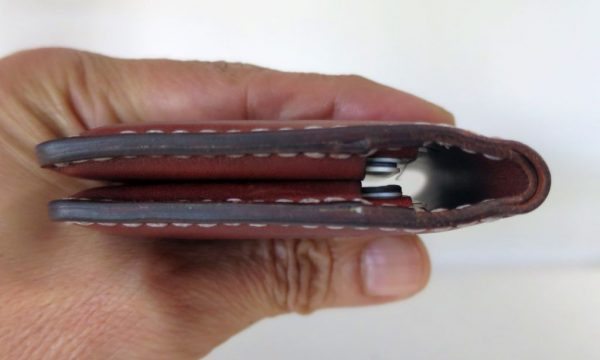 Here it is with 8 cards and a bit of cash. Not too thick and is a perfect front pocket wallet even full.

All the scraps aren't wasted either, they're made into keyrings. It's always good to see minimal waste production.
Card wallet:
They also make a nice double card wallet made out of a single piece of leather which reduces additional stitching and weak points. Each pocket holds 3-5 cards and it measures 150mm x 105mm (open) and 100mm x 75mm (closed) and is ideal when you only need to take minimal cards and cash out. These days, this is pretty much my EDC wallet: a few cards and a little bit of cash.

Patina: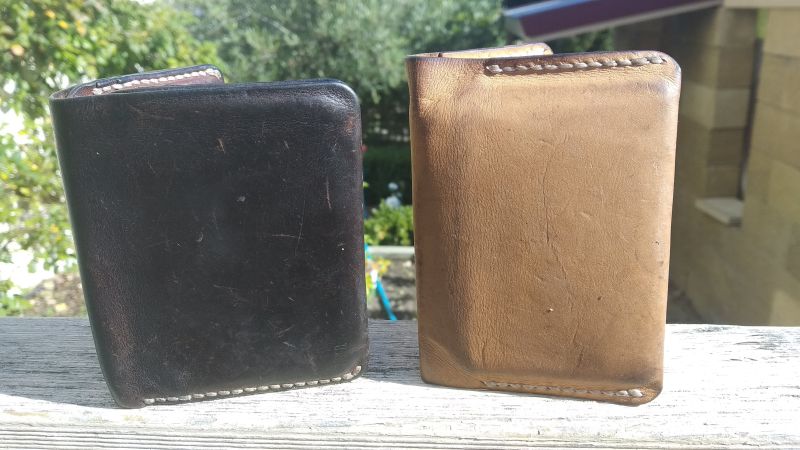 So after (cough,cough) years, here's how the wallets look today. Worn and weathered and very used even after a bit of a hiatus 🙂
Final Thoughts
If you want a wallet made out of a "unique" material that's only native to Australia, that looks and feels good and is slim and small enough as a front carry wallet then  Fused Goods products fits the bill. They're not fancy but they do the job well and because it's kangaroo leather it's tough and should last you a long time and will develop a lovely patina with usage over time.
Note too that they make a Kangaroo leather Apple Watch strap as well.
Price: from $50.00 USD
Where to buy: Fused Goods
Source: The sample for this review was provided by Fused Goods.