We use affiliate links. If you buy something through the links on this page, we may earn a commission at no cost to you. Learn more.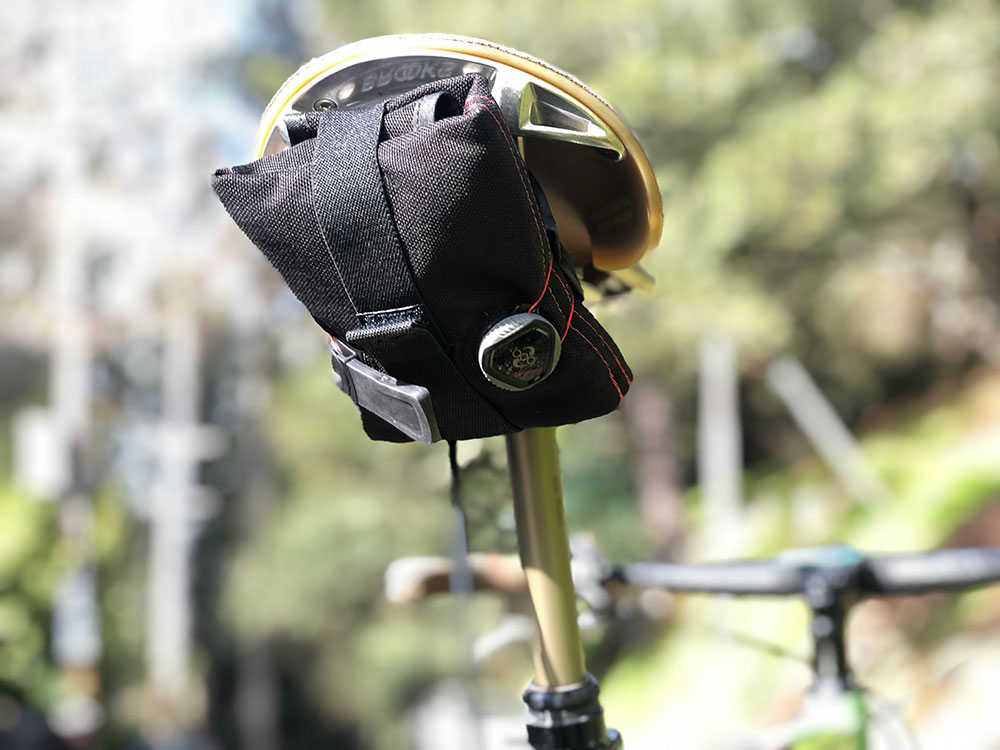 REVIEW – If you're a cyclist, chances are you've heard of Silca. They're known around the world for their bicycle pumps which they've been making for over 100 years. They also make amazing tools and accessories that all have an attention to detail that would be hard to call anything other than obsessive. My first job was building BMX bikes at my local bike shop. I picked up the wrenches again in college before my first real career in snowboarding. What's the point of memory lane here? Silca recently launched an under-seat pack that uses a Boa reel for cinching it to the bike. I use a Boa system on my snowboard boots today and remember their launch almost 20 year ago. My two favorite sports coming together – Sign me up. Detail time.
What is it?
Silca's Seat Roll Grande Americano is a fold-and-roll pouch that stores under the seat on your bicycle. Under seat bags are great for holding the necessities (like tools) that you don't want in your jersey pockets or in a backpack.
What's in the box?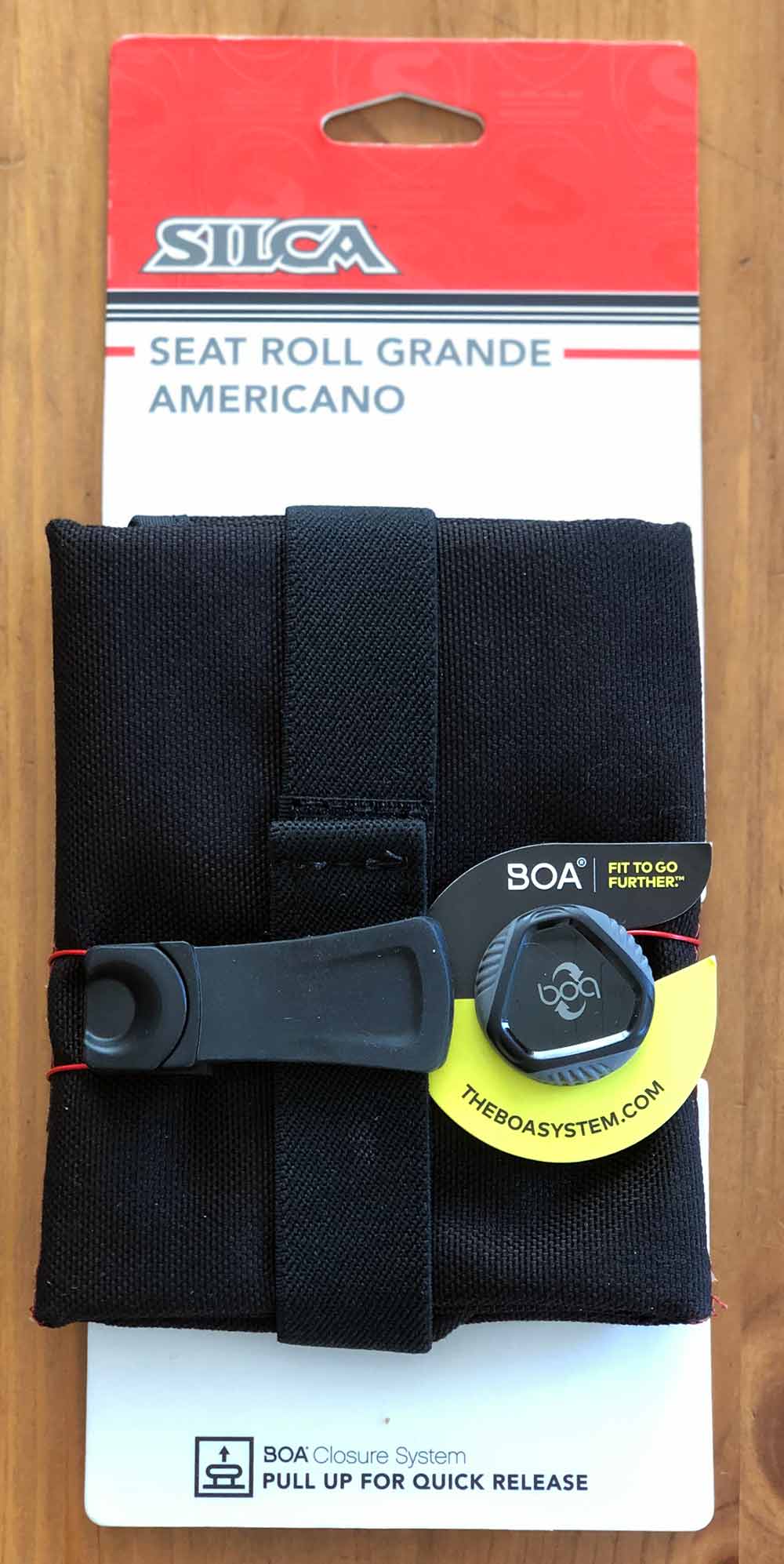 Seat Roll Grande Americano
Hanging Card Packaging
Hardware specs
Ballistic nylon with a DWR coating (Durable Water Repellent finish)
Uni-body, one piece construction
Boa® closure system
Rail guard – Protects and grips seat rails
3 internal pockets
Heavy duty elastic for adjustable volume closure
Sewn in the USA
Design and features
Deceptively simple, the Seat Roll Grande Americano is essentially a tool roll. It's made out of a single pattern that's folded and securely stitched to create it's three pockets and flap and then a strong elastic strap to help hold the thing together.
The other major design feature is a Boa closure system that uses a very thin cable that retracts and releases with a very intuitive reel. I'll explain how to use one in just a minute, but what you should know is that it's crazy durable, super light weight and leaves nothing dangling behind. Velcro can be a mess, pick up mud and the hook side can wreck clothing. Yay Boa!
Setup
Removing the pack from the card can be a bit confusing if you haven't used a Boa reel before. Grab the Boa reel with your thumb and forefinger and pull straight up until you hear a click.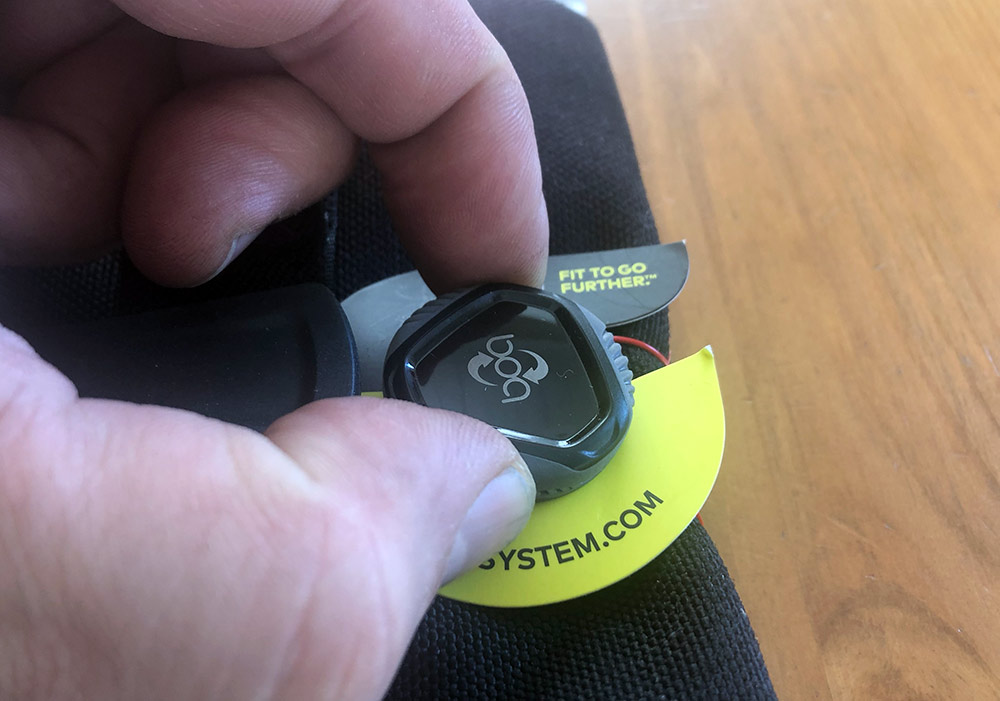 Then grab the pull tab and pull sideways to free the tab and "unspool" the reel.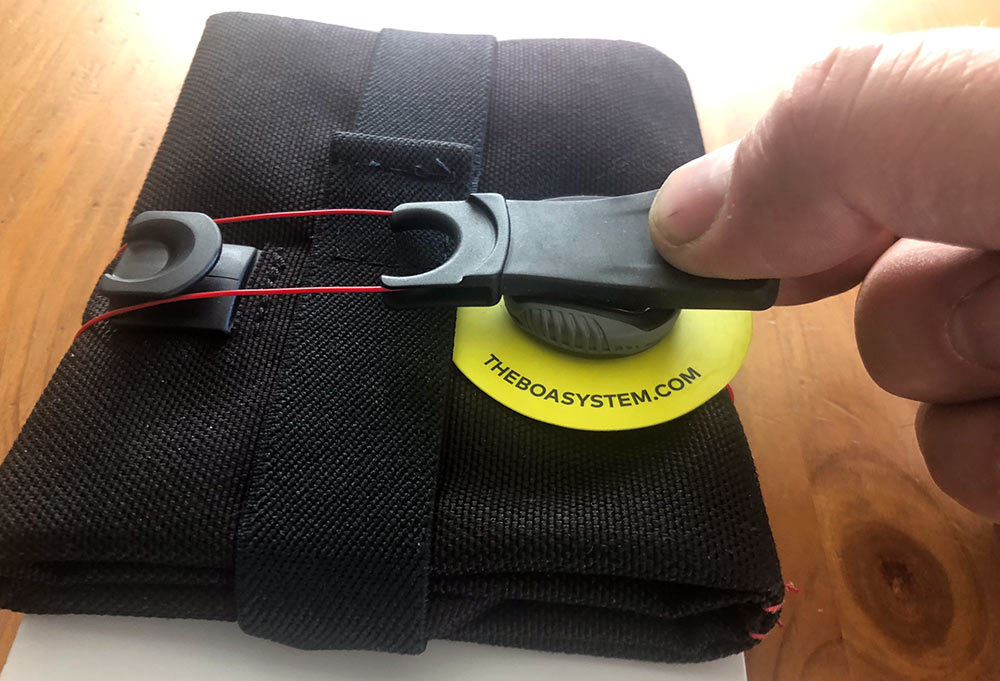 Now you're free of the hang card.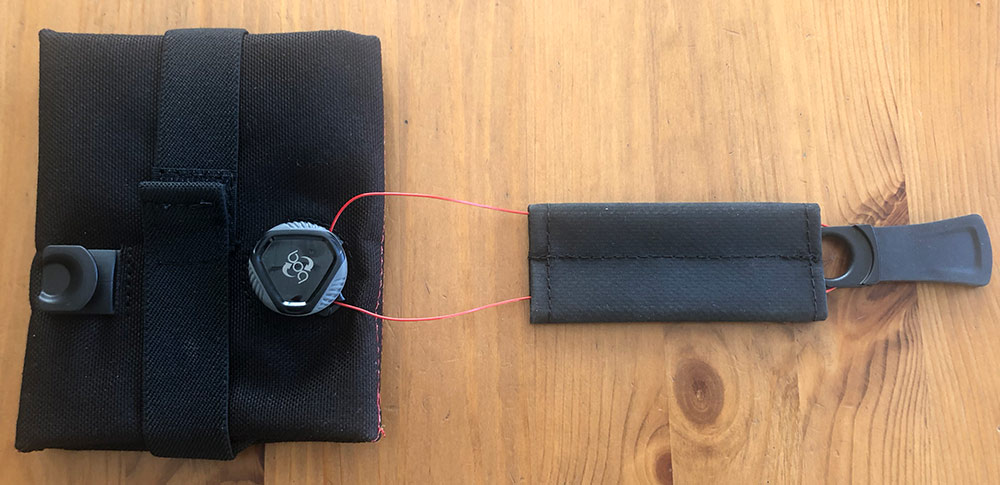 From there go ahead and undo the velcro and unfold your pouch.
Performance
As I mentioned up above I've been using a Boa system on snowboard boots for a while. I trust them to keep my feet safely in my boots, so lashing a pouch under a bike seat seems like a pretty easy task for this ingenious little reel.
The three pockets are evenly divided with the center pocket being the largest.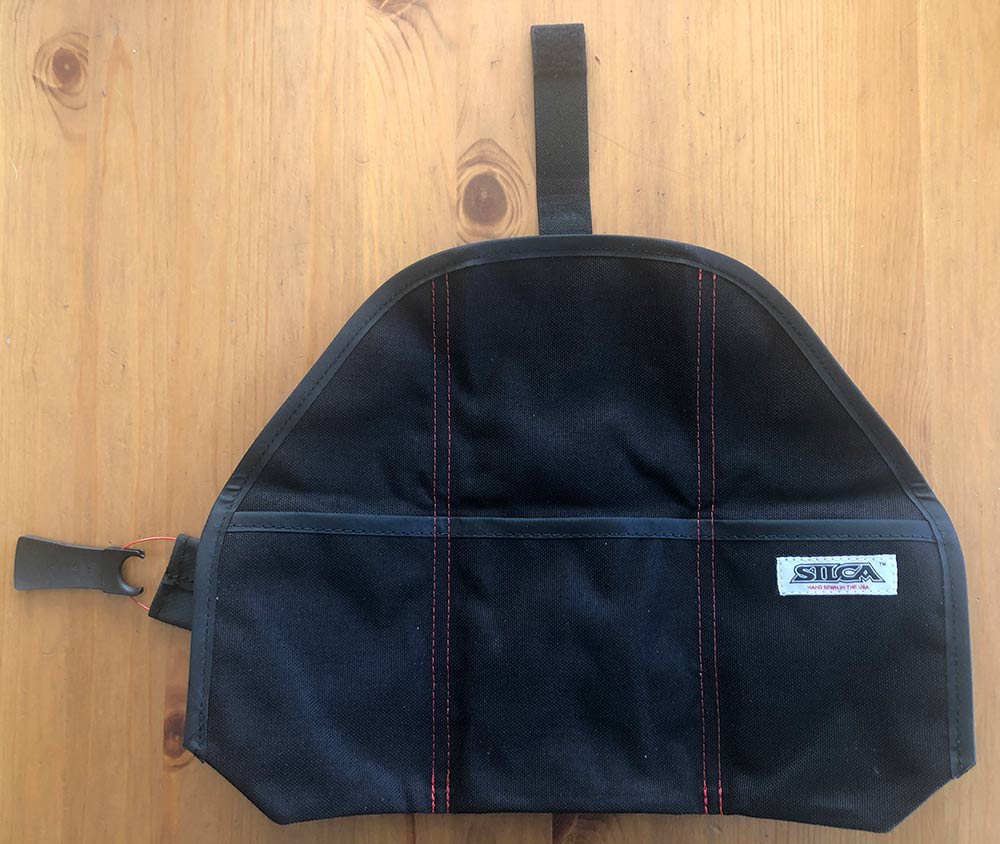 I carry a rather large multi-tool with a CO2 regulator that only fit in the center pocket, so that decision's made. The 700c x30 tube is in the right pocket and a CO2 cartridge and maybe some tire levers over in the left pocket.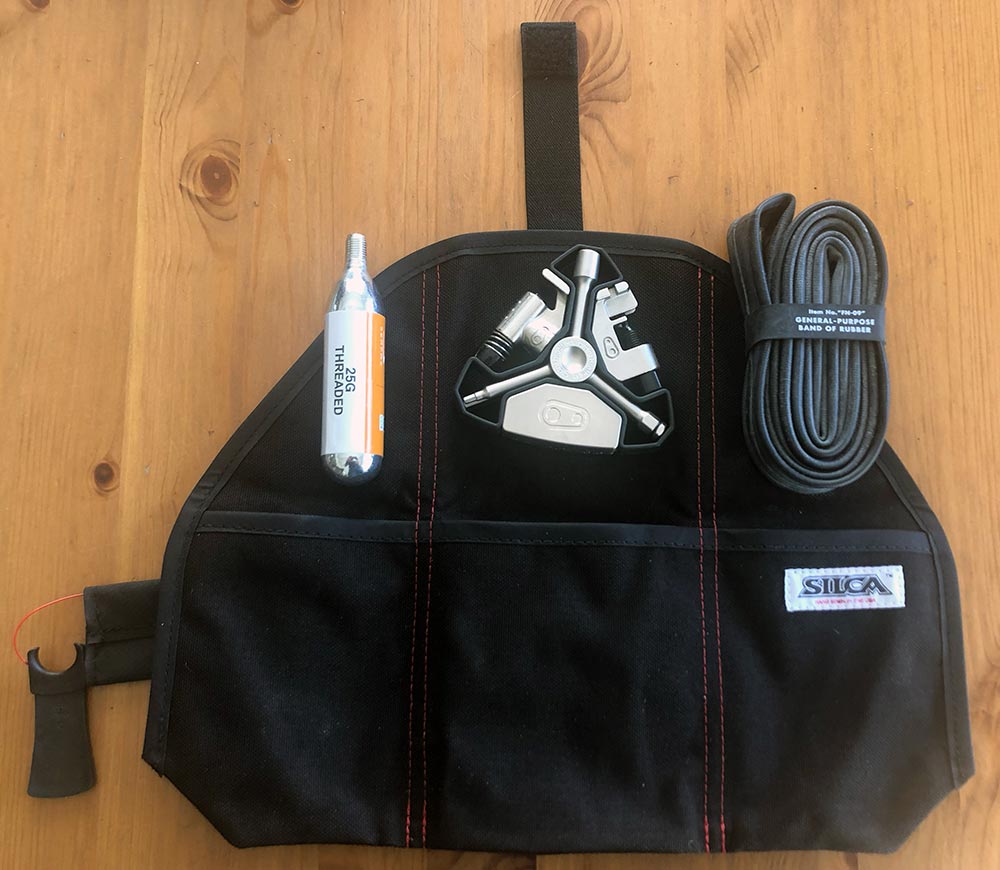 Here's all those tucked firmly down in.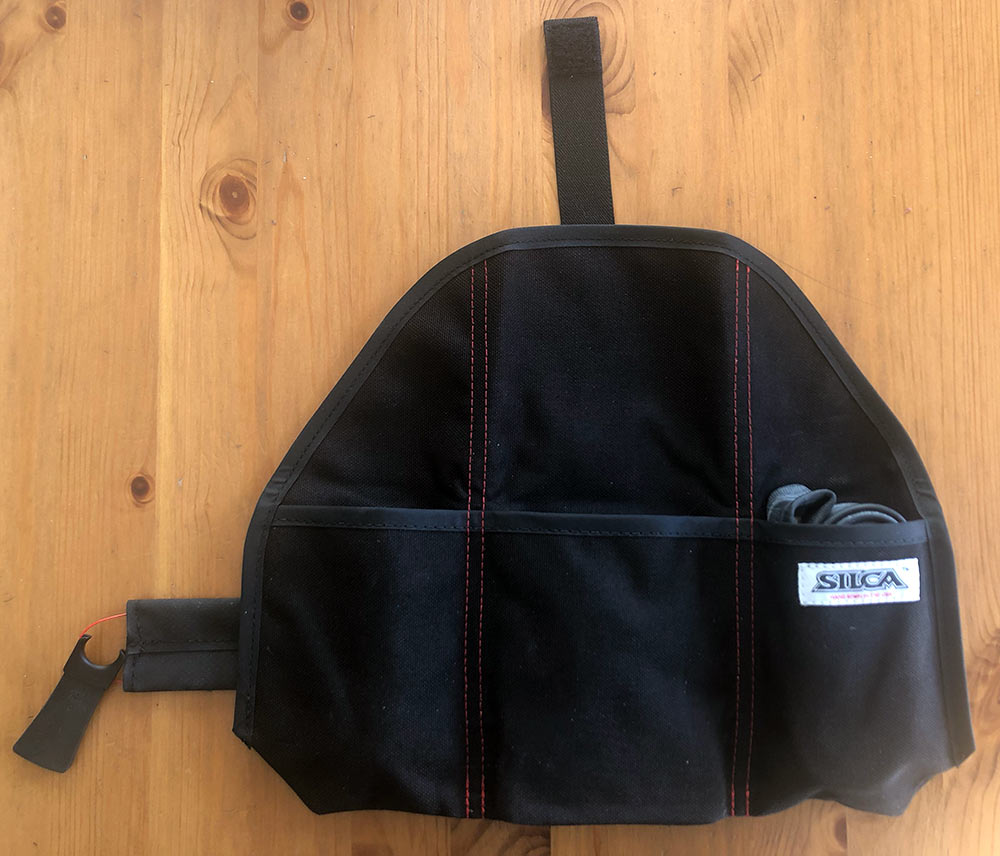 When folding down the top, you'll want to fold as close to or actually on the pocket top if you can to reduce the risk of any gaps for stuff to get out or muck to get in. Fold each of the sides in and secure with the big, sturdy elastic band.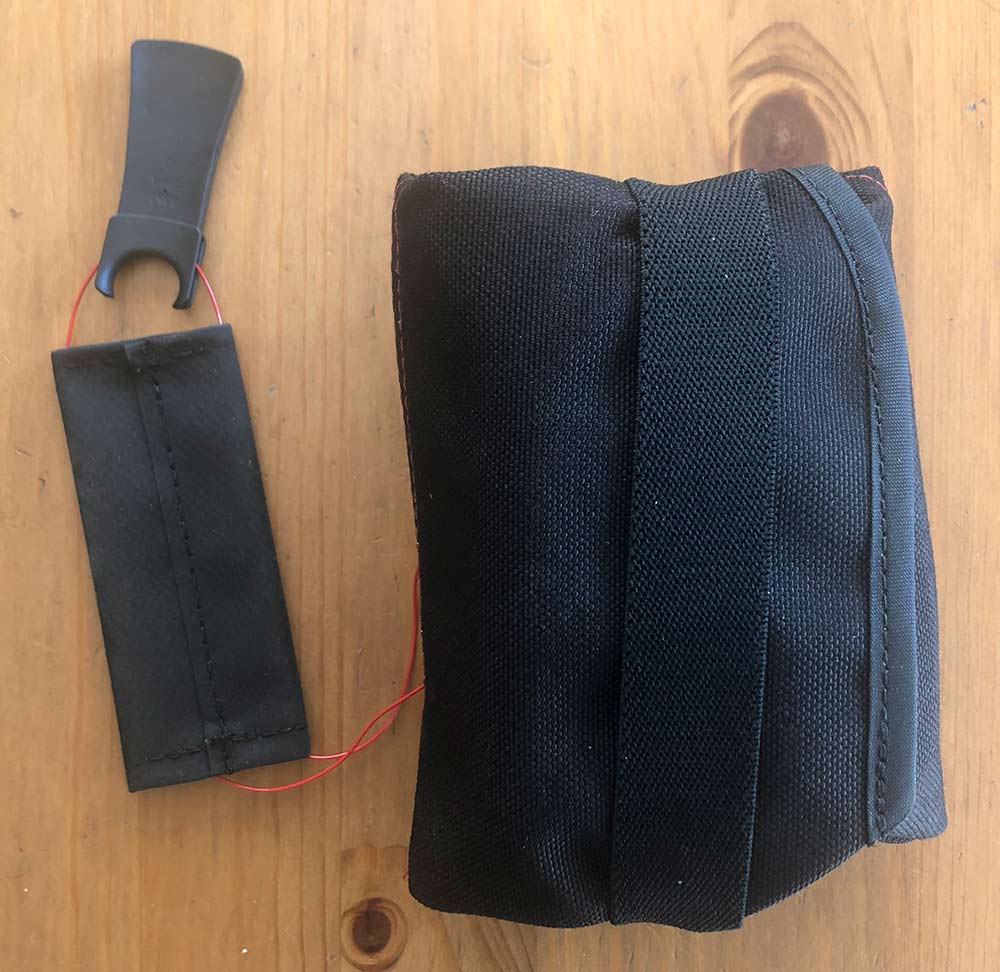 Putting it on your bike is a simple process of feeding the flat rail guard section shown above over your seat rails, hooking the pull tab on the receiver and then ratcheting it down. You may need to hold the guard in place, but it's an easy process and you literally just turn until it gets hard to turn. Make sure you push the Boa reel down for the click to ratchet mode.
Here's how it snugs up under a seat.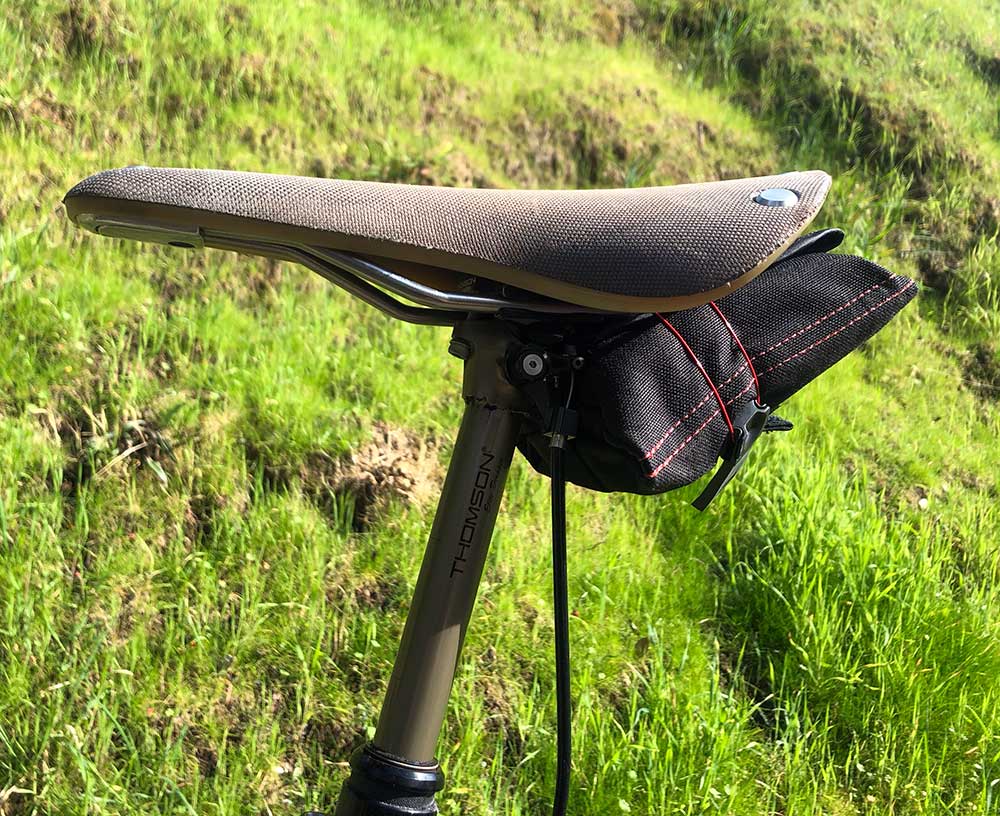 You may want to play with the organization of your stuff in the pockets to get them as flat as possible and pushed to the outer edges of the outside pockets as this will give you the smallest pack when folded.
One thing to know is that as a tool roll, it gets completely removed from the bike when you need access to your stuff. This is a good thing as all your tools can be visible at once on a flat surface, rather than digging in a tiny bag still on your bike.
The Boa system is ideal for this scenario as the volume completely adjusts depending on what you have in the roll, and then how tight you ratchet it down onto your seat. As a result, there's no rattle or noise or swinging weight from under your seat. In a word… perfect. Great addition to my gravel bike.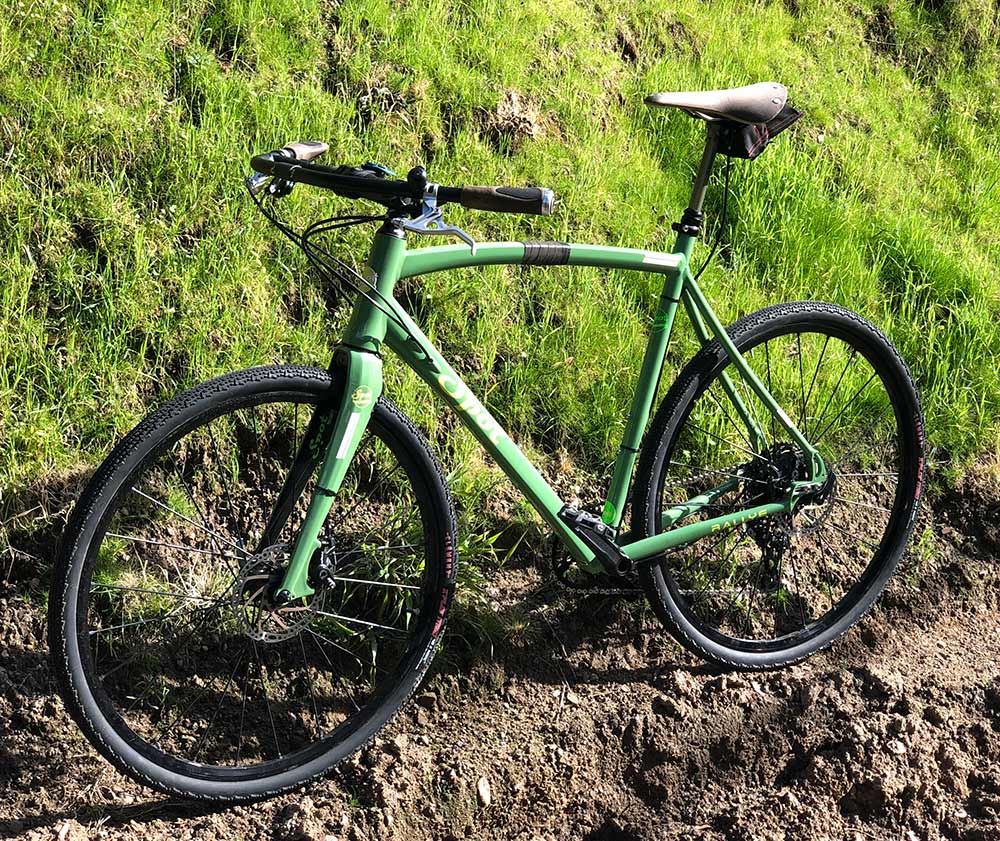 What I like
Boa closure system
Materials and construction
Security to bike when riding
Jangle free
What needs to be improved
Final thoughts
I usually run a lightweight waterbag for rides, but the Silca Seat Roll Grande Americano holds my tools and some of the bulkier items so securely and silently that I'll be throwing a cage and bottle on my bike now for shorter rides. Silca's pack doesn't move once it's ratcheted down and there's something immensely satisfying about the click and unspool of the Boa to get to your gear. It almost creates a desire for a flat tire to occur… Almost.
Price: $58
Where to buy: Silca.cc
Source: The sample of this product was provided by Silca.