We use affiliate links. If you buy something through the links on this page, we may earn a commission at no cost to you. Learn more.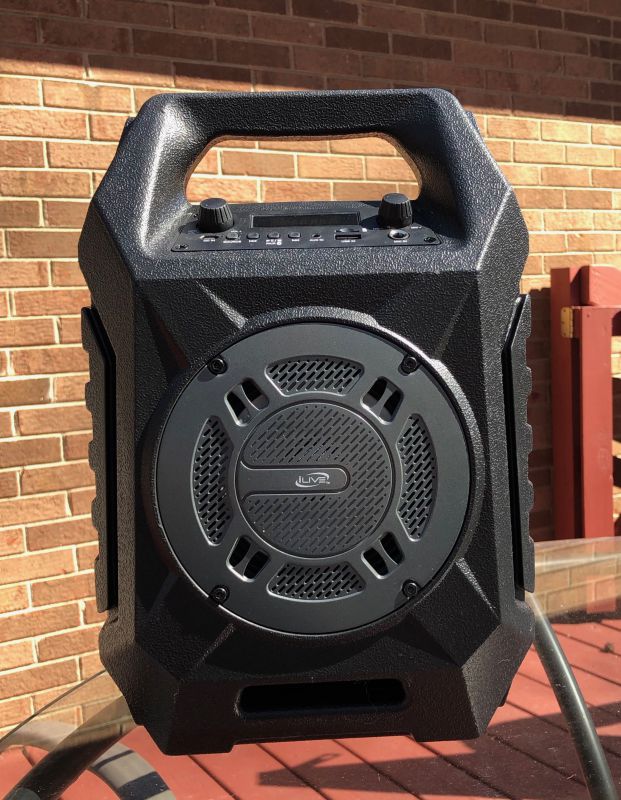 REVIEW – Portable speakers are usually limited to personal or small-group listening. Those that move beyond that size are a much smaller group. I was recently sent the iLive Tailgate Speaker, and have been testing it. Read on for how it performed, and how it may fit into your life.
What is it?
The iLive Wireless Tailgate speaker is a 14″ x 9″ x 6″ box with a rigid outer shell and an integrated handle on the top. Under the handle (and easily accessible) are all controls and inputs. On the face is a 5.25″ woofer speaker with LED light effects behind the grille.
What's in the box?
main Speaker unit
AUX audio cable (nearly 60″)
USB-A to miniUSB recharging cable
Hardware specs
Bluetooth wireless speaker with built-in 5.25 inch woofer
Digital FM radio with 30 station memory presets
Includes micro-USB to USB cable and 3.5mm audio cable
SD memory card reader
USB port
LED light effects
Microphone input and gain control
Built-in carry handle
Built-in rechargeable battery with battery life ~3 hours
Wireless range of 60 feet

Design and features
The iLive Tailgate is encased in a semi-flexible molded plastic case all around. There are no openings, save the speaker grille holes and the input ports. When it's powered on, a multi-colored LED flickers randomly and is reflected by the metallic cone to light up the entire speaker area. (This isn't bad in the daylight, but if you're trying to use this at a political rally or anyplace where the integrity of the message is at stake, be aware. There's no way I could find to turn this disco lighting off.) The grille is a slotted matte metal with a silk-screened logo in the center.
When powered on, there is a LED clock-type panel that lights up between the volume knob and the microphone gain knob to show information like current input mode, FM frequency, etc. Below the two knobs and this display, there are inputs from left-to-right for DC power in (microUSB), Source select button, Rewind, Play/Pause/BT pairing, Fast Forward, USB in (which also charges), MicroSD card slot, and .25″ mic jack. The whole unit weighs right at 4 pounds, so it's easy to move about during setup and use.
Setup
There is no extensive setup. Charge it, and turn it on. Pair or connect your source, and you're off to the races.
Performance
The amount of sound the iLive produces is really impressive for such a small box. You can get quite loud without getting even a third of the way into the volume knob's range. The sound is a bit bassy/boomy, but carries well, so long as the speaker is not blocked. The FM radio would allow you to listen to a pre-game show while still tailgating or keep you informed during a power outage. USB or micro SD card input will allow you to play from your own collection of audio. Plugging in your portable devices will share those sounds as well.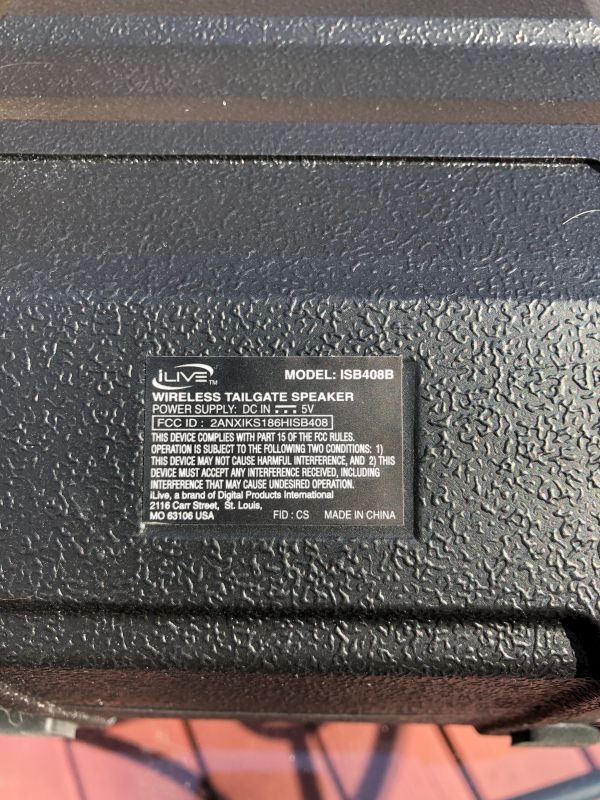 Perhaps the most interesting capability, however, is the microphone jack. Using a standard high-impedance mic (like one that plugs into a guitar amp), you can not only speak and sing through the device, but also sing along with the radio! This opens up possibilities for use at pool parties, political rallies, company outings, or kid's sports events and parties. Not having to have directly connected power means the mic and speaker can be carried around easily, for, say, leading a tour through a park with a group, or organizing activities at a Scouting Camporee.
At first, I dismissed the FM radio as hooey. No one listens to the radio anymore, there are too many stations. (apologies to Ty Cobb) There are so many used FM frequencies in most cities that locking in on a single station is often difficult. And, indeed, trying to pick up stations while scanning with the arrows is a bit delicate. If you move the unit, or sometimes touch anything on the control panel, you'll introduce static interference. But if you move away, you'll find you are right on the station, and you will get good sound. I was able to lock onto our local classical station, and let it play for a while. I was surprised at the beautiful, full-bodied reproduction of Hee-Young Lim's cello from Saint-Saëns' Concerto Number 1 in A minor. The rest of the instruments came through clearly as well, but the cello was just so full and captivating, even over FM radio. I forgot I was listening to the radio until the announcer came in after the piece was finished.
I have a cheap hi-Z microphone. When I plugged it in, the gain was superb and the tone accurate. There is a little reverb added, but it still sounds accurate. I couldn't get it over 40% or so and stay in the room with it. Jack was very confused by my voice coming out of the box, rather than my mouth when I would whisper.
Never miss one of our posts again. Sent MON, WED, and FRI with the latest gadget reviews and news!
What I like
USB charging – available everywhere
All manner of inputs covered
Decent battery life
Can charge USB devices
What needs to be improved
The LED speaker light needs an on/off switch. Mostly an off switch.
Final thoughts
This is a great portable sound unit for many uses. Our local bike advocacy group could use it for announcements before and after group rides. (Or even during rides!) We have a local non-profit that does trail maintenance in a park along a natural scenic river, and I could see having something like this to communicate during clean-ups or festivals. The portability, USB charging, and rugged outer shell recommend it for many places a regular speaker would fall short, and a PA system would be overkill.
Price: $59.99
Where to buy: iLive and Amazon
Source: The sample of this product was provided by iLive.