We use affiliate links. If you buy something through the links on this page, we may earn a commission at no cost to you. Learn more.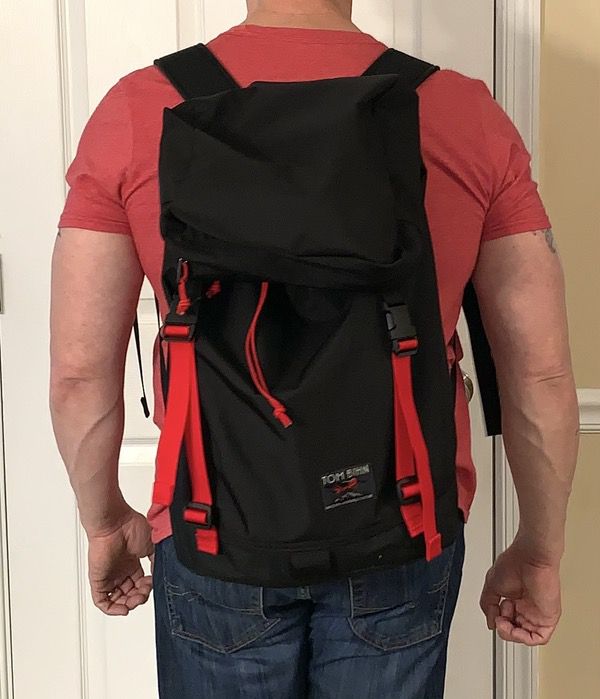 REVIEW – A few years ago Tom Bihn introduced us to the Guide's Pack, which was heavy on heritage-inspired looks and loaded with features for the outdoor wanderer. This week we're looking at the Shadow Guide, which you can think of as it's city-dwelling cousin. It's just as rugged and functional, but a bit more streamlined for adventures that don't involve mountains and hiking trails. To the review!
What is it?
It's a 31-liter klettersack-style backpack.
Hardware specs
21.7″ high by 12.6″ wide by 9.4″ deep
31 liter capacity
525 denier 2×2 ballistic nylon exterior
210 denier 2×2 ballistic nylon exterior
1050 denier HT ballistic nylon base
YKK Zippers
Duraflex, Nexus and Woojin hardware
2 lb, 10 oz total weight
What's in the box?
In addition to the bag, the package includes a removable sternum strap, a removable waist strap, and an 8″ key leash. You also get a set of zipper pulls, cinch straps, and a drawstring in bright red that you can use to swap out the black versions that ship with the pack.
Design and features
Streamlined simplicity is the name of the game with the Shadow Guide. While it shares the form factor with its off-road cousin, this profile is sleek and focused. And very, very black. Check out the views: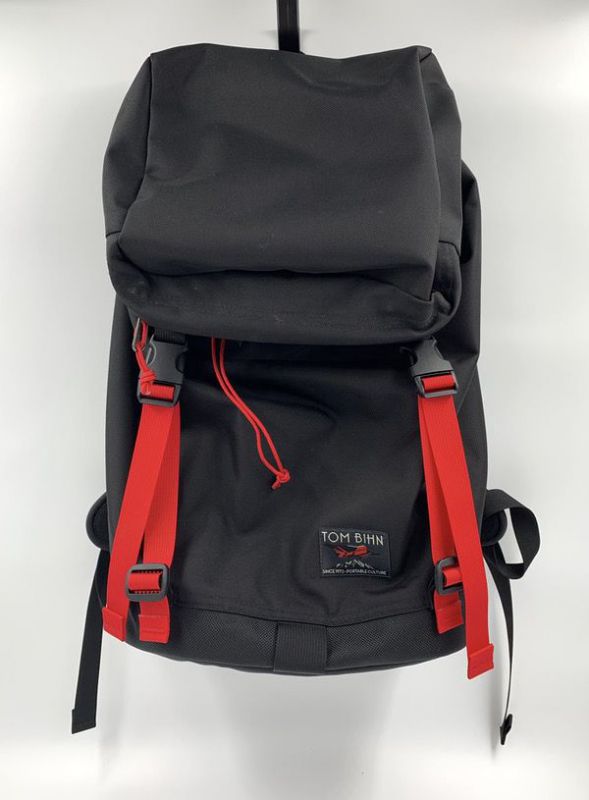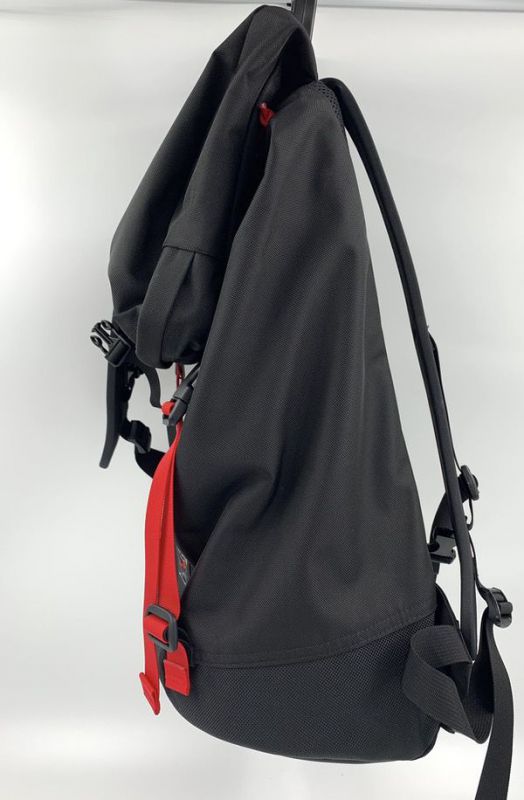 What's with the red, you ask? The Shadow Guide ships with all-black straps and elements, but also includes a set of bright red straps and zipper/drawstring pulls are included if you want a pop of color. It's easy to change them out. I actually prefer the red accents, because they break things up a bit. Here's a shot of the extra straps, after I swapped out for the red ones: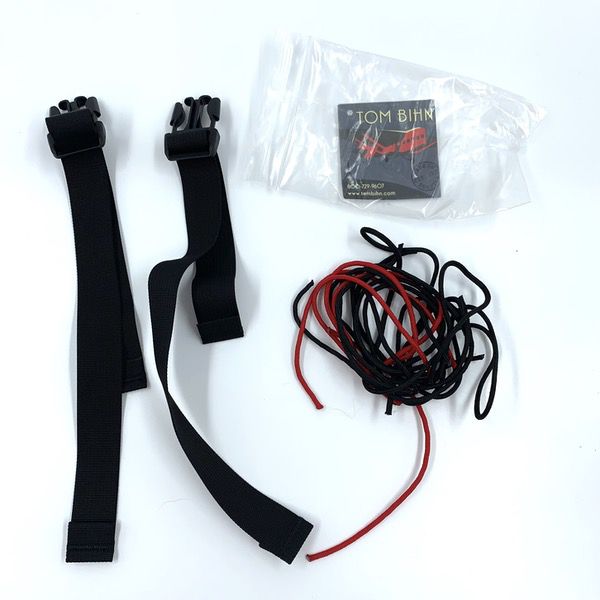 While the Guide's Pack includes a whole bunch of external attachment points and lash tabs for add-ons, the Shadow Guide ditches all of that. There's a single loop at the base of the bag to attach a blinky light, and that's it.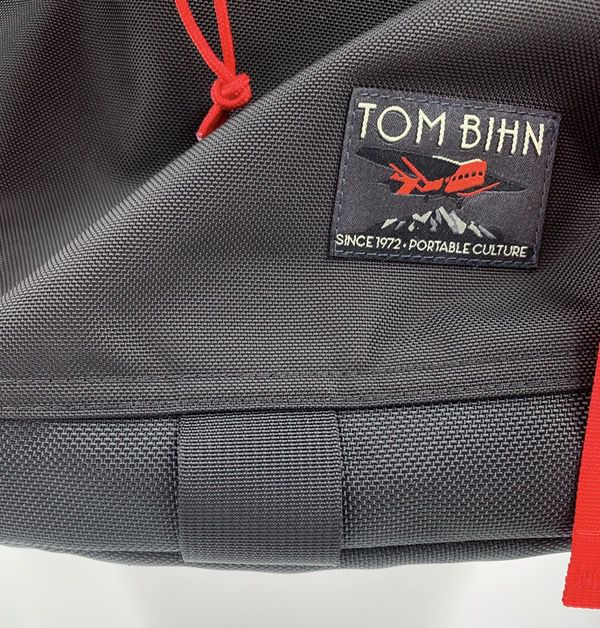 The Shadow Guide is a klettersack-style design. It's a top-loader with a drawstring closure, covered with a lid that keeps the elements out of your bag. There's also a second grab handle under that lid, so you can hang the bag if the lid is open. Very, very clever.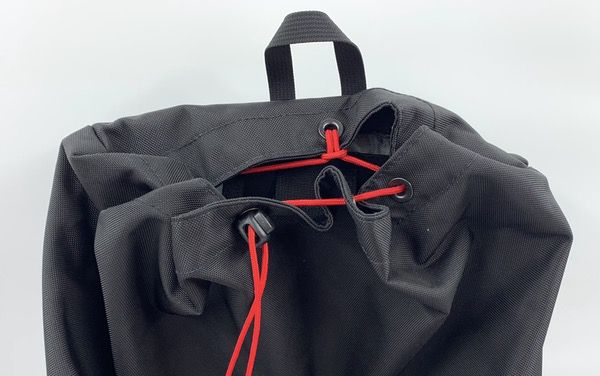 The lid snaps into place with two cinch straps and clip buckles. These straps are also adjustable so that you can tighten things up based on how much you are carrying: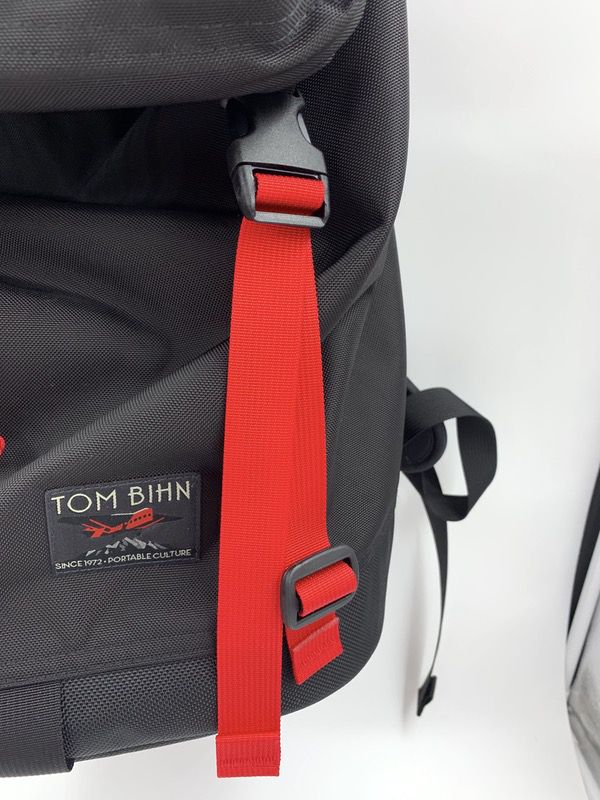 The lid itself opens to a big pocket that measures roughly 9″ by 9″ by 3″, with the zippered opening facing towards you (or down if you're not fully packed out). This configuration, coupled with a zipper hood, prevents rain from getting into your stuff.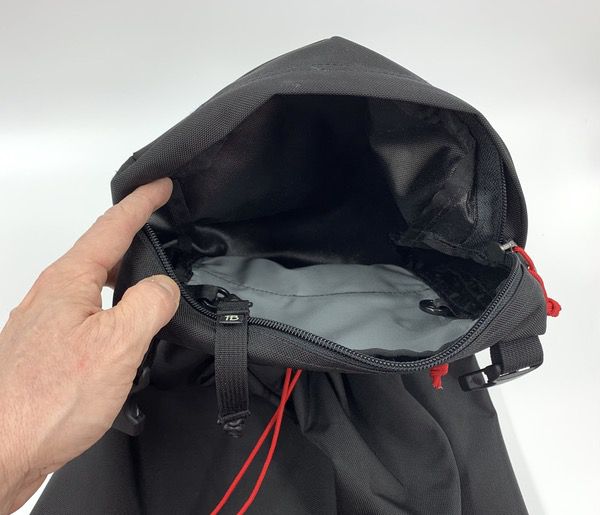 On the underside of the lid are two smaller mesh pockets that each measure roughly 6″ by 4″ each for collecting your smaller things like pens, keys, pocket knives, and the like.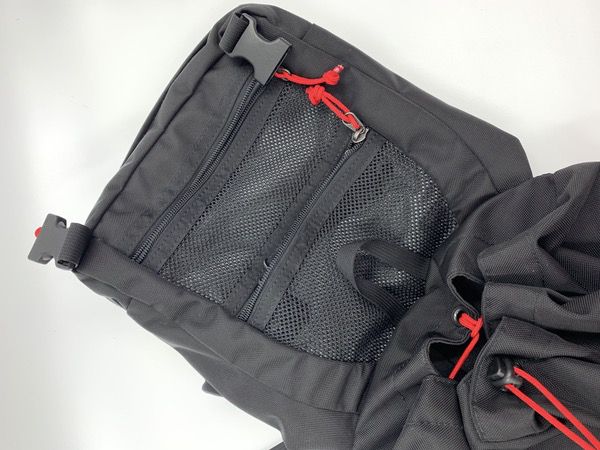 The main compartment is a vast cavern of open space that measures 12.6″ wide by 21.7″ tall by 9.4″ deep. There are no compartments or pockets in there. It's wide open for maximum packing versatility.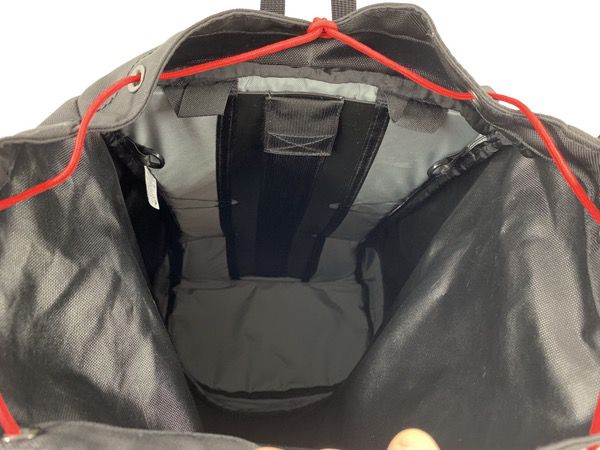 Simple, right? Not exactly. Tom Bihn designs are all about systems for customization and flexibility. Let's take a deeper look at how it carries, and how you customize the bag to meet your needs.
The Carry System
Tom Bihn has mastered the art of comfortable, adaptable carrying systems. The Shadow Guide incorporates elements of outdoor technical packs (like it's country cousin) to make this happen.
We start with the back panel, which is composed of two elements. A mesh upper back panel promotes breathability, while a ballistic nylon lumbar pad provides comfort where the base hits your back. This pad also extends to the bottom of the bag to protect your gear from dropsies.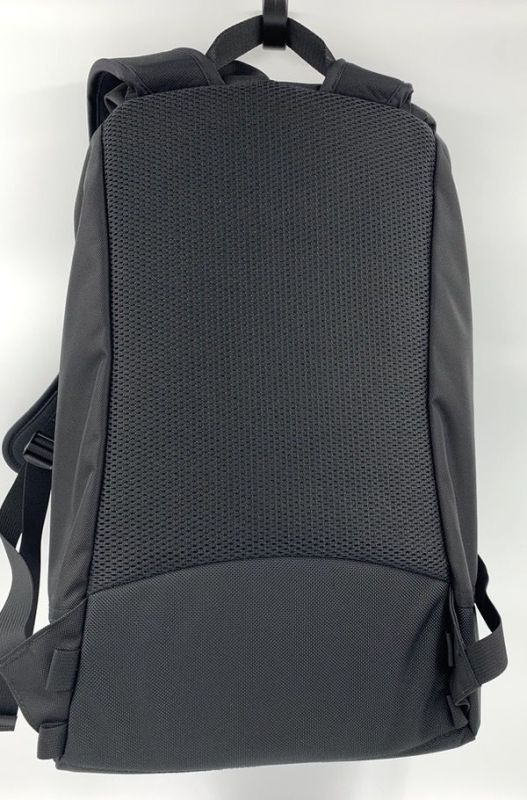 Behind that padded back panel is an internal frame made from a single piece of high-density plastic with a single (removable) aluminum stay that can be adjusted to match the curve of your back. This frame has 6 "fins" that insert into the slots seen in the picture below, allowing the frame to flex as you twist and move. You can also remove the frame entirely if that works for you.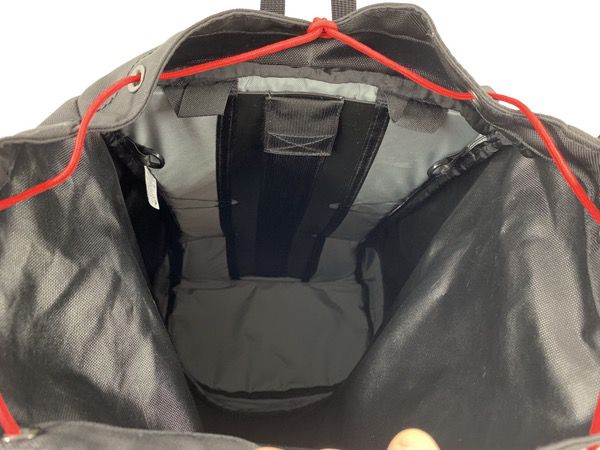 The shoulder straps themselves are curved and padded with adjustments for just about any body type.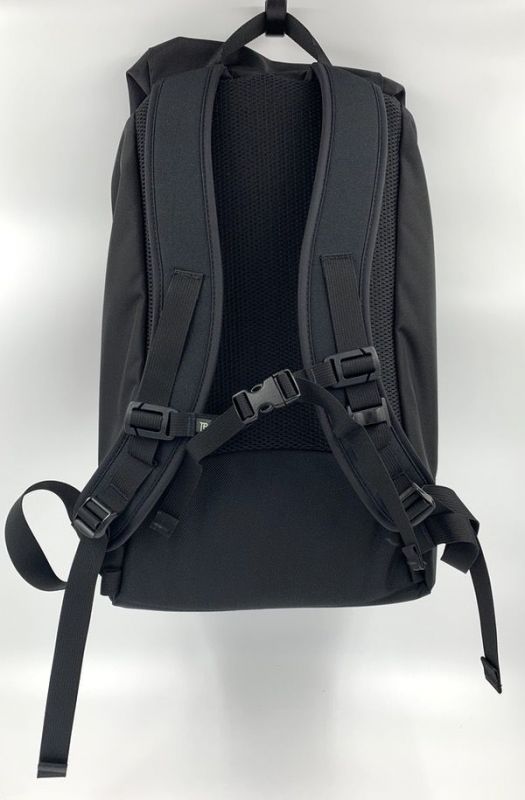 The hardware is chunky and built to last. Here's a close up of the sternum strap hardware, as well as the hydration loop that comes in the package. These can both be removed completely if you don't need them.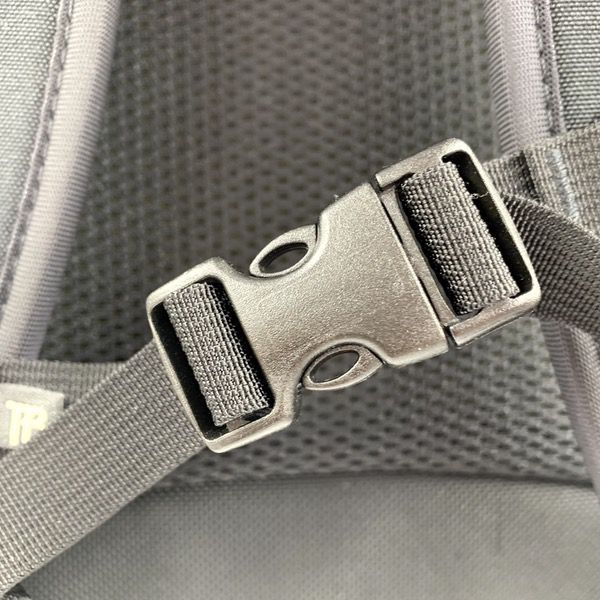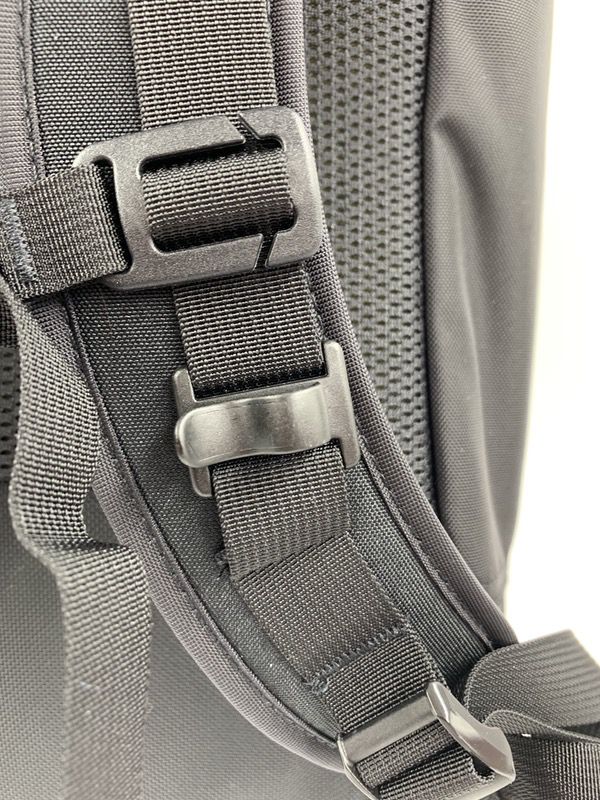 You'll find a 1″ waist stabilizer strap included in the package, which is probably all you'll need for regular daily carry. If you are hiking or traveling with heavy loads, you can also upgrade to the Shadow Guide Padded Hip Belt. Comparison pictures below: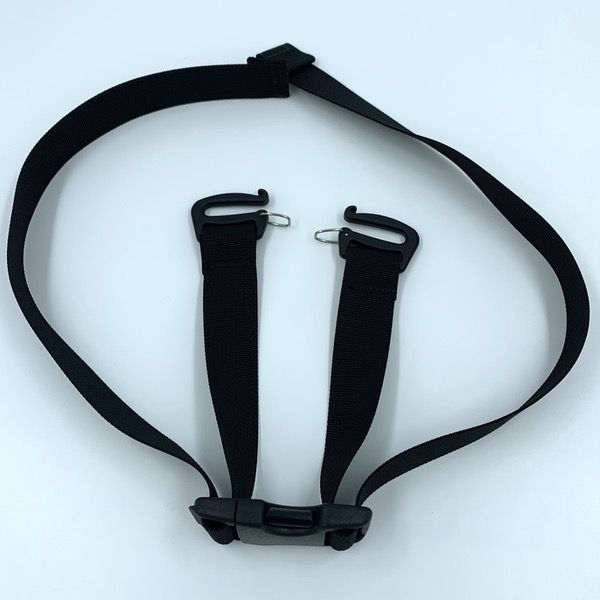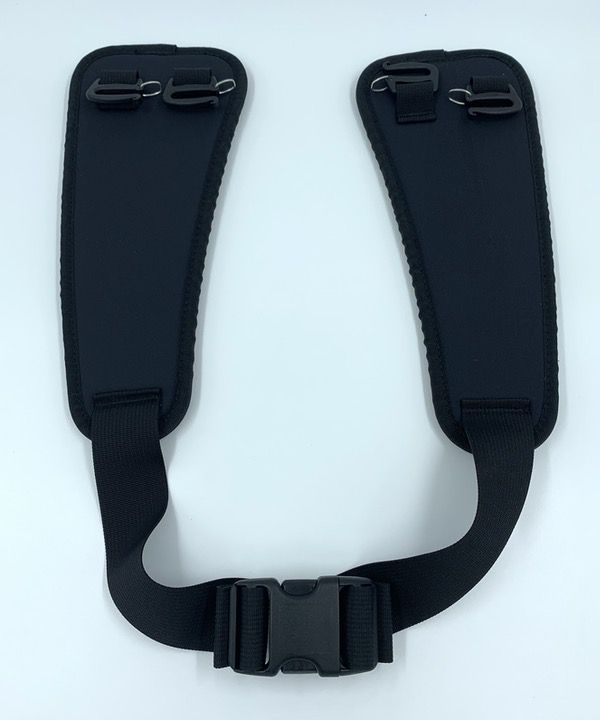 The Shadow Guide has a pair of loops cleverly tucked in behind the shoulder strap attachment points at the base of the bag that will accommodate either belt with rugged clips.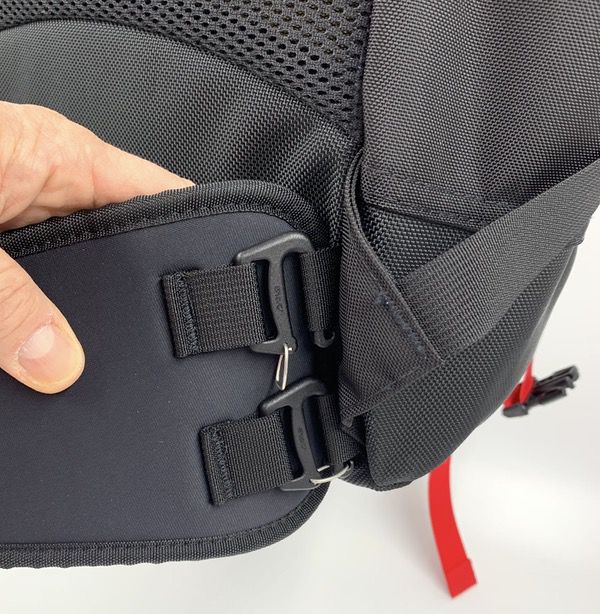 This all adds up to a ridiculously comfortable carry system no matter how you choose to use it. And despite all of that technical functionality, it adds minimal bulk and weight to the bag. It's got serious chops as a hiking bag, but you won't look like a misplaced Sherpa that got lost at the office when you head into work.
The Accessory System
One of the strengths of Tom Bihn's design philosophy is customization. While the bag is built to last forever, Tom recognizes that your carry needs will probably change on a regular basis. The Shadow Guide is made to adapt to these changing needs.
If you carry a laptop, Tom Bihn makes a sleeve called the Cache that can connect to attachment points in the main compartment of the bag. The Cache comes in sizes to accommodate just about every laptop and tablet out there, and the Shadow Guide handles them all. If you upgrade your laptop or carry different laptops at different times, you can swap them right into your bag. You can also swap that Cache out to other Tom Bihn bags. It's all about flexibility.
The other killer feature found in all Tom Bihn bags are the "O" rings, which allow you to attach all sorts of straps and accessory pouches. You'll find 5 on this bag: 2 in the main lid pocket, one in the smaller lid pockets, and two on the back of the main compartment of the bag. Tom Bihn includes one of their key straps with the bag, which allows me to hang my keys in multiple places: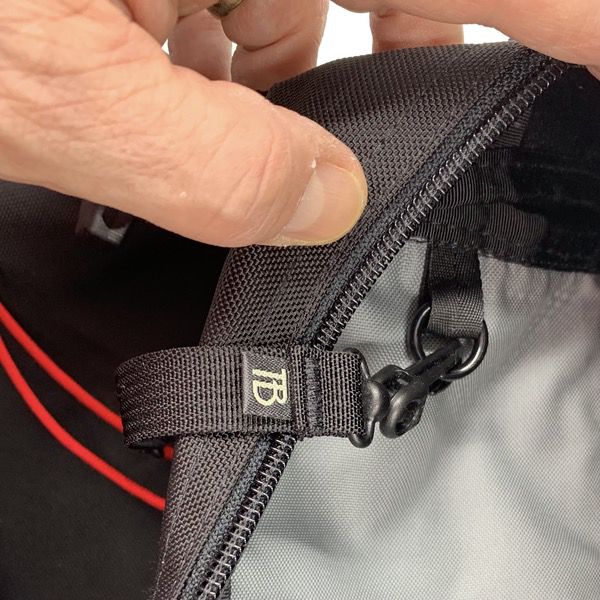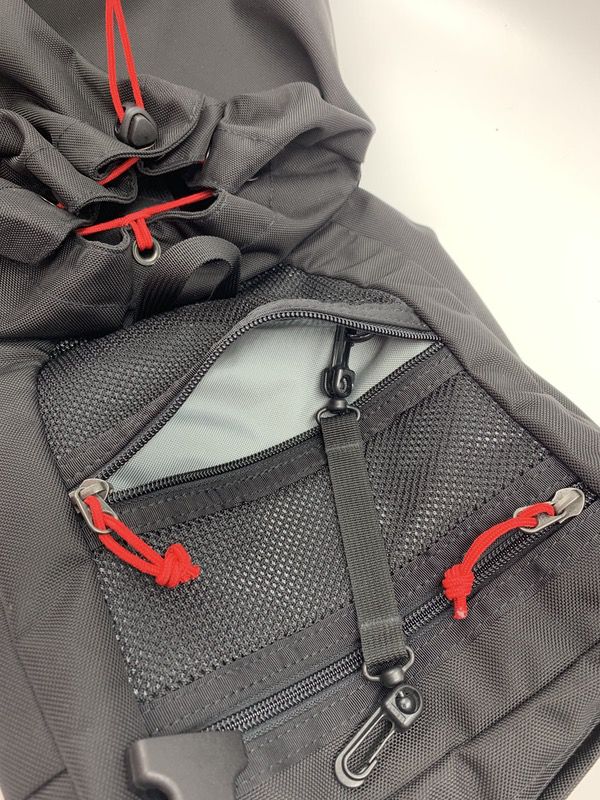 Tom Bihn makes dozens of varieties of accessory pouches for just about every need which clip to the "O" rings. I've got a collection of these I've gathered over the years to sort out all my small stuff, so I can customize my pockets to whatever I am managing that day.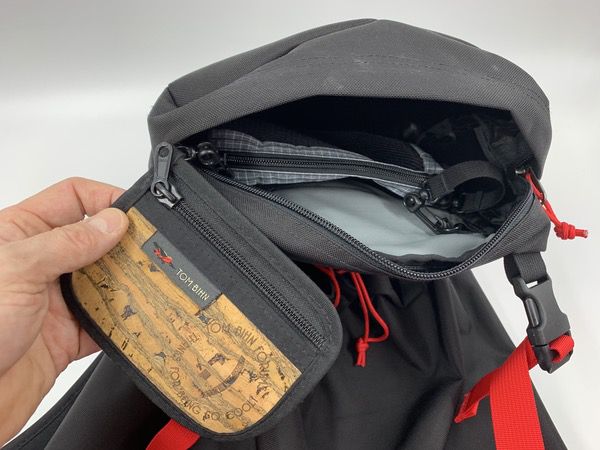 Tom Bihn also makes bigger accessory pouches for larger items or toiletries. I have two of these that I hang from the "O" rings in the main compartment. They sit high in the compartment so that I can flip them out as needed, with no fishing in the bottomless cavern!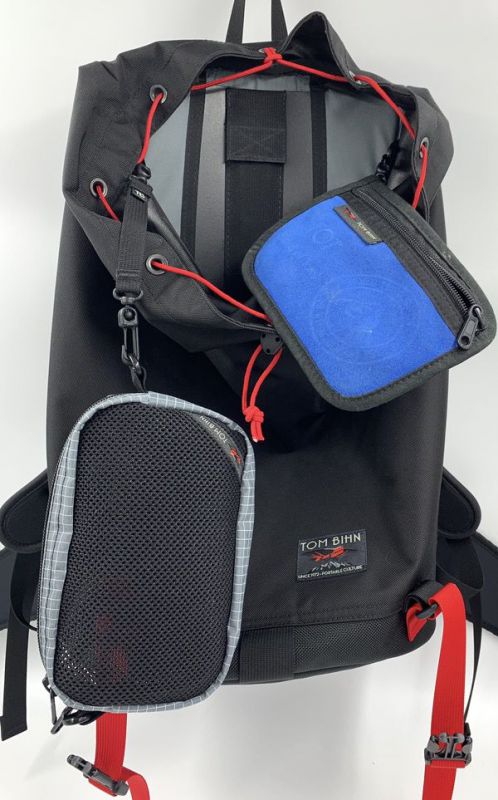 See that grey/black pouch in the clip? That's one of the new 3D Organizer Cubes. It's 7″ by 4″ by 1-1/2″, and includes "O" rings on each side so that you can attach it to one of those key straps. It's the perfect size for my MacBook power brick, cable, Magic Mouse and USB-C Adaptor.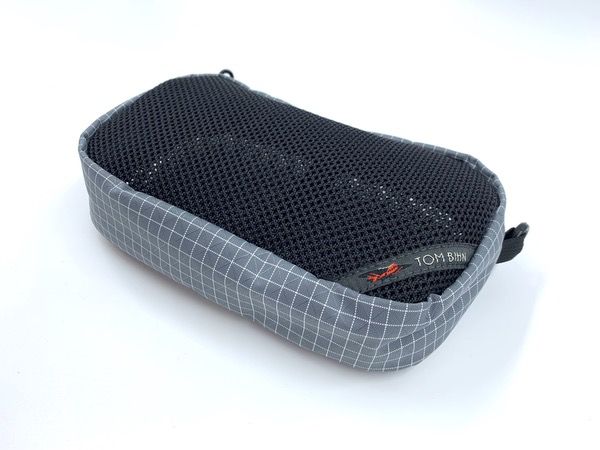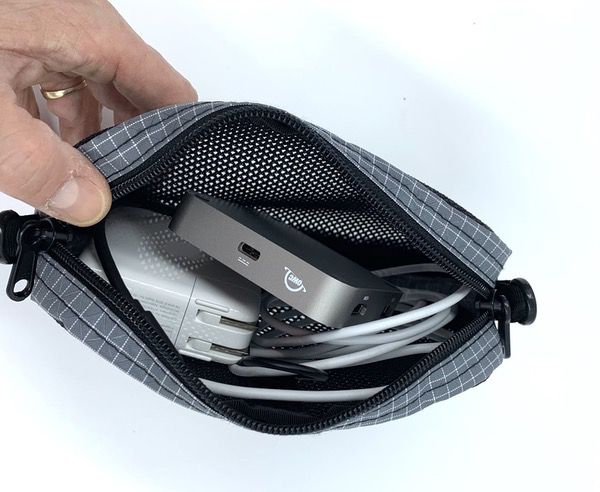 It's also got it's own hanging hook if you want to use it as a toiletry organizer or Dopp kit.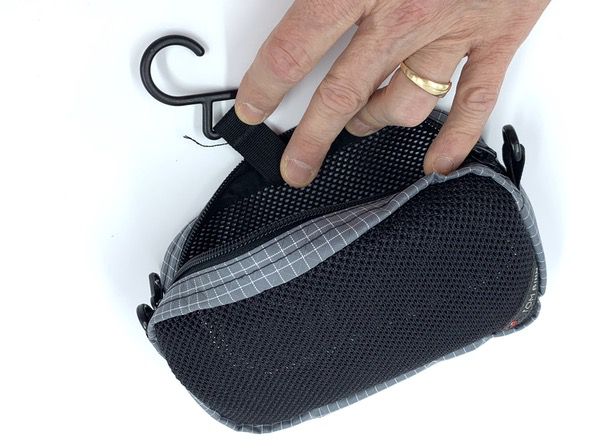 This extensibility makes the Shadow Guide a true multitasker. I keep my laptop gear, iPhone accessories, work accessories, and personal stuff in separate accessory pouches. I can pop out the pouches I don't need in moments and I am ready to go. If I switch between bags (I have a Tom Bihn briefcase as well), I can quickly transfer my gear without worrying that I forgot something. The options and combinations are endless.
Performance
The Tom Bihn Shadow Guide will never be mistaken for a slick, lean business pack. It's a big bag, made for carrying your life on your back. But I love the streamlined simplicity, and I think it works just fine for the business commute. It excels as a multitasking commuter that can switch gears for travel, as a weekend companion, or for outdoor adventures.
Here's my typical daily carry. I've got the MacBook Pro in it's own sleeve, my iPad, my coffee making kit, and a whole boatload of office and gadget accessories: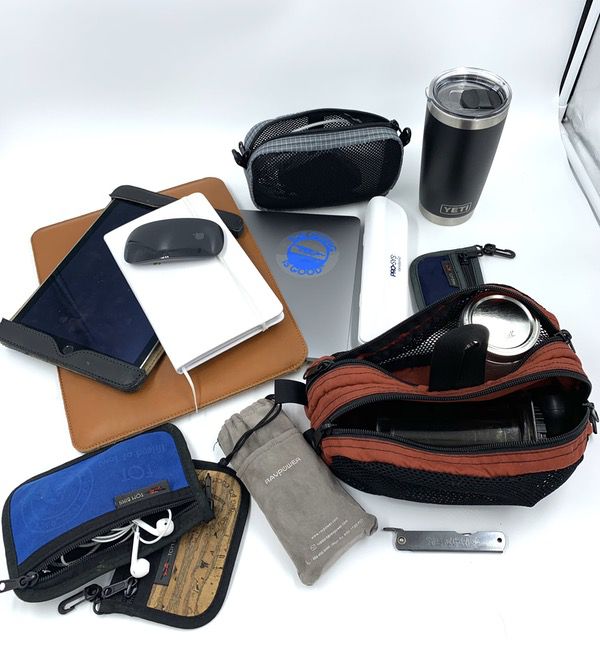 I drop this in the bag, and it's not even half full! I could fit my gym gear, a packed lunch, and a sweatshirt in there and still have room for more: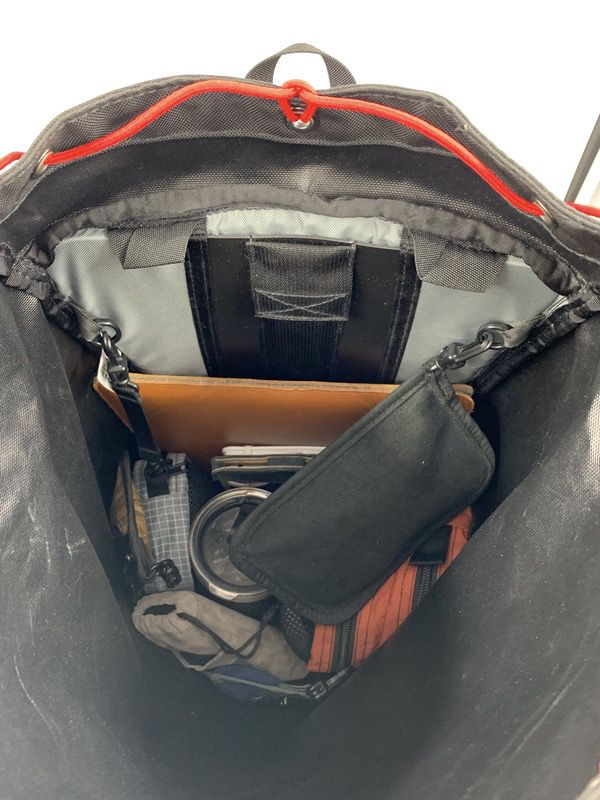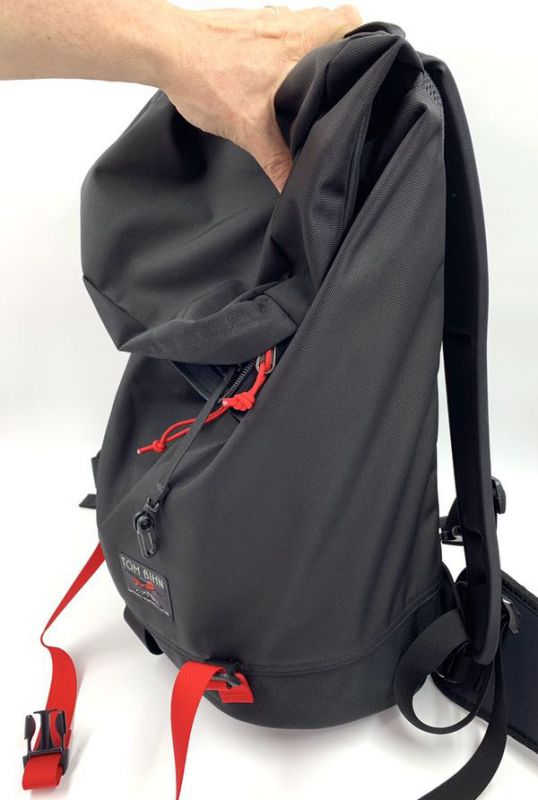 On a normal workday, I'll ditch the sternum straps and waist strap. I'm 5'10" and 195 pounds for reference.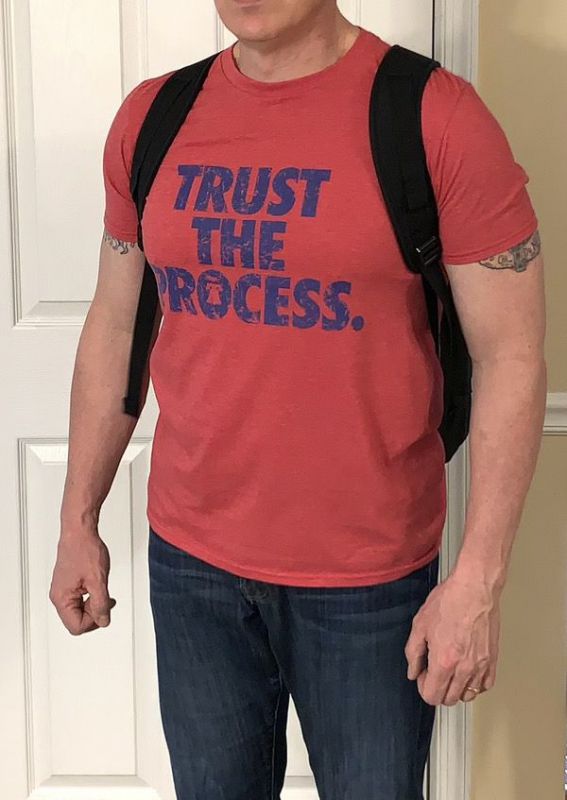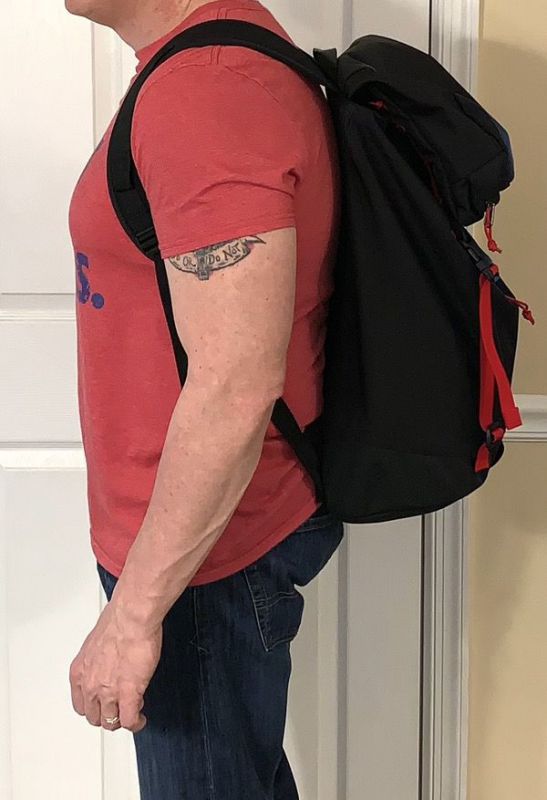 I haven't done any hiking with the Shadow Guide yet, but I plan to. Here are some shots with the padded hip belt and sternum strap in place: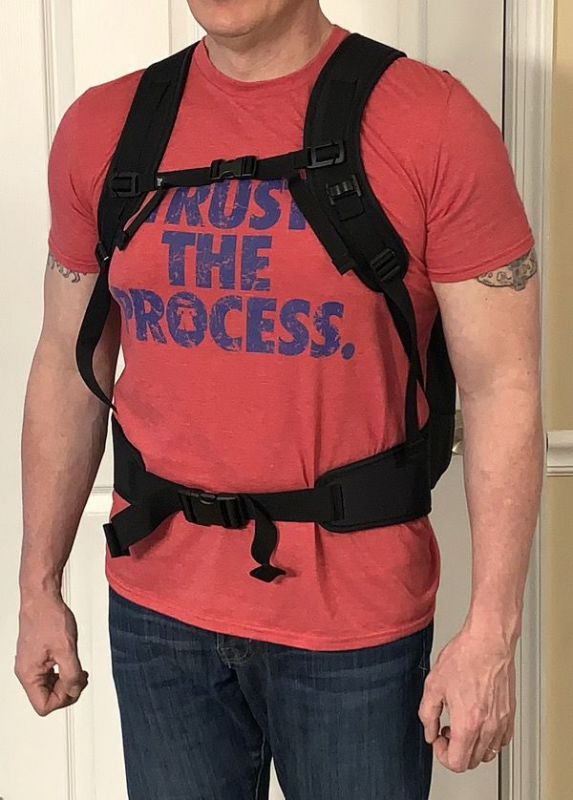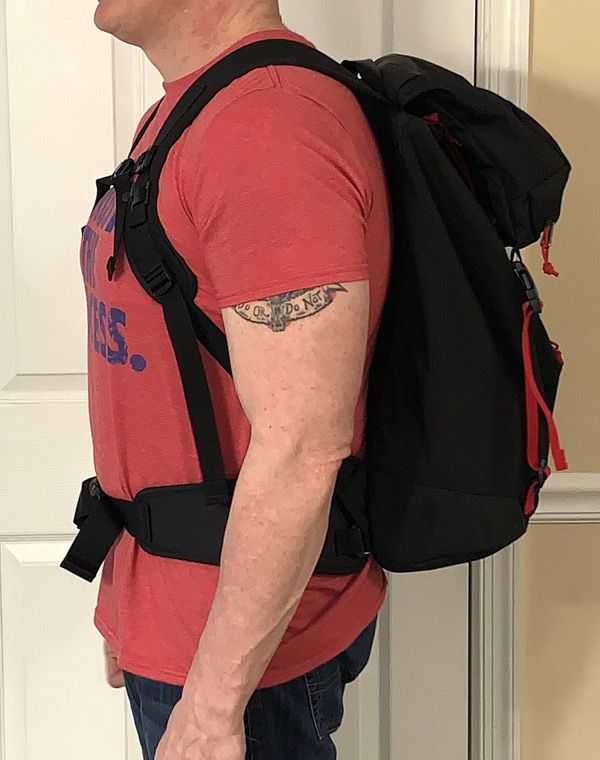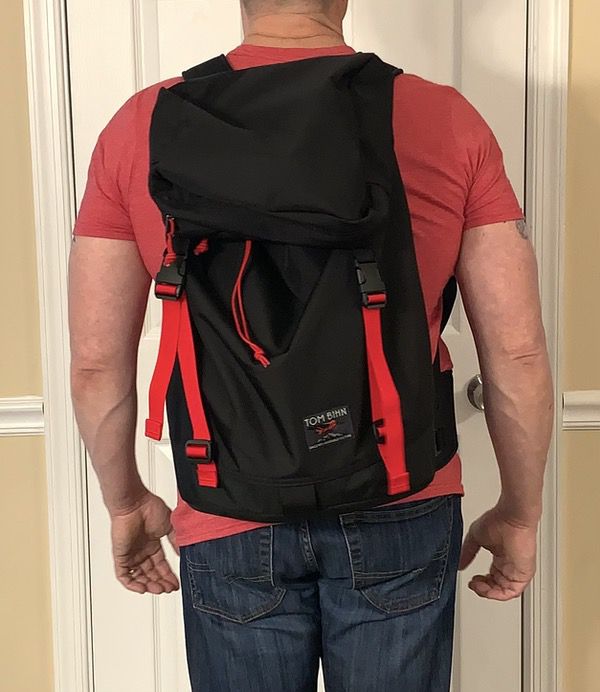 For all the goodness in the Shadow Guide, it's important to note that the simplicity and add-on customization isn't for everyone. If you like your bags to come pre-packaged with laptop compartments and all kinds of organization built in, this won't be your thing. It also doesn't have any external attachment points for hydration bottles and additional gear, but that's what you'd get the Guide's Pack for.
There is one other design element we should talk about, and that's the zipper configuration on the lid. That big space is marvelous, and the "O" rings are great for adding pouches… but the zip does point towards the ground unless you are fully packed out. This means that little items run the risk of falling out if you're not careful. If you're not using accessory pouches, you'll want to plan accordingly.
What I like
Perfect size for travel or hiking
Also perfect for carrying a days worth of work gear & gym clothes
Simple, easy configuration
Carry system is extremely comfortable and adaptable
Built to Tom Bihn's quality standards; the build, materials, and construction are among the best in the business
Amazingly light at under 3 pounds
What needs to be improved
Little built in organization — may not appeal to those who don't like purchasing extra accessories
The zip for the main pocket on the top lid points towards the ground — be careful with your packing and unpacking!
Final thoughts
You may notice that I didn't dive into materials and construction on this review, and there's a reason for that. It's a Tom Bihn bag, and that means you're getting the best in the business. Materials, construction, and assembly are flawless. It's a bag you'll buy for life; I have several Tom Bihn bags that are more than 10 years old, and still look (and function) like I bought them yesterday. You can see more about the construction details on their web site.
And that leads to my conclusion on this bag. If you're looking for one bag that could do it all, the Shadow Guide may be the answer you are looking for. It's got buttoned-down good looks, ample size without being ridiculous, and customization options to take you wherever you need to go. It will adapt to your needs as they change with simple precision. It doesn't get much better than that.
Note that this is a limited edition bag, and is currently showing as unavailable on Tom Bihn's web site. Hopefully, they'll make another run of them. We'll see!
Updates 03/12/19
The Tom Bihn Shadow Guide has been my go-to backpack since I started reviewing it. It's so simple to live with, and the flexible capacity is ideal for hauling all kinds of things. It will work as an office bag (with the right accessories), a duffle bag for weekend trips, or a water-resistant sidekick for outdoor activities. It's proving to be an ideal one-bag option.
Price: $220.00
Where to buy: Go to the Shadow Guide product page on the Tom Bihn web site.
Source: The sample of this product was provided by Tom Bihn