We use affiliate links. If you buy something through the links on this page, we may earn a commission at no cost to you. Learn more.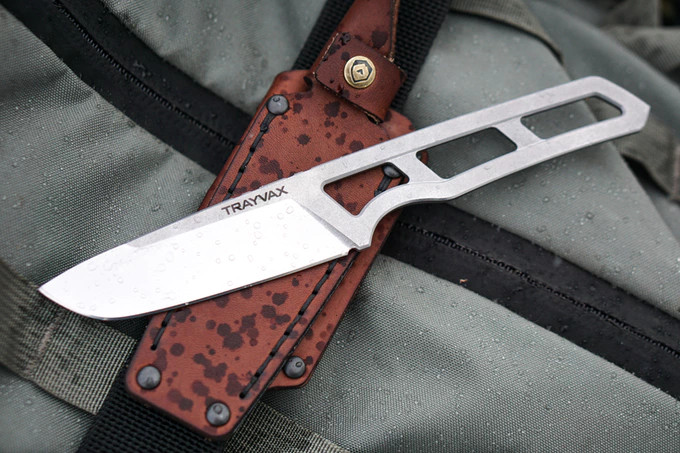 NEWS – Trayvax, a purveyor of extraordinary wallets, belts, and other accessories, has recently opened a Kickstarter project for their newest creation, the Trek Field Knife. The Trek Field Knife is a unusual beast in that it is CNC milled from a high-quality stainless steel blank rather than being stamped, cut, or forged from raw stock.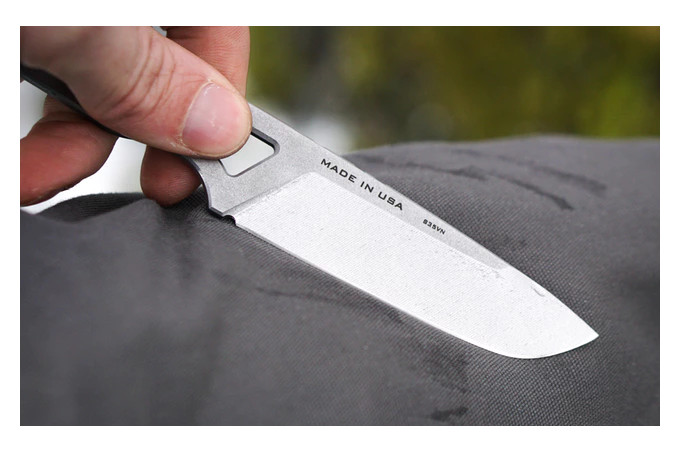 The Trek is a minimalist design with a skeletonized frame. The knife has a 3.5 inch blade with a 40º leading tip and a swept main edge. The overall length of the Trek is 7.9 inches. The blade's spine has thumb jimping (I had to look that one up) to help with knife control when needed. The spine is strong enough that the knife may be used as a froe when splitting kindling (also known as batoning).  This stainless steel knife has a bead blasted finish to complement the minimalist design and has a 3/4 flat bevel grind to provide predictable cutting.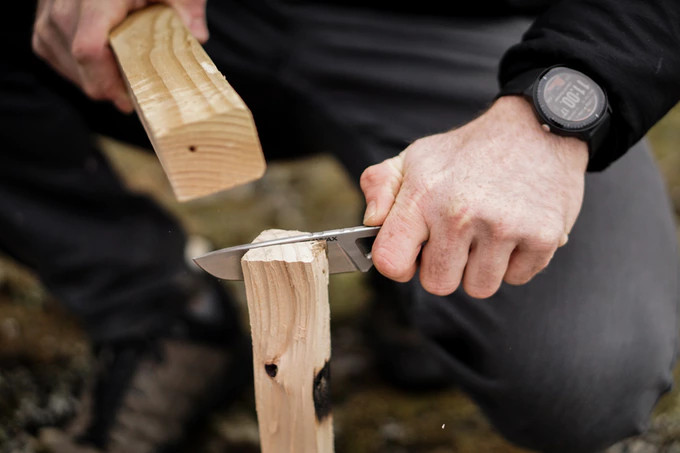 Trayvax is offering the Trek in either 440C (standard) or CPM S35VN (premium) stainless steel. For those, like me, who are not metallurgists (I forward those questions to my father, who has a doctorate specializing in ferrous metallurgy), 440C is a high carbon stainless steel with 16-18% chromium added for corrosion resistance. It is an industry-standard alloy that is used wherever precisely hardened steel with good corrosion resistance is needed. 440C steel can be found everywhere from high-end knives to industrial valves. S35VN steel is a premium alloy that was developed by Crucible Industries and knife maker Chris Reeve specifically for knife making. S35VN alloy steel is used almost exclusively in premium knives. Trayvax performs all of their milling in-house to maintain the highest levels of quality control and to minimize waste.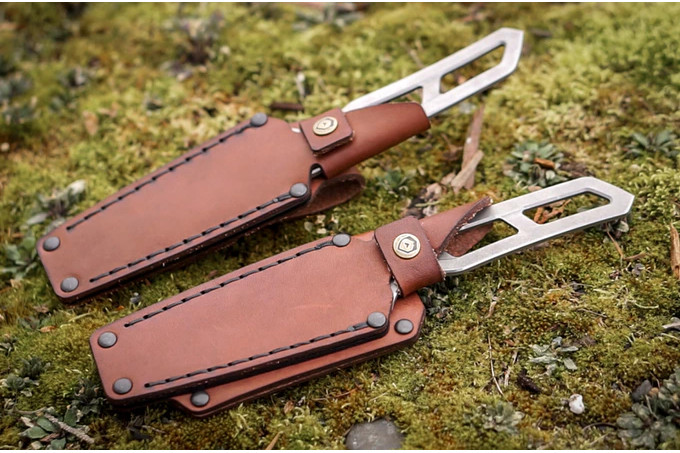 A Kickstarter pledge will get you a knife (or multiples if you choose) in your choice of stainless steels and your choice of a traditional, vertical carry holster (upper) or a combo (horizontal or vertical) carry holster (lower). Pledges for the 440C knives start at $90 for early bird supporters and the S35Vn knives start at $120.
Trayvax has mentioned the possibility of stretch goals to add scales or paracord wrapping to the handle, but have not announced anything official on the campaign page. You are of course free to modify your knife once it is in your possession.
You may find more details about the Trek Field Knife and make a pledge on Kickstarter. Those of you of a nervous disposition or who have an aversion to the intentional destruction of fine tools may wish to skip some of the testing videos.