We use affiliate links. If you buy something through the links on this page, we may earn a commission at no cost to you. Learn more.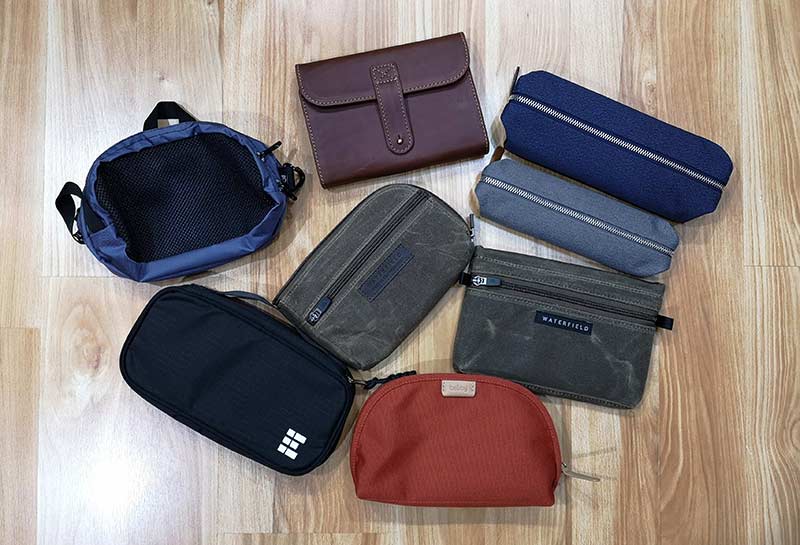 VIDEO – I thought I'd try something a little different and created a video where I talk about 8 gear pouches from 5 companies that you can use to keep your EDC gear organized. Here are the pouches that are included in the video. Check out the video below and let me know if you'd like me to continue creating videos like this one on a regular basis or if I should just stick to written reviews.
Electronics Travel Organizer and Tech Dopp from Zero Grid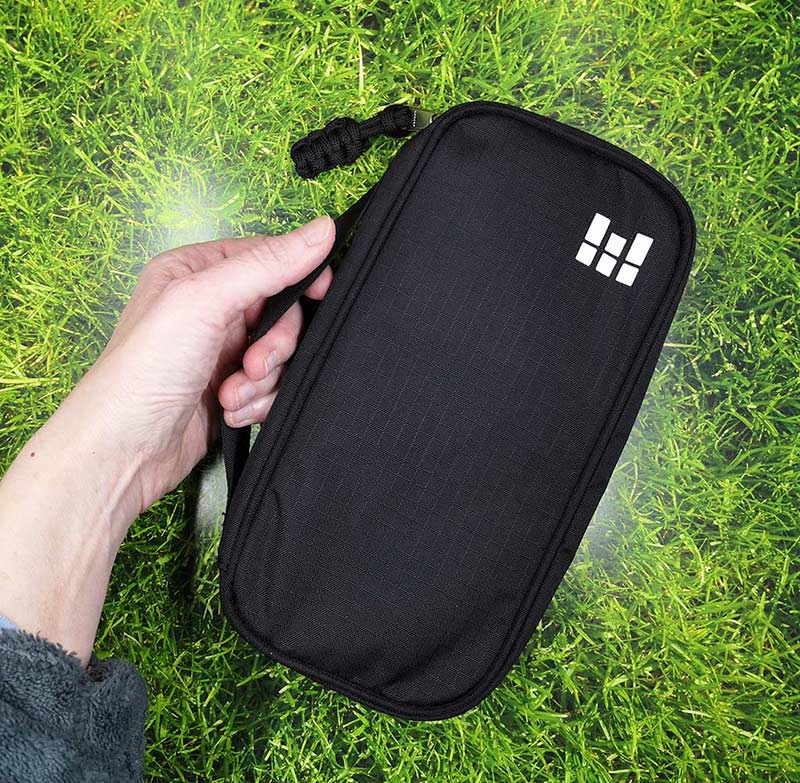 This gear pouch is 9 x 4.5 inches and is made of water-resistant ripstop nylon. It's available in black or silver. As you can see, I have the black version.
The pouch has a wrap around zipper with a paracord zipper pull that opens the pouch like a book to reveal 2 panels of elastic straps and a zippered pocket.
The elastic straps and the zippered pocket let you customize how you want to organize your gear. You can use them to hold flash drives, cables, pens, and more.
The Zero Grid Electronics Travel Organizer and Tech Dopp will easily keep your small items neat and organized and at $24.95, it's a bargain when you consider that it comes with a lifetime guarantee.
Price: $24.95
Where to buy: Zero Grid
Tom Bihn Snake Charmer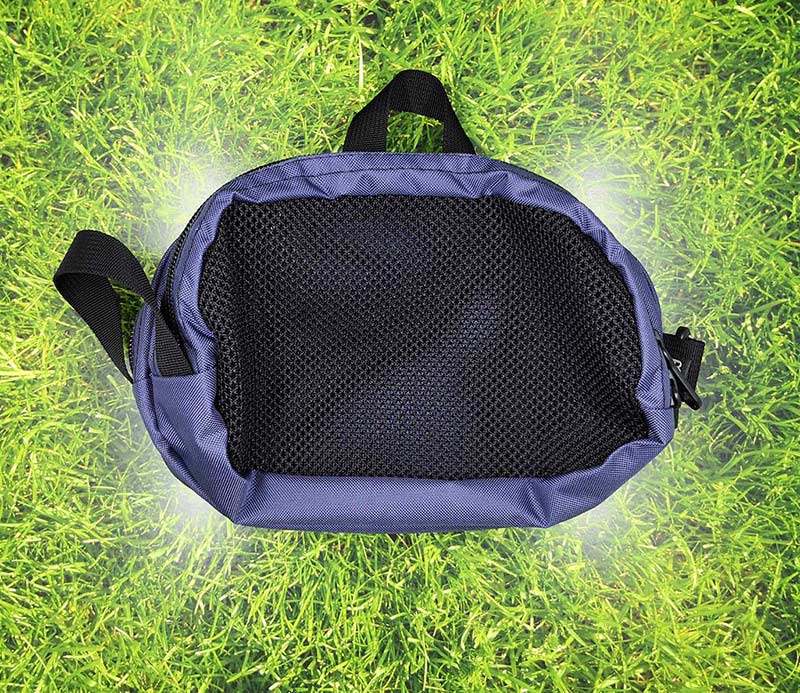 This pouch is available in a variety of colors and in either Cordura like you see here, or ripstop nylon.
The Snake Charmer features a webbed loop on the side and top along with a carabiner on the other side so you can easily grab it from your main bag.
There are two zippered compartments that each have a plastic ring that you can use to attach small items. But the main feature of the Snake Charmer are the see-through mesh panels that let you easily see what's inside.
Price: $25 – $30
Where to buy: Tom Bihn
Pad & Quill TechFolio Classic Cord Organizer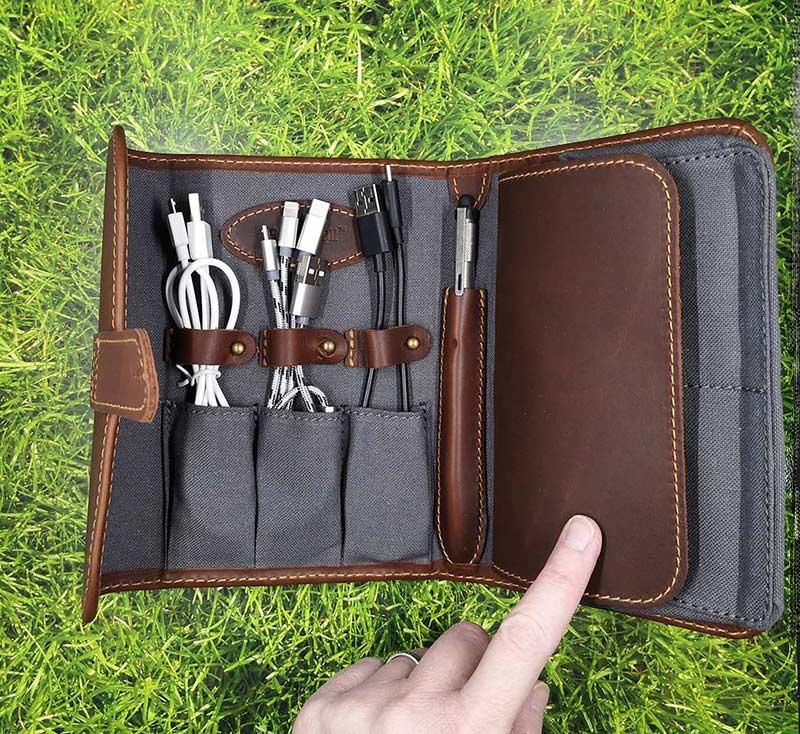 The Pad & Quill TechFolio Classic Cord Organizer is a leather and canvas folding wrap-style gear holder that features a full-grain leather construction that looks nice when brand new but will look even better after it's gotten some scuffs and scratches.
The folio is held closed with a strap and button type of closure which you may or may not like. Personally, I am not a big fan of it because it requires too much effort to use.
Inside the folio are three canvas slots with strap and button holders, a dedicated Apple Pencil slot a, a zippered canvas pocket, and 2 SD card slots. The Pad & Quill TechFoilo Classic Cord Organizer looks great if you're into rugged gear, but it really isn't designed to hold that many items and the $80 price tag is something else to consider.
Price: $79.95
Where to buy: Pad & Quill
Waterfield Gear Pouch and Tech Pocket
First, let's look at the gear pouch which is available in 3 sizes and colors. I opted to try the smallest version in a brown waxed canvas that has a great look and feel that will only get better as you use it.
The gear pouch features a zippered pocket on the front that has Waterfield's iconic gold liner that makes it easy to see the items inside and a wrap around zipper gives you access to the main compartment which has 4 slots that you can use to organize your small items. The Gear pouch is small, but it can surprisingly hold quite a few items which make it one of my favorites.
Then we have the Waterfield Tech Pocket which is only available in one size in either black ballistic nylon or the same brown waxed canvas as the gear pouch that I just showed you. Like the gear pouch, the tech pocket has a zippered pocket on the front that has the gold lining. But instead of a zippered main compartment, the tech pocket has a magnetic closure. The interior is lined in a soft dark plush material that provides some padding and protection. Two open slots provide some extra organization.
Price: $39-$49
Where to buy: Waterfield
Bellroy Classic Pouch, Pencil Case, and Pencil Case Plus
First, we have the Bellroy pencil case and the larger pencil case plus. The smaller pencil case is priced at $39 and comes in 4 colors. It is a simple zippered tube-shaped pouch that is sized to hold pens and pencils but can be used for all sorts of small items. The plus-sized version is $6 more and is slightly bigger to hold more gear.
The $49 Bellroy Classic Pouch is made of the same canvas material as the pencil cases, but it's a larger clamshell type pouch with a wrap-around zipper that has a leather pull tab. Inside the pouch is a roomy storage area with a large open topped pocket on one side and two stretchy pockets on the other side. Although the Bellroy pouches are simple, I really like them because they don't have features that get in the way. They are designed to hold your gear easily and simply just the way I like it.
Price: $39-$49
Where to buy: Bellroy
Which pouches are my personal favorites?
I like all of the pouches that I've shown you here, but if I had to pick favorites, I'd go with the Waterfield gear pouch and the Bellroy pouches just for their simplicity, look and feel.
Source: The samples for this review were provided by Zero Grid, Tom Bihn, Pad&Quill, Waterfield Design, and Bellroy.