We use affiliate links. If you buy something through the links on this page, we may earn a commission at no cost to you. Learn more.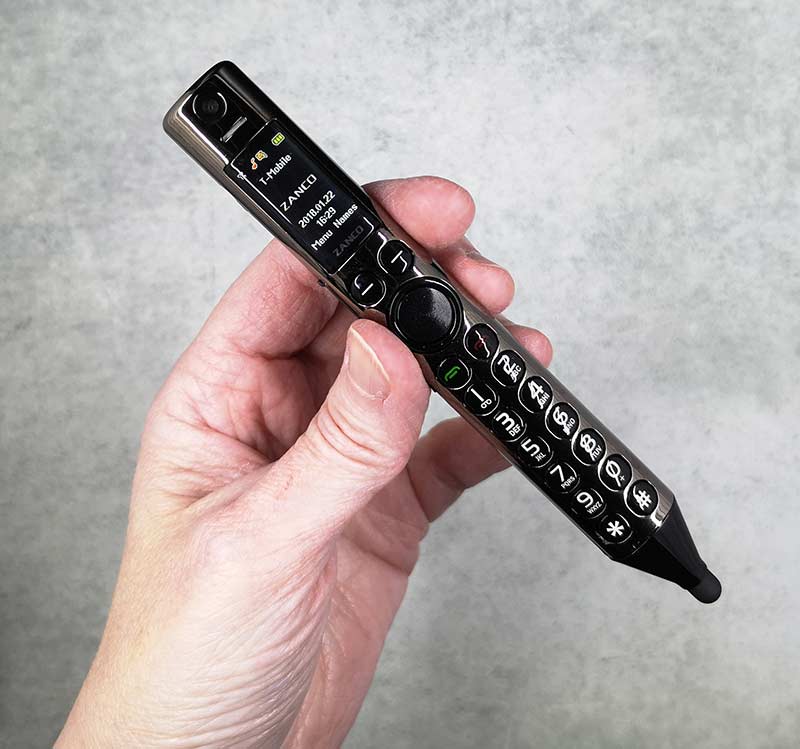 REVIEW – Zanco, the folks behind the Tiny T1 phone are back with another Kickstarter campaign for a unique phone called the Smart Pen. You can use this device by itself as a 2G phone or you can use it paired with your existing smartphone as a multi-function accessory. Either way, people are going to notice it and you when they see it. They sent me a pre-production sample, so let's take a closer look.
What is it?
The Zanco Smart Pen is a stand-alone 2G GSM phone or when paired via Bluetooth with your iOS or Android smartphone, it becomes a wireless handset with lots of built-in features like a camera, laser pointer, voice changer, a stylus, and more.
What's in the box?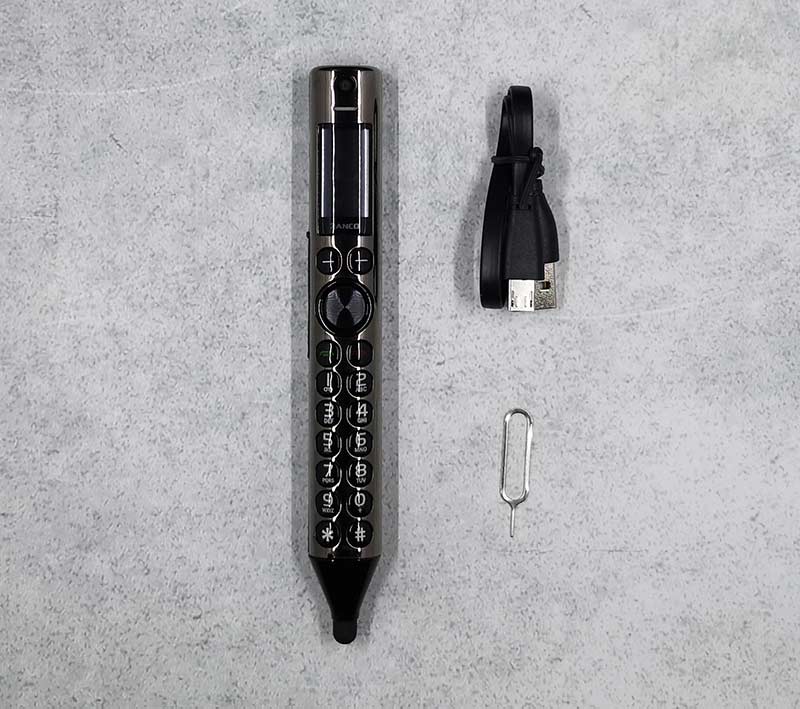 Zanco Smart Pen
micro USB charging cable
SIM card tool
Hardware specifications
Frequency – GSM900/1800 or GSM850/100
Display – TFT .96in color, 80 x 160 resolution
Camera – Front 0.3MP, Back 0.3MP
Bluetooth – V3.0
Battery – 400mAh
Design and features

The Zanco Smart Pen is shaped like a large pen but the name is a misnomer because the Zanco Smart Pen really doesn't have a built-in pen. However, it does have a built-in stylus that you can use on your tablet or smartphone display. The Smart Pen has a small color display with a camera and speaker above it and a panel of function buttons and a phone keypad below it along with a microphone down towards the stylus tip.

On the back of the Smart Pen, you'll find the back facing camera and a speaker.

On one the side is an attachment for a lanyard, a 3.5mm headphone jack, a micro USB charging port, and a cover for the micro SD card slot and SIM card slot.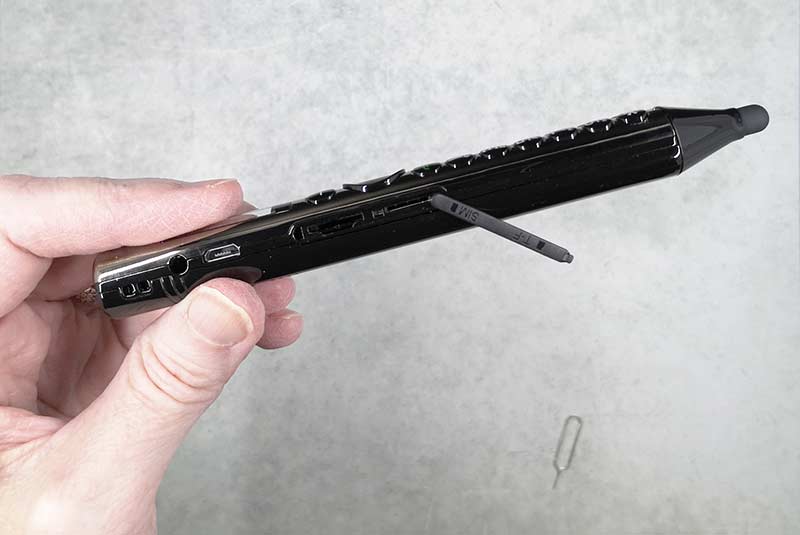 One thing I noticed was that the micro SD card slot is not spring loaded, which means it's a little tough to remove the card once it's inserted. I actually had to use a sharp pin to pick the edge of the card so I could slide it out of the slot. The SIM card slot, on the other hand, is spring loaded, which confused me even more since included with the Smart Pen is a SIM removal tool which you don't need.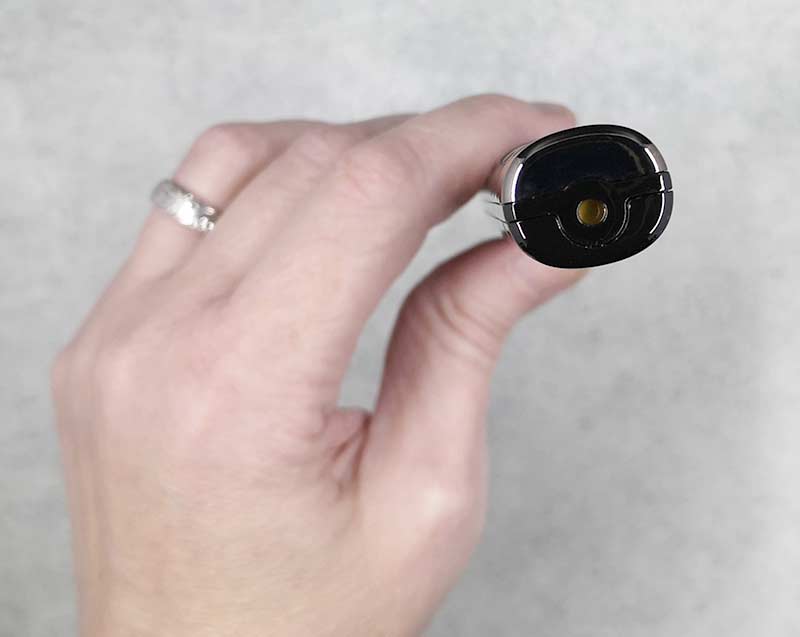 The top edge of the Smart Pen has a laser pointer which you can toggle on and off by pressing and holding the round multi-function button on the front center of the device.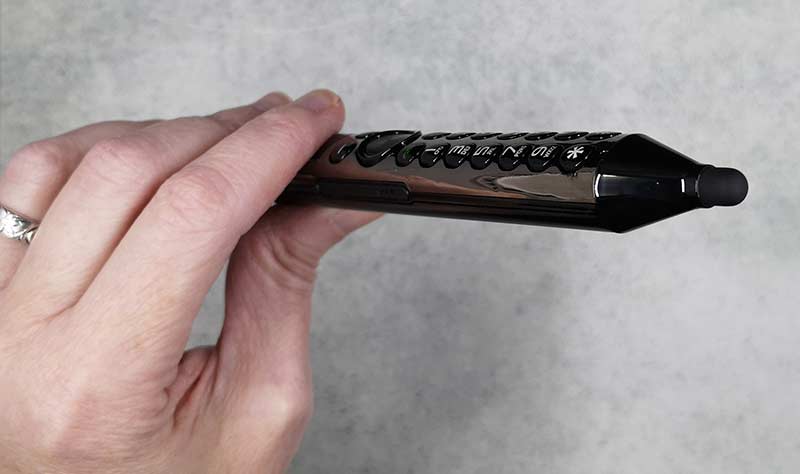 As a stylus, the Smart Pen works as well as any other capacitive stylus. That said, I would have rather had an actual pen built into the Smart Pen instead of a stylus. Of course, having a pen would mean that they would need to offer refills as well, so I can see why they went with a stylus.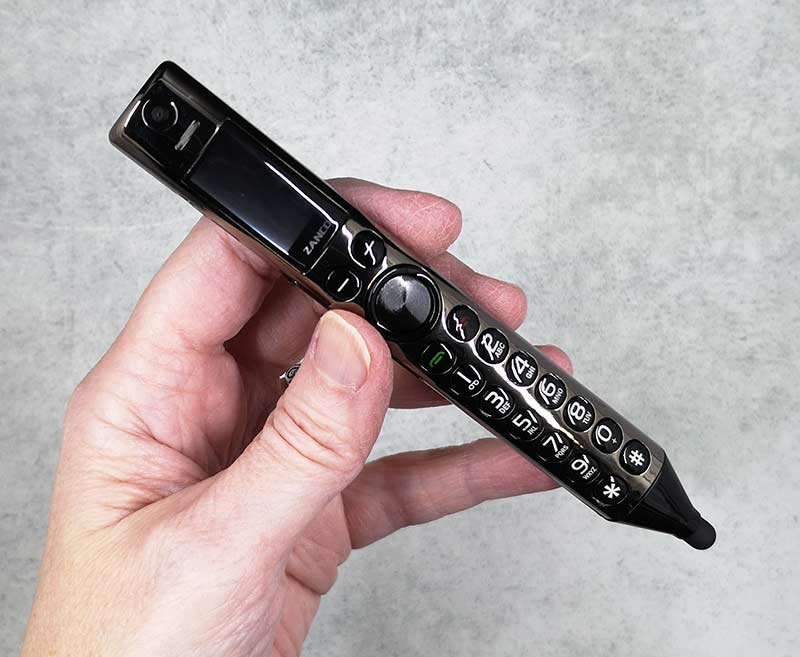 Size-wise, the Zanco Smart Pen is the right length to use as a stylus and the right length to hold up to your ear as a phone.
People will wonder what the heck you're talking into when they see you using this device as a phone, but it's actually quite comfortable to use that way.
Built-in features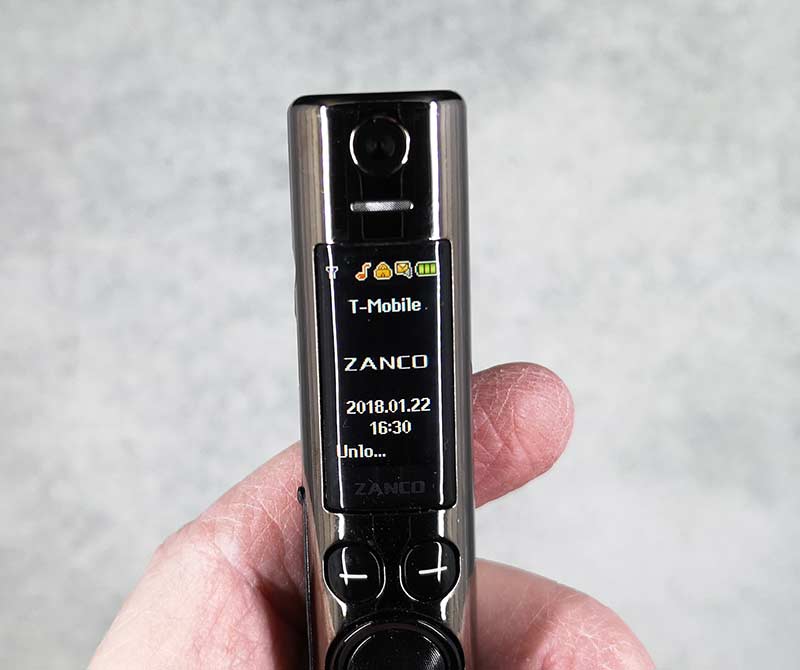 First of all, the Zanco Smart Pen can be used as a cell phone as long as you have a SIM card for a GSM carrier such as T-Mobile, AT&T, etc. I tested this device with a Mint SIM, which uses T-Mobile. With the SIM installed, pressing any button on the device will wake up the display to show the carrier, signal strength, battery capacity, other status icons, in addition to the date and time. As far as the time and time stamp goes, the device shows the wrong date and the wrong time but you can go into the settings to customize it. I'm not sure why it doesn't get that info from the carrier.
Other features include a phonebook where you can store your favorite contacts, an MP3 audio player, a sound recorder, voice changer, an FM radio, and a text message app. For texting, you'll have to brush up on the old school text message typing where you have to press each key multiple times to get the letter you want. For example, if you needed the letter C, you would have to press the 2 key 3 times as the first time would be A and the second press would give you a B.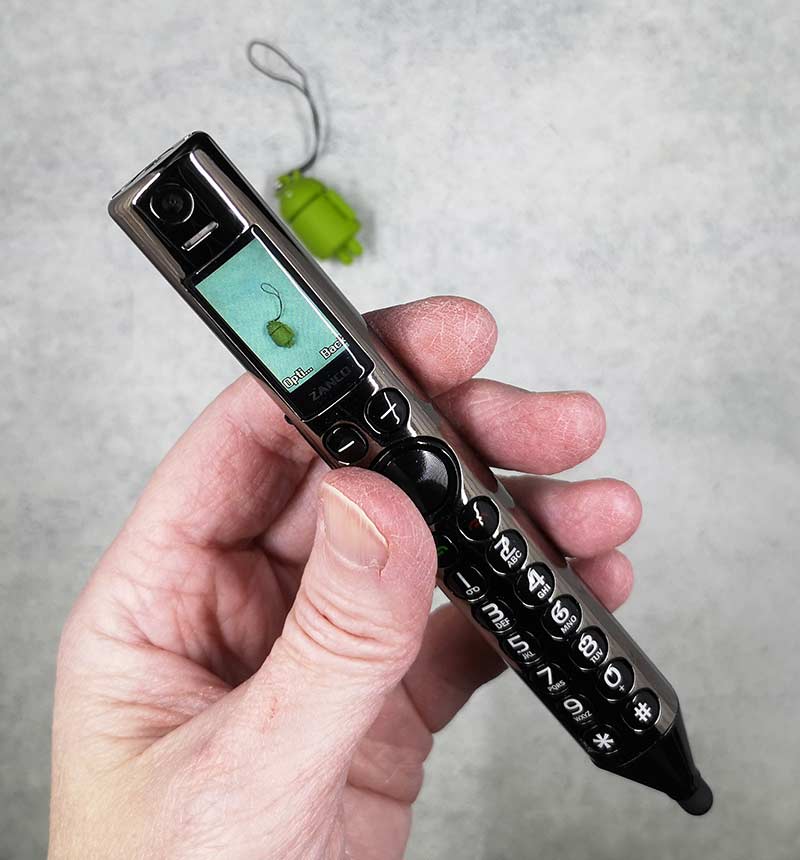 The Smart Pen also has 2 cameras. One on the front for selfies, and one on the back for everything else. Don't get too excited though because the image quality will take you back a decade or so. Here are a few example images.
No, these pics aren't thumbnails that you can click to see the full size. They are full size. Yep, they are 80×160 pixels. There are settings that will let you switch to 640×480 but the setting doesn't stick. I'm guessing they are still working on the software.
What I like
Fun novelty standalone phone or Bluetooth handset for your existing phone
Multi-functional
Can be used as a real cell phone to make and receive calls or text messages
What needs to be improved
Camera quality needs to be improved
Final thoughts
Yes, you can make and receive calls with this phone as long as you have a SIM for a compatible carrier. I used it on the T-Mobile network and it worked fine for my test calls. Would I want to use the Smart Pen as my primary phone? Ummmm, no. Sure it works fine in a pinch, but it ain't no smartphone. On the other hand, it doesn't offer all the distractions of a smartphone AND the battery can last for up to 6 days on a charge which is something no smartphone can do. When it's all said and done, the Zanco Smart Pen is a novelty phone just like their Tiny T1 phone. It's a fun little conversation starter with a few useful tools built in like the stylus, laser pointer, and the ability to be used as a stand-alone phone or a Bluetooth handset for your existing smartphone.
Price: $49.00
Where to buy: Kickstarter with rewards set to ship in April
Source: The sample for this review was provided by Zanco.