We use affiliate links. If you buy something through the links on this page, we may earn a commission at no cost to you. Learn more.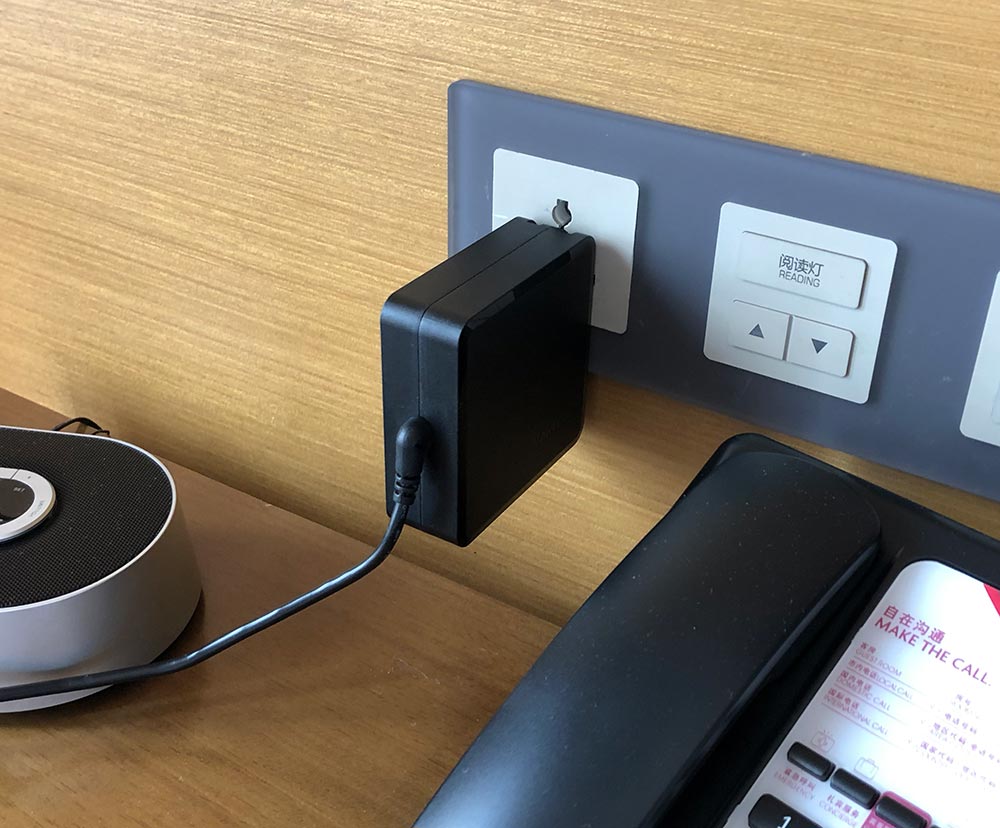 REVIEW – Wall chargers, especially for laptops are a very necessary evil. It's a pain to carry it with you from place to place, but if you make the choice to leave it behind, you're almost guaranteed to run out of juice. Until recently, if you chose to run an Apple laptop of some variety, you were limited to using Apple manufactured wall chargers as well as a result of their proprietary magnetic connector. With the switch to USB-C on more recent laptops, there are now some excellent alternatives. Nekteck makes just such a product and as it would happen, sent one over for review.
What is it?
It's a USB-C Wall charger for any device that needs up to 90w of power. That means the primary target is laptops, but USB-C devices of any kind should also be able to use this. If you're thinking that was a long product name up in the title, it's actually quite a bit longer. Here's the full product name that I would guess is aimed at Google keywords…
Nekteck USB-IF Certified 90W Type C Wall Charger with Built-in Cable Power Delivery Compatible with MacBook/New MacBook Pro, Google Pixel 3/2/ XL, PixelBook, Galaxy S9 S9+ S8, Nintendo Switch, Black
How's it work? Let's move along.
Hardware specs
Input: 100V-240V/AC, 50/60Hz

Output: Type-C PD 90W Max

USB-C Output :5V/3A,9V/3A,15V/3A,20V/4.5A

Dimensions: 3.34 x 3.34 x 1.18 inch

Cable Length: 6ft

USB-IF,UL/CE/FCC/RoHS certified with 6 circuit design protection( Automatic Recovery, Over Voltage Protection, Over Current Protection, Short Circuit Protection, Safe Charging, Radiation Protection )
What's in the box?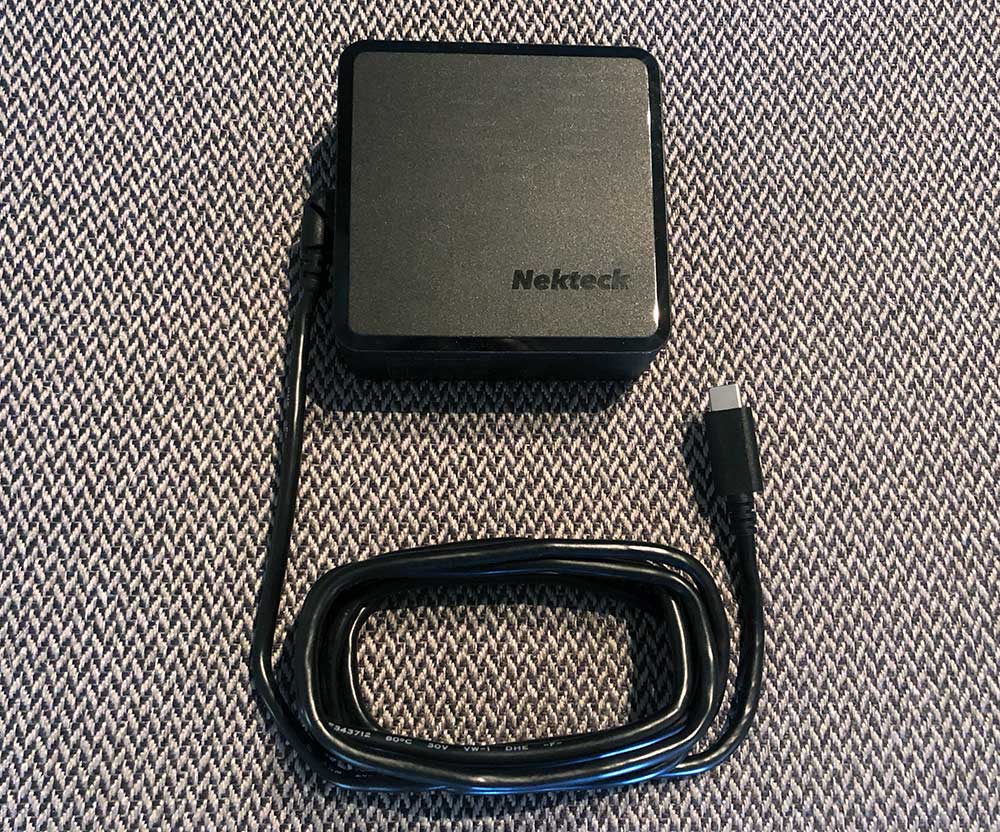 1 90w USB Type C Wall Charger
Design and features
The square design is rather unassuming. The plastic enclosure features a textured matte surface with a polished gloss logo on the front face and along the perimeter on each side.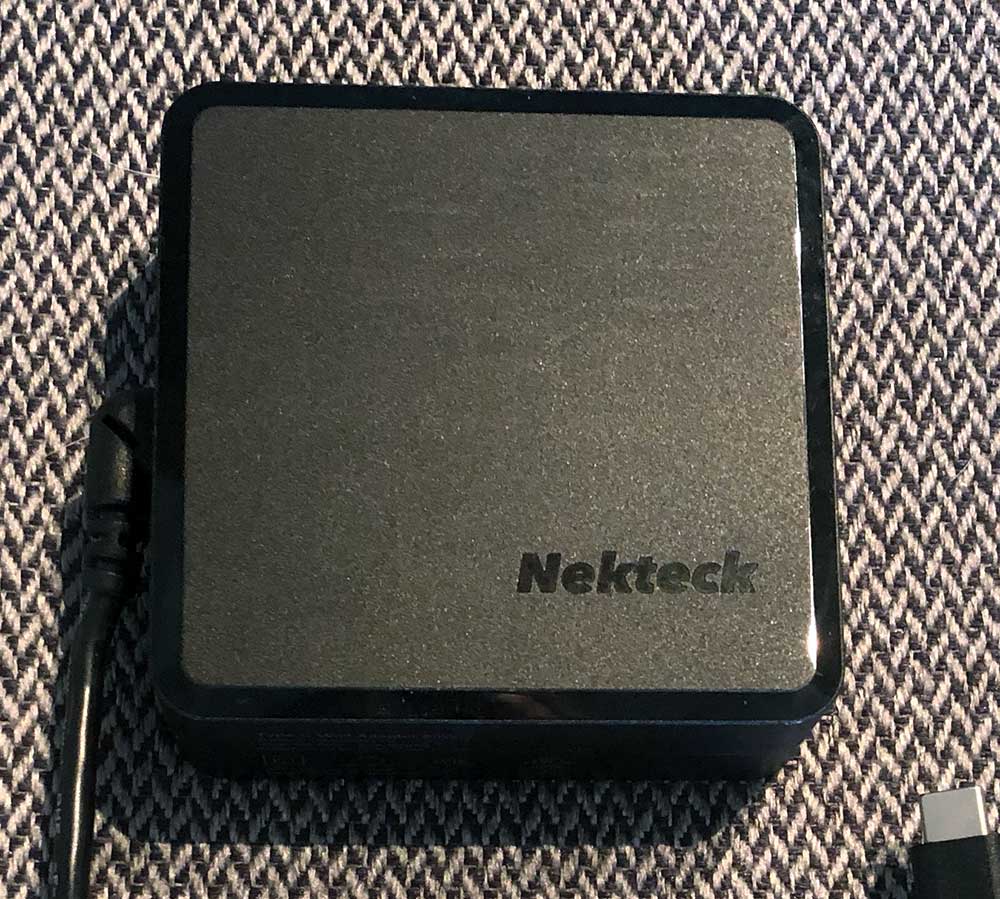 There are two key physical features of the design. Foldable US style prongs…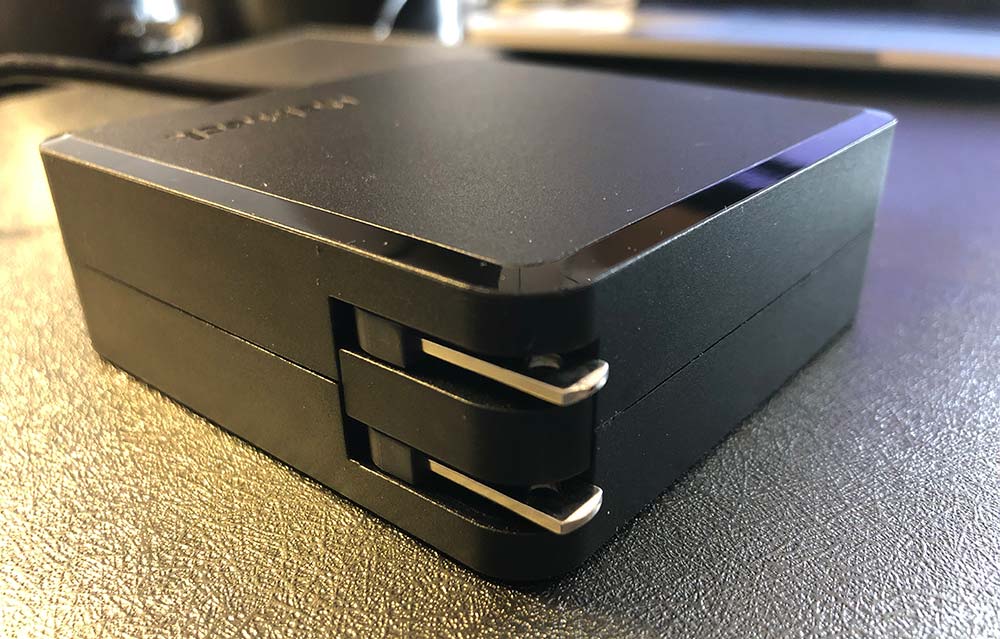 and a tethered USB Type-C cable with a well designed 90º strain relief at the connection to the charger.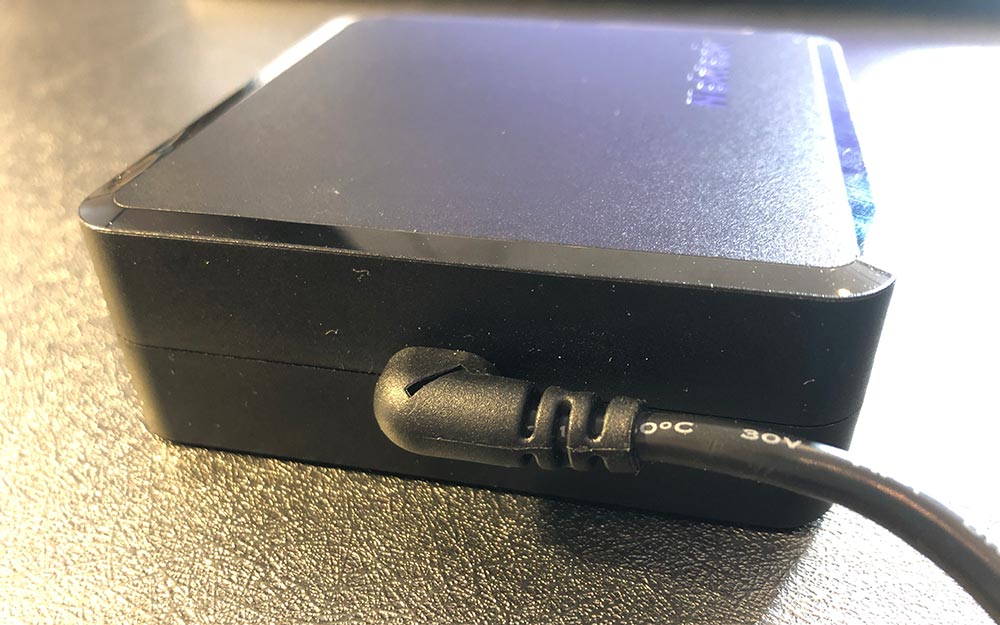 Setup
Connect the wall adapter to a compatible outlet, and then the USB connector on the end of the cable to the USB-C or USB-C (PD) device that you need to charge.
Performance
There are some products that you just need to work every single time. A laptop wall charger is a perfect example of that. Like many of you, my day job requires a laptop. I need to go from my desk, to meetings, back to my desk, home and back again. A single wall charger can totally handle the job, but you'll leave it behind sooner or later.
The Nekteck charger is straightforward in that the cable is permanently attached with the connector you need on the end. The 90º tethered end points down and flexes to either side depending on where your outlet's location is to you. The prongs fold easily, but have enough over-center resistance that they aren't folding on you every time you blindly try to plug it in the wall. The USB-C connector slides into my Mac easily and the last few millimeters of travel provide that satisfying "snap" sound that lets you know you're properly connected. Side note: I only noticed in posting the below picture, how much more USB-C connectors get beat up over the older magnetic style.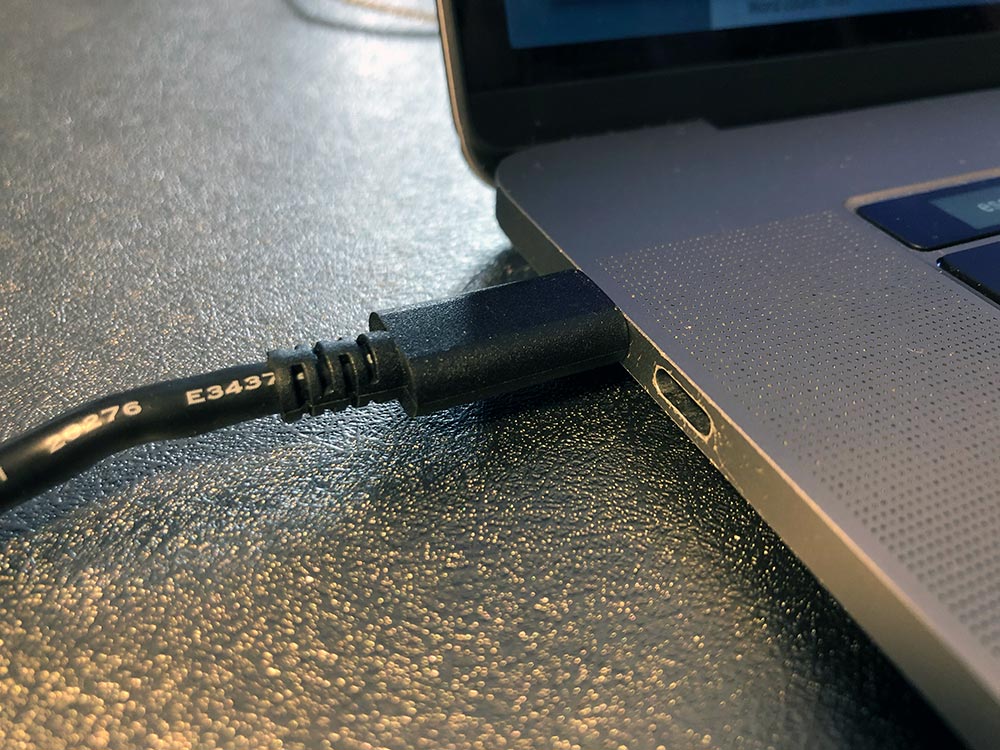 The cable is similar in thickness to the cable that came with my Apple charger, but seems a bit less flexible which makes it a bit harder to wrap it up for carrying. Speaking of carrying, there's no cable management for keeping it in the wrapped position. Apple doesn't provide a solution for theirs either, and their cable is completely separate which arguably makes it worse. Luckily, I had something available to use for that purpose that works just fine.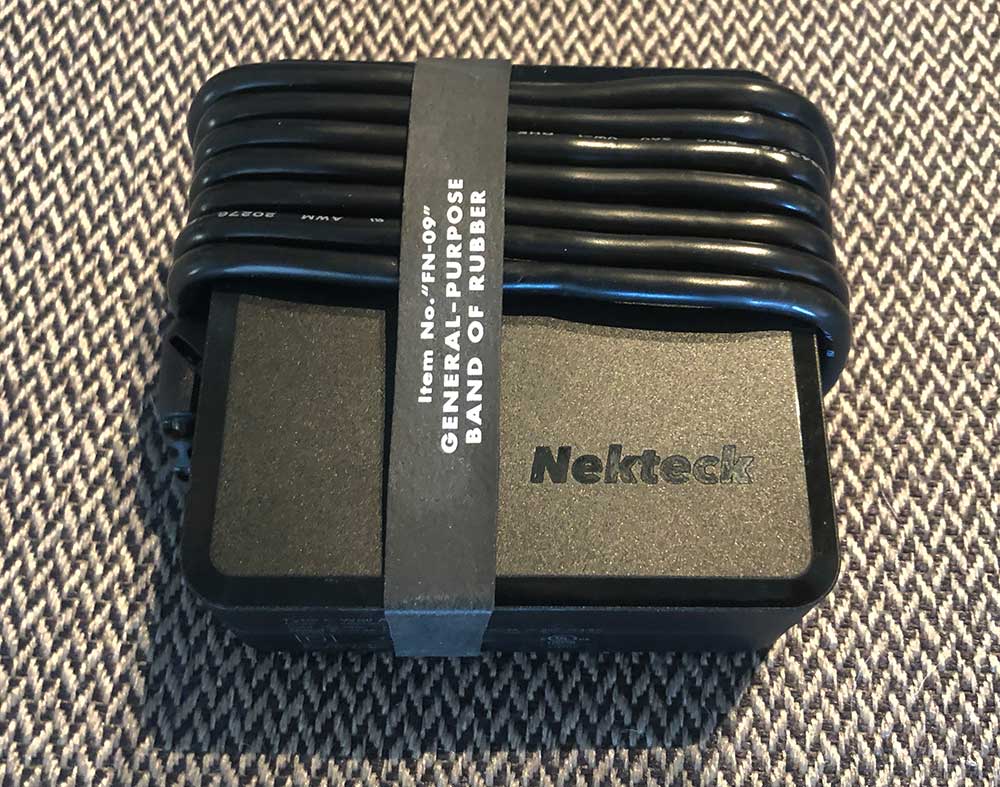 I already have a power solution at my work desk, so with this new charger in hand I moved the Apple one to my home desk and placed the Nekteck in my pack for daily availability. Almost immediately, an extended China trip (real test) reared its head.
I'm happy to report that the Nekteck charger worked great and for that, I'm extremely thankful as I did not bring a backup. I was able to use it to repeatedly charge my 15″ MacBook Pro as well as a 10,000mAh portable power bank I travel with. Thanks to Nekteck's ability to handle up to 240v input, it did so speedily and without fail in hotels, factories, and airports throughout my China trip without the use of any travel adaptors/converters and generally had no issues at all.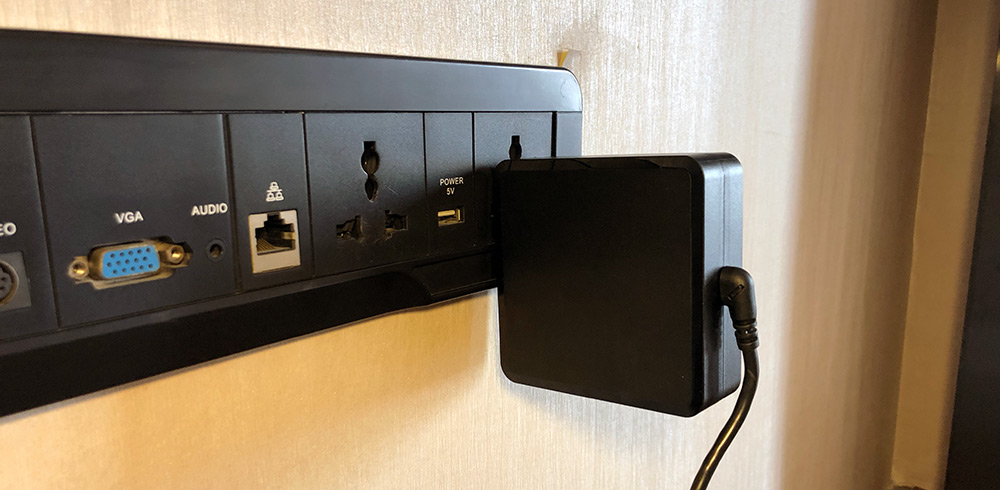 In fact, the only challenge I was faced with was a very common issue that plagues a lot of wall outlets over there; loose wall outlets. The Nekteck charger is not super lightweight, and its orientation needs some tension on the prongs to hold it in the outlet. The above photo is one of those, and it would stay there for about 15 seconds before rotating down and falling out. In those scenarios, I had to find something to prop up the bottom of the charger to keep it from falling out of the wall. This is 100% an outlet issue, but just wanted to mention it for any of you traveling internationally.
I should point out that the increased speed of PD (Power Delivery) is only available on devices that support PD. In general, the Nekteck will power an USB-C input device as fast as that device allows it to charge.
What I like
Price
Tethered, strain relieved cable
Foldable prongs
Black color
What needs to be improved
Cable management for travel
Final thoughts
There's not much to find fault with here. Nekteck's 90w charger works great. It's a little more square, but at $69 for 61w and $79 for 87w for the comparable Apple chargers, you can buy 2 of these and have money left over. This one is staying in my pack.
Price: $29.99
Where to buy: Amazon
Source: The sample of this product was provided by Nekteck.