We use affiliate links. If you buy something through the links on this page, we may earn a commission at no cost to you. Learn more.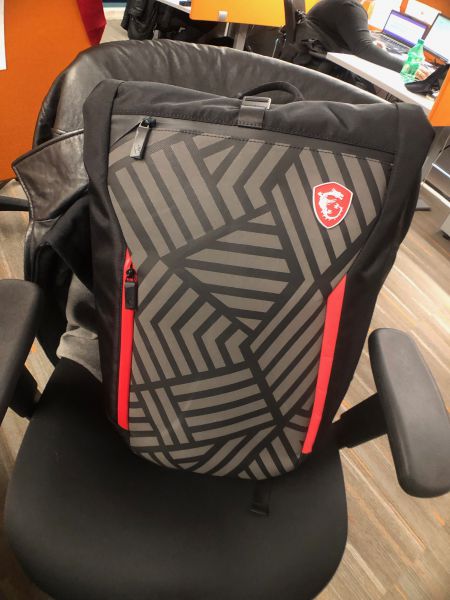 REVIEW – Carrying your EDC loadout for work is usually not that much stuff. Laptop, lunch, maybe your meds and a few cables. But if you're a gamer, and have a full portable rig for setting up shop in another location, you need more space. MSI, a company that makes a lot of gaming gear like mice, laptops, and headphones, now has a way for you to carry those essentials from place to place: The Gaming Backpack. I was sent the Mystic Knight model to test.
Note: Photos may be tapped or clicked for a larger image.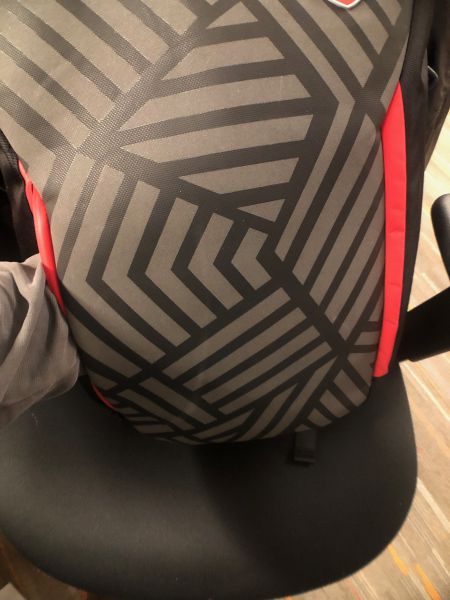 What is it?
The Mystic Knight is a roll-top gaming backpack with a few interesting pocket combinations, reflective safety graphics, and a flexible strap system. You can easily grab your laptop from outside without having to undo the roll-top closure.
Design and features
The MSI Mystic Knight is a stealth black backpack that is water-resistant in fabric choices as well as zipper closures. There's even a rain shell stored in a hidden pouch on the bottom of the pack if it gets to be more than a drizzle. For organization, there is a massive main compartment that can hold just about anything you can throw at it, short of a kitchen sink. Seriously, it will seal fully at 25" tall by 14" wide and 4.5" thick. The inside is a waterproof dark grey/grey-green camo pattern. The top can be rolled down for easier access if desired.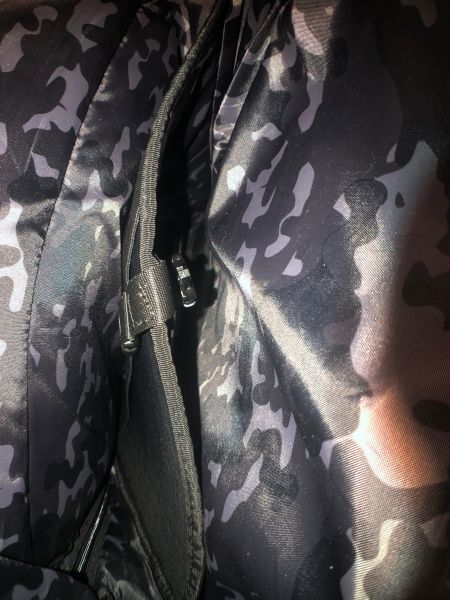 This main compartment is divided from the laptop compartment by a lightly padded wall which is connected on three sides but is flexible enough to allow space-sharing between the areas. The laptop compartment is accessible from outside the bag through a full-length zipper that runs down the left side, as you're wearing it. It will easily hold a 17" gaming laptop. Actually, anything smaller rattles around in the space. My 15" MacBook Pro Retina can almost fit in sideways. That's my poor little 10.5″ iPad in there in the photo below.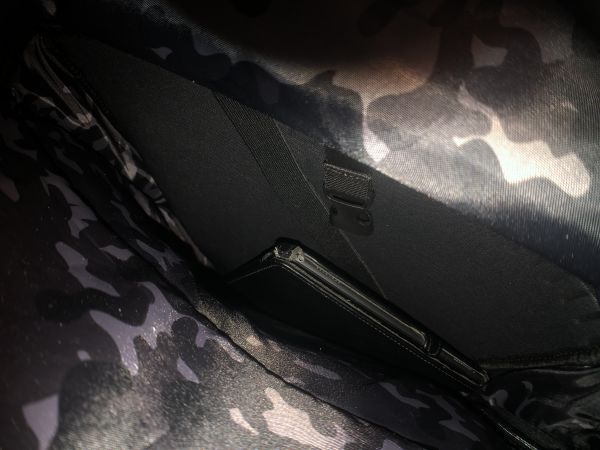 On the opposite side of the divider is a single organizational slit pocket about 11" deep that would let you file a magazine, Dungeon Master's Guide, full-sized keyboard, or tablet. (It's directly below my fingers in the shot below.) In front of this is all the rest of the space in one large chamber. I use the Tom Bihn Freudian Slip for Medium Café bag for organization inside my bags, and this allows me to use this space well. A Cocoon Grid-it or another organizational tool would be a good investment. In addition, I have two other cases – one for dongles (2" x 3" x 8.5") and one for my Apple Pencil and charger adapter along with a "real" pen (1" x 2.5" x 8"). I also put my hairbrush in here (8.5" x 1.5" x 1.5"). (Brush it while ya got it, right?) Across the top divider between the laptop sleeve and the main compartment is a headphone strap. This allows you to slip in a large set of headphones without them sinking to the bottom of the bag. The adjustable strap (5" long, doubled) is long enough to clip around really wide headphone bands, along with their cables. This keeps the cable untangled and the headphones from getting snarled into the detritus in the bottom of the bag. If you have a decent case for your headphones, it can hang there as well.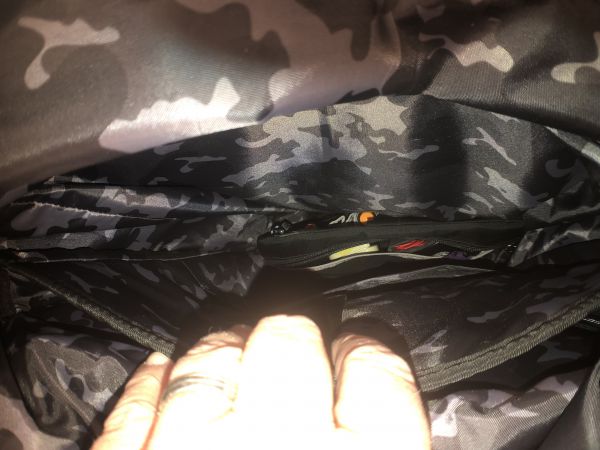 Moving up to the top of the bag is the gusseted rucksack roll-top closure. The two long pieces are reinforced with an internal flexible banding of some sort, and magnets are affixed at each end. This assures that the lip of the main compartment closes with a satisfyingly quiet thewp! You then can roll it down as many turns as you please and secure it with the single hook. Once hooked and cinched, I never had the closing slip or come undone in use. Also, it was very easy to pull the rear side of the clip up to relieve the pressure and unhook it.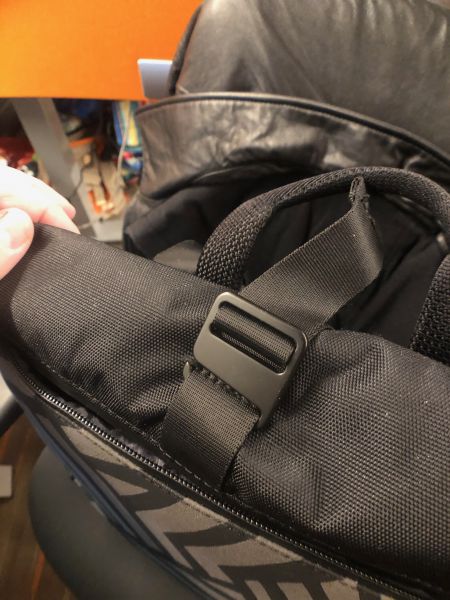 On the outside of the bag, across the lower portion that faces out, is an angular silver and black pattern. (It's reflective. See the shot further down in a darkened room with flash turned on.) On either side of this is a red rubber strip. The left strip is a weather-resistant zipper (detail below) that gives entry into a pocket that is about 75% the size of this entire rear panel. I can fit my 10.5 iPad in there and still have room for gloves, scarf, or a hat.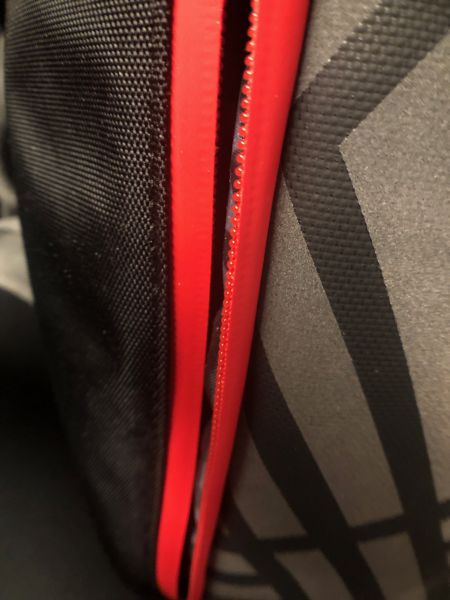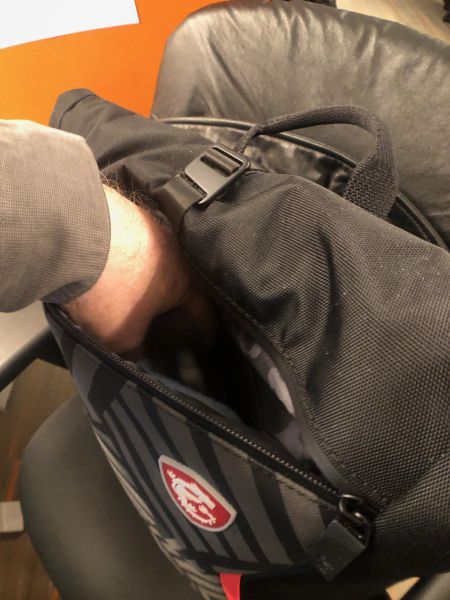 Across the very top of the graphic is a zipper that opens to reveal another weatherproofed pocket, which has a few organizational pockets added to the rear wall. There are 2 pen silos, a pocket that would hold a full deck of cards easily, and a netting pocket that would hold a gaming mouse or a wad of keys. Helpfully, there is a spring-loaded clip just above this to hold the ring to such a wad.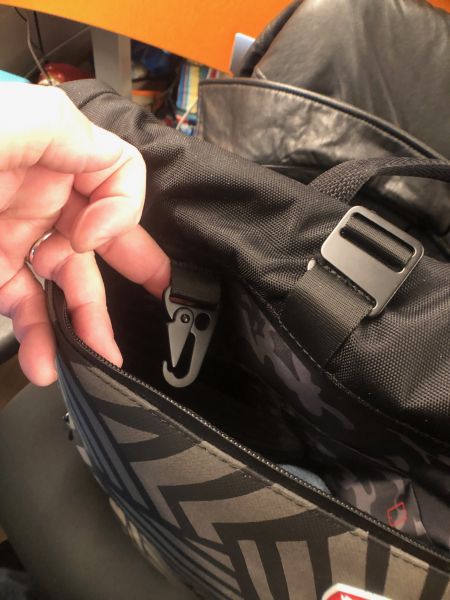 Moving around to the back of the pack, there is a 4" span haul loop sewn in the same seam as the strap for the main closure hook. It is made from rolled webbing and padding, and it's comfortable to hold for any weight I was able to fill the bag with.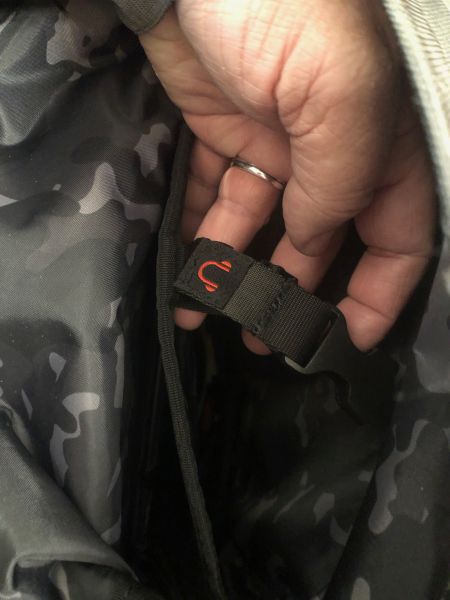 At this same level up the back is a slash pocket that runs the full width where you can stash the straps, should you wish. There is a snap closure on this, and the removal of the straps is a one-button click from each lower corner. Actually, you can unlock one lower strap, clip it into the opposite corner, and just stash away that other strap and make the bag a sling for either shoulder. The corner "ears" also have snap closures where the corner buckle can be hidden away when that strap is not in use. Across the center horizontally, sporting a silkscreened black-on-black MSI logo, is a trolley passthrough about 4.5" wide.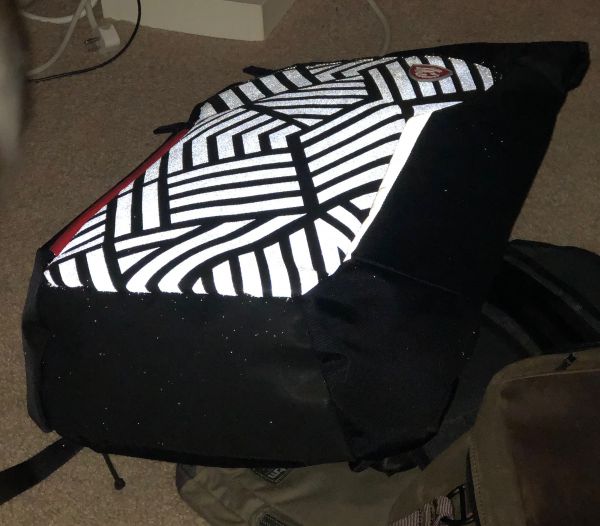 The straps themselves are 1.5" seatbelt-quality webbing, with pads stitched on after a few inches. The weight is borne by the pads, and there is an adjustable sternum strap, although it seemed to slide upwards during use, so it was always up to my chin after a few minutes. It did a good job of balancing the load, however. The adjustment buckles at the bottom of the strap kept their setting while being adjusted through changes in outerwear during a few weeks of Southern Winter, which ranged from full parka to shirt sleeves.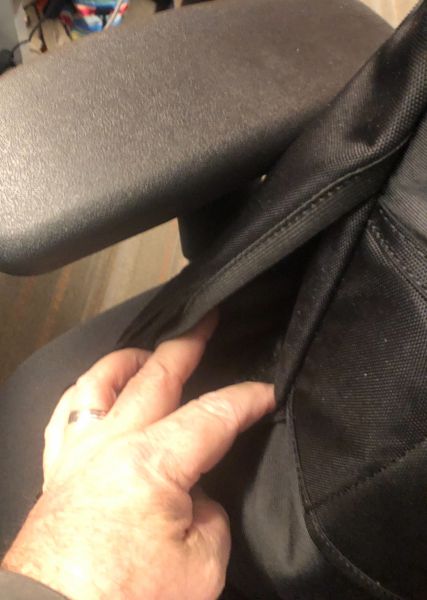 Above the corner strap connectors on each side is a hidden slash pocket, probably meant for drink bottles or small umbrellas. One is waterproofed.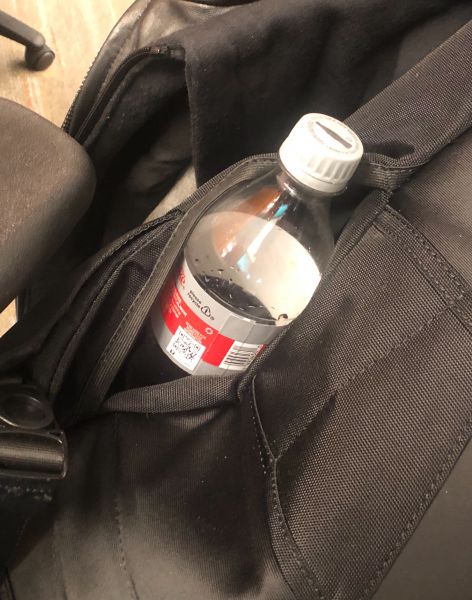 What I Like
Weatherproof zippers and rain cover
Huge reflective design on back for safety
Dedicated headphone hanging strap
What needs to be improved
Little interior organization – maybe a panel insert?
Laptop compartment padding is a bit thin.
Final thoughts
As a commuting backpack, this is overkill, yet it can hold everything tightly and doesn't look like it's the voluminous pack it is. Carrying my personal iPad and 12" work laptop, headphones, plus my other personal gear rarely makes a dent in the total capacity of this bag. I could add a weekend's worth of clothes into this, and it wouldn't look any different. So, if you're running away from home to join the circus, skipping out of town for a secret weekend, or just heading out to attend an eSports Con, this bag should – um – have your back. (Sorry.) The only thing I'd recommend for MSI is to maybe add a removable organizational panel for the main compartment. Even gamers need cables, USB sticks, sunglasses, and breath mints.
Price: $146.98
Where to buy: Amazon
Source: The sample of this product was provided by MSI.