We use affiliate links. If you buy something through the links on this page, we may earn a commission at no cost to you. Learn more.

REVIEW: Earlier this year I reviewed the Amber automatic knife from Tekto Gear. It was my first Out the Front (OTF) knife I had ever held. The Amber's hardwood and stainless steel construction give it a great old world, Game of Thrones feel to it. Tekto recently sent me their TAKT automatic knife to take a look at for this review. It's vibe is the polar opposite from the Amber, with a no nonsense, Special Ops air about it.

What is it?
The Tekto Gear TAKT is an Out the Front (OTF) automatic knife, where the internal mechanism ejects the blade out the top/front of the handle and locks it into place then retracts it with the opposite motion.
Design and features


The TAKT is made from an aluminum alloy and high-quality stainless steel giving it modern, tactical look and feel. When the blade is deployed, the total length of the TAKT is approximately nine and a half inches in length.
Like the Amber, the TAKT isn't a switchblade but a stiletto knife where:
A switchblade swings out from a folded position and needs to be manually reset. A stiletto is spring loaded straight out and can be retracted automatically. Much faster and efficient… The heels ? Supposedly the shoes were named after the knife.
Specifications:
Blade Length: 3.93" (100mm)
Blade Thickness:

0.11" (3mm)

Total Length:

9.44" (240mm)

Gross Weight:

0.94lb (385g)

Material: 

Aluminum Alloy / 440 Stainless Steel

As I mentioned above, the handle is made from an aluminum alloy that is powder/spray-coated giving it a slight rubbery feel to it. The two side plates are held together by six hex-head bolts. The handle's length is approximately 5.5 inches with a total weight of just under a pound.

The blade switch is located on the upper, front edge of the handle (vs the side like the Amber). The switch triggers the blade to deploy/retract and requires a good amount of force to move. So much force, it is unlikely to accidentally be actuated in your bag or pocket. Since I received the TAKT OTF automatic knife, I have flipped it in and out many, many times. The spring mechanism seems very solid and does not give any indication of issue or failure. Though the system does need to be maintained, Tekto has a page dedicated to walking you through how to clean and lubricate mechanism.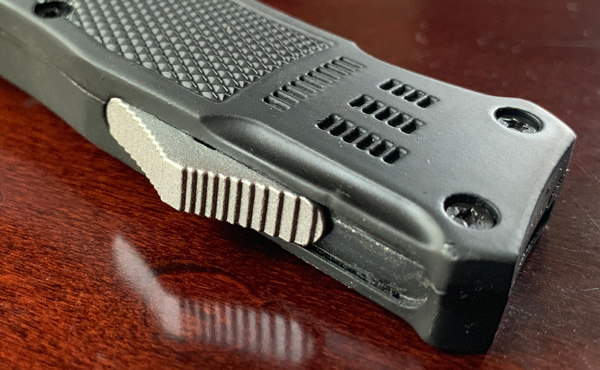 The quality of the TAKT is good but not great. There are several minor imperfections in the machining and finish of the handle, as you can see here and the picture above.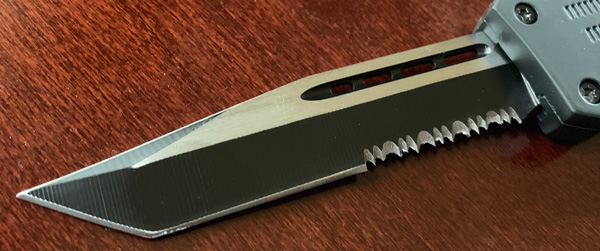 The serrated blade is made from 440 stainless steel. The blade is painted and nicely shaped. It is very sharp (as you would expect) with an extreme point on the end. The two-tone blade is 4 inches long and pretty scary looking. Tekto Gear uses chrome in their steel blades that adds greater rust resistance, strength, and durability. In this case, they paint the blade, then machine it giving a great metal/steel and black color scheme. When deployed, the blade has a zero wiggle or movement.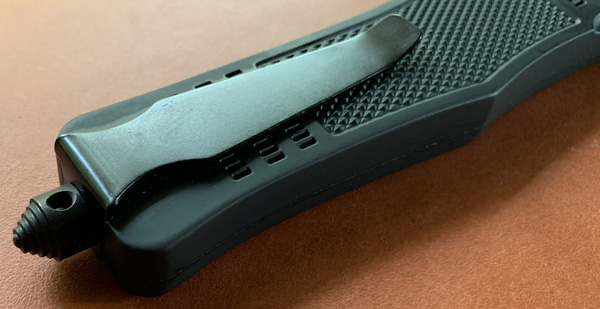 The TAKT has an integrated window breaker and a rigid, well-made belt clip on the butt end of the handle.
What I like
Good material quality
Special Ops, tactical styling
440 stainless steel blade
Great weight and feel to it
Smooth action and easy to use
Integrated window breaker and belt clip
What needs to be improved
Illegal in many states
Build quality could be better
Here is a pretty good YouTube video showing several of the Tekto knives in action.
Legal or not legal
Tekto Gear does a decent job trying to keep buyers on the straight and narrow road. One of their forums is dedicated to helping you determine if it is legal to own an automatic OTF knife based on where you live. This page goes state by state on the legal details of ownership.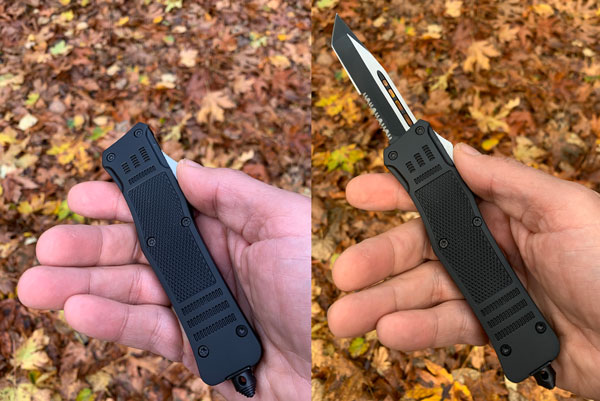 The Tekto TAKT has a nice weight, size, and feel to it. Unlike the hardwood and stainless steel of the Amber, the TAKT's coated aluminum and knurled handle give it a modern feel to it. The handle is very grippable and easy to maneuver in your hand.
Final thoughts
While not perfectly finished, the TAKT works well and gets the job done. I have actuated the automatic OTF mechanism many times and it operates flawlessly but does need to be maintained over time. For me, both the Amber and TAKT are a bit big and heavy for my EDC bag though with its window breaker end would make for a great in-car or Carhartt pocket utilitarian knife. Sadly, the TAKT isn't legal in Washington State so I won't be packing it around with me much, if at all.
Price: $164.99
Where to buy: The Takt automatic knife is available directly from Tekto Gear.
Source: The sample of this product was provided by Tekto Gear.