We use affiliate links. If you buy something through the links on this page, we may earn a commission at no cost to you. Learn more.

REVIEW – I have reviewed my fair share of great EDC knives here at the Gadgeteer but for the most part they have all been fancy pocketknives. For this review, Tekto Gear has sent me one of their automatic knives with a blade that snaps in and out the front of the handle with a flick of the thumb. While Tekto Gear offers many automatic knives, the Amber is one of two variants recently released made from hardwood and steel creating an excellent old world look and feel.

What is it?
The Tekto Gear Amber is an Out the Front (OTF) automatic knife, where the internal mechanism ejects the blade out the top of the handle and locks it into place and retracts it with the opposite motion. The Amber is made from a reddish hardwood and high-quality steel giving it a classic look and feel compared to other lightweight, high-tech knives (aka carbon fiber or titanium).
Before I write a knife review, I consult several of my friends who are knife aficionados who educate me on the nuances of what I am looking at more often than not. In this case, this is the feedback I received on the Amber…
A switchblade swings out from a folded position and needs to be manually reset. A stiletto is spring loaded straight out and can be retracted automatically. Much faster and efficient… The heels ? on the shoes were named after the knife.
…cause I totally thought/assumed that an Out the Front (OTF) automatic knife was a switchblade but apparently not.
Design and features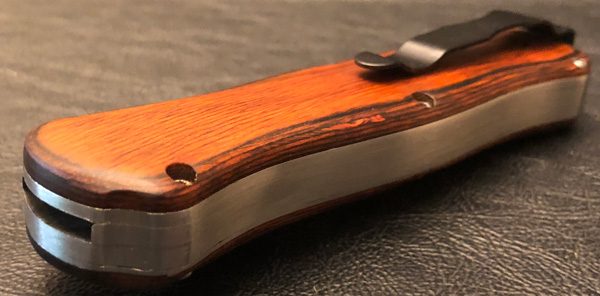 Craftsmanship and build quality:
As I stated above, the Amber automatic knife is made from two pieces of reddish hardwood that sandwich five plates of stainless steel. The seven layers of the handle are stacked and held together by six hex bolts. The build quality is very good though not as precisely machined as most other knives I have reviewed. But that is just fine with me…the Amber has an old world, Game of Thrones' vibe to it.

The two-tone blade is 3.8 inches long and very sharp. Tekto Gear uses chrome in their steel blades that adds greater rust resistance, strength, and durability. In this case, they powder coat the blade, then machine it giving a great metal and black color scheme. When deployed, the blade has a slight wiggle in all directions. I believe that is due to how the spring mechanism is engineered. The movement isn't bad but noticeable when you jiggle the knife.
Specifications:
Colors: Black, Red
Total Length:

8.9″ (228mm)

Blade Length:

3.8″ (97mm)

Blade Thickness:

0.06″ (1.6mm)

Weight

: 0.58lbs

 

(263g)

Material:

Chrome Steel

Feel & function:
The Amber knife has an excellent weight and quality feel to it. The contoured handle holds very well in the hand with the wood exterior giving it a smooth, natural feel. At over half a pound, the Amber has a nice heft to it when held but is definitely heavier than your typical EDC knife.
I say this with a bit of hesitation, I recognize the Amber automatic knife is dangerous and could be lethal in the wrong hands. That said, as my first automatic knife, it is surprisingly fun to use. When I was a teenager I received a Safeway bag filled with M-80's and for a month I blew stuff up…no one was hurt and I still have all my fingers. But it was some serious (destructive) fun nonetheless. Even with more than 3 decades under my belt since then, this automatic knife is just as much fun to flip in and out. Silly as that sounds.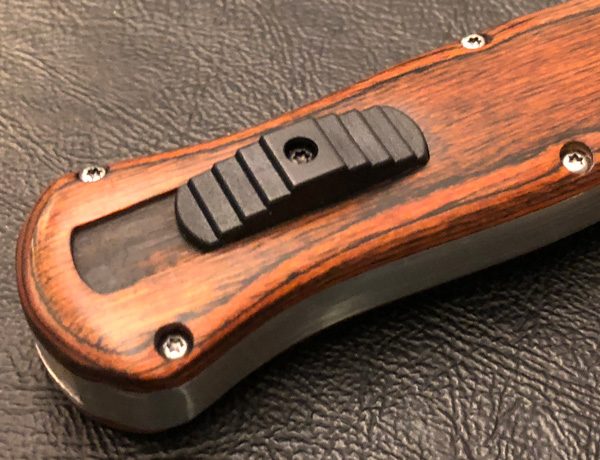 The switch is firm and takes a decent amount of force to fire/retract the blade, making accidental deployment less likely. Since I received the Amber OTF automatic knife, I have flipped it in and out countless times. The spring mechanism seems very solid and does not give any indication of failure. Though the system does need to be maintained, Tekto has a page dedicated to walking you through how to clean and lubricate mechanism.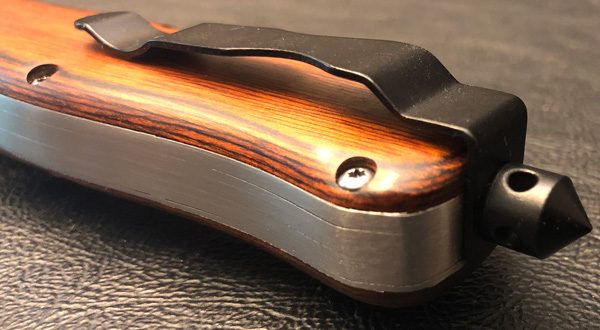 The Amber automatic knife has an integrated window breaker and a rigid, well-made belt clip on the butt end of the handle.
What I like
Excellent build and material quality
Made from hardwood and stainless steel
Chrome steel blade
Great weight and old world feel to it
Smooth action and easy to use
Integrated window breaker and belt clip
What needs to be improved
The blade does not lock perfectly into place, has a slight wiggle in all directions
Legal or not legal:
Tekto Gear does a good/solid job trying to keep buyers on the straight and narrow road. One of their forums is dedicated to helping you determine if it is legal to own an automatic OTF knife based on where you live. This page goes state by state on the legal details of ownership.
Final thoughts
The Tekto Gear Amber automatic knife is very well made with an excellent old world feel. Its OTF and hardwood/steel design would certainly add a bit of uniqueness to your EDC gear. The stainless, chrome steel blade is extremely sharp and nicely machined. It cut through paper, wood, meat, etc. with relative ease. If this sort of knife is legal where you live, it is definitely worth considering.
Price: $165.99
Where to buy: You can buy the Amber automatic knife direct from the Tekto Gear.
Source: The sample of this product was provided by Tekto Gear.