We use affiliate links. If you buy something through the links on this page, we may earn a commission at no cost to you. Learn more.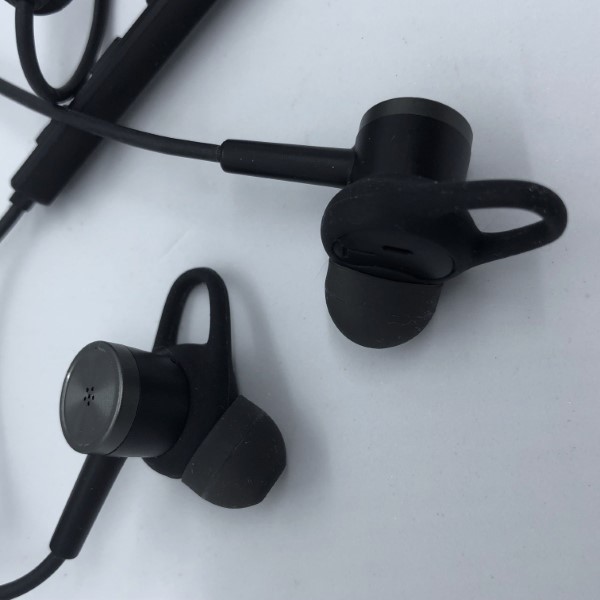 REVIEW – On a recent road trip, I frequented a number of gas stations and was amazed at the gamut of phone-related audio choices, even in the smallest of establishments. I imagine many, like me, either forget or break their headphones. I'm always looking for versions that can withstand my rough treatment and give me a good balance of comfort and features. Let's see how TauTronics TT-BH042 Active Noise Cancelling Bluetooth headphones can fit the bill…
What is it?
TaoTronics model TT-BH042 are flexible, noise-canceling stereo Bluetooth headphones.   
Hardware Specs:
Noise Cancellation: Active Noise Cancellation (ANC)
13mm "Electro-Dynamic" speaker drivers
20-20KHZ frequency response
"Micro Electrical-Mechanical System (MEMS)" microphone
Bluetooth 4.2V, HSP
8-hour battery life with Active Noise Cancelling on, 16 hours off
What's in the Box?
TaoTronics wireless active noise canceling headphones
USB charging cable
6 ear tips (3 pairs of small medium and large)
6 ear hooks  (3 pairs)
User guide
Design and features:
TaoTronics, a division of SunValley Group, founded in 2007, manufactures a myriad of Bluetooth speakers and headphones. An Amazon search pulls up dozens of Gadgeteer goodies.
The TT-BH042 headphones arrived in a simple grey box adorned with the TauTronics logo.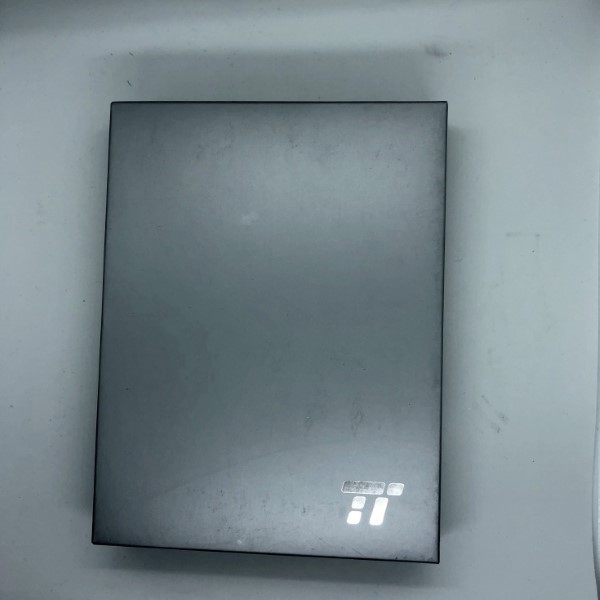 Inside, the headphones nestled in a plastic form-fitting cradle.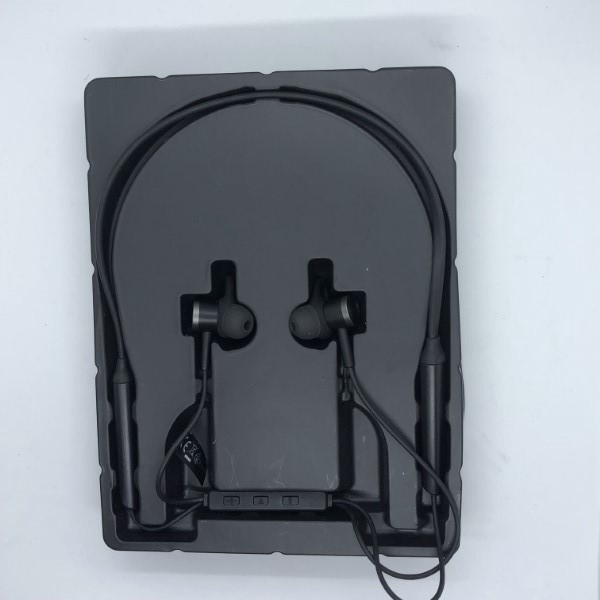 In the cavity formed under the plastic carrier, bags containing the user manual and spare parts were held.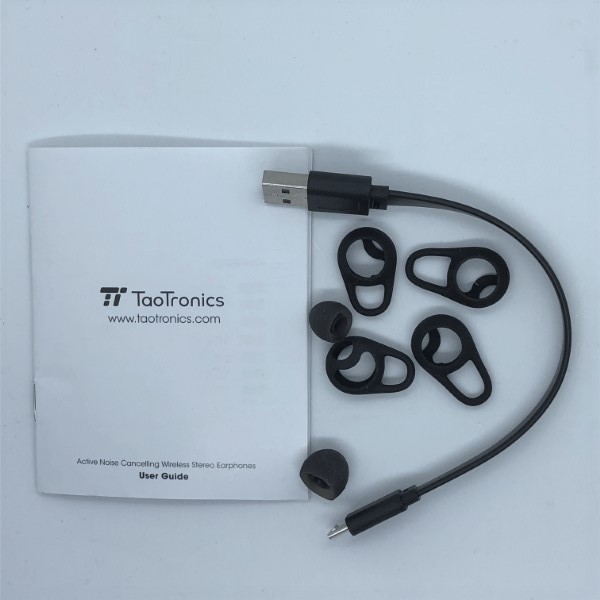 A USB power supply is not included and the charging cord is only about six inches long, so I plugged them into a spare Micro-USB I had available. A friendly red LED illuminated to let me know the headphones were sipping juice. The LED changes to blue when charging is complete.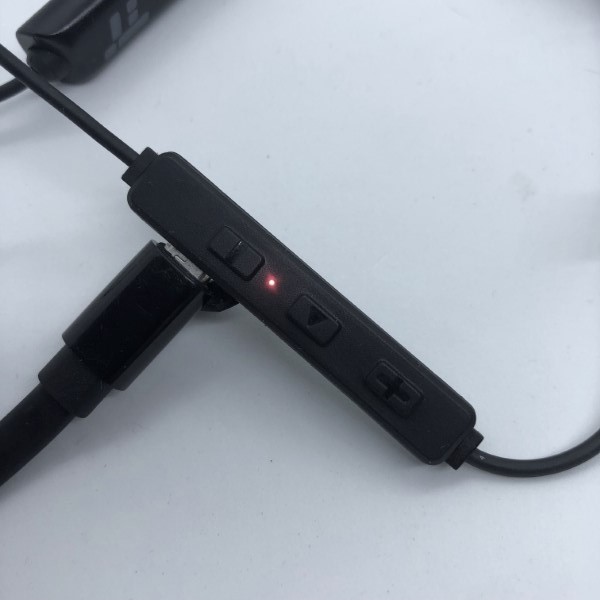 Out of the box, the headphones only took an hour or so to complete charging, the LED changing to blue.
The fit of the headphones is secure and comfortable.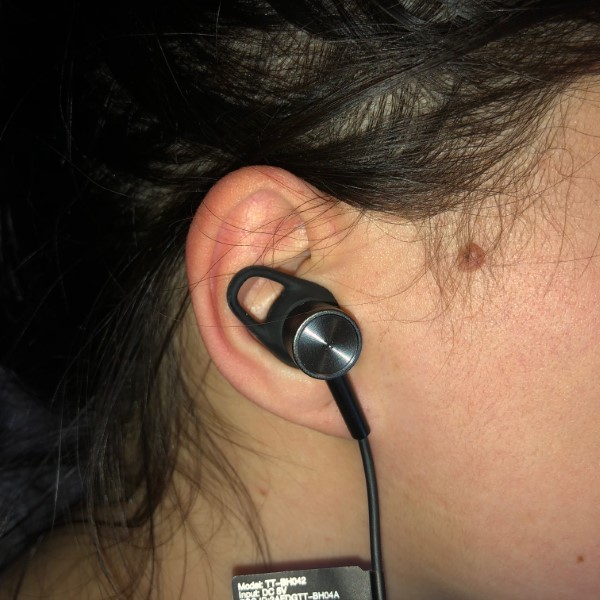 The assembly connection the battery and Bluetooth receiver is flexible and very comfortable to wear. I can be rough on my headphones and have broken previous pairs comprised of rigid plastic. I found the flexible design to be much more forgiving.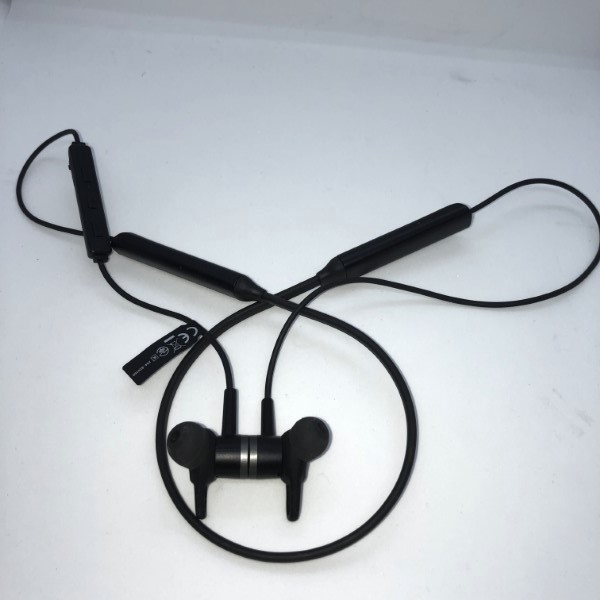 Following the instructions in the manual, the pairing was simple and only took a moment. The manual states the headphones will remember previously connected devices, but this connection can be deleted should the need arise.
I connected the headphones and voice prompts indicated the power was on and connected. The first thing I noticed without music playing was a sudden absence of background sounds. The noise cancellation works very well and might be even better with better sealing ear tips.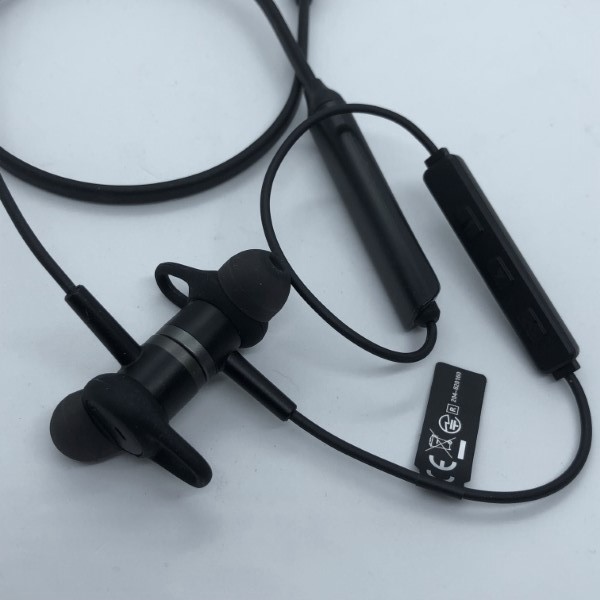 I pulled up a diverse playlist and cranked up the volume. Fidelity is generally good, I wouldn't consider it audiophile quality. I found the bass a bit muffled for my tastes.  However, I found the noise cancellation particularly valuable during quiet passages of classical music.
Next, I made a lengthy call to my mother. She said fidelity on the receiving end was excellent, better than other Bluetooth headsets I've used.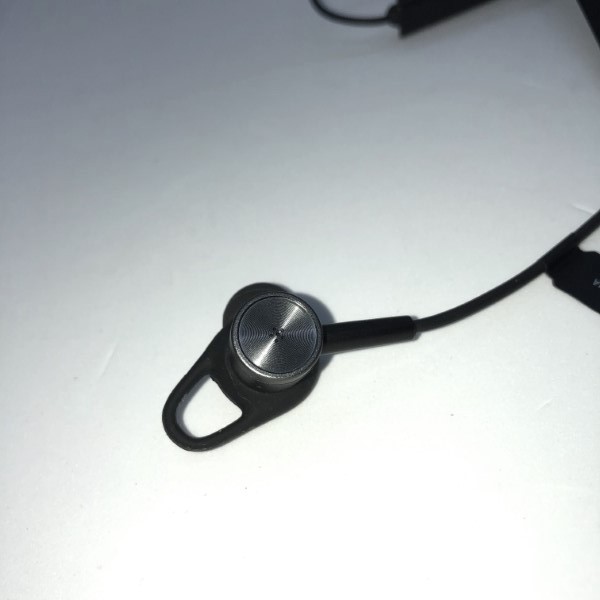 For over an hour, the headphones stayed comfortable and firmly in place, no matter my movements. These would be ideal for someone who listens to tunes while working out and are IPX5 splashproof making them a solid choice.
 What I like:
Flexible design is robust and comfortable
Excellent Active Noise Cancelling
Very long battery life
Reasonably priced
Excellent microphone voice quality
What needs to be improved?
Audio quality for music, but your mileage may vary
Final thoughts:
Bluetooth headphones are ubiquitous, but finding a pair that matches one's particular tastes can be daunting. TaoTronics's TT-BH042s are solidly built, and I really appreciate their Dave-proof flexible design, excellent noise canceling and battery life. With adequate audio and my mom loving the microphone fidelity, the TT-BH042s have earned a worthy place in my Gadget bag.
Price: $45.99
Where to buy: Amazon
Source: The sample for this review was provided by TaoTronics.