We use affiliate links. If you buy something through the links on this page, we may earn a commission at no cost to you. Learn more.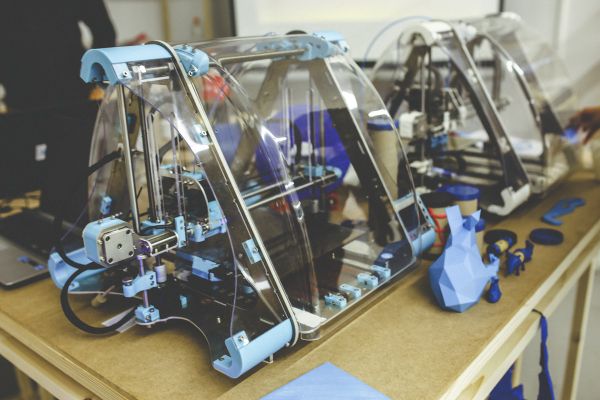 ARTICLE – As an innovation, 3D printing continues to amaze and impress technology enthusiasts with the extent of its possibilities. Here are five accomplishments that highlight how quickly 3D printing has improved and evolved.
1. We Can Make Lithium-Ion Batteries in Almost Any Shape
Lithium-ion batteries power many electronic gadgets, ranging from mobile phones to laptops. However, designing new devices with the same power source was often tricky since designers had to keep the shape of existing batteries — typically cylindrical or rectangular — in mind when making their prototypes.
Product makers wouldn't have to conform to such constraints for much longer. In October 2018, researchers announced a way to 3D-print batteries in virtually any shape required. While the capacity of those batteries is about two orders of magnitude lower than commercially available batteries, researchers have several ideas for making improvements.
2. Severely Broken Bones Can Heal Using 3D-Printed Advancements
Even the most skilled orthopedic experts can't guarantee that broken bones will set adequately and eventually be good as new. In particular, when accidents cause half of a long bone to shatter, no surgical interventions that ensure proper healing are currently available. That problem is especially debilitating for soldiers who may get such injuries due to explosions and other combat injuries.
With the help of a $2 million research grant from the U.S. Department of Defense, scientists at the University of Arizona hope to use 3D printing and adult stem cells to help those kinds of bone issues heal. The team used 3D printing in the lab to create bone-shaped frames, or "scaffolds." They then filled those with stem cells and calcium particles, which speed the healing process.
The scaffolds serve as a template for the growth of the bone. So far, the researchers have completely formed a new bone in about three months. They want to continue testing to see if exercise could heal the area more rapidly. Further research will include these 3D scaffolds equipped with sensors that transmit exercise data and compare the progress of an active group of participants versus an inactive one.
3. Classic Car Production Can Get a Jump-Start
People have discovered more ways to print metal with 3D printing in 2018. For example, in March 2018, Dutch engineers completed the first 3D-printed steel bridge, and Russian scientists recently announced they've come up with a new metal powder composition that doubles the strength of 3D-printed aluminum.
These advancements are significant because they may allow companies to compensate for the steel and aluminum tariffs imposed by President Trump in 2017. They affect multiple countries besides the U.S., and, according to one poll, half of Americans opposed the tariffs.
3D printing of metal parts could allow some automobile manufacturers to make more components in-house, thereby getting fewer imported parts that are subject to the tariffs. Mercedes-Benz started remaking its classic cars with help from 3D printing, building parts that are otherwise obsolete. Porsche does the same by manufacturing steel and alloy parts for its classic cars with 3D printing, allowing the company to produce them on an as-needed basis.
Besides giving automotive brands more control over parts production and avoiding potential tariffs, these improvements could assist classic car owners in getting parts directly from the manufacturer. They can then keep their prized possessions on the road and working well while giving manufacturers another profit stream.
4. 3D-Printed Mouthguards Can Fight Oral Diseases
Oral diseases can be extremely painful, especially when it's difficult for dentists to target the cause with the necessary medications. However, scientists believe they have opened up the possibilities for oral medication delivery methods with a 3D-printed wearable that gives a customized fit based on the patient's tooth impressions. It's similar to a mouthguard used to prevent nighttime teeth grinding or sports injuries.
In two tests — including one on humans — researchers found the device reliably released an oral anti-inflammatory drug over two weeks. The process of making the mouthguard took only a couple of hours, substantially faster than the technique for making traditional mouthguards.
Researchers also believe it's possible to apply their fabrication methods to other devices, which could lead to other advancements for the patients who need them.
5. Robots Can Work Together to Print a Concrete Structure
3D printing lends itself to other technologies, and when used together, the associated advancements may be even more impressive. Scientists in Singapore proved that when they developed a way for robots to 3D-print parts of a concrete structure in sync, thereby finishing the task rapidly.
The team also says their method — which benefits from swarm printing — allows for unique concrete shapes not possible with conventional casting. This method combats the problem that traditional 3D printing methods faced when printing concrete — the printers were often larger than the structures produced, making them unfeasible for construction sites with limited free space.
During a test, two mobile robots teamed up to make a concrete structure in eight minutes, although the material required two days to harden and a week to reach its full strength. The project's team wants to explore using more robots to work on these concrete projects to determine the most efficient way to cure the concrete.
The researchers envision a future where people could bring mobile robots to a work site, program them to print the parts and then transport them elsewhere. They're currently working to coordinate the robots' movements so the machines won't collide and are excited about what they've already achieved.
What Will 2019 Bring?
This list emphasizes the diversity of potential for 3D printing, especially in the problems it could solve. It should inspire people to wonder what's ahead for 2019 and feel enthusiastic about the possible advancements.
Image by Rawpixel