We use affiliate links. If you buy something through the links on this page, we may earn a commission at no cost to you. Learn more.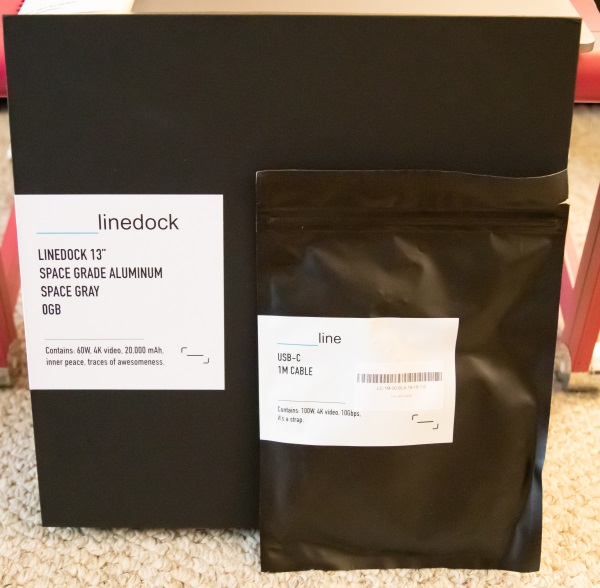 REVIEW – For the past few months, I have been testing and reviewing various PC docks, hoping to find one that captures my enthusiasm and has all of the functionality that I need. The docks generally come in various sizes and mostly look like square black boxes. I was extremely excited when I came across the Linedock and even more excited when I got the opportunity to test and review one.
What is it?
Linedock is a slim and sleek dock that was primarily designed to work with the MacBook Pro and it matches the footprint of the MacBook. It is offered in multiple memory storage configurations and includes a built-in 20,000mAh battery.
What's in the box


1 x LineDock
1 x USB-C Cable
1 x Instruction Booklet
Design and features
Specifications:
PORTS
3 USB Type C ports – Full Power Delivery 2.0, USB 3.1 Gen 1 (up to 10 Gbps), DisplayPort
USB Type C Voltage – Supports full power delivery: 5V — 3A (USB PD) / 9V — 3A (USB PD) / 15V — 3A (USB PD)
3 USB 3.0 ports – Both Qualcomm QuickCharge 3 (when no laptop connected) and USB 3.0 (5GB/s Data Transfer)
Pass-through charging – Yes
SD Card slot – Supports all SD™ UHS-II card interfaces up to 300MB/s
Multi-devices docking – Supports up to 7 ports simultaneously
DISPLAY SUPPORT
USB Type C Port Video – Supports one 4K Display at 60Hz
HDMI Port Video – Supports HDMI 2.0 with 4K Resolution at 60Hz
MiniDisplayPort Port Video – Supports DisplayPort with 4K Resolution at 60Hz
BATTERY
Power Delivery – Full Power Delivery 2.0
Charging capabilities – 5V, 9V, 15V and 20V
Output – 100W
Battery Nominal Capacity – 20,000 mAh / 71.61 Wh
Output Power – 60W / 100W Pass-Through Charging
Output Voltage – 5V 3A / 9V 3A / 15V 3A / 20V 3A (5A Pass-Through Charging)
Input Power – 10W to 100W via USB Type C
Device Charging – USB Type C
Simultaneously – Charge up to 7 devices at the same time
CHARGING REQUIREMENTS
Side Ports – Can support up to 60W of charging
Central Port – Up to 100W — USB Type C. Linedock can be charged using a regular USB-C laptop charger
Input – Can support up to 100W of charging
WEIGHT AND DIMENSIONS
Measurement – Width 11.97 in (30.41 cm), Height 0.35 in (0.9 cm), Depth 8.36 in (21.24 cm)
Weight – 2 pounds (912g)
On one of the short sides with the accessory ports, there are 2 USB 3.0 ports, the SD card slot, and the display button followed by 10 LEDs each of which represents a 10% charge.


On one of the long sides, there are air vents on either end and in the center, there is the USB-C input power port.


On the long side opposite the side with the input power port, there are air vents on either end.


On the other short side with accessory ports, there is the HDMI port, a Mini DisplayPort, a USB-C 3.0 port and a USB-C port.

Performance
When I first removed the Linedock from its packaging, it revealed a thin, sleek and sexy device. I charged it and then decided as my first test to try it with my iPad Pro 12.9″ (2018) just to see what it would allow and if it would work at all. To my surprise it easily allowed me to mirror the iPad's display to an external monitor and the iPad photo app even popped up when I attached a USB flash drive. I was not able to import the pictures from the drive, but there may be some app that I can find that will allow me to do so. (TBD)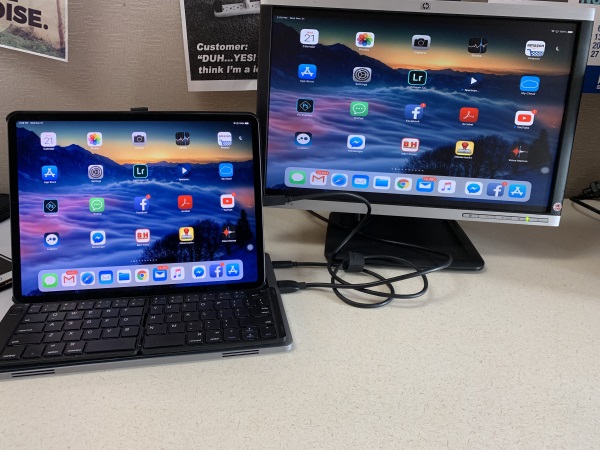 As it is designed to do, the Linedock worked flawlessly with my MacBook in every way with every accessory that I tried and also with adding an external monitor.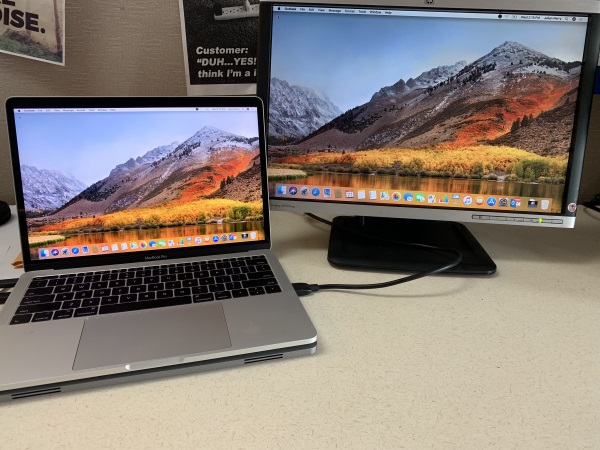 I tried to use the Linedock to attach an external monitor to my HP Windows laptop but it did not work.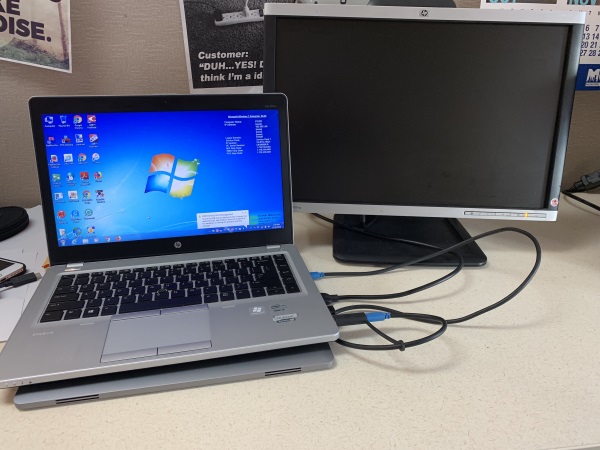 Below shows the message that popped up when I attached the Linedock to my Windows laptop.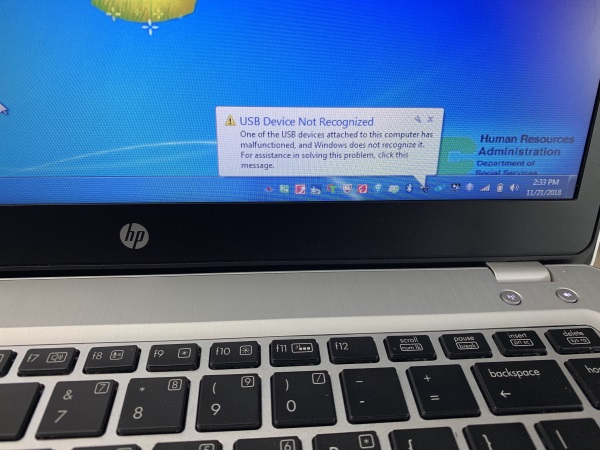 What I like
The sleek and slim design
The number of ports and the ability to use a large number of accessories simultaneously
The pass-through charging capability
The multi-platform adaptability
The ability to add storage
What can be improved
Greater compatibility so it can be fully functional for multiple platforms
Addition of a supporting IOS app
Final thoughts
When I first heard about Linedock I was very excited and eager to get my hands on one. Now that I have, it has not disappointed. It easily allows me to add accessories/peripherals while using my MacBook and has some limited functionality with my iPad. I have seen comments online that indicate that it also works with Windows PCs but I was unable to get it to work for me. Unfortunately, Linedock sent me the model without the internal hard drive storage, so I was unable to test that feature and to measure its performance out of the box. I do plan to add flash storage to this one in the near future. I have been told by Linedock that it is compatible with M2 SATA III storage. I really like this device and everything about its design and function. While is it somewhat heavy for its size, I take with me in my backpack back and forth to work every day. The Linedock gets two thumbs up from me!!
Price: Starting at $299 up to $799 for the 1TB version
Where to buy: Linedock and B&H Photo Video
Source: The sample for this review was provided by Linedock.