We use affiliate links. If you buy something through the links on this page, we may earn a commission at no cost to you. Learn more.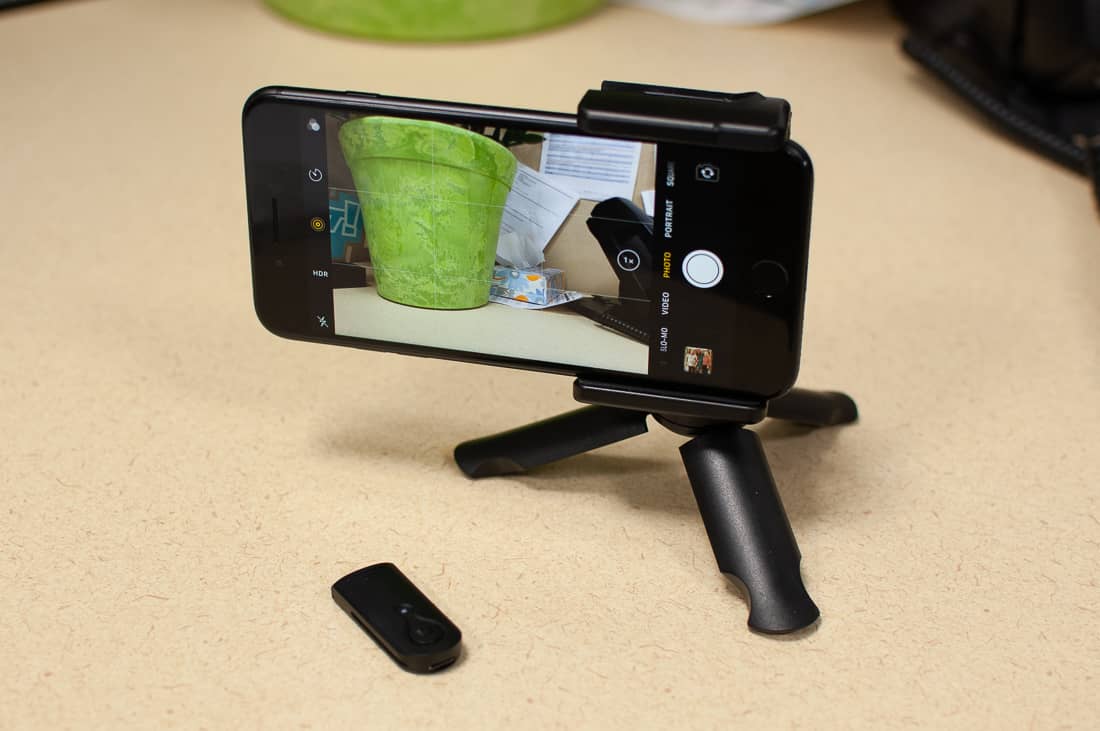 REVIEW – The cameras in smartphones are truly a technological marvel, rivaling most modern digital cameras and pushing the boundaries of what an average user can capture. But grabbing on to a slab of glass isn't the easiest way to get a decent snap. Enter the Adonit PhotoGrip, a classic take on modern smartphone photography.
What is it?
The Adonit PhotoGrip is a smartphone camera grip that makes single-hand camera operation easier through its clamp-on grip and detachable Bluetooth shutter remote.
Hardware specs
The PhotoGrip can support smartphones within a width range of 62.5mm – 85mm, which I believe encompasses even the widest of phones, such as the Galaxy Note 9 and any plus model of iPhone. The maximum depth of phone it can handle is 10mm. Really, it seems like the only limitation on the model of phone you can use is if it happens to be too narrow to place in the grips, something like an iPhone 5, for instance.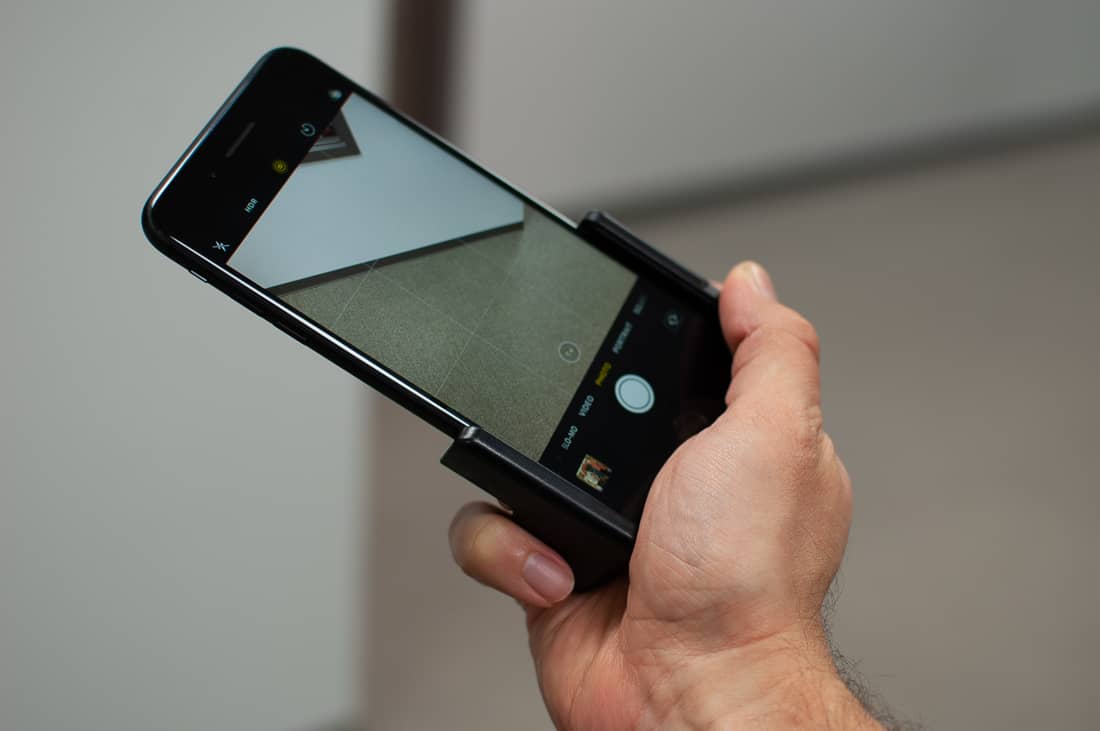 It does require Bluetooth to operate as there is no direct connection with the phone. The internal battery in the shutter remote is good for 20 hours of continuous use (or 72,000 photos, so you could potentially take 1 photo per second for 20 hours) and charges in just 40 minutes.
What's in the box?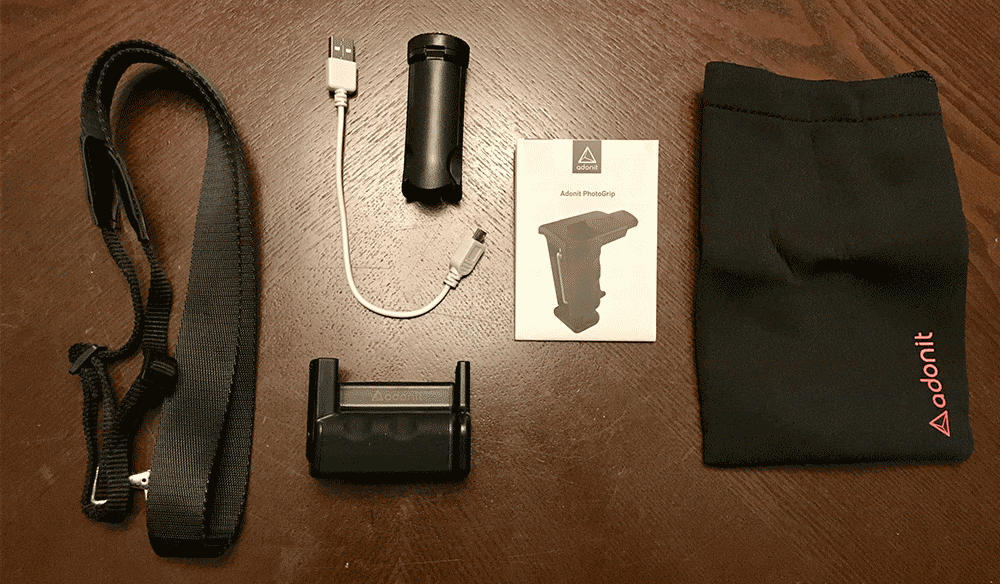 camera grip
built-in mini (and I do mean mini) stylus
mini tripod
neck strap
carrying pouch
user manual
USB cable (typical A to micro-B type you have a million of)
Design and Features
The PhotoGrip's design is actually quite simple. It consists of a solid block of grippy silicone-wrapped plastic attached to a spring-loaded clamp. I tend to get a bit nervous with devices that put a great deal of pressure on the sides of what feels like an impossibly thin device. I know that most phones are pretty resilient, with all the initial backlash of the iPhone + series "bendgate" still fresh in my mind, I try to be as careful as possible with grips and cases that threaten to put extra pressure on my phone.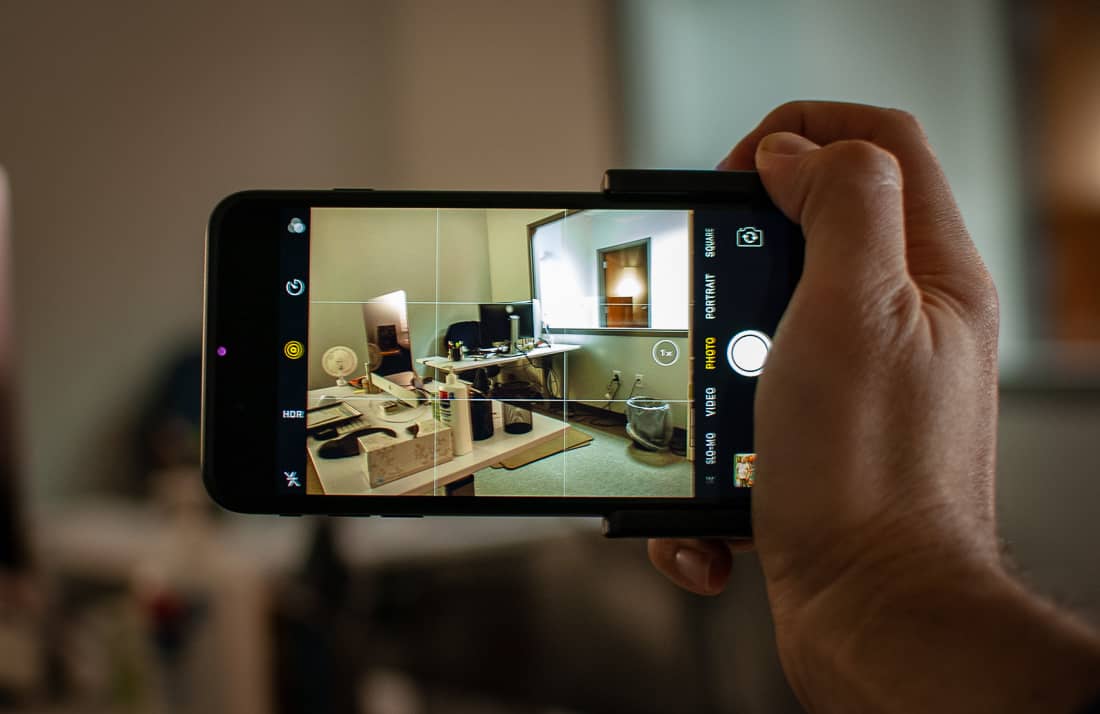 This seems OK in that regard, it's just a thought I had every time I popped that grip on my phone.
The entire functionality of the device is built into the detachable shutter button, which is essentially just a tiny Bluetooth remote that sends a "Volume Up" command to the phone, which is, of course, the shutter button on most devices when in camera mode. I did try the button when my phone wasn't in camera mode and sure enough it simply adjusted the volume up one notch.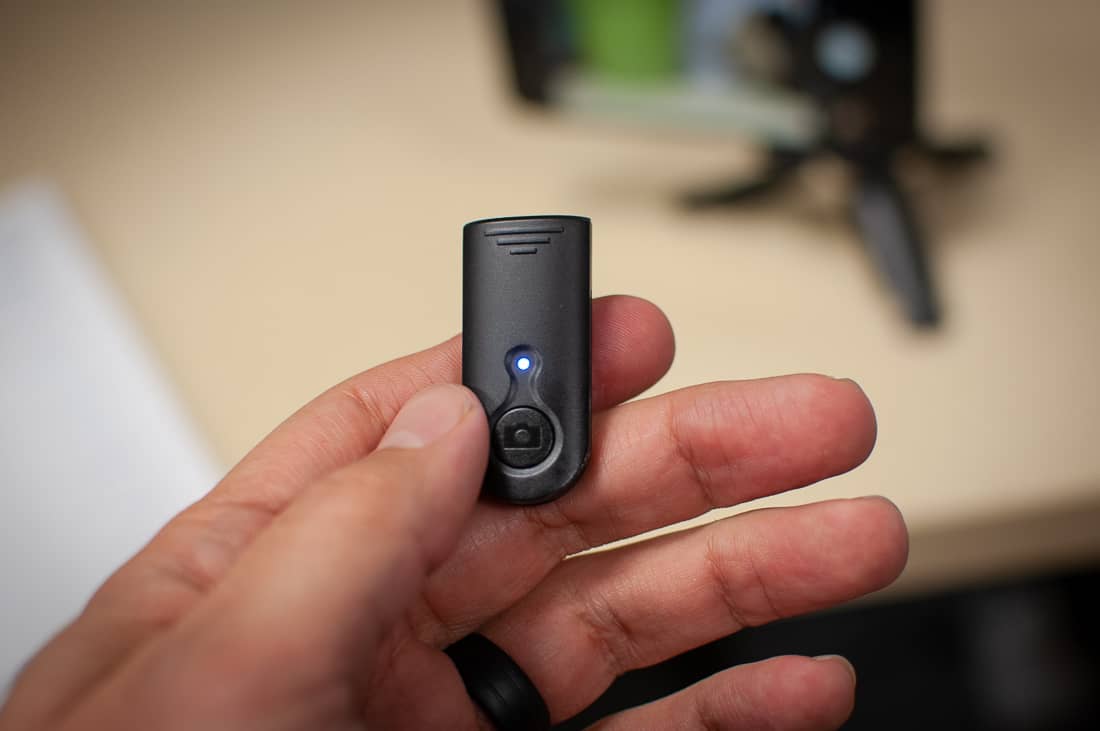 When attached to the phone, wielding the grip with one hand feels very much like a compact digital camera. Using two hands for extra stability is recommended, as pushing the shutter button on top of the grip tended to shift the camera just enough to cause some shaking, as it would with any other camera. Two hands, people.
The PhotoGrip is plenty comfortable, though, and it goes a long way toward making a thin sheet of glass and metal feel more like a standard camera.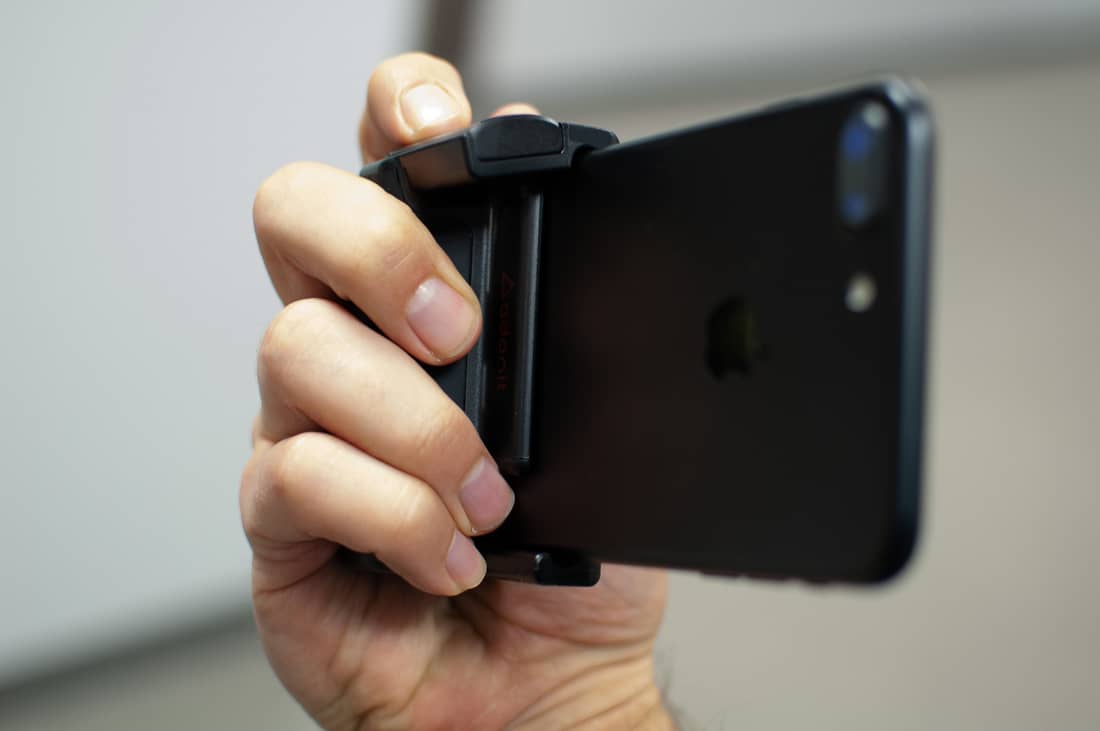 The detachable shutter control is brilliant, so much so that I'd even taken to using it without the grip when trying to line up a group shot. There have been plenty of times when having a tiny button to snap multiple shots without the whole "set 10-second timer, run back to group, take shot, rinse and repeat" routine would have been great. Not only that, but the battery is rechargeable, and lasts for about 20 hours. So nice.
The PhotoGrip also has a standard 1/4" tripod mount on the bottom, which means you can slap your phone on any old tripod you might have laying around.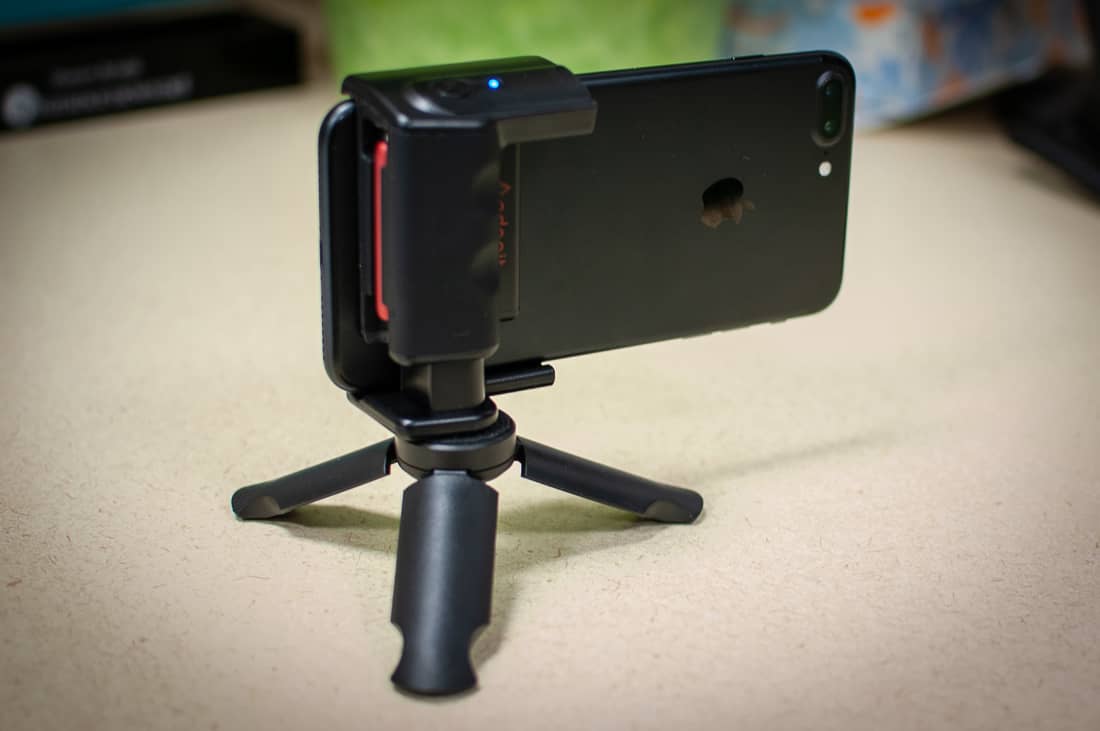 The mini-tripod is cute, though, and a nice little addition. It can certainly work well enough in most situations.
That stylus, though … 1 3/4" inches of aluminum concealed in the side of the grip … is nigh unusable. Think of a mini-golf score pencil. Now snap that in two. And that's what you're working with. Your mileage may vary, but in every instance I used it, the added accuracy of the fine point wasn't worth the awkwardness that came with it. Still, it's hard to fault them for including one.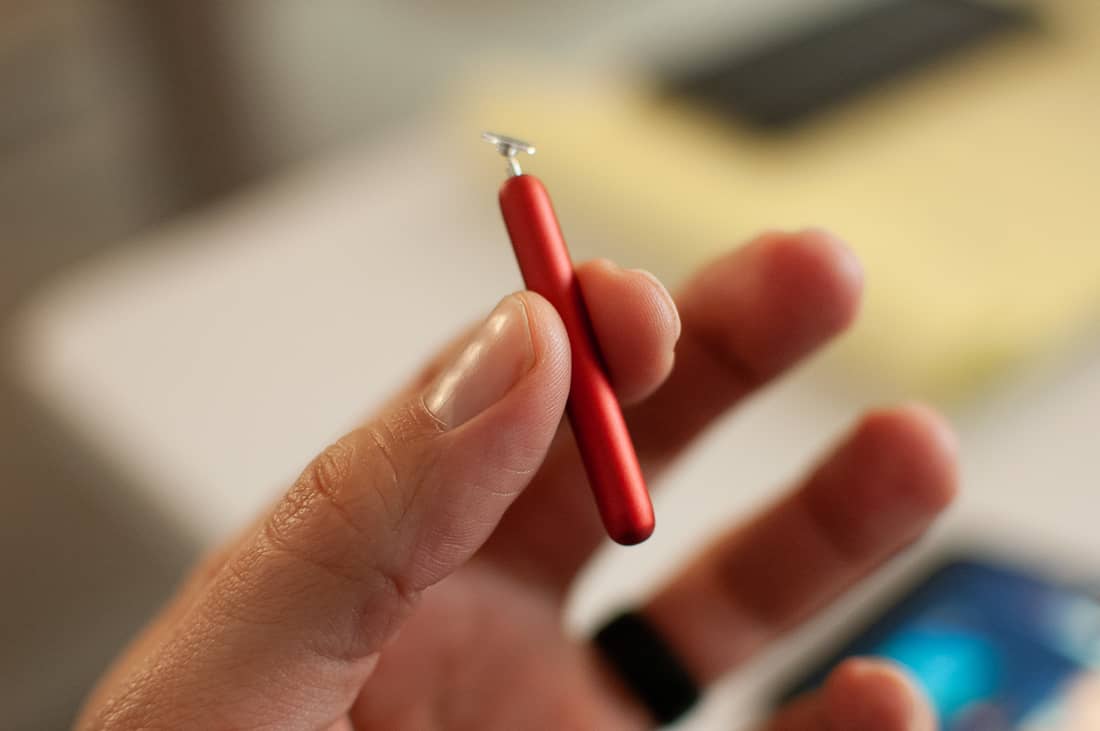 I think they included it because of the "markup" functionality in many photo editors. Even in the iOS Photos app, there is a mode to draw/write directly onto photos, although I couldn't tell you the last time I did this.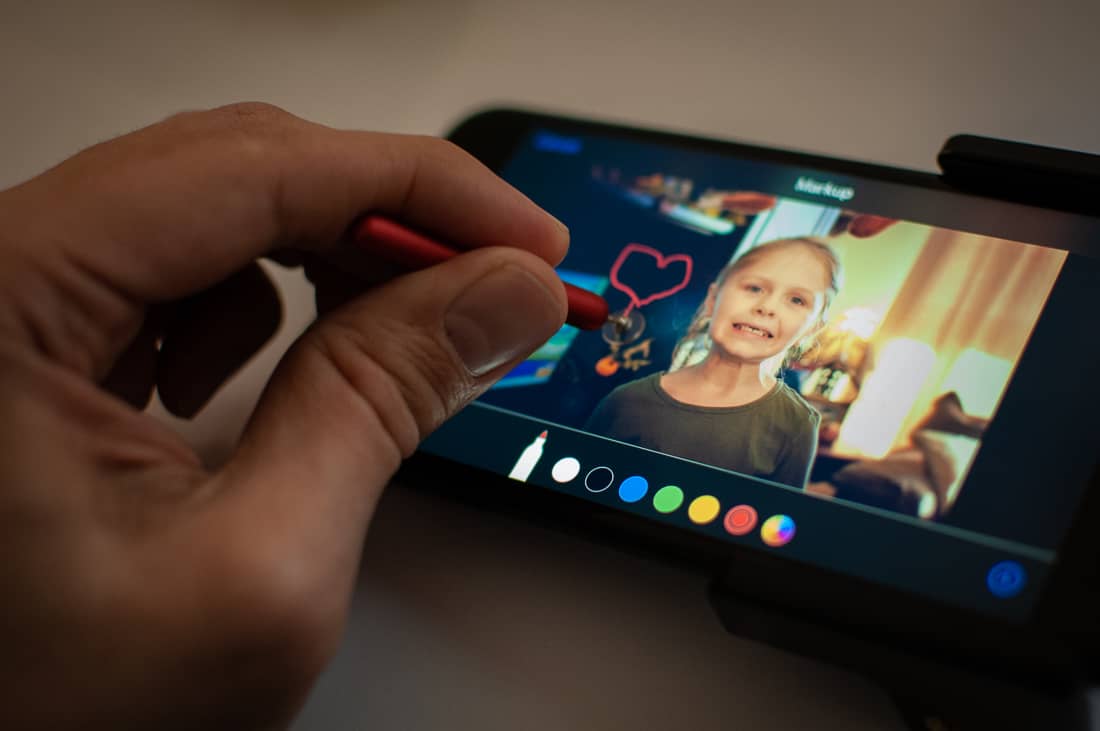 Lastly, Adonit packed in a neck strap that I ended up not using because I couldn't figure out exactly where it clipped to on the PhotoGrip itself. That's just as well, I don't relish the thought of dangling my $800 phone from my neck secured with a tiny spring clip.
What I like
remote is tiny and works over long distances
grip can be attached to any standard tripod mount
adds some stability and standard camera feel
What needs to be improved
stylus isn't much more useful than a finger and potentially easy to lose
grip is a bit tough to attach/detach
Final thoughts
Given the high quality of recent smartphone cameras, adding what feels like a standard camera grip onto your phone greatly enhances its stability and control. The detachable shutter is wonderful and adds versatility to the grip's functionality. It would make a great, and affordable, addition to any mobile photog's tech bag.
Price: $39.99
Where to buy: You can purchase the PhotoGrip in black or yellow directly from Adonit on their website and Amazon
Source: The sample of this product was provided by Adonit. To find out more and check out their line of mobile accessories, visit their website.