We use affiliate links. If you buy something through the links on this page, we may earn a commission at no cost to you. Learn more.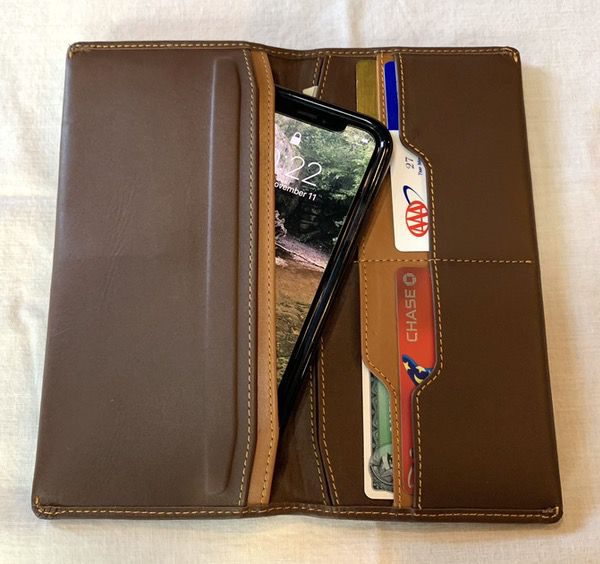 REVIEW – What the heck is a long wallet, you ask? It's a wallet designed with extra room for all of your stuff, but the dimensions are taller rather than thicker in order to keep a lean profile. We're looking at the Space Long Wallet from our friends at Aurochs today, which brings the size in a luxurious vegetable tanned leather. It's also very user-friendly. To the review!
What is it?
It's a long weather wallet sized to fit all your cash, cards, and your phone.
Hardware specs
Full-grain vegetable tanned leather
3.5" by 7.5"
Design and features
The Aurochs Space Wallet uses full-grain vegetable tanned cow leather as the primary material, and it's lovely. The hand feel is soft & supple. The leather is just thick enough to provide nice density without feeling like a massive brick in your pocket.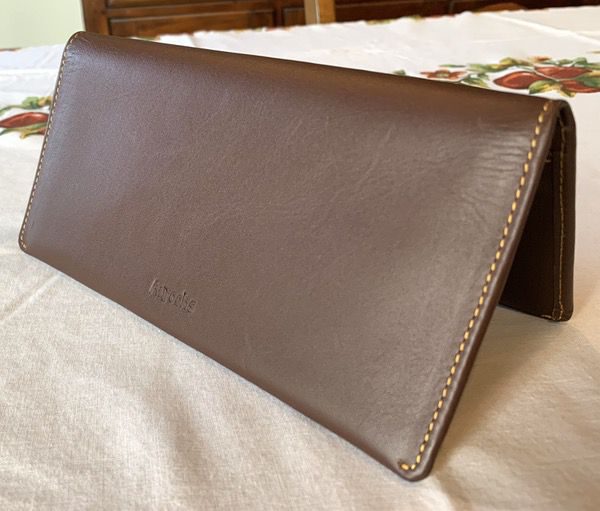 On the interior, the Space wallet offsets the dark brown leather with tan secondary interior flaps to provide some contrast. This also adds a bit of usability by visually separating the slots when you are managing your stuff.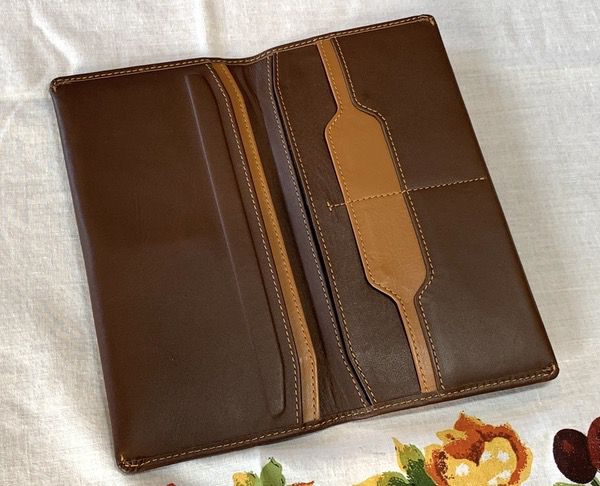 I previously reviewed the Aurochs Gravity Wallet, and was very impressed with the build quality then. It looks like Aurochs is getting even better with their finishing work in the new wallets. It's precise, with nary a bad stitch or exposed seam to be found. Check out the close ups: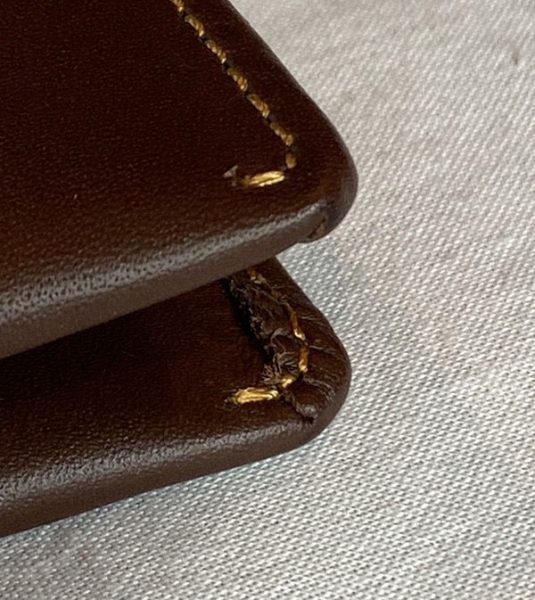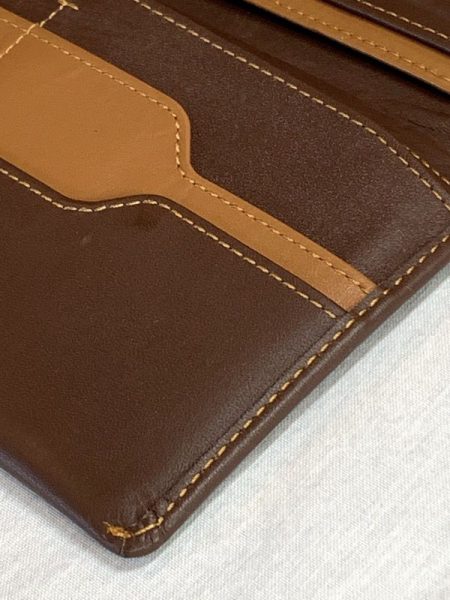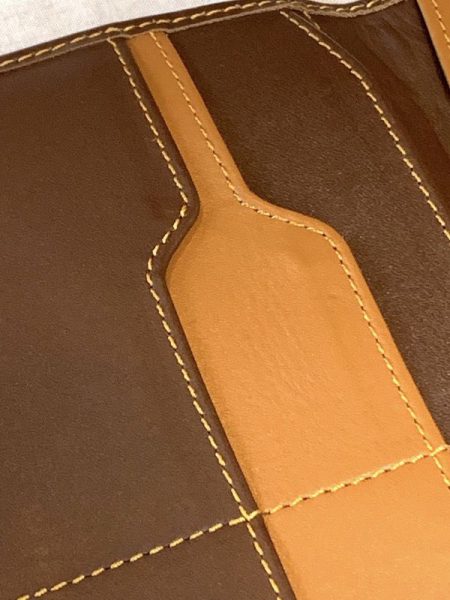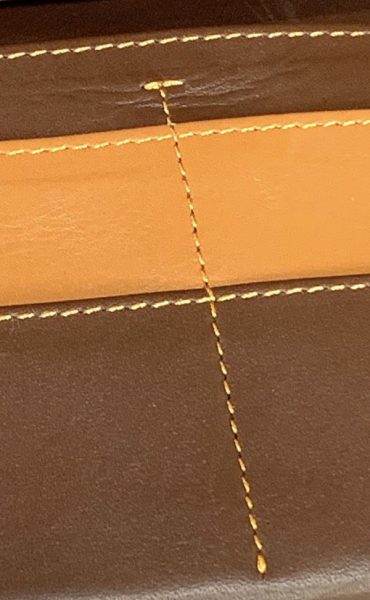 Nice, right? Even the little divider in one of the pockets is made 100% from leather. It's only about an inch and a half long… that's some nice precision work: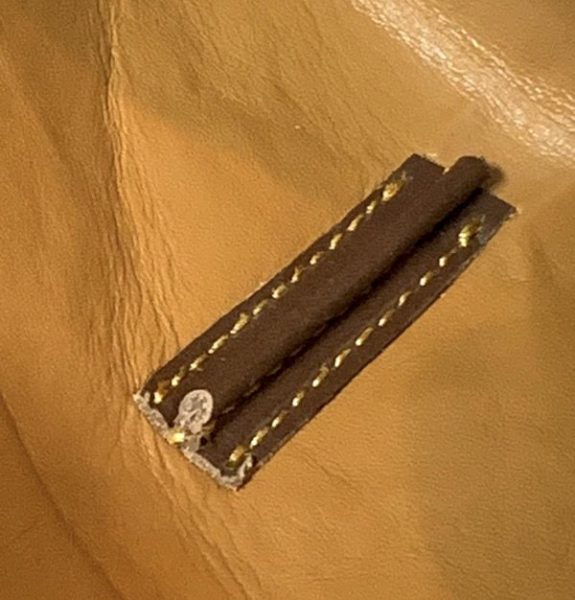 The form factor is a long bifold design that measures 7.5" tall by 3.5" wide. Other than an embossed company logo, you won't find any additional ornamentation or design elements on the exterior. The leather just speaks for itself.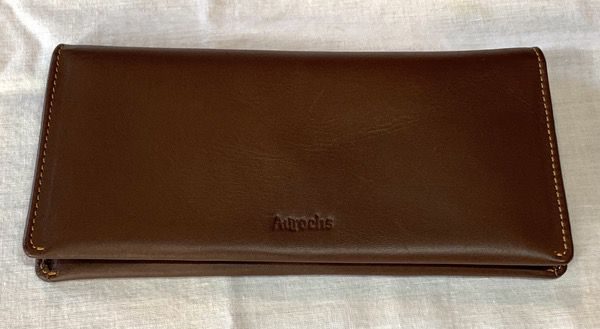 The left panel includes 4 card-sized slots, each of which has beveled edges to help you sort out your assortment of credit cards, business cards, and the like. I'd estimate that 8 cards can be kept there comfortably, and you could get to 12 cards in all with some stretching.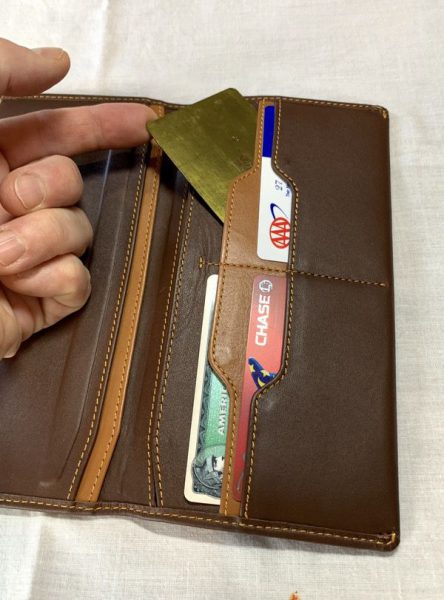 Behind the card slots is a vinyl-lined pocket for your big bills. No folding required! This pocket runs the height of the wallet, and is generous enough to pack a small stack of bills while allowing easy access. There's no pinching your fingers to get into the bill slot (or any pockets on this wallet, for that matter).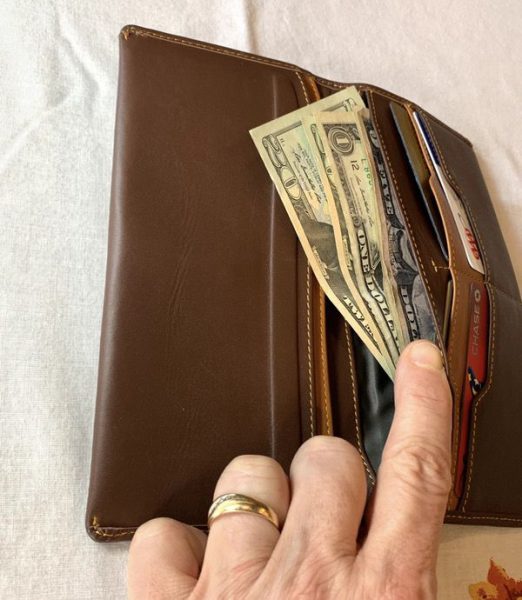 Moving to the right panel, the front pocket is kind of a multipurpose slot. It's got a magnetic strip closure and a small leather separator in the pocket so that you can use this space for assorted items like a USB card, a key, or your spare change. I didn't find the magnetic strip to be super powerful, but it clips just enough to keep that loose stuff from falling out.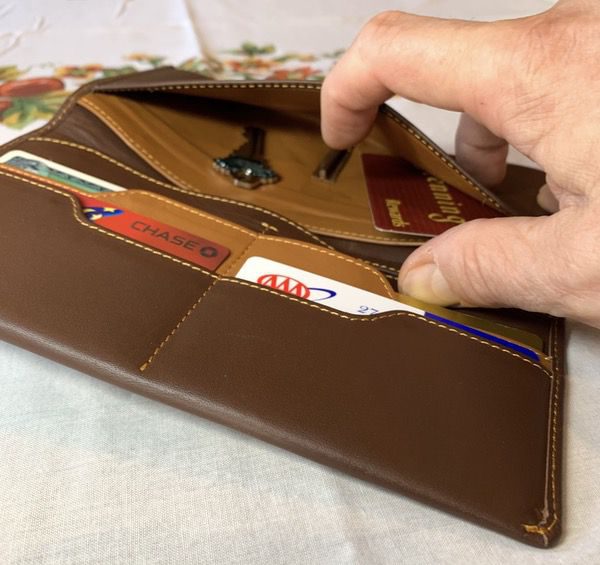 Behind the multipurpose pocket is another big pocket intended for your phone. This pocket is designed for a 6" phone, like the iPhone Xs. Check out the fit shots below for an iPhone Xs in its case: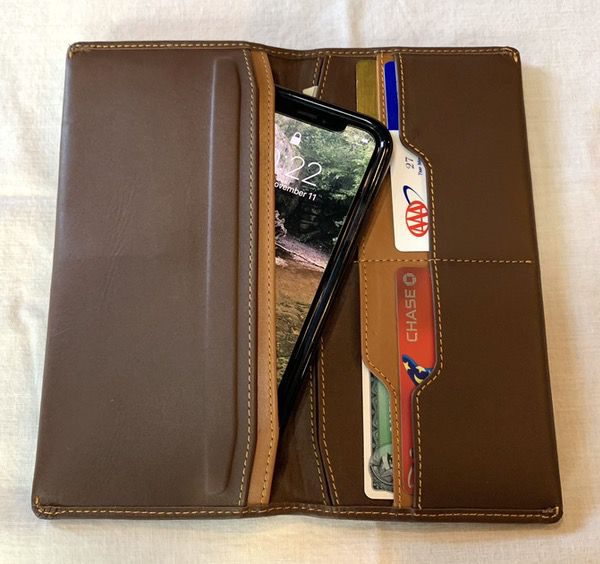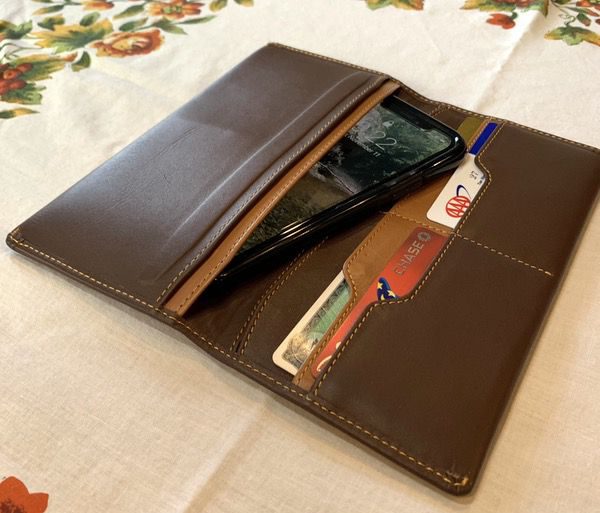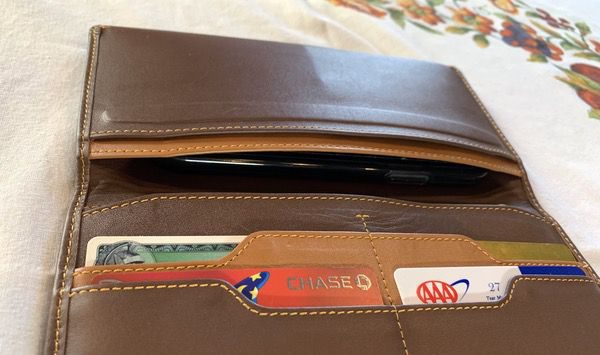 The iPhone Xs Max and it's 6.5" display will fit (barely), but it is a tight squeeze. Check out the pics below to see the Xs Max in the same space: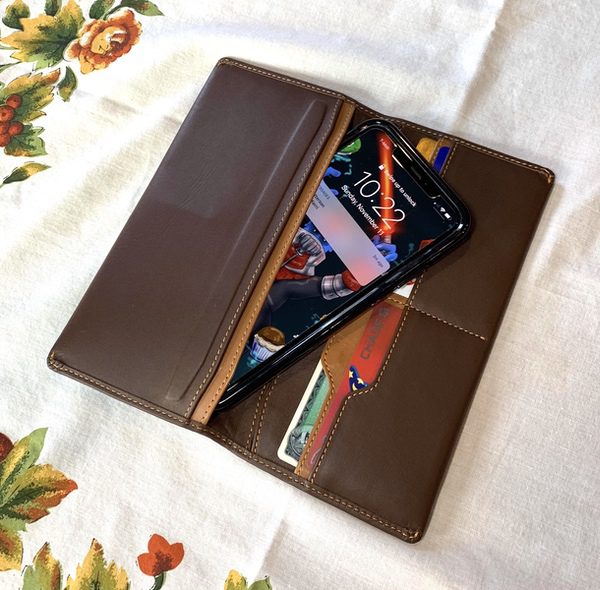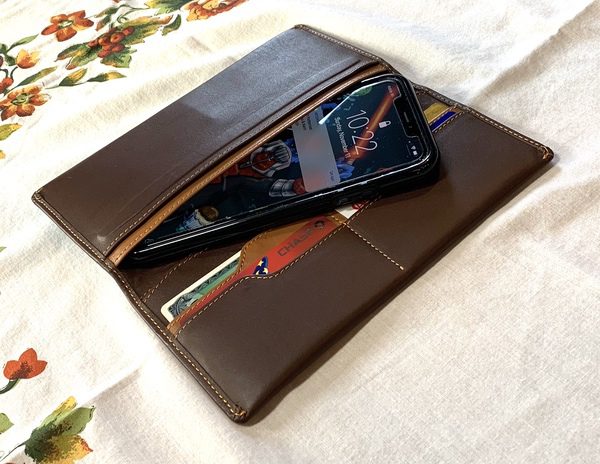 See that? It's doable but very tight. I think you'd want to stick to 6″ phones to make the best use of this feature.
Performance
As far as daily use goes, the Space wallet is as simple and usable as it gets. Every pocket and slot is easy to manipulate, with soft leather that doesn't pinch your fingers or make you work too hard to get to your stuff. The layout is well-sorted out to make maximum use of the large size and doesn't gunk things up with fancy gimmicks. This is a wallet that's really easy to live with on a daily basis.
The leather is just outstanding. The rich, supple texture makes it a nice product to handle. It slips easily in and out of your pocket. I also expect it to break in quickly, and the patina should be lovely as it ages.
My only real issues with the Aurochs Space Wallet are purely around personal preference. It's a big wallet at 7.5" by 3.5" and can get thick with the phone in it's slot. If you're a front-pocket wallet person, you may find this wallet to be too big for you.
There are, of course, alternatives to carrying your wallet in your front pocket. I've worn it with dress pants that have deep front pockets, and it's just fine. It's perfect for slipping in the breast pocket of a sports coat (or jacket), or keeping in your bag or purse (it is a unisex design). I actually see this as a great travel wallet, especially since I seem to carry a bunch of extra cards and such when I am on the road. I'm also always carrying a bag when I travel.
What I like
Excellent craftsmanship
High quality vegetable tanned leather
Simple usability
What needs to be improved
Doesn't fit larger phones
Long wallet form factor may not work for some people
Final thoughts
I continue to be impressed by both the quality and the design work coming from Aurochs on their small leather products. If you like keeping your pockets clutter-free, the Space Long Wallet is ideal for keeping all your essentials organized in one place. The leather is beautiful. The design is user-friendly. If you like the form factor of a longer wallet, this is a good one.
Price: $109.00
Where to buy: Aurochs Web Site.
Source: The sample of this product was provided by Aurochs