We use affiliate links. If you buy something through the links on this page, we may earn a commission at no cost to you. Learn more.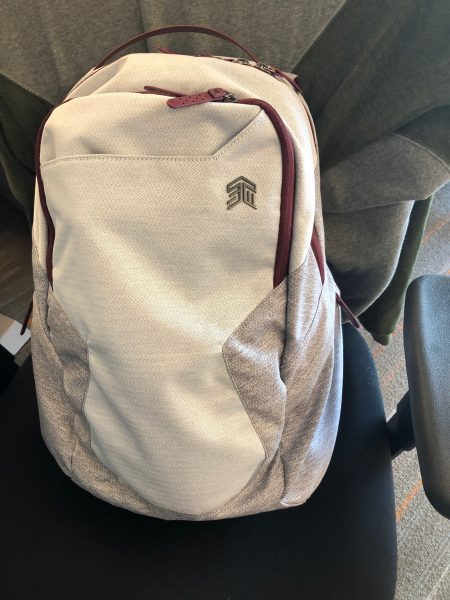 REVIEW – Laptop backpacks are all the rage these days. With the rise of a younger, more tech-focused workforce, carrying a backpack, at least in tech circles, is no longer the mark of a lower echelon drone. At my publicly-traded technology company, directors and VPs carry backpacks into the office on a daily basis. My latest daily driver, the Myth 28-liter backpack from STM, fits in with any range of tech worker. I have really enjoyed testing it.
Note: Photos may be tapped or clicked for a larger image.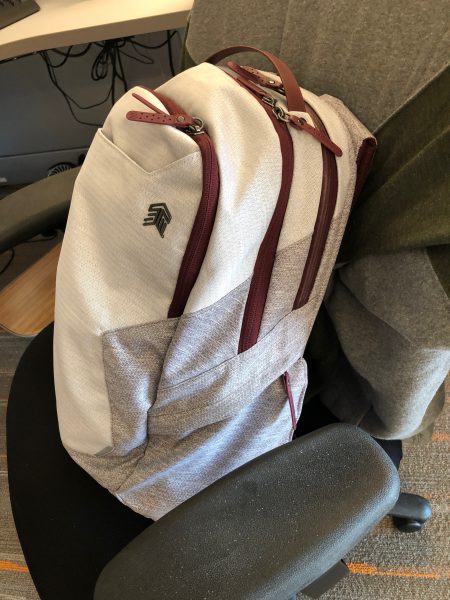 What is it?
The Myth is one of what STM calls their Laptop Backpacks. It's primarily designed to be a pack, sure, but paying special attention to your large, flat screen and protecting it from harm is the primary purpose of this bag. The other features are all there as well, but the laptop compartment and the tablet sleeve are both "air-gapped" so that your device doesn't get impacted if you drop the bag onto a floor from too high a distance.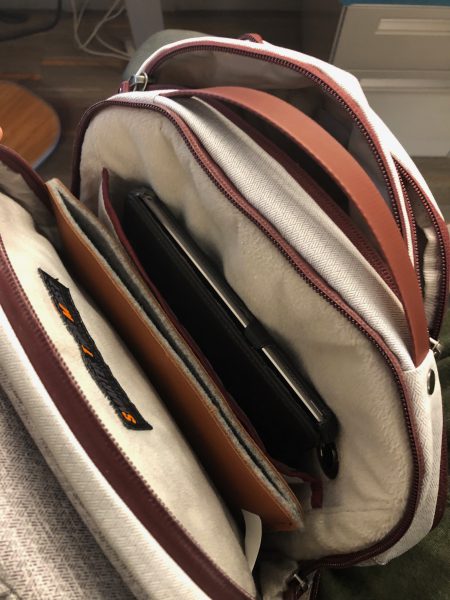 Hardware specs
from company website
size 15″
main material: 100% polyester
outer dimensions: H 18.5 x W 11.8 x D 6.7 in (H 47.0 x W 30.0 x D 17.0  cm)
capacity: 28.0 L
weight: 2.69 lbs (1.2 kg)
Slingtech – the laptop never impacts the ground
CableReady – you can charge anything in-bag
Luggage pass-through – attach it to your luggage for easy portage when walking
ComfortCarry – mesh and padded back and straps for comfort
AirPod pocket offers quick, easy access to your wireless headphones
TPU coated webbing handles with rivets ensures durability
Water repellent C6DWR coating applied to fabric
Air channel back panel system promotes air flow, keeps you cool and comfortable
Reverse coil zippers protect teeth, keep moisture and grunge out
Internal fleece-lined sunglasses pocket
Weather-sealed laptop pocket
Design and features
The Myth design is a new one for STM. I've previously purchased several bags from them with personal funds and actually still have them in use. This new line is a departure in both materials and design. It's less traditional "outdoor hiking pack with a laptop sleeve", both in look and design. There are contrasting patterns of fabric used in unusual ways to provide a design flair. The colors are also from a less traditionally outdoorsy palette: pastels and subdued colors, rather than bright, in-your-face colors. I was sent the 28L Myth in a cream and reddish-grey fabric with maroon zippers and webbing. I think it looks very nice, but the Lovely Bride thinks is looks like a school sweatshirt. STM calls is "Windsor Wine." Not sure what that should conjure up.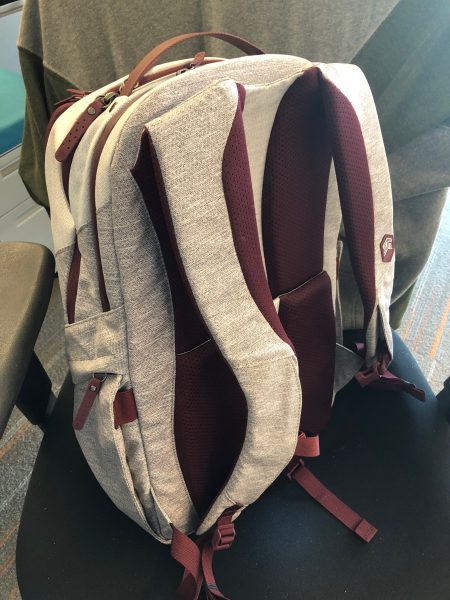 The back panel has two wide, padded pieces vertically with a wide space for your spine. The weight of the pack doesn't hit your spine at all. The back pads and inner straps are covered in a nylon mesh fiber, not unlike breakaway football jersey material. Beneath this is closed-cell foam. The mesh wraps around the inside of the straps to provide cushioning around the neck. The outer surface of the straps is the same material as the pack itself – a smooth but slightly textured polyester. About 9" before the adjustment buckle is attached, there is a gliding sternum strap assembly. (Nice touch: there's a doubled 2" piece of elastic stitched into a 2.5" section of the sternum strap. This means it is snug, but not death-grip-tight against your chest.) On the left strap, there is a fabric octagonal company logo the size of a quarter coin (€2 or £1 coins) that falls over your heart. The lower 9″ of the back has a pass-thru for your roll-aboard luggage handle. Where the straps connect at the top has a flexible yoke that cradles your neck. This lets you cinch it up tight without feeling it's falling off the back, or you're going to snap your iPad screen in two.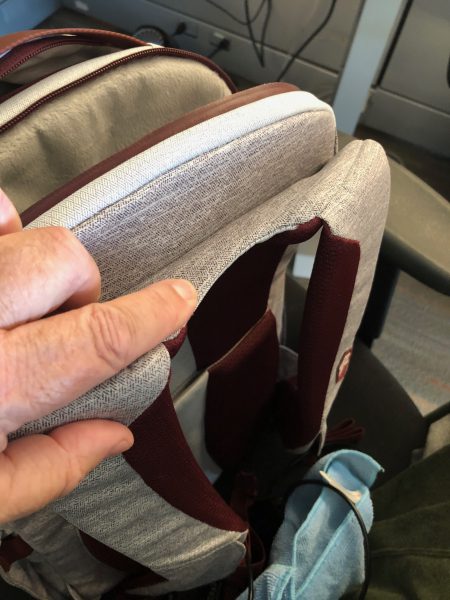 There are three zippered pockets accessed from the top, and a stash/water bottle pocket at each corner. The stash pockets have hooded covers over them, and a rear gusset, so the size can vary but the sleek line of the front doesn't show it. The left-hand (as you wear it) stash pocket has a grommet-covered pass-through into the center zippered pocket. There are also grommeted holes in the upper wall between the other two compartments so that you can put a charger in your bag and connect anything within these four places. There are no straps or channels for the wiring, so the inside is going to resemble a suicide bomber's vest, but you can have things charging while you're on-the-go. (Well, there is a single safety-orange plastic wire clip sewn into the piping inside the center pocket just above the side pocket's grommet. I only found it looking into the depths of the bag during the review. I've been carrying the bag for 2 months and never noticed it!)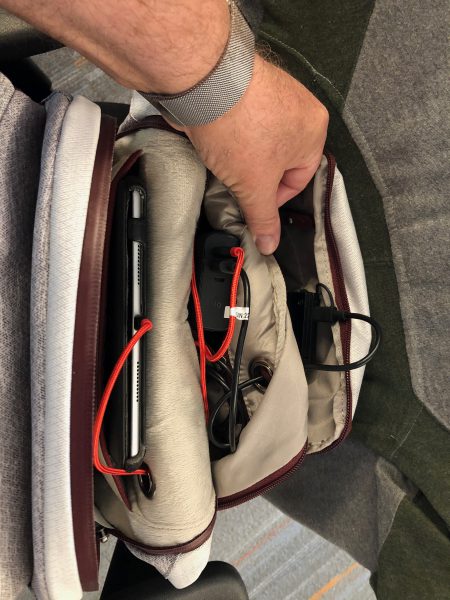 The bottom pocket (if you lay the straps on the table) is for your laptop/tablets. There's enough room for my MacBook Pro 15" and my iPad Pro 10.5", and they are separated into their own cocoon. The tablet pocket can hold a 12.9" (original 2016) iPad, but the zipper won't close with it in there. I don't think the new model will be much better, but we're still a week away from those being out as I write this. It may be reduced enough in size to fit. Below, with both a large and smaller iPad Pro, each has a pocket and they snuggle nicely together.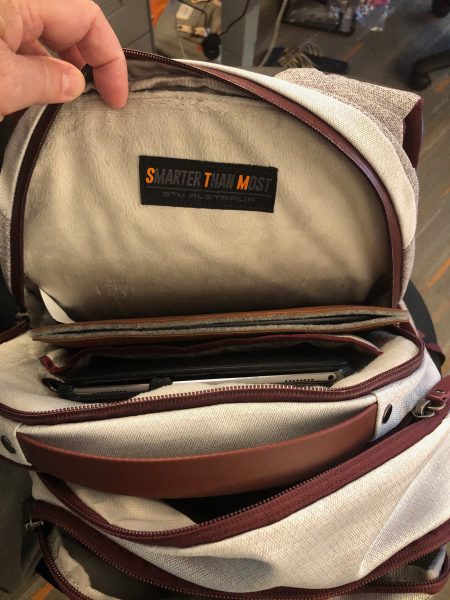 The top edge between the laptop pocket and the center pocket has the haul loop attached. This is listed as being TPU-coated for strength. There is a bit of a pattern that I can detect under the coating, which looks similar to the webbing on the straps, but I'm not sure. I don't like the feel of this, but it is securely riveted into several layers of the main bag, so I don't think it'll fail easily.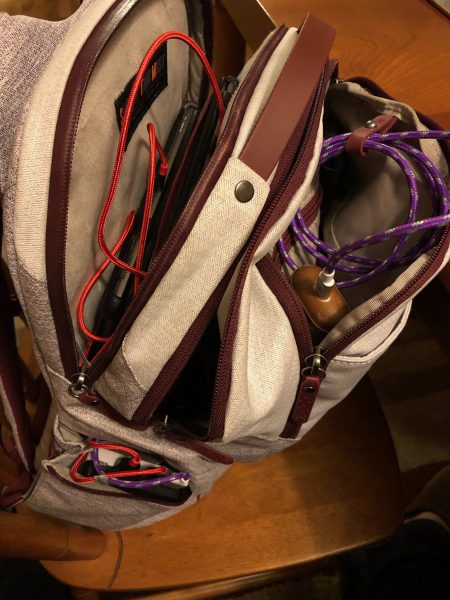 The center pocket has organizer pockets on both sides. There is a mesh full-width one on the back side and an open-topped one below. The front side has a fleece-lined full-width pocked staggered down from that designed to hold glasses. The room at the bottom splays out into a space about 5" wide, so large headphones or cameras will fit here without issue. You could also toss in 3-4 bottles of wine or a couple of 2-liter bottles of soda. It's surprisingly roomy. There is also a small pocket just on the other side of the left-hand outer stash pocket that could hold a power brick, umbrella, or another item you'd like to not have rambling around in the bottom of the bag. Maybe it could hold your rechargeable earbuds or your dongle case.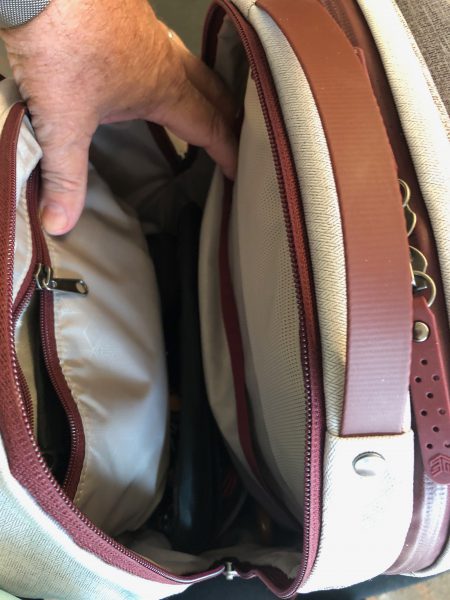 The outermost zippered pocket is next. There is only organization on the inner wall of this full-length space. There is a zippered envelope at the top (this would be opposite the sunglasses pocket) that would hold a passport, Moleskine (not the 5.5"x8.5", but smaller ones would fit nicely) or a couple of CDs that you burned for your grandmother. Below this, there are pockets for cards, pens, flashlights, etc. They aren't huge, but they have enough spare material to hold things up to maybe half an inch thick. I have a case for dongles that fits easily and only sticks out an inch or so. On the front wall, there is a single plastic tab with a stud and a hole near the end, so it loops up and can hold something about a half-inch in diameter. Like a rolled up set of earbuds. Or a charging cable that's coming out of one of those grommets. Or your keys. It's easy to access and keeps whatever you want right up at the top. (A mini-light so you can see into the depths of the bag?)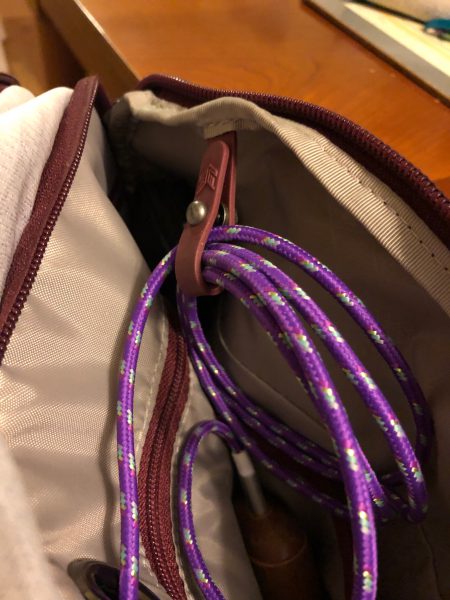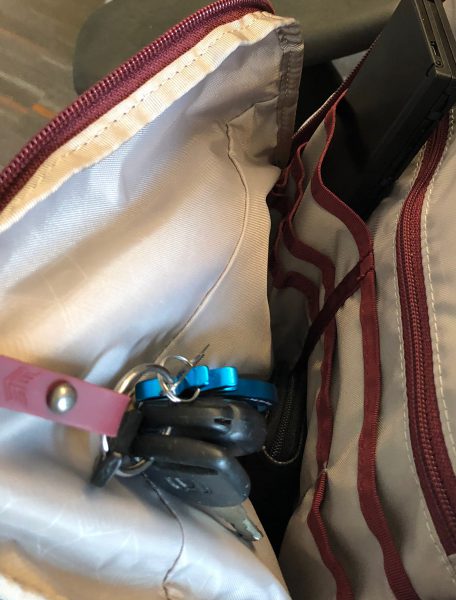 On the back is what I think of as this bag's secret superpower: an open pocket that extends down the entire length and width. At 8"x 13", it can hold a full-sized (original 9.5") iPad, or your gym shoes, or an extra lens, or a mini-tripod, or a scarf after the ride heats up, or your gloves, or a decent-sized collapsible umbrella and raincoat. (In the picture below, I pulled my umbrella up to emphasize the pocket. It's in the pocket in all other photos, it just doesn't show.)
On the outside, there are two small hits of reflective striping at the bottom of the open pocket, and a stamped metal logo sewn into the top-right corner.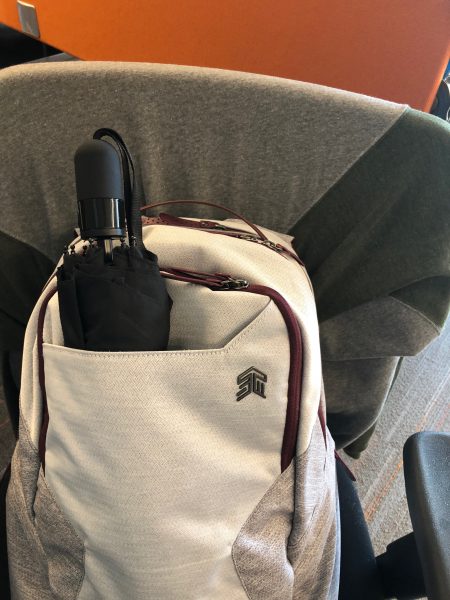 What I Like
Looks good – it's not just another boring black backpack
Feels good – everything settles into your back nicely
Protective of my screens – no edges are exposed
What needs to be improved
Not a fan of the rubbery haul loop
Final thoughts
The Myth 28 liter comes close to being my perfect bag. I have been carrying this bag at least one day a week since I got it. I test other bags, but keep coming back to this one, because it feels nice, it's a great size, and I like the pocket layout. Part of that is the front open pocket where I stash my "foul weather gear" – my poncho and umbrella. (Durham doesn't get loads of rain all the time, but when we do, it can be intense. I've seen it drizzle for a week, and also pour down an inch in an hour after a dry day. Around here, you have to have fast access to waterproofing, or you're going to be really wet, fast.) This pocket is rarely used for anything else, but I can have an umbrella out in seconds. Few other bags offer a similar size "quick-grab" pocket for an umbrella. And few others have such good organization, comfort, and enough room to carry everything without feeling like I'm on maneuvers. And none of them have looked this good while doing their thing.
Price: $135.95
Where to buy: STM Goods Website or Amazon.
Source: The sample of this product was provided by STM.