We use affiliate links. If you buy something through the links on this page, we may earn a commission at no cost to you. Learn more.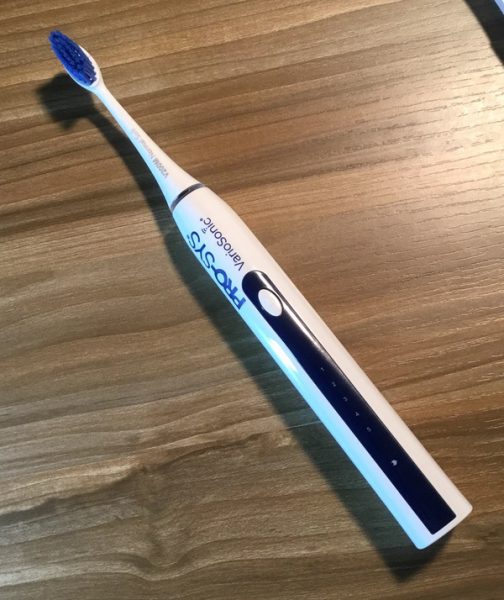 REVIEW – Yeah, I know… electric toothbrushes aren't the sexiest gadgets. But they are an important tool in your daily cleaning routine. If you're shopping for some power-assisted dental hygiene the PRO-SYS VarioSonic is a simple, cost-effective solution worth our consideration. And if you've been avoiding an electric toothbrush because you have sensitivity issues (like I do), this particular gadget is even better. To the review!
What is it?
It's a rechargeable electric toothbrush with 5 different speeds and 5 different brushes for a total of 25 possible brushing intensities.
Hardware specs
Rechargeable battery runs for over 1 month on a full charge
DuPont Tynex Bristles for all brush heads
5 levels of intensity
2 minute timer
What's in the box?
The package includes the toothbrush, 5 brush heads, a charging dock, a USB wall adaptor, and a travel case. An instruction manual is also included.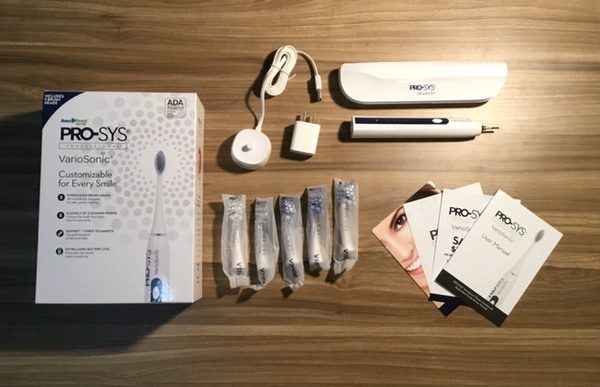 Design and features
There are lots of electric toothbrushes out there with a wide range of features and options. The PRO-SYS VarioSonic keeps things simple: excellent design, simple functionality, and great ergonomics. You pretty much get everything you need in a great toothbrush out of the box, without paying for a bunch of features you'll probably never use.
The VarioSonic is lightweight and maneuverable in your hand. It doesn't have features like a rubberized grip, but I didn't miss this in normal use.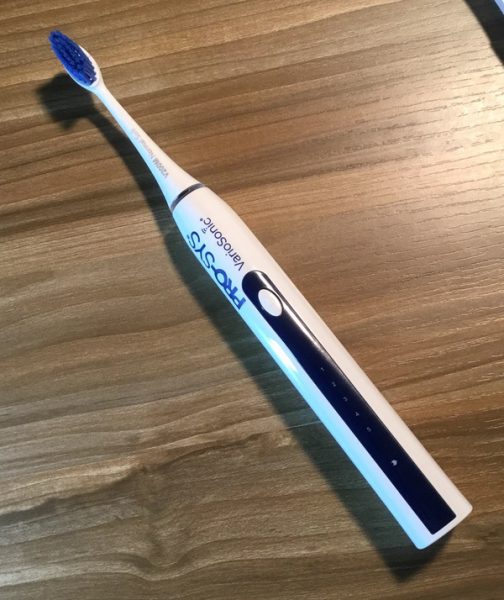 One of the great things about the VarioSonic is that it caters specifically to those with sensitivity issues. You get 5 different toothbrush heads, each with different degrees of brush stiffness and contouring based on your needs. "Normal Soft" is the standard brush for folks without sensitivity issues and healthy gums: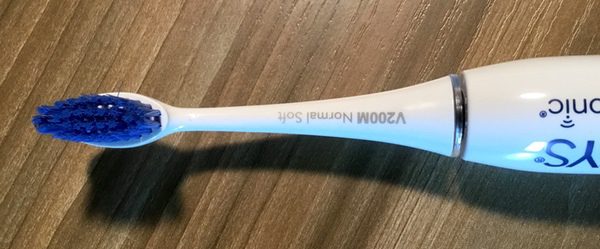 For comparison, here's a close up of the "Hybrid Soft" that represents the midrange of the set. It uses a combination of the "Normal Soft" bristles with an outer ring of longer, softer bristles for deep cleaning. High-quality DuPont Tynex bristles are used in all the brushes: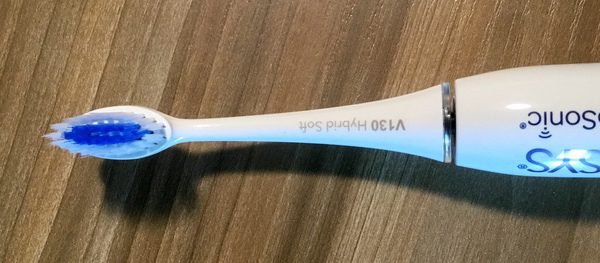 The brush heads run down to a "Super Soft" level for really sensitive teeth and gums. If you have sensitivity issues, this package gives you everything you need for comfortable brushing without having to buy any extras. That's great if you've been afraid to check out an electric toothbrush. Options abound here.
Once you've chosen a brush head, you'll find that there is a single button on the handle for operation. Pushing the button cycles through 5 level of intensity, each of which is accompanied by an audio tone that drops with each level for additional feedback. The pic below shows the middle level selected. When combined with the 5 brush heads, this makes for 25 different levels of softness and intensity to choose from to match your specific needs. You can even start on really gentle settings with the softest brush and work your way up as you get more comfortable!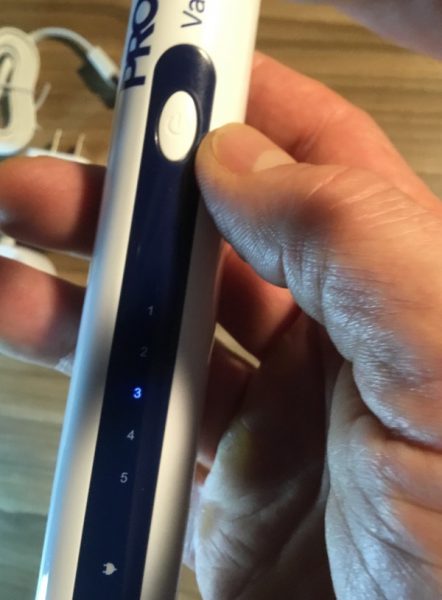 Regardless of the level you choose, the brush runs through a two minute brush cycle. The brushing pauses every 30 seconds to indicate that you should move to the next quadrant in your mouth (upper right, lower right, upper left, lower left) for a proper cleaning. If you're wondering about the quality of the brushing, you should know that the ADA Council on Scientific Affairs has provided their seal of approval on the VarioSonic as safe & effective when used as directed.
The charging setup is also very well executed, using a USB cable to connect the charging dock. A USB power block is provided in the kit, but you could plug directly into a USB wall socket or even a portable charger in a pinch. Note that you cannot get the USB port wet, so you'll want to be careful handling it!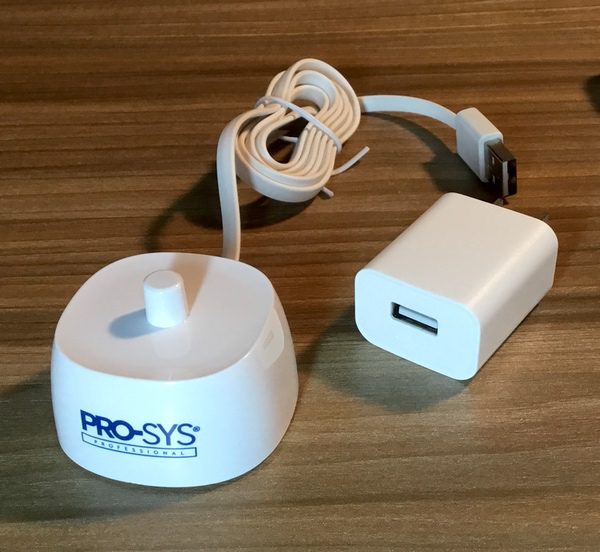 PRO-SYS has also provided a nice traveling case with the package. It's a nicely contoured and slim design that makes it easy to travel with, and includes a pair of light magnets to ensure a tight seal. The build feels like much more than an afterthought. Combined with a battery life that is rated for more than a month of regular use between charges, and you'll find that the VarioSonic is really easy to travel with.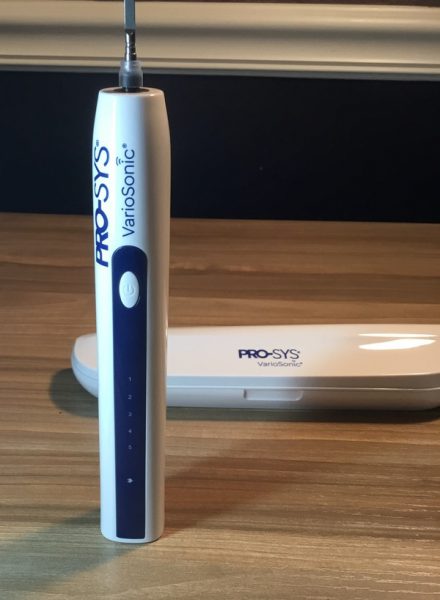 Daily use with the PRO-SYS VarioSonic is great. It handles well, feels good, and provides everything you need for your daily dental maintenance. It does not have features like the ultraviolet cleaning or gum massage modes, but I don't know that you need those for this device to be effective. It does the job simply and well.
I should note that the selection of soft brushes is a great bonus. I'm a dentist's worst nightmare with some pretty bad sensitivity issues. While my Sonicare does a great job, it does put a pounding on my sensitive teeth. The VarioSonic provides a gentler brushing (even at max intensity) that is much more comfortable for me.
There's also the issue of price. You can pick up the VarioSonic on Amazon right now for $69.99 on Amazon Prime. That's a pretty good value for an ADA-approved electric toothbrush when compared to Sonicare or Oral-B pricing. You also get 5 different brush heads to boot. I think it's a pretty good deal.
What I like
Quiet operation
Lightweight and easy to handle
USB charging options
Multiple brush heads and intensity levels out of the box
Ideal for those with sensitivity issues
What needs to be improved
Keep the USB connectors away from water
Final thoughts
In a market filled with electric toothbrushes, the PRO-SYS VarioSonic provides a simple & effective design at a reasonable price point. If you have particularly sensitive teeth, this is a great option over some other brands that provide more power but aren't as kind to those with dental issues.
Updates 03/12/19
I'm trying to be better about dental care, so I started packing the Variosonic with my EDC. The slim hardshell case is perfect; I can throw it in any bag and not worry about it cracking or taking up too much space. And it goes for over a month between charges, so I'm never worried about running out of juice. The brushing quality is excellent, and I think my co-workers appreciate that I'm going to my daily meetings with afternoon minty-fresh breath. Winning all around.
Price: $69.99
Where to buy: Get it on Amazon or visit the Variosonic product page on the PRO-SYS web site to buy direct.
Source: The sample of this product was provided by PRO-SYS