We use affiliate links. If you buy something through the links on this page, we may earn a commission at no cost to you. Learn more.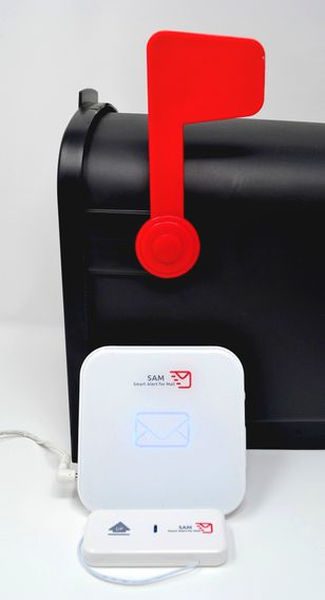 NEWS – Smart Alert for Mail has developed a hardware gadget called SAM – the world's first purpose-built cloud-enabled alert system for a residential mailbox. This patent-pending system is composed of a transmitter, receiver, and optional mobile app. The SAM transmitter is a motion activated switch that transmits a signal to the SAM receiver. This is mounted to the mailbox door or a location which will register movement when mail is delivered. The rated range of the unit is 300 feet, line of sight.  The transmitter has a short external antenna which can improve signal transmission when used with a metal mailbox.  Upon detecting a signal from the transmitter, the envelope symbol on the receiver switches from green to blue and begins glowing. The receiver also plays an alert tone or a user selected mp3 (the AOL "You've got mail" announcement seems like the most obvious choice) and sends a signal through a connected Wi-Fi network to a mobile app. Through the mobile app, users are able to monitor their mailbox activity from anywhere cellular service is available. Pressing the receiver or acknowledging the detection in the app resets the transmitter notification for the next parcel delivery.
SAM has been designed to work with all USPS-approved curbside mailboxes, but it can also be used in a variety of motion detection applications. The retail cost of the SAM is $59.00 and $10.00 shipping. All of the wireless services are provided without subscription fees along with the purchase of the unit. For more information and to place an order for SAM, please visit https://smartalertformail.com/. SAM is available for pre-order today and will begin shipping in early December.