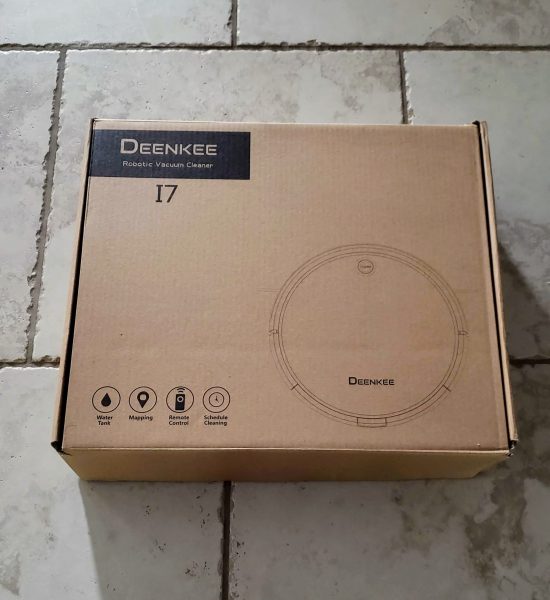 There are literally a plethora of robotic type vacuum cleaners out on the market.   The price ranges from a couple hundred to right at a thousand dollars for one.  We have all heard that quote 'You get what you pay for', and that has usually been my experience.  However, I was recently offered the opportunity to try out one of the lower priced vacuums by Deenkee.  I have never had a robotic vacuum and figured out I would give it a try.  Let's see if the low price still gave good results.
What is it?
The Deenkee Intelligent Vacuum Cleaner is exactly what you think it is.  It is an automatic vacuum cleaner that roams around your house vacuuming carpets and hard floors.  This vacuum has the additional special feature of having a wet mop option along with the regular vacuum functionality.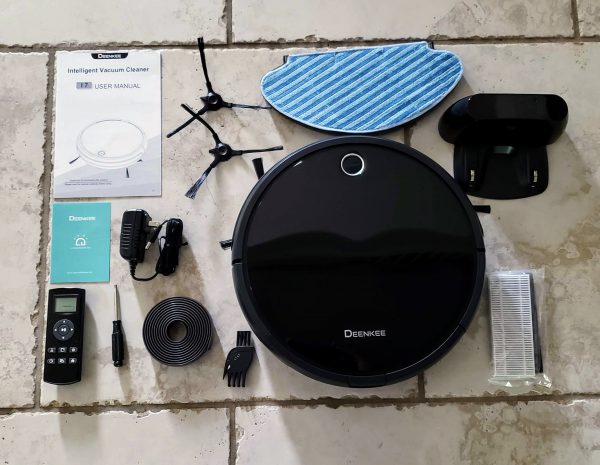 What's in the box?
Deenkee included a lot of extra items in their budget-friendly vacuum.  Working our way around the picture from the top left to the right the following items were in the box.
User Manual
Two extra sweeper brushes to replace the 2 that are already mounted underneath the vacuum for when they wear out.
The wet mop pad and water holder underneath it.
Charging base station
Blue warranty card
Power adapter for the charging station
The vacuum itself with 2 brushes and filter system already installed.
An extra packet of HEPA filter and thinner foam filter
Remote control
Philips head screwdriver
A strip of heavy magnetized rubber
Small brush used to clean out the filters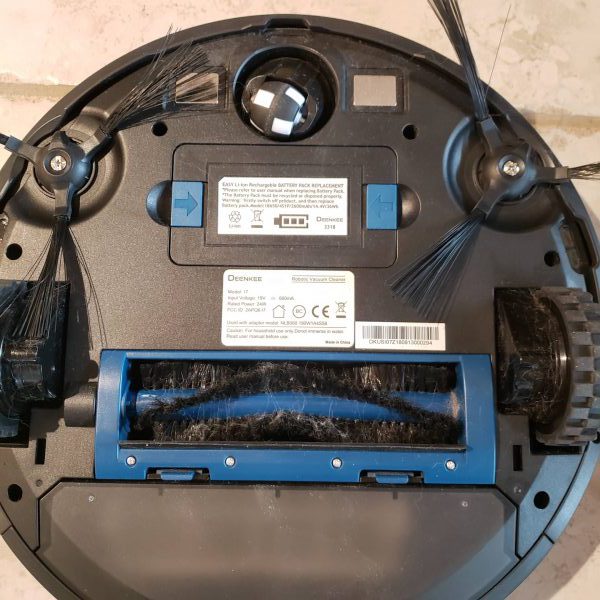 Design and features
First off let me apologize.  The rest of the pictures in this review were taken after the vacuum had already gone around the first floor of my house a couple of times.  I was so excited to use the thing I totally forgot to take pictures until after it ran!  The picture above shows the bottom of the unit.  The first thing that caught my eye was the fact that the unit has two horizontal rotating brushes with one on either side of the front wheel.  This is one more than will see on other vacuum cleaners like the Roomba brand.  At the top of the picture, you can see the front wheel which is a freewheeling in any direction ball-type wheel.  Right below the front wheel is the battery compartment where the rechargeable battery sits.  This is replaceable so I assume in the future I can order another battery if and when the one I have now wears out.  Let me say that this battery is AWESOME.  The machine ran vacuuming the whole time for a solid 120 minutes.  The manual says it will run 90 – 120 minutes and I have had it run a full 120 minutes consistently.  It has then run an additional 30 minutes winding its way from one side of my house to the other finding its charging station.  That last 30 minutes the vacuum part was turned off and it just freewheeled around looking for the charging base.
Behind the battery, you will see the 2 rear wheels and the main middle brush.  Note the 4 tiny Philips screw heads below the brush.  You can use the included screwdriver to remove those screws and the brush will pop right out for easier cleaning.  We own a Shetland sheepdog and he sheds quite a bit of long hair.  I find I have to clean that brush about once a month to keep it effective.
Also, notice the two vertical oblong holes on either side of the middle brush?  That is where the water reservoir and mop pad would install.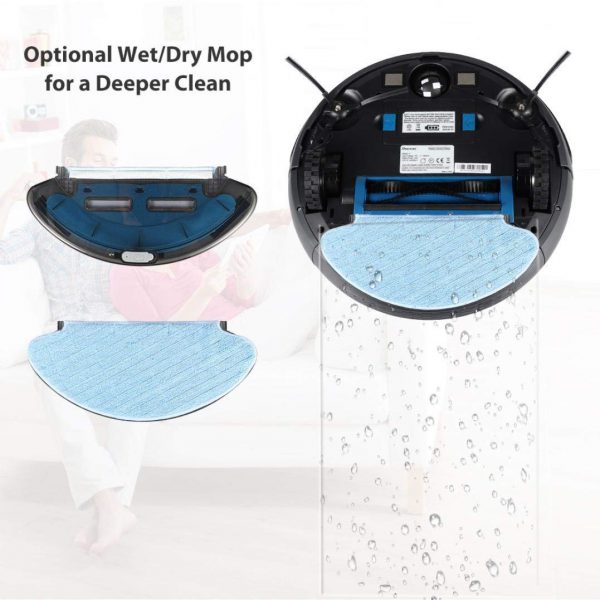 The picture above shows how it mounts to the vacuum cleaner.  I personally never used the feature myself because I felt my downstairs area was just too large for the amount of water in the reservoir.  I am sure if you had just a small area to use this in it would work just fine.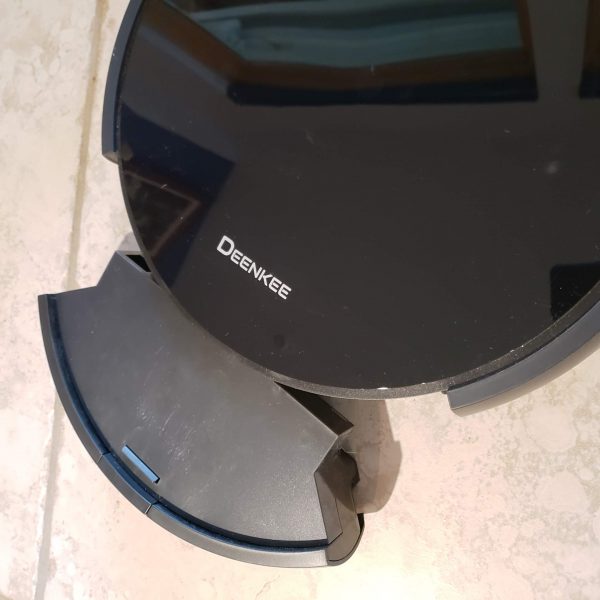 The next picture shows the top of the vacuum with the dirt canister pulled out.  There is a small button in the middle just to the left of the blue strip that is easy to press that releases the canister from the vacuum.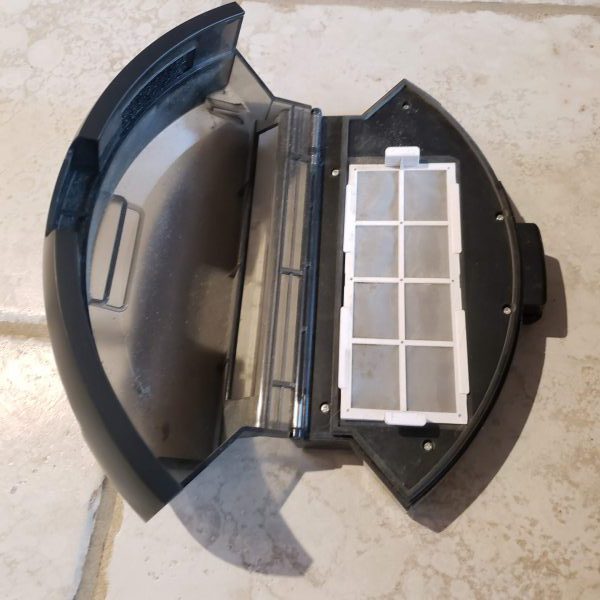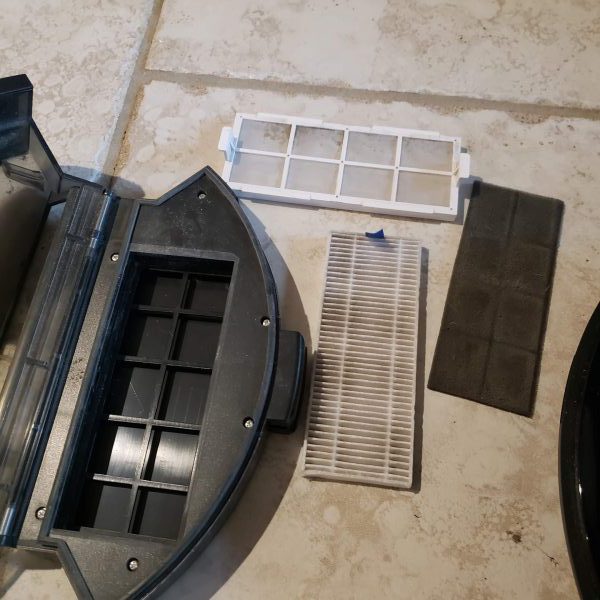 The next two pictures show the dirt canister opened and then with all of the filter material out.  This vacuum has quite an intensive filter system.  I never saw any dust coming out of the vacuum while it was working.  It even had the ultimate test at my house.  We had our stair railing replaced.  This meant that the entire first floor was coated in a fine layer of sawdust.  I ran my big Dyson vacuum over the entire floor and then manually dusted the house.  Then I kicked off the Deenkee to see if it would pick up any additional dirt.  That canister area was filled with very fine sawdust.  It did an awesome job of picking up additional sawdust.  The white screen filter in the left picture can be pried out using the two tabs on either side.  Below that was a black foam strip followed by a heaver HEPA media filter.  So you essentially get 3 layers of filter.  As noted earlier they give you an additional foam filter and HEPA filter in the box.
It should be noted that Deenkee sells a replacement packet including 2 filter sets, 2 mop pads, 4 horizontal brushes and 1 rotating middle brush for $25.99 at Amazon.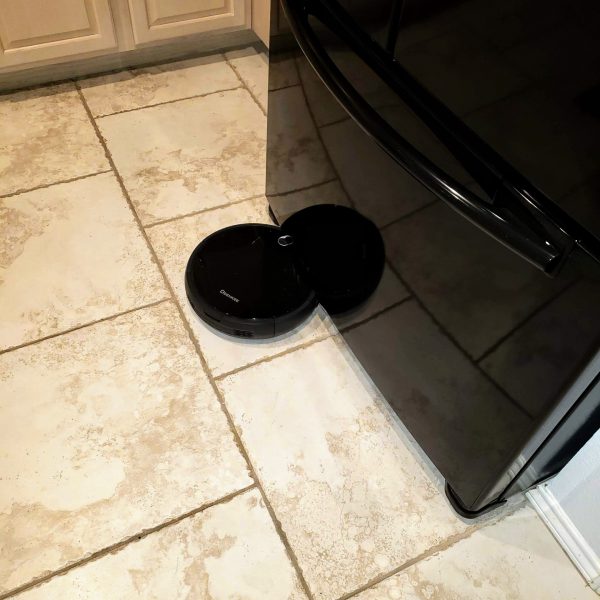 Overall, I was really happy with the Deenkee.  It did an excellent job of vacuuming.  I have a pretty large downstairs area that includes the kitchen, breakfast area, main living space, entryway and formal dining room.  There are tons of obstacles and of course, there was my dog.  I only encountered a few issues with the vacuum.  The picture above shows it stuck under my refrigerator.  That has only happened twice in about the 10 times it has run in my home.  I know more expensive robot vacuums have an actual camera on top to prevent this.  The other issue I had was it ignoring the magnetic strip I placed in front of my bedroom door.  I don't like closing the door and wanted to try to keep it out of the room with the included magnetic strip.  I put it on top of the threshold, in front of the threshold and even a few feet in front of it and the vacuum still rolled right over it.  We have a bunch of power cables under our bed from the Sleep Number mattress and the vacuum would get stuck on those.   The nice thing, however, is when it did get stuck, it would stop vacuuming and start beeping loudly.  Eventually, it would just shut itself off if we were not home to get to it in time.
It's not advanced as some others in that I don't think it makes a map of your rooms.  It seemed to learn over time where some stuff was as it stopped bumping into some things and just turning around right before it would hit some things.  I often saw it sweeping over the same areas multiple times during the full 120 minutes.  Like I said our room is really complicated.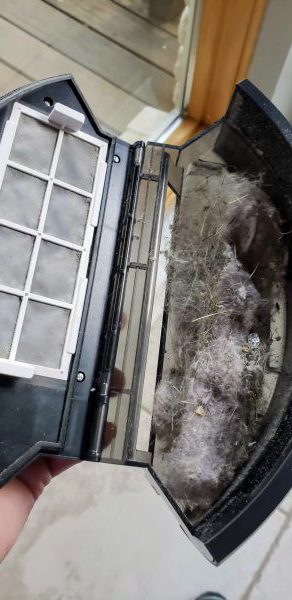 This last picture shows the 'stuff' it picked up on its first run around the floor.  Here I thought the floor was pretty clean.  YUCK!
What I like
This vacuum gives some really good bang for the buck.  Even in my complicated first-floor layout, the vacuum seemed to get every area clean.  It may not have been as efficient about it as some of the more expensive ones, but it did get the job done.  I love that it came with extra media filters, and as a bonus, I noticed they now seem to be shipping with 4 extra brushes and 2 extra media filters.  There is even a newer version of this vacuum out that costs an extra $20 that is supposed to be a bit quieter and have even more suction power.  It rolled over and vacuumed an extremely thick and fluffy doormat I have by my back door with no problems at all.
What can be improved
If some kind of mapping technology could be built in for just a bit more cost I think that would make the device a winner.  Then I would not have to remember to close doors to rooms I don't want it to go to.  The magnetic strips just did not seem to work like they should.  Also making it quieter would be beneficial (which they did with a slightly more expensive version now available).  Putting some kind of sensor on the top of the front would also be great to keep it from getting stuck under objects.
Price: $209.99 – Get $70 off with code HRJD3G3F which expires on 10/30/18
Where to buy: Amazon
Source: The sample for this review was provided by Deeknee.
Support The Gadgeteer
:
We may earn a small affiliate commission from purchases made from buying through links on our site. As an Amazon Associate I earn from qualifying purchases. Learn more.