We use affiliate links. If you buy something through the links on this page, we may earn a commission at no cost to you. Learn more.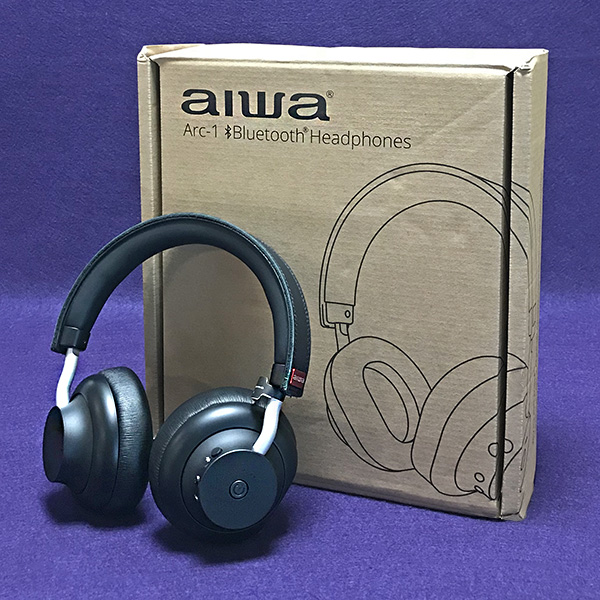 REVIEW – Does anyone remember Aiwa? Years ago, I installed an Aiwa car CD player in a '92 Acura. It was good—not great. Later, Aiwa just about disappeared after Sony bought them. Now they're back and getting some serious (as in good) attention. First Aiwa released the Exos-9 Bluetooth speaker—a monster speaker that's getting rave reviews. Now, they've just come out with their own wireless headphones—the Arc-1 Bluetooth headphones. Aiwa's goal is to offer affordable wireless headphones that sound better than it should for its price. Did they achieve their goal?

What is it?
The Arc-1 is a wireless, over-ear Bluetooth headphone that utilizes a non-traditional biocellulose speaker cone—more on this later. 
Specs
Design: Closed back, dynamic, circumaural (over ear)
Driver: 40mm dynamic
Driver technology: Bonded biocellulose composite with flexible surround
Impedance: 20 ohms.
Frequency range: 15Hz to 20kHz
Max. power: 40mW
Inputs: 3.5mm stereo mini jack or Bluetooth 4.2
Materials:

 

Aluminum, protein leather, real leather
Bluetooth range: 33+ feet
Battery life: 20 hours playback
Microphone
Codecs: aptX, AAC
In the box
Arc-1 Bluetooth headphones
Travel case
Micro USB charge/data cable
3.5mm audio cable
Quick Start Guide

Design and features
There's nothing about the Aiwa Arc-1 headphones that scream, "Look at me!" The design is rather bland and generic looking. It's not surprising because Aiwa freely admits to picking certain non-audio related parts off the shelf, so they could concentrate resources on the important stuff. A bright and colorful exception to the bland design are red speaker covers that have L and R printed on them. That's actually helpful when you quickly grab your phones to put them on. Aiwa also printed the serial number and service web address above and below the large L on the left speaker. If you ever have any issues with the Arc-1, the info you need is right there. Clever. The Arc-1 has a 90-day "No questions asked" return policy and a 3-year warranty that will provide a replacement should they ever have a defect.
The packaging is even blander than the design. Aiwa's stated goal is to place more effort into the product than the disposable box it comes in. That is plainly evident.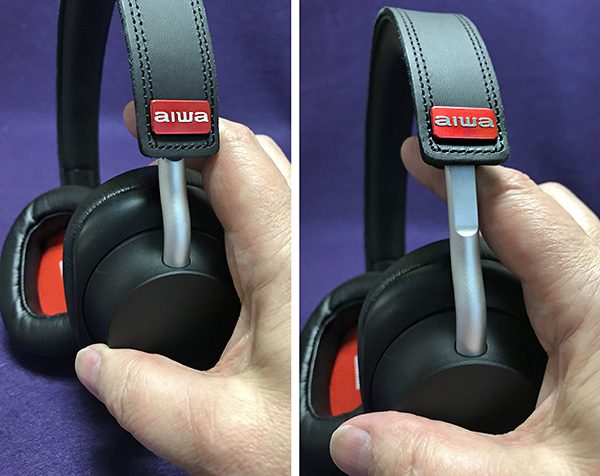 The first thing one notices when wearing the Arc-1 headphones is how comfortable they are. The clamping factor is just enough without being too tight. I do have to extend the ear pads all the way, so anyone with a larger head may have fit issues. Extending the ear pads was not as smooth feeling as I would have liked, but the build felt solid.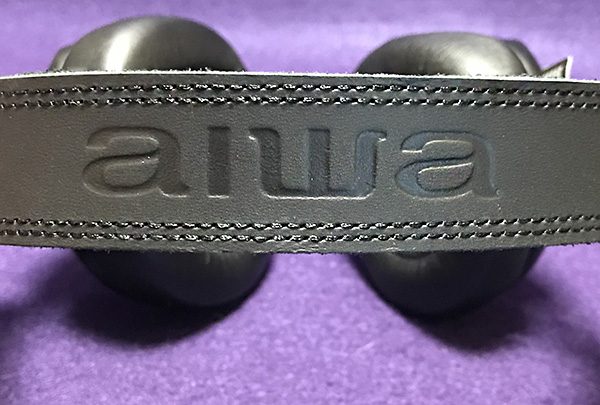 The leather ear pads are soft and have an unusual shaped flat spot that works quite well at completely covering the ear. Even though the Arc-1 headphones do not have active noise canceling, the pads provide good isolation from exterior noise. The headband could use a bit more cushioning, but it didn't detract from the comfort. It's sturdy and can be bent without any damage. The headphones are protected by a large, but sturdy case. Unfortunately, the Arc-1s don't fold, which is too bad, since the wireless headphones were made for use while mobile.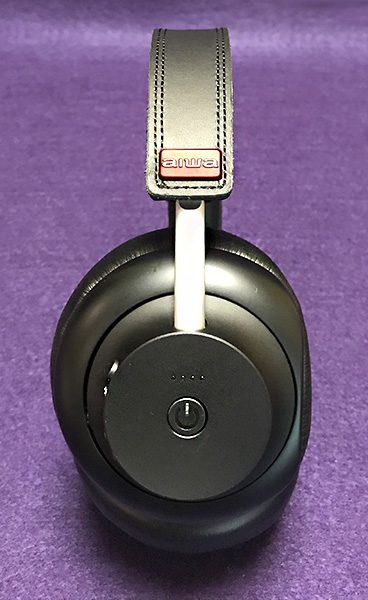 The selling point to the Arc-1 headphones is the speaker material. Rather than the usual—and fragile—mylar speaker material, Aiwa uses a 40mm biocellulose-diaphragm driver that they designed. Biocellulose is a natural material (made from bacteria!) that retains its stiffness similar to metallic speaker cones, while remaining lightweight—perfect for headphones. This stiffness helps individual audio waves quickly snap back to a neutral position resulting in better music reproduction with sharper bass. You might think that this approach would create super accurate sounding headphones, but it doesn't. And that's a good thing.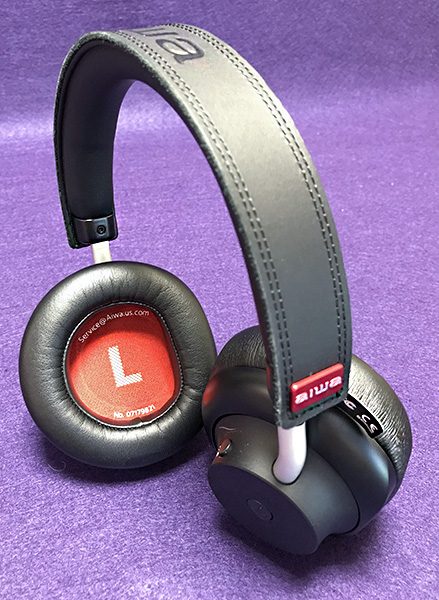 It's apparent that the Arc-1 headphones were tuned for a mass audience rather than a select group that may prefer a bass heavy model or one with a bright sound. The Arc-1's sound signature is slightly warm and smooth. Bass is slightly boosted, but not too much. It's just enough to allow for hours of listening with no aural comfort issues. Mellow is a word that comes to mind. The speaker's smooth character is forgiving which simply means that lower resolution song files can sound better than they might on more accurate (and more expensive) headphones. This is especially true when streaming music from a smart phone over Bluetooth.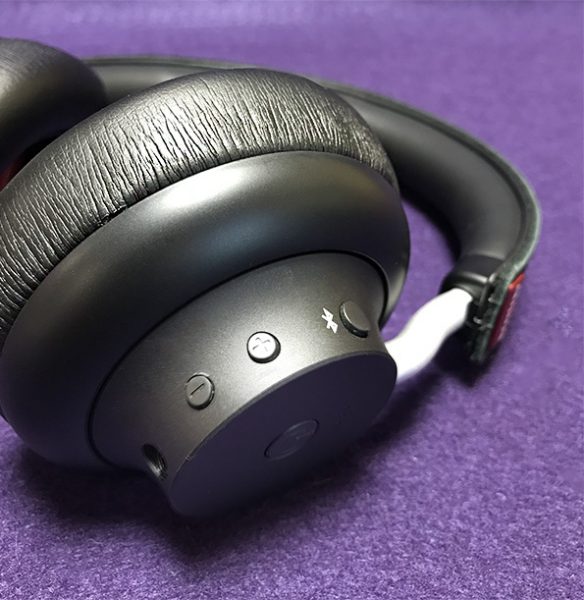 Aiwa uses 24-bit digital signal processing to help achieve its sound signature. They've also set up what's known as Qconnect—dual-radio Bluetooth. This allows the Arc-1 headphones to not only receive the Bluetooth signal but also send a signal allowing you to share your music with a friend no matter what brand wireless headphones they may have. Note that Qconnect is still in Beta. Future firmware updates will improve Qconnect as well as improving audio tuning. Unfortunately, firmware updates can only be done using Windows PCs—sorry Mac users. 
Battery life is rated at 20 hours on a full charge. 3 extra hours can be quickly added after only 20 minutes of charging. Battery life is indicated by lights on the right headphone cup. This cup also houses the on/off button as well as Bluetooth pairing and volume/forward/reverse buttons. A built-in mic allows for phone calls, but I'm not a fan of talking on the phone through any headphones—no matter the brand or cost.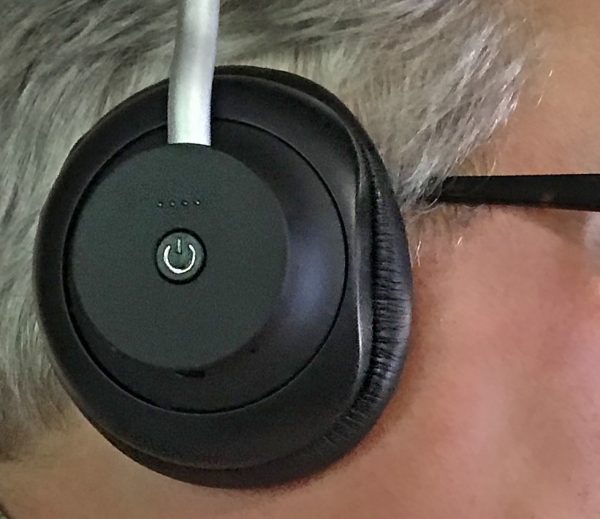 As I said, the Arc-1 headphones are smooth sounding. This helps with older recordings which can be a bit weak on bass due to recording restrictions that existed back then. I'm a fan of 60s and 70s rock. Some of my favorite albums were dismally recorded. Listening with the Arc-1 headphones makes many of these older albums tolerable. One of my favorite late 60s albums was an obscure country-rock album from Chicago's Mason Proffit. Their first album perfectly captured the political tone of that tumultuous time with biting lyrics wrapped in a radio-friendly country sound. As good as the songs were (and still are), the recording is in dire need of remastering. Until that happens though, it's easier to listen to the album on the Arc-1s than many other headphones.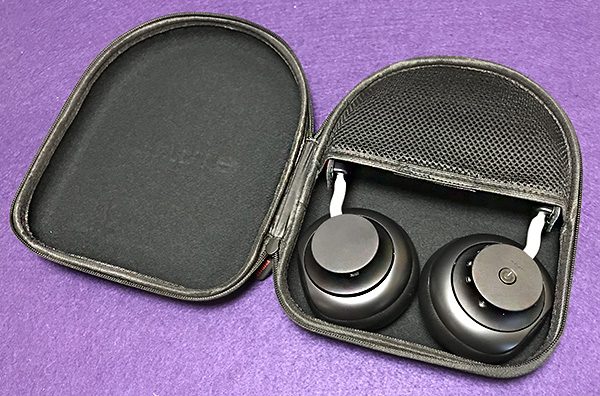 Bass-happy modern music also fares well with the Arc-1 headphones. Yes, bass on these recordings is most definitely there, but it's tuned in such a way that it doesn't create a headache. Credit Aiwa's DSP at work. Groups like Massive Attack, Orchestral Manoeuvres in the Dark and Daft Punk benefit from this tuning approach. While bass may be more up front than what I prefer, it's never distracting or unwelcome.
What I like
The design may be bland, but the constriction is solid. Despite that, it's the sound and comfort that captivates me. These are headphones I could listen to for hours—and have. 
What needs to be improved
I like the sturdy case but I would have preferred that the Arc-1s fold into a more compact, easy to carry form.

Final Thoughts
Aiwa has risen from the ashes in a big way with the Arc-1 headphones. If they can keep up the momentum with more great products, the future of personal audio will become even more interesting.
P.S.
If you're interested, you can read an exhaustive history of Aiwa here. The short version is that an entrepreneur named Joe Born acquired the Aiwa name for North America and several European countries. Shortly after, the Exos-9 Bluetooth speaker was born (pun intended). 
Price: $199.99 US
Where to buy: Amazon
Source: The sample of this product was provided by Aiwa.