We use affiliate links. If you buy something through the links on this page, we may earn a commission at no cost to you. Learn more.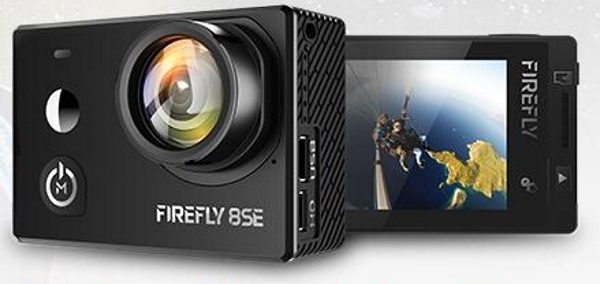 REVIEW – Since the launch of the GoPro action cameras, many other companies continue to produce similar products with comparable features for much less of a purchase price. Here is the result of another similar action camera that I reviewed.
What is it:
This is a GoPro type 4K action camera that takes both video and photos using its 170-degree lens to provide high-resolution wide-angle footage.
What's in the box

1 x Hawkeye 8SE Action Camera
1 x Waterproof Case
1 x Waterproof Case Front Cover Case
1 x Bicycle Stand
1 x J Base
4 x Strap
1 x Plastic Tie
1 x Long Connector with Screws
1 x Short Connector with Screws
1 x 1/4 inch Adapters Set
2 x Mounting Base
1 x Battery
2 x Adhesive Tape
1 x Metal Cable Tie
1 x Cleaning Cloth
1 x Lens Protection Frame
1 x Lens Protective Cover
1 x Microphone
3 x Stickers
1 x English User Manual
Design and features
The Hawkeye Firefly 8SE 4K Touch Screen Action Camera is a normal styled action camera and it comes with its compatible waterproof housing. Just as with other GoPro style action cameras, it can be used in a variety of ways including as a dash cam, a surveillance camera, an aerial camera, a selfie camera, etc.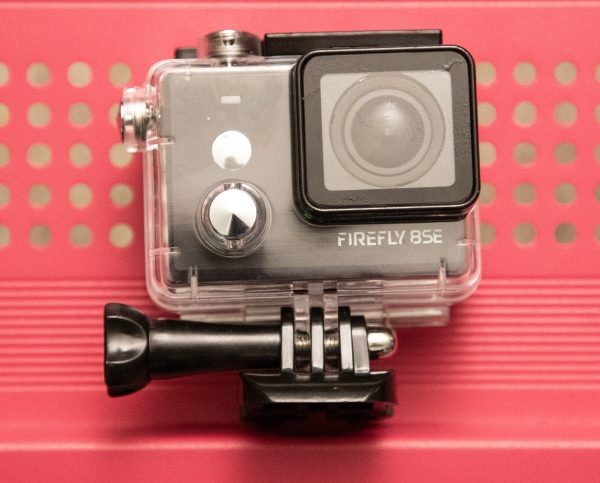 On the front of the camera on the left from top to bottom, there is a LED that lights green for photo mode and blue for video mode. Below the LED there is a circular selfie mirror. Below the selfie mirror is the power/mode button. On the back of the camera, there is the touch screen, the micro SD card slot, and the Playback button.
On one side of the camera, there are 2 up/down buttons to navigate through the settings and other screens. On the other side there a micro HD output jack and a mini USB power jack.
On the top of the camera there is the OK/selection button, and on the bottom, there is a 1/4-20″ threaded mount and the battery compartment and door.
Performance
Specifications:
Chipset: Ambarella A12S75
Chipset Name: Ambarella
Model: Firefly 8SE
Type: Sports Camera
Type of Camera: 4K
Max External Card Supported: TF 128G (not included)
Screen resolution: 320×240
Screen size: 2.0inch
Battery Capacity (mAh): 1200mAh Li-ion Battery
Battery Type: Built-in
Charge way: USB charge by PC
Charging Time: 2.5h
Standby time: 5h
Working Time: 1.33h
Lens Diameter: 12mm
Image Format: JPG
Video format: MP4
Video Resolution: 1080P (120fps),2.5K (60fps),2.7K (30fps),4K ( 3840 x 2160 ) 30FPS,720P (240fps)
Water Resistant: 20m underwater with the waterproof case
Waterproof: Yes
WIFI: Yes
Bluetooth: Yes
WiFi Distance : 10m
Camera Timer: Yes
Anti-shake: Yes
Aerial Photography: Yes
The Hawkeye Firefly 8SE 4K Touch Screen Action Camera works like most other action cameras and it has a lot of settings to control the recording and photo modes. The waterproof housing is, in fact, waterproof, and the buttons built into the housing work well to manage the controls. They do not require much extra effort to engage and are well placed. When the camera is not being used in the housing, the touch screen works very well and is very responsive. The settings screens offer much of the same in terms of functionality and capability, and I like that there is a "rotate" option that can be turned on when using the camera upside down such as when it is being used as a dash cam. The design features both Bluetooth and Wi-Fi capability to allow remote control from their app or an optional remote control (to be purchased separately). I am very impressed with their app, and its functionality, and it is just about the best I have seen so far. Here are some of the screens from the app:
Pictures: It takes clear pictures with the usual fiseye perspective.
Videos: I do like the quality of the videos even the one below from the smoggy underground railroad platform.
What I like
The size and built quality
The responsiveness of the buttons even when in the waterproof housing
The Wi-Fi and Bluetooth Capability
What can be improved
The mini USB power jack should be changed to the more current and popular micro USB standard
Final thoughts
The Hawkeye Firefly 8SE 4K Touch Screen Action Camera works very well and is really a nice GoPro alternative. While I am not a big fan of the fisheye view, the wide lens works very well. It is lightweight but feels well made and I do think that it is well priced. Unlike several other action cameras that I have tested so far, it has not responded negatively to being on my windshield in the direct sunlight, but that is not to say that it may not eventually do so. If you want a nice action camera with nice features to use in various relevant scenarios, this camera should meet most of your needs. It has handled my scenarios well, and since it comes with a nice collection of accessories, I still have a few more ideas yet to try.
Price: $129.99
Where to buy: Gearbest
Source: The sample for this review was provided by Gearbest.