We use affiliate links. If you buy something through the links on this page, we may earn a commission at no cost to you. Learn more.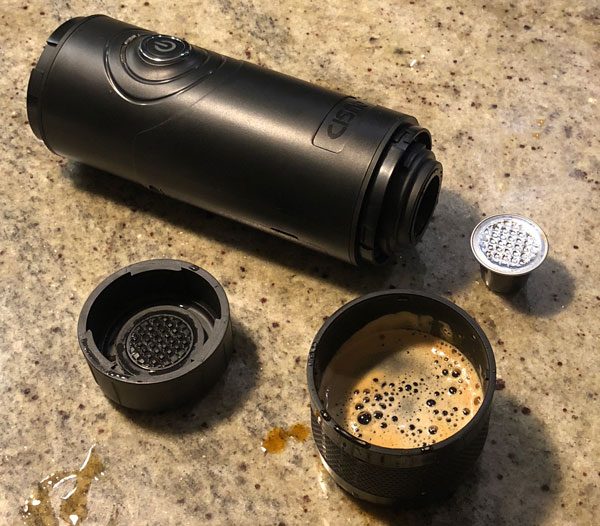 REVIEW – I have spent most of my life growing up and living in the greater Seattle area and am without a doubt a coffee snob/connoisseur. I detest Starbucks and will go miles out of my way to find espresso that isn't burnt and bitter. On my travels finding good/tolerable coffee on the fly is sometimes difficult. Yelp helps but depending how far I'm out in the middle of nowhere, often it's a lost cause. Thankfully, the CISNO electric portable espresso machine is engineered to make coffee where ever, whenever you want/need a worthy cup of joe…
What is it?
The CISNO electric portable espresso machine is a thermos-sized, all-in-one solution for having coffee on the go, at the office, in the car, in the middle of nowhere, etc. This compact, battery operated coffee maker uses Nespresso pods to produce your favorite caffeinated beverage when there is no coffee shop in sight.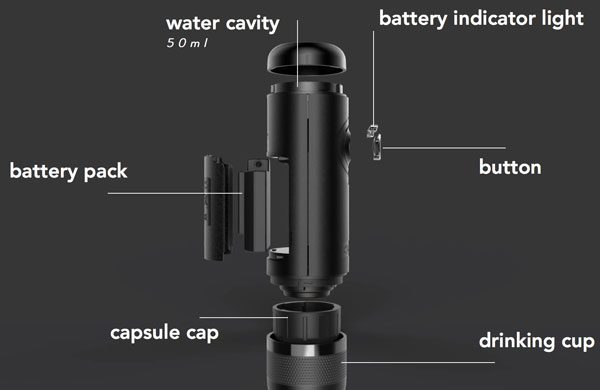 Design and features
The CISNO electric portable espresso machine is made from ABS plastic and food grade plastic. The material and build quality is rugged, well engineered, and nicely constructed. It generates 15 bars of pressure and produces 1.35oz of espresso per Nespresso capsule. It is definitely designed to be portable, able to be powered by removable lithium ion battery, AC power adaptor, or 12 volt car charger.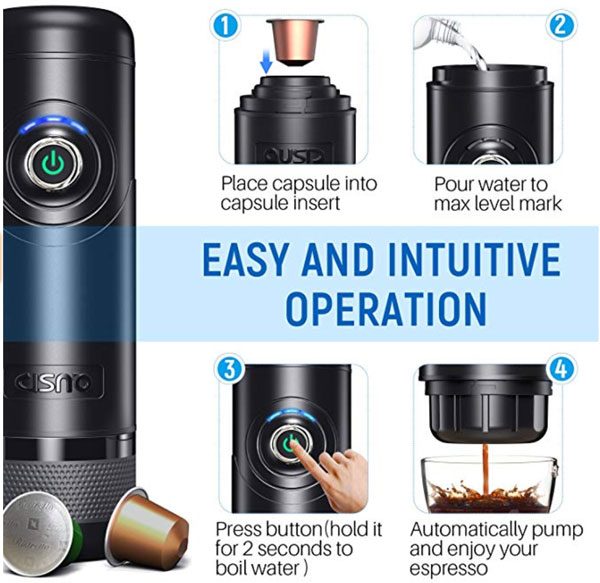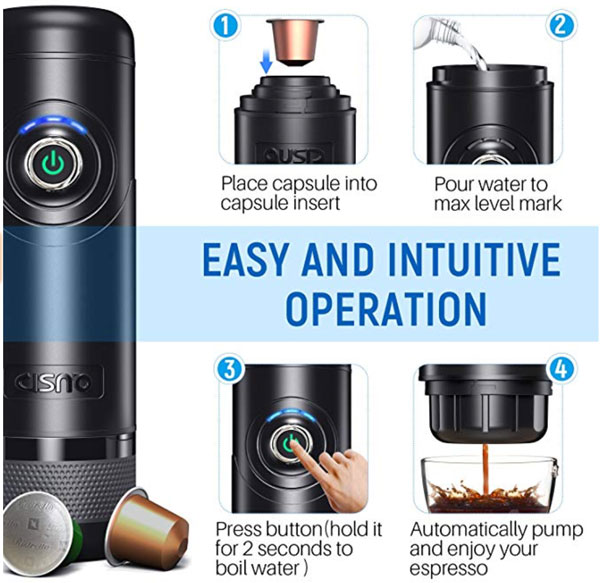 Operations:
Using the CISNO is simple and relatively mess-free, all you need is water (preferably boiling water) and a few Nespresso pods. First, you insert your favorite Nespresso capsule into the base of CISNO and screw on the cap sealing the bottom chamber.
Then you flip the portable espresso machine over and fill the water reservoirs with 50ml of water. As I mentioned, the hotter the water the better. If you use room temperature water the CISNO takes approximately 8 minutes to heat the liquid to 194℉/90℃. The rechargeable lithium-ion battery can do this three times before having to be recharged. If you use boiling water, there is no wait/heating time and the CISNO can produce 80 shots of espresso before needing to be plugged in.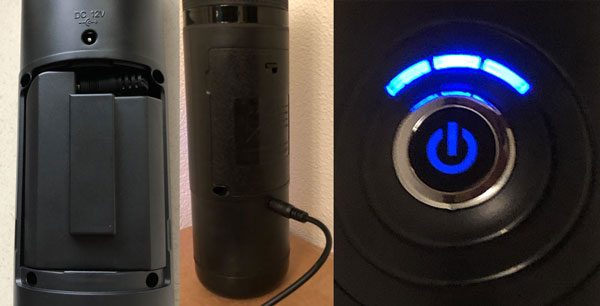 Once sealed, you simply press the power button and the CISNO gets to work. The thermos design also includes a screw on cup that you can (obviously) drink from. The CISNO portable espresso machine can be battery operated or directly plugged into a wall socket or into the 12V power port of your car, boat, etc. Above the power button are three blue LED that let you know the battery level and charging status.
Specifications:
Body material: ABS

Cup material: Food Grade Plastic

Water heating temperature: 194℉/90℃

Pouring temperature: 158℉/70℃

Optimum pump pressure: 15 bars

During infusion pump pressure:12-8 bars

Water reservoir capacity: 50ml

Espresso shot:1.35oz

Lithium battery: 28.86WH

Total voltage: 11.1V

Capacity of drinking cup: 200ml

Effective length of power cable: 1500mm

Dimension: 3.2*3.0*9.9 inch(L x W x H)

Weight:1.0kg
Package contents: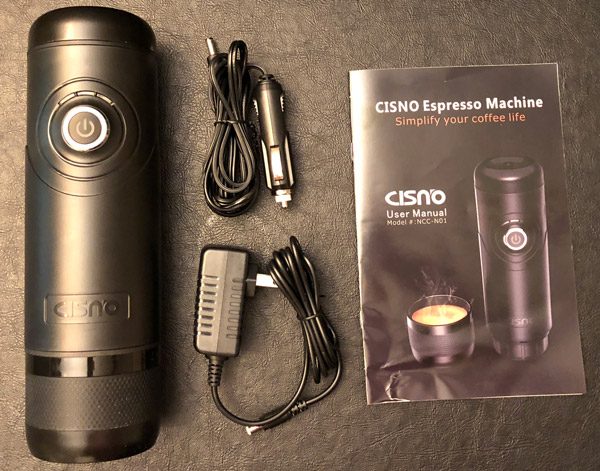 CISNO portable espresso machine

Battery Pack

12V Car Charger

AC Adaptor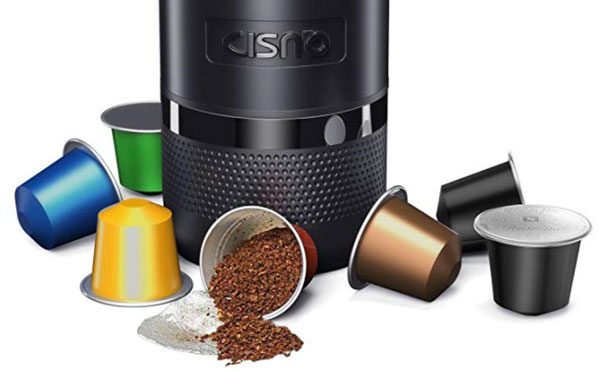 Well…how good is it???
As I mentioned, the CISNO espresso machine uses OriginalLine Nespresso capsules to brew the coffee. The Nespresso capsules are compact, easy to transport, readily available, and non-messy. They also come in a multitude of flavors and strengths…my preference is Roma (strong, full-bodied, smooth, non-nutty). Each capsule produces a 1.35oz shot of espresso. So, I need 2-3 capsules for my americano. I've found you can get the Nespresso capsules for about $0.70 each. Thus, each cup of coffee is about 2 bucks, for me at least. That said, even though it is relatively inexpensive to use, this gadget isn't really about saving money. The CISNO was created to make/have good espresso where and when you might not normally be able to.
While not as high as the typical Nespresso machine, the CISNO produces 15 bars of pump pressure and does a solid job of pulling the flavor and richness of the coffee from the capsules. If you want to use your own grind coffee, a reusable stainless SealPod is required.
What I like
Portable all-in-one espresso solution
Well made from quality materials
Very transportable
Uses easy to use/find Originalline Nespresso capsules
Makes an excellent cup of coffee/espresso
Battery operated but comes with wall and car chargers
What needs to be improved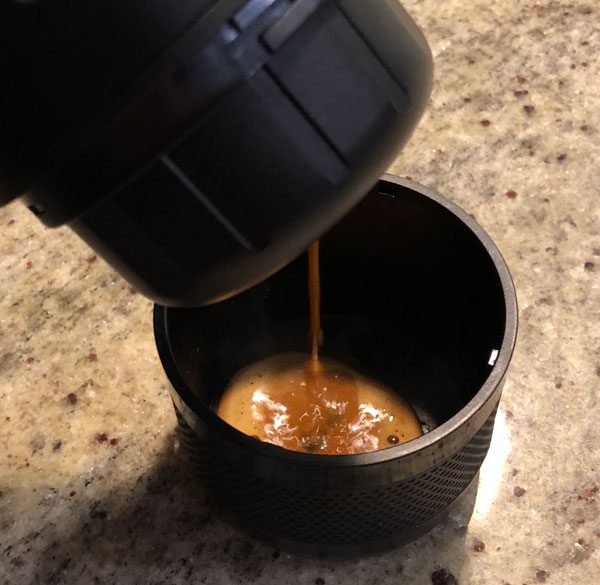 Final thoughts
I admit the CISNO electric portable espresso machine is a relatively niche device but for those who need a shot of worthy coffee far off the beaten path, it definitely gets the job done. It's compact, efficient design is easy to transport with you whether in your backpack, desk drawer, car, saddlebag on your bike tour of Europe, etc. Since you can select your favorite Nespresso capsule to use, odds of making excellent espresso on the fly are very good.
Price: $119.99
Where to buy: Amazon
Source: The sample of this product was provided by CISNO.