We use affiliate links. If you buy something through the links on this page, we may earn a commission at no cost to you. Learn more.

REVIEWS – A couple of years ago, I reviewed the EGO Power+ 530 CFM Blower. I had never used a battery powered yard tool before and absolutely fell in love with its convenience and awesome power. I'm still using it—in fact, I got rid of my corded blower and haven't missed it at all. I'm now reviewing the new EGO Power+ 15" POWERLOAD String Trimmer and let's just cut to the chase. It's great. In fact, it's better than my trusted Stihl gas trimmer in every way—except for usage time. More on that later.

What is it?
The EGO Power+ 15" POWERLOAD String Trimmer is just that—a trimmer. Mentally, I still call trimmers weed wackers, but I think that's a brand name so "trimmer" it is. The EGO string trimmer is the latest in a line of trimmers EGO has produced. This one comes with a carbon fiber split shaft and what EGO calls POWERLOAD string loading. 

Specs
Auto-Wind Head
Carbon fiber shaft (with lifetime warranty)
15" cutting swath
Dual-feed spiral twist 0.095in. line
Hi-efficiency brushless motor
Variable speed control
5-year limited warranty
2.5Ah battery with Charger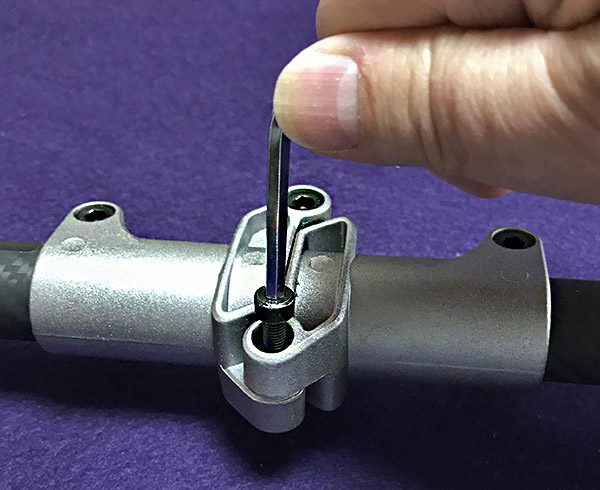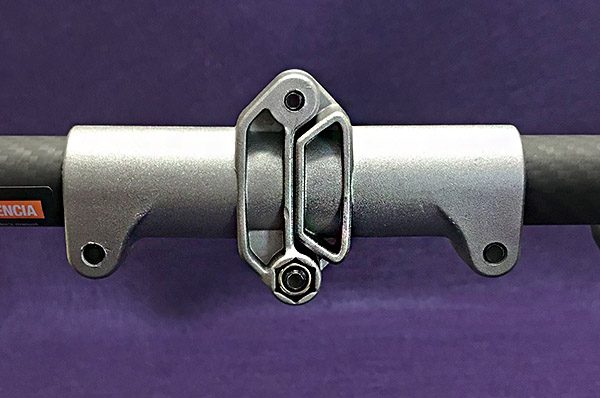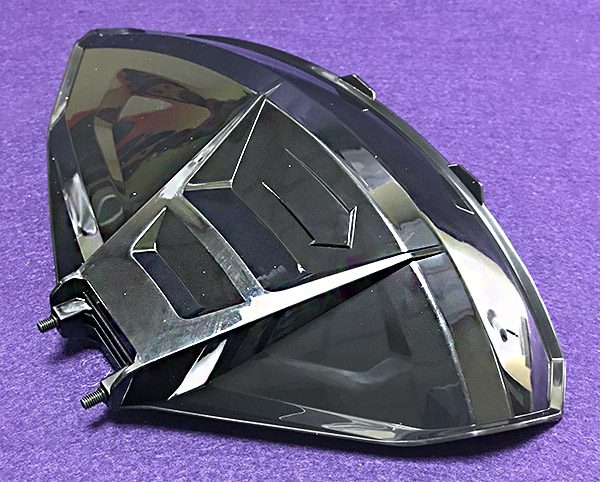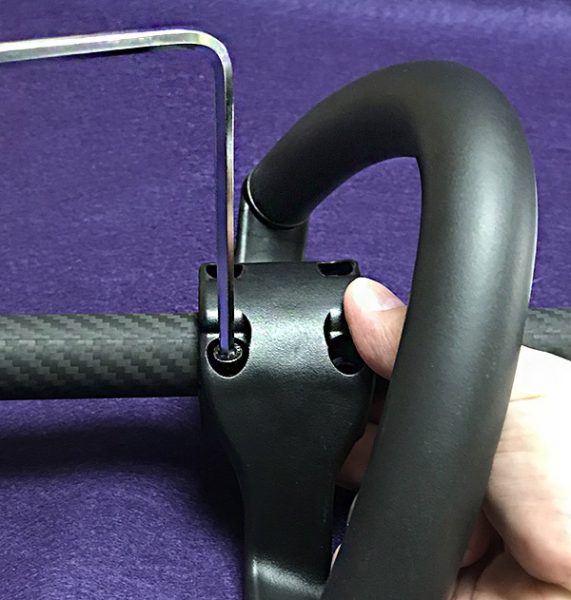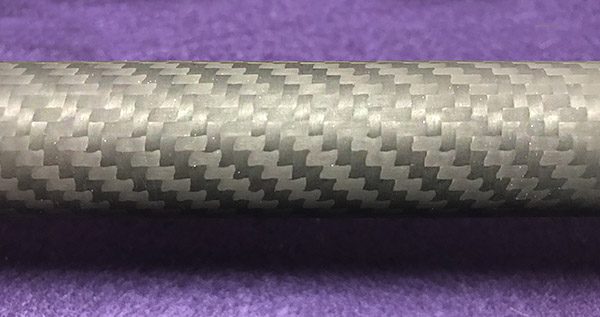 Design and features
Like their other products, the EGO Power+ 15" POWERLOAD String Trimmer is made of durable green and gray plastic housing—except for the carbon fiber shaft. This shaft arrives folded in two that needs to be straightened and locked down with a provided hex key (allen wrench). The only assembly is attaching the protective debris shield and handle. I was ready to trim and edge in minutes. It's a good thing I photographed the trimmer when it was new and shiny because after one session, it looked like it has been used for years (see end of review).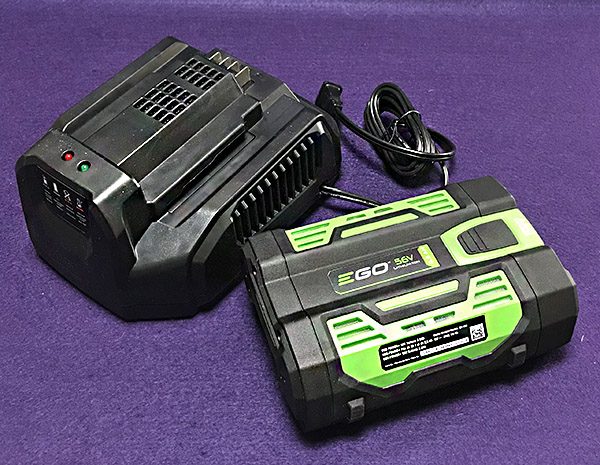 The trimmer I reviewed comes with a 2.5Ah battery and charger. If you already own some EGO products and have enough batteries, the trimmer can be purchased sans battery at a lower price. Yes, the battery always dies sooner than I like, but the EGO batteries run at full power until they need recharging with no power fade—a great feature. Extra batteries can always be purchased, but they are not cheap. I never understood why batteries cost so much when bought separately. The battery will hold its power for 30 days, so there's no worry if it has been sitting for a while. The battery can also be left in the charger—it won't overcharge.
The charger has small red and green lights that tell the battery's condition. Red means a dead battery. When charging, the green light will blink until the battery is fully charged and the light becomes a solid green. The charger has an internal fan to keep from getting too warm while charging.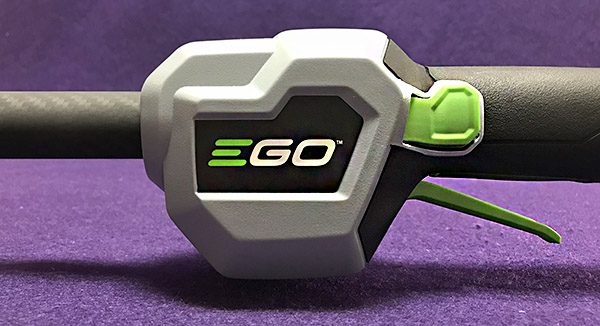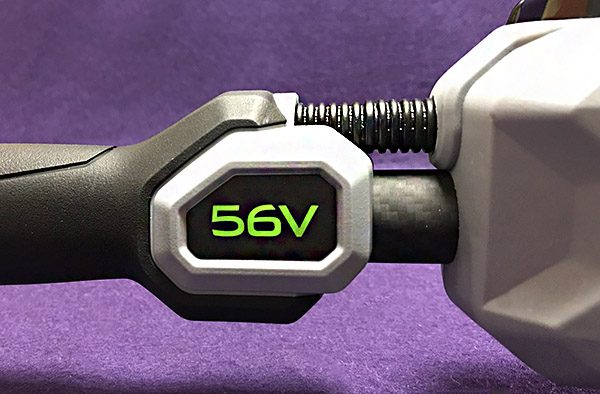 Along with my now shelved Stihl gas trimmer, I have an older corded electric trimmer that I've almost never used for one main reason—and it's not the cord. The corded trimmer was either full power or off. There is no variable speed trigger like gas models have. Chalk up another win for EGO, because the POWERLOAD String Trimmer has a variable speed control that works just like a gas trimmer. You never realize how important that is until you don't have it. Another nice feature is that the trimmer only runs when the trigger is pulled. Once the trigger is let go, the motor stops—so the battery is only in use while the trimmer is spinning. With gas trimmers, the engine runs constantly whether the trimmer is trimming or not.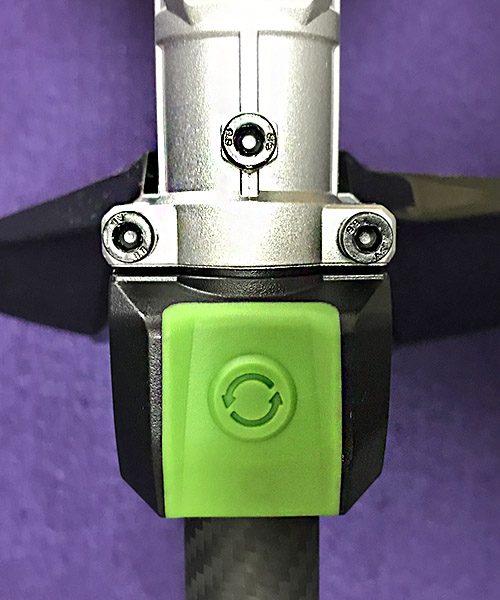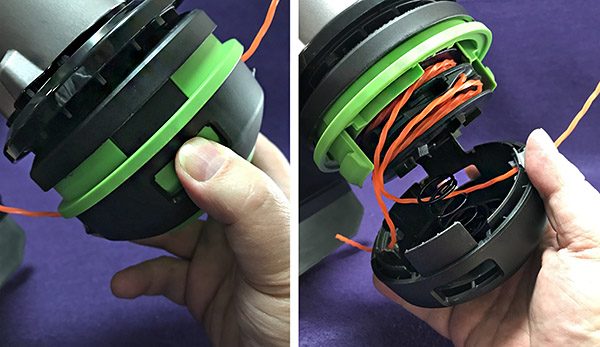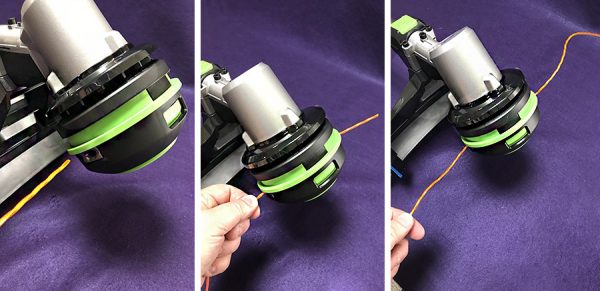 The String Trimmer has what EGO calls POWERLOAD. It's a silly term for a welcome and cool feature. To load string into the trimmer, all you need to do is cut the length of string you need (for me, it's a little over two outstretched arm's length—not very precise). Then just feed one end into and through the trimmer head. Pull the string through until you have equal lengths coming out of both sides of the trim head. Lightly hold the string creating a tiny bit of tension. Then press the POWERLOAD button and watch it wind into the head. It winds slowly enough so that there is little chance of the string disappearing completely into the head requiring you to start over. It's really that easy. Loading string is now something I look forward to instead of dreading. Okay, I'm weird.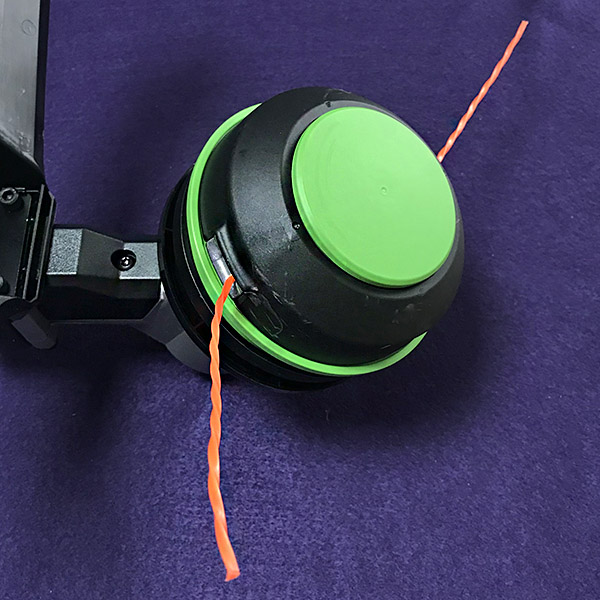 As the string becomes too short, just tap the head on a hard surface and the line will feed out automatically. I was able to trim around chain link fences, edge sidewalks and cut through the toughest grass and even thin branches that crop up in my yard around trees. You might think that almost all trimmers do this trick and you would be correct, But not all trimmers are this quiet and vibration-free. In fact, I when I began using it, I worried if it was operating at full power because it was so quiet.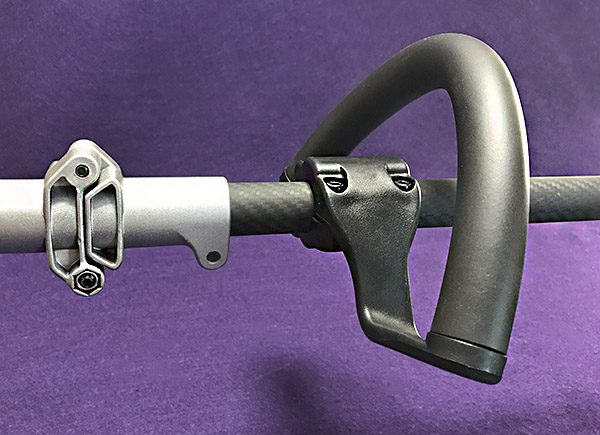 With the battery attached, the POWERLOAD String Trimmer has a nice balance to it—not too heavy on either end. This balance and its lighter weight helps keep arms from tiring out too soon. It weighs less than my gas trimmer.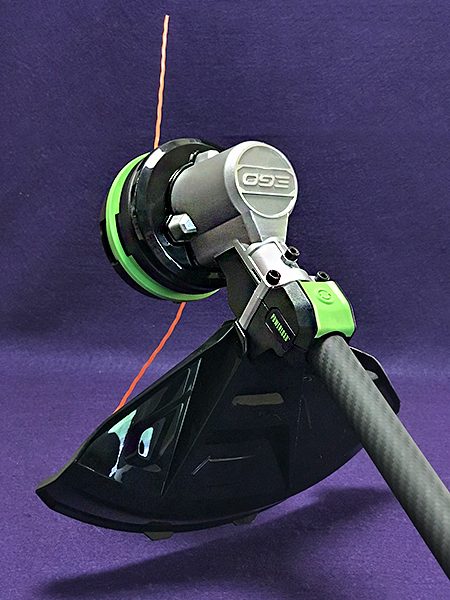 One thing I noticed is that the debris shield could be larger or maybe redesigned, because I would occasionally get hit by flying stuff. This might be a more serious issue if you do yard work in shorts—I don't.
What I like
The EGO Power+ 15" POWERLOAD String Trimmer Is a pleasure to use. I can grab it and go—no gas, no cord. Just slide the battery into place and start trimming. The sturdy build quality, indestructible shaft and quiet brushless motor make this trimmer—dare I say it—fun to use.

What needs to be improved
The shield only adequately protects legs from flying debris. 
The included battery lasts about 20 minutes depending on how hard the trimmer is working and other factors. That's not very long. I have 2 batteries, so it's not as big an issue for me, but extra batteries are expensive. Keep in mind that EGO's batteries will fit all of their products, so if you have more than one EGO tool, the ability to swap batteries is a big plus.
Many EGO products are not available from local Home Depot stores—only online at the Home Depot website.

Final Thoughts
The POWERLOAD String Trimmer is much, much quieter than my gas trimmer and it also doesn't vibrate my arms into numbness like the gas model does. And there are no gas fumes! It's great that technology today allows a battery trimmer that matches the power of a gas model. After using the EGO for many days, I can't imagine going back to my gas trimmer.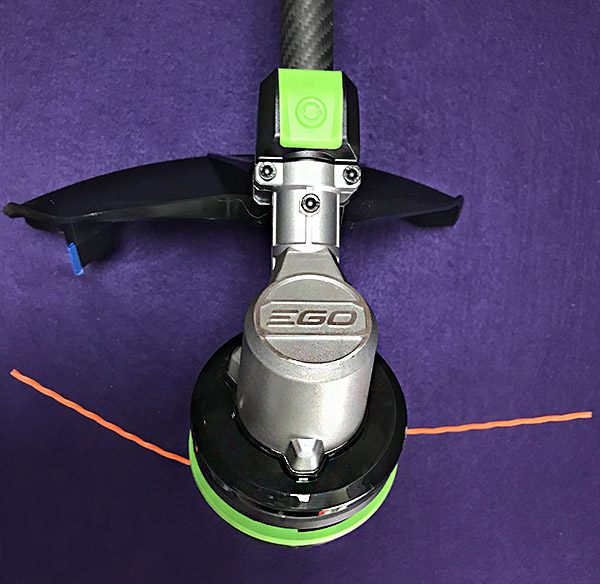 Price: $229.00
Where to buy: Home Depot
Source: The sample for this product was provided by EGO.